Are you a back or stomach-sleeper? Do you suffer from back pain? If you are looking for a plush, yet firm and very supportive mattress, the OkiFirm might be a good option for you. And what if I told you that you can get all of this under $500 for a Queen? And who is OkiOki in the first place?
Let's look at all of that and what we thought of our OkiFirm mattress sleep test and discuss who it would be a good option for, and not as good of an option for!
30% OFF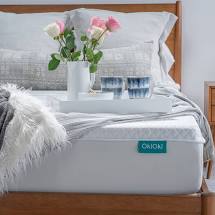 Free shipping
365-night trial
10-year warranty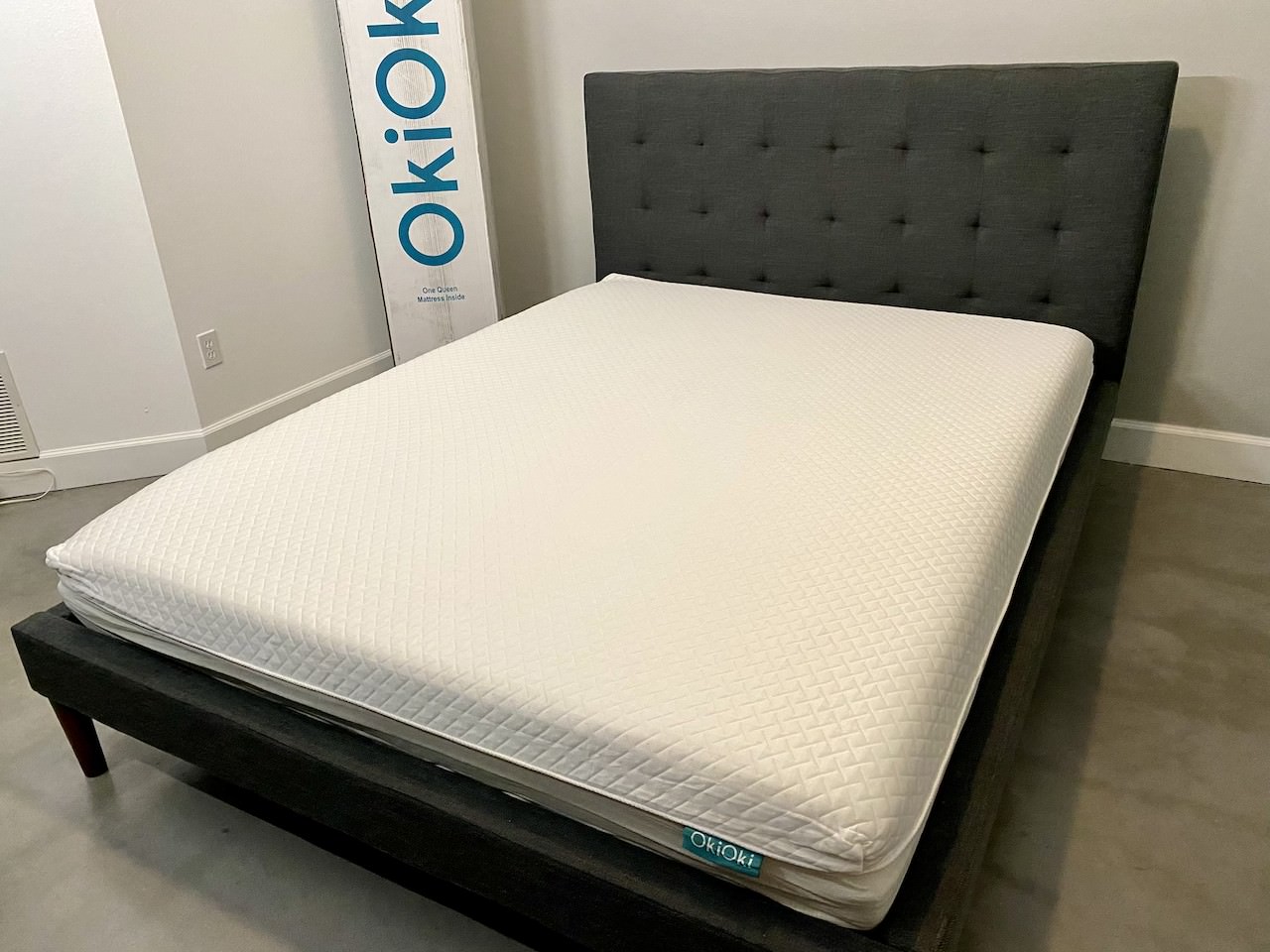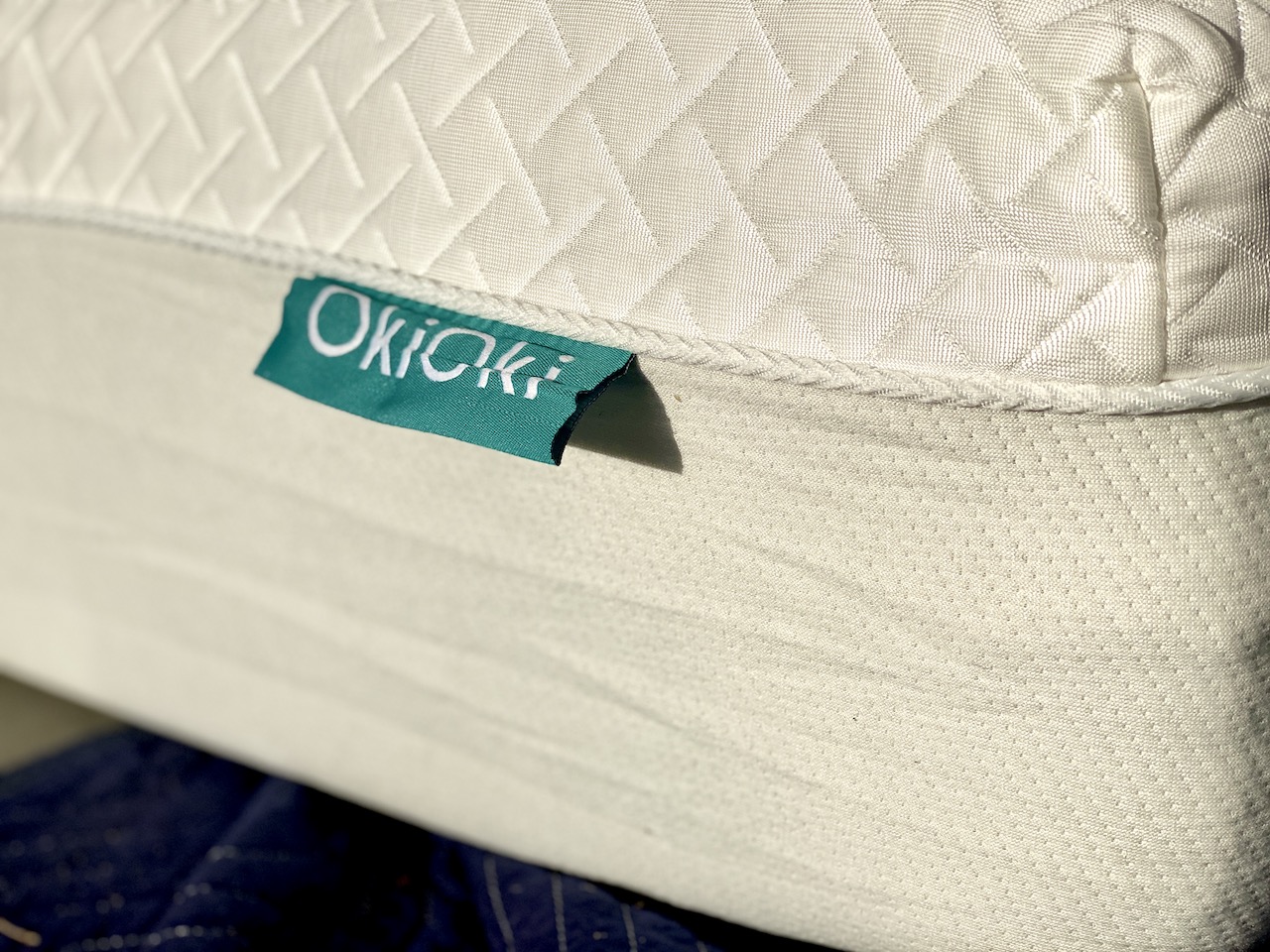 What's Inside The OkiFirm Mattress
In a nutshell:
3″ of graphite foam
7″ of high-density memory foam
Ice Yarn cover
3″ Of Graphite Foam
This is my favorite part of the OkiFirm mattress! The upper layer is made of 3 inches of graphite foam. This foam absorbs the pressure and provides just the right amount of cushion if you like a firm mattress. It is also full of air holes, which create a breathable mattress that channels your body heat down into the mattress and lets cool air flow rise to the Ice Yarn cover so you don't overheat.
7″ Of High-Density Memory Foam
The high-density memory foam makes up a large part of the OkiFirm mattress. It is very firm to the touch and provides the support a back and stomach sleeper need. We felt like our weight was nicely distributed and our spines were kept in alignment as we very gently sinked into the firm memory foam.
Ice Yarn Cover
The OkiFirm mattress cover is not only machine-washable, it is hypoallergenic and cooling. This cooling Ice Yarn cover zips and unzips for easy maintenance and stays cool so you never over heat. Hot sleepers – I'm talking to you!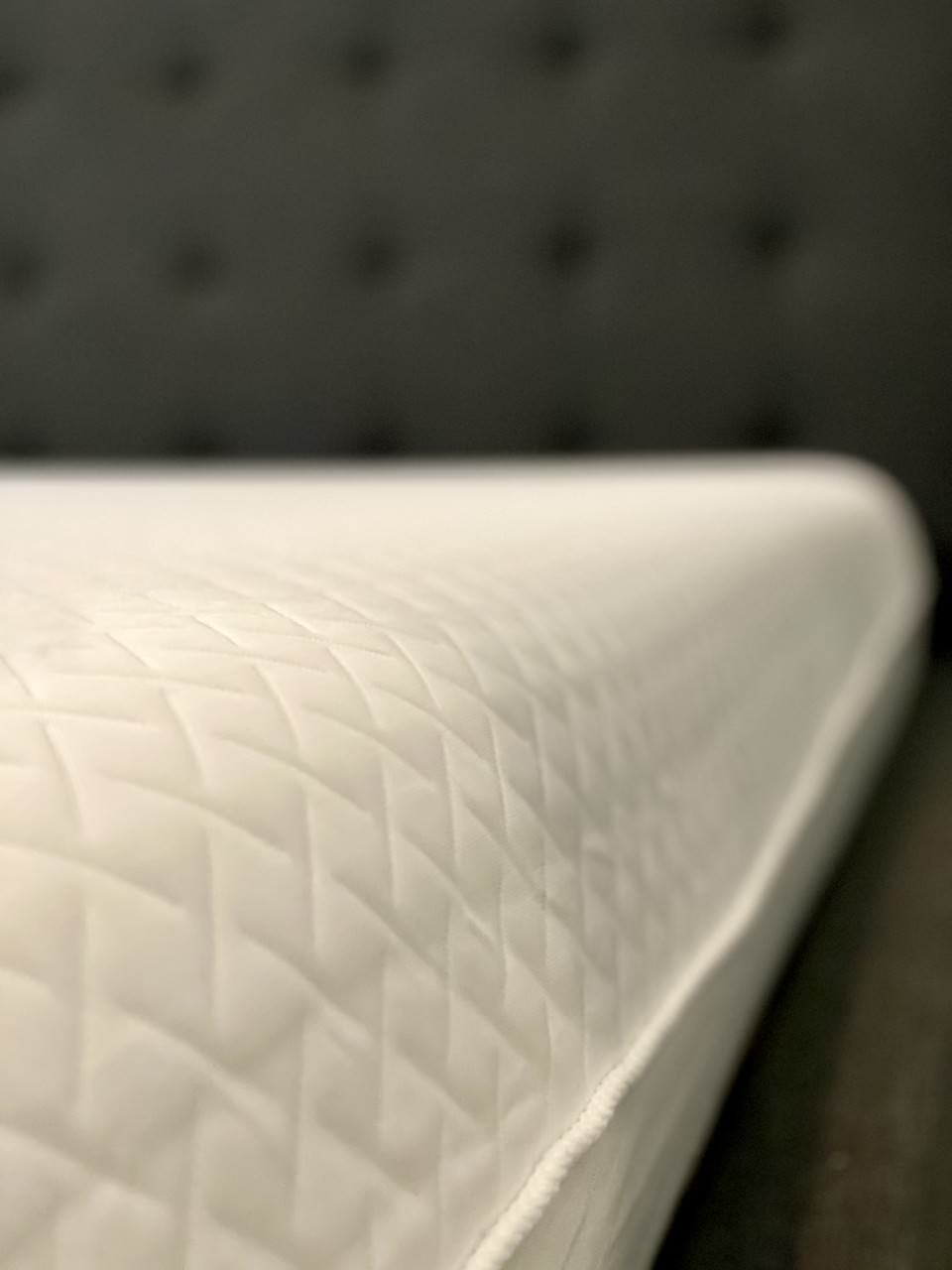 OkiFirm Mattress Sleep Tests
Everything we felt in one box
| Firmness | Temperature | Maintenance | Sleeping Style | Bed Base |
| --- | --- | --- | --- | --- |
| If you are looking for a firm mattress with a touch of comfort and cocooning, this is it! The OkiFirm mattress sleeps firm without being hard. It is the perfect balance of comfortable and cozy plush with the firmness a back and stomach-sleeper needs for support and proper spine alignment. This mattress provides enough support to be a good option for sleepers suffering from back pain. There is no sinking in the hips and shoulder regions. Upon laying on the OkiFirm, you will feel your weight nicely distributed from head to toe, and your spine aligned in optimal position. | The OkiFirm mattress does a really good job at controlling the heat. If you are a hot sleeper or live in hot climate, this mattress would be a good option. I know that 100% memory foam is usually synonymous with heat trapping, but OkiOki designed an Ice Yarn cover that is hypoallergenic and feels cold to the touch. They mixed it with an air hole-filled 3" of graphite foam, so that the air flows up to the cover to cool your body down throughout the night. Additionally, the heat emitted by your body is channeled down through the mattress, thanks to the porous graphite foam! | One amazing thing about the OkiFirm, is its zipping, machine washable, cover. Should you stain it, easily unzip the cover and machine wash it on cold with like colors. | The OkiFirm is a great mattress for back and stomach-sleepers. Its firmness and the 10 inches of high-density and graphite foam, offer a strong support to the body and help with proper spine alignment. A side-sleeper might find this mattress a little too firm and lacking hip and shoulder sink. | The OkiFirm mattress can be used on several bed bases, or even on the floor. It does require support and you can place it on a box foundation, wooden slats, or box springs. It also does really well on an adjustable base. Note that OkiOki sells 2 bed frames and headboards, that work really well with the OkiFirm. I noticed that the bottom of the OkiFirm removable cover is made of an anti-slip material to avoid shifting while you sleep! |
OkiFirm Prices & Discounts
30% OFF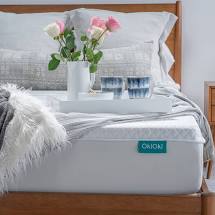 The OkiFirm mattress comes in the 6 standard mattress sizes and their current sale offers 10% OFF your purchase. Click the box above for a special discount code of 11% OFF!
OkiOki prides itself in being a straight-forward bedding company. Per their website, they bring "honesty and transparency to the mattress industry." They take pride in developing mattresses similar to their competition, at much lower prices. I find this mattress to be of incredible value for the quality. You would NEVER imagine you are sleeping on a mattress below $500! The current sale makes the Queen mattress $495!
Make sure to click the box above to claim the deepest discounts.
Price List updated: November 2020 – Pre-discounted prices
Detailed OkiFirm Mattress Review Conclusion
For a mattress priced under $500, I doubt that you can find much better on the market. 
If you are a stomach or back-sleeper, this mattress is incredible. It provides an enormous amount of support with just the right amount of plush. The contouring is minimal and ensures that you feel cozy, and not like you're sleeping on a wooden plank! Additionally, if you suffer from being a hot sleeper, OkiOki has put 2 of its best products in play to ensure you a cool night of sleep. I recommend this mattress for hot sleepers who prefer increased support and don't need all of the bells and whistles. The OkiFirm is simple, yet has everything you'll need for a comfortable night of sleep on your back or stomach.
Note that while you can sleep on the OkiFirm immediately upon unboxing it, we decided to give it 24 hours to let it rise to its full potential. It seemed like it needed a little bit of extra time to get there. 
Find all of our OkiOki reviews HERE.
The founders of OkiOki started the company out of frustration for their industry. They noticed questionable marketing approaches in their competitors, as well as climbing prices, and wanted a company based on high quality products at fair and transparent prices. 
They have developed 4 mattresses – unhappy with an industry trying to fit all sleepers on one mattress. They believe that each sleeper has a different set of needs and preferences, and their 4 mattress have been tailored to contain the highest quality foams, coils, and features, at prices much below their competitors'.
OkiOki has developed the: 
OkiSoft: 100% memory foam, designed for side-sleepers
OkiEasy: a memory foam/ coil combo, designed for side-sleepers
OkiFlex: a memory foam / coil combo, designed for back and stomach-sleepers
OkiFirm: 100% memory foam, designed for back and stomach-sleepers
OkiOki also offers bed frames and headboards, foundations, bedding accessories, night stands, dressers, and sofas. 
What Is Inside The OkiFirm?
The OkiFirm is made of three components: the high-density memory foam, the graphite foam, and its Ice Yarn cover. Let's look at all three independently. 
The bottom layer of the OkiFirm, is made of 7″ of high density memory foam. That layer feels really firm to the touch and provides great support to the spine. All foams used by OkiOki are CertiPUR-US and OEKO-TEX certified, which make them a safe material to spend 8 hours a day laying on! They are non-toxic and made without ozone depletes, PBDE flame retardants, mercury, lead, banned Azo colourants, formaldehyde, pentachlorophenol, cadmium, nickel, and other heavy metals. They are also Low Volatile Organic Compound emissions for indoor air quality.
The upper layer of foam is made of 3″ of graphite foam. It feels a lot softer to the touch and serves two purposes. It provides excellent support with a bit of a plush, without the sinking feeling of memory foam. It is in just the right amount to feel like you're sleeping on a soft cloud. It is also there to keep you cool at night. Its porous properties allow for heat exchange throughout the night. Your body's heat is channeled down, while cool air rises to the Ice Yarn cover. 
Lastly, the Ice Yarn cover, which you sleep on, is very cool to the touch, and benefits from the air coming through the graphite foam to remain cool at night. It helps your body regulate its temperature and ensures a cool night of sleep. 
How Does The Oki Firm Sleep?
Firmness
The OkiFirm Mattress is definitely on the firm end of the spectrum. OkiOki uses one of the densest foams on the market to provide support and great spine alignment. 
Sleeping Style
The firmness and support offered by the OkiFirm make this mattress an ideal companion to the back and stomach-sleepers, and would work really well with people suffering from back pain. Side-sleepers might find this mattress too firm, which could create issues in the hip and shoulder areas. 
Temperature
Are you a hot sleeper, or living in hot climate? We sleep tested the OkiFirm on hot Florida nights and kept the house temperature at 79 degrees to fully test the claimed coolness of the OkiFirm. I am happy to report that, not even my extremely hot sleeping husband, reported getting hot. The porous graphite foam and the Ice Yarn cover stay cool throughout the night and prevent overheating. 
Motion Transfer
The OkiFirm is 10 inches of 100% memory foam. As you would expect, it did really well on the motion transfer test. Its cover isn't extremely firm, which helps with dissipating the motion of a moving partner. Note that the cover can take up to a month to get to its relaxed state. We sleep tested the OkiFirm mattress for 7 nights and did not find the cover too tight. The motion transfer was barely noticeable. 
How Do I Care For The OkiFirm Mattress?
One of my favorite features of the OkiFirm is its removable and machine-washable cover. In case of a stain, lift the mattress (easy to do alone as this mattress is fairly light and flexible), unzip the cover that sits below the mattress, and machine wash on cold with light colors. Once dry, zip back up and you have a clean bed to lay on.
30% OFF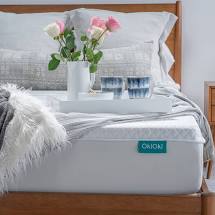 The PLUSES

The MINUSES

Firm with just the right amount of plushness
Ideal for back and stomach-sleepers
Machine-washable zipping cover
Stays cool and does well in hot climates
Minimal motion transfer
Works well on an adjustable base

Not designed for the side-sleepers. Instead, look into the OkiSoft (memory foam) or the OkiEasy (hybrid) if you sleep on your side
Doesn't have all the bells and whistles of a luxury mattress, but it has clean and modern lines, and has become one of our favorite mattresses for back and stomach-sleepers
Share this deal with a friend!