The Queen size in the color
Purple

is so popular

I just bought some sheets (for $114) and my estimated shipping time is 3 weeks!  Here are the current (4/20/18) shipping times for their sheets:

• Q White: 7-10 Days FedEx Ground
• Q Purple: 3 Weeks FedEx Ground
• All Other Sizes: 1-2 Days FedEx Ground

I guess that means that they are out of stock on the color purple, huh?  Oh well, I can wait.

Under promise and over deliver is the best motto that a company can go by, as your customers are always surprised in the end.  My Purple sheets showed up on 5/1/18, meaning that it was only a 11 day shipping period not the 3 weeks that they promised.

 Menu:

The World's First Bamboo-Based,
Ultra-Stretchy Sheets
Why you should consider buying those sheets!
I wish I could say don't think twice, just get them and then this sums up my review but I will give you more reasons why you need these sheets in your life. 
The Purple Bamboo Sheets are known to be:
Ultra-stretchy for supreme comfort and pressure relief. They are 83% more breathable than top-selling Egyptian cotton sheets, and have a Full elastic band for a snug fit on any mattress.
Here are the sheets that I bought, you can see them in action.  I am blown away by how great they feel.
 Super soft, breathable, and ultra-stretchy bamboo sheets
The Purple Bamboo Sheets are made of bamboo- based viscose fabric which makes them durable and super soft. They are high quality and the ONLY stretchy bamboo-based sheets!
Believe it or not The Purple Sheets help regulate your body temperature so you're never too hot or too cold. It's like magical sheets!
Purple™ Sheets are the only sheets that are both made with bamboo and super stretchy—without the seams! Heavy-duty elastic keeps your sheets in place while extremely soft, breathable fabric keeps you cool and satisfied. Your skin will get that ridiculous comfort it truly deserves with Purple™ Sheets!
PROS
Soft
Stretchy
Breathable
Heavy duty
Stay in place
Affordable
CONS
No trial period
No returns
Really Stretch can actually be a problem.  If you don't tuck in your top sheet you will find that it surrounds you.  Your partner could be left in the cold.
Are not sold separately. Not even the pillow cases (as of yet)!
 What they have to offer:
The Purple Sheets are available in Slate (gray), Sand (beige), White, and of course

PURPLE

Soooo strrreeetchy
Super soft and breathable
Seamless sheets keep your bed looking awesome
Heavy-duty elastic to keep your sheets in place
Includes: (1) Fitted Sheet, (1) Flat Sheet, (2) Pillowcases [F/FXL/Q/K/CK]
Includes: (1) Fitted Sheet, (1) Flat Sheet, (1) Pillowcase [T/TXL]
Fits mattresses up to 16-inches high
Due to the nature of the product there is no trial or return policy for the Purple™ Sheets
They come with 1 year limited warranty
Free shipping to all 48 contiguous states
At the end I would like to share VERY IMPORTANT WASHING AND CARE INSTRUCTIONS.
Especially that you want to make the most out of your Purple Sheets purchase since they are sadly not refundable or returnable. So follow these instructions closely:
Purple Sheets are stain-resistant, but not stain-proof. With proper cleaning techniques they should wash clean. Machine wash in cold water. Hang to dry or tumble dry. NO HEAT, laying the sheets flat to dry without any heat is the best way to dry this particular material. No bleach.
Silicone-based lubricants, Make up or hair products may appear to stain your sheets, but is easily cleaned by applying a paste of baking soda and Dawn dish soap to the affected area before putting them in the washing machine. 
Price Table
| Twin | Twin XL | Full | Queen | King | California King |
| --- | --- | --- | --- | --- | --- |
| $99 | $99 | $114 | $114 | $129 | $129 |
| No Trial | No Trial | No Trial | No Trial | No Trial | No Trial |
Current Specials
Sometimes Purple will run a promotion for free sheets with the purchase of a mattress.  Today is one of those days, I expect the promotion to run through May 2018.  Purchase Purple Sheets.
Unboxing Video
I just shot a video for the best mattress protectors.  Perhaps I should shoot a video showing how they work with the sheets on the original purple mattress?  Check back in a few days!
Unboxing Pictures
My friends got the sheet set below when they purchased their purple mattress.  I liked it so much that I decided that I needed to buy a set myself.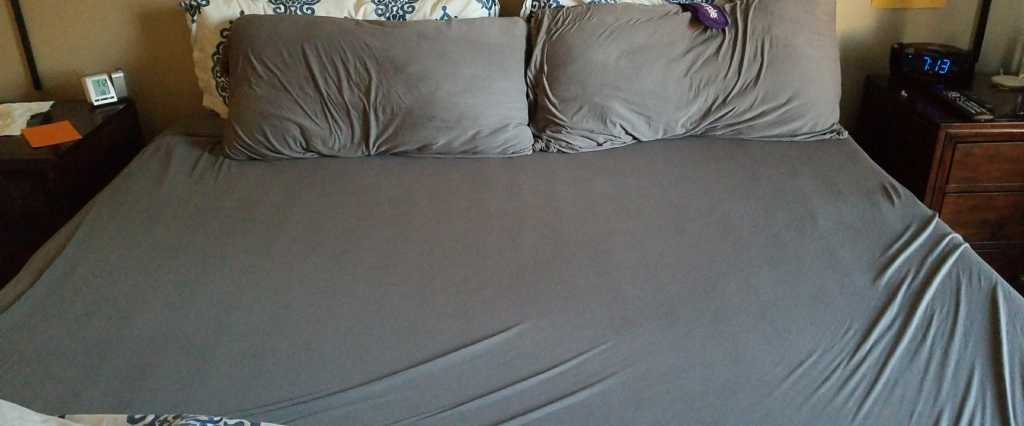 You may have to wait a bit longer to get the color purple, as they are in high demand.