Allswell Hybrid Mattress Review
Allswell Hybrid Mattress Review The most affordable mattress! Not just any mattress, the most affordable HYBRID mattress is finally here, so if you are in the market for a new American Hybrid mattress you came to the right place. Crafted in the United States from both domestic and foreign parts, The Allswell flaunts impressive features and benefits amounting to a mattress so comfortable and luxurious it's hard to believe it ships in a box. Despite this low-level price, The Allswell boasts high-level features including: • Hybrid technology • Three types of memory foam layered for supreme comfort • Individually wrapped coils which minimize motion transfer • Added edge support achieved by using a high gauge of coil around the perimeter of the mattress
Allswell Company Policies
– Free shipping
– 10-year warranty
– 100-night risk-free trial
– Optional mattress removal and white-glove service
What's Inside the Allswell Hybrid?
It is 10" thick combining the best of both worlds: High- performance CertiPUR US certified memory foam and 2 gauges of coils. The top layer is quilted with open cell CoolFlow foam to improve air flow and for better breathability, keeping heat away. The mattress itself is encased in a fabric designed to feel cool to the touch keeping you comfortable through your sleep. The coils are individually wrapped providing the classic comfort, maximum edge support and minimal motion transfer all in one. The edge support is great and it is there, you will notice it especially around the perimeter of the bed. The coils provide premium support and minimum motion transfer making your sleep experience more pleasant and undisturbed. I was fortunate to see them make and ship Allswell's when I went to the factory here in Phoenix to grab one.
Allswell Hybrid Sleep Tests
I have tested the Allswell previously, it was the all foam mattress. To me, it was like the right mattress for your guest's bedroom or extra room. Well built and priced just right but the finish and material were just OK. Just another mattress built in China. Now I do not have anything wrong with products coming from China, we all own stuff coming from China. Some of them are really good and some are poorly made. Simple! I personally don't really care where mattresses come from, I used to, until I started reviewing them. Some of them showed great construction, they were priced right and I would totally recommend. Some of them wouldn't even make it out of the box. It's like you can tell immediately if a product is good for you or just garbage. Seeing the Allswell boxes in Phoenix at Brooklyn Bedding factories put a smile on my face. You feel more comfortable and confident when you know where and how your products are made. I saw them with my own eyes here in Az and I couldn't be any happier and proud to test the Allswell Hybrid and share my experience and what I think about it with you. Budget friendly, well made and luxurious! The Allswell Hybrid earned its name since it looks and feels very much like a good value bed made with high-quality materials.
Allswell just launched a line of mattress toppers. The one that I have is copper infused memory foam at the top. So, if you want the addition of a memory foam feel (with the benefits of copper) on your mattress it is an improvement that is well worth the additional costs. With the help of the copper infusion the topper is cool to the touch. Unfortunately, straight out of the box it is kind of sticky so they suggest that you put your fitted sheets over it. This means that you don't get that cool sensation right on your skin. It's one of those, oh you guys are really close to something amazing, but just missed. You can see from the picture below that they are also using a "zoned" concept to help give you a bit more support where you need it (hips/torso) and less on your head and feet areas. Depending on seasonal promotions expect to pay a bit more than $100 for this 4 inch memory foam addition.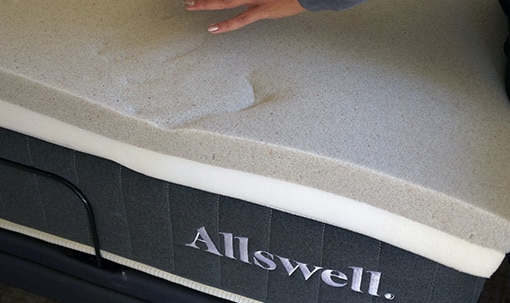 Allswell sent it to us.  All of the opinions expressed in this review are mine.
I saw some boxes of mattresses with the Allswell label on them at the Brooklyn Bedding factory in Phoenix, AZ, USA.
Yes they offer a mattress topper