This is our review of the Bearaby Napper – Bearaby's organic cotton weighted blanket. We are also so excited to get our hands on hand-knitted weighted blankets, and when they come in organic cotton, it is the perfect match! 
Let's look at everything we thought about it!
At Bearaby, they offer two shipping options. One via UPS for faster delivery, takes 2 to 5 days, and then another option that takes 5 to 7 business days to be delivered (still considered fast).
Now here's the best part. Not every weighted blanket company offers this, but you have a whole month to figure out if the Napper is right for you. If for any reason you are not satisfied with it you can always return within the first 30 days after purchase for a refund.

Free shipping and easy returns
30-day at-home trial
No artificial fillers
What Makes The Bearaby Napper So Special?​
By combining breathability technology with a unique body contouring system, the folks at Bearaby were able to pull off a series of weighted bedding products that are remarkably different, delivering perfectly natural sleep.
The Bearaby Napper is the weighted blanket we have put to the test. Click here if you are looking for our Bearaby Nappling weighted blanket for kids review.
Our first impression, when receiving the Bearaby Napper, was the cozy look of its sustainable organic packaging bag. It set the tone for an organic weighted blanket, and showed quality and care for the environment and the sleeper. 
Not only did we have a functional weighted blanket in our hands, but good-looking and transpiring quality too!
The Bearaby Napper is not just beautiful and soft, it does everything we expect a weighted blanket to do – it helps to fall asleep faster by decreasing stress and anxiety and increasing a sense of calm and rest. The fact that it is a beautiful product is added bonus that helps make your room a haven of calm and relaxation. 
The Bearaby Napper weighted blanket is hand-knitted, made with nothing but layer upon layer of soft organic cotton. Cozy, chunky and delightfully heavy. 
The Bearaby Napper Sleep Test​
The Bearaby Napper weighted blanket's weaves stimulate the production of serotonin, the happiness hormone; and melatonin, the sleep hormone. All the while reducing cortisol, the stress hormone, giving its sleeper- or napper- a sense of ease to help relax and fall asleep faster.
The feeling of a weighted blanket is hard to explain to someone who has not experienced it. It brings instant relaxation by providing gentle pressure and sensory relief to every part of the body it touches. It has benefits similar to those of a warm hug. 
Since it conforms to the shape of your unique body, you receive stress-releasing pressure from neck to toe. 
What we loved about the Bearaby Napper, is its wide hand knits, and the organic cotton. The wide hand knits are wonderful if you are someone who sleeps hot under weighted blankets. This one is literally filled with air, full of large holes, allowing for plenty of airflow. 
The organic cotton is incredibly soft, as well as a very breathable material, that further helps your body regulate its temperature while you sleep / rest. It is organic, soft, and responsibly farmed, for a product you can feel good about bringing into your home.
Because the Bearby Napper is hand knitted, its weight is perfectly spread and never shifts. Unlike other weighted blankets that use inserts filled with glass beads or other materials, the weight comes solely from the organic cotton threads, and the weight will stay evenly spread on top of your body all night long. 
Bearaby Napper Prices & Discounts
The Bearaby Napper comes in 4 different weights and 5 relaxing colors. Choose from a navy blue, two shades of grey, or white, for an inviting style, fitting modern to cozy décors. For a pop of color, the pink Evening Rose is a fun way to bring a little personality into your bedroom.
Choose from 10, 15, 20, or 25 lbs weighted blanket, based on your personal needs and preferences. Each weight has its own size dimension and all are designed to lay on top of 1 person. If you sleep with a partner, each should order his/her own Bearaby Napper.
While the 10-lb organic cotton weighted blanket is made of 100% organic cotton, the three heavier models come in 95% organic cotton and 5% spandex, to ease your movement during the night. 
If you are unsure of which weighted blanket weight is ideal for you, read over our weighted blanket weight guide!
Price List updated: July 2022
Bearaby Napper Review Conclusion
This soft and highly breathable organic cotton weighted blanket is a must-have in your home. It feels as relaxing and comforting as your favorite human's hug! If you choose the right weight for you, you will not feel crushed or restrained.
The Bearaby Napper will comfort you and make you instantly more relaxed. Bringing well-being and reducing the stress and anxiety in your life, will help you fall asleep faster, longer, and deeper. You can expect to wake up feeling rested and with more energy to tackle the day.
Ideal Weight For Weighted Blankets
The general rule of thumb for the ideal weight for weighted blankets for adults is 10% of your body weight, plus or minus a couple of pounds. For children, you will find that they generally enjoy 10% to 30% of their body weight on them. Before letting a child sleep with a weighted blankets, ensure that they can safely remove themselves from the blanket on their own!!
Let's look at an example for most adults: you weigh 150 lbs and 10% of your body weight is 15 lbs. If you add or remove a couple of pounds, the ideal weight for your weighted blanket would likely be 13 lbs to 17 lbs. 
The other way to think about this is to look at a 15-lb weighted blanket. It would comfortably soothe a person weighing between 130 and 170 pounds. 
Your preference in terms of weight and hugging sensation will impact the ideal weight for your weighted blanket. Most importantly, you need to be able to remove the blanket from your body unassisted.
Most frequent questions and answers
Bearaby sent us this Bearaby Napper organic cotton weighted blanket for testing purposes. This review is not sponsored and all opinions expressed in this review are my own.
No, but it comes with a 30-night at-home trial
Yes, Bearaby offers several other weighted blankets, including the Nappling designed specifically for children, the Tree Napper made of bamboo Tencel, the Velvet Napper for those cozy winter nights, the Hugger made for 2, and a Travel Napper meant to be taken on-the-go.
Share this deal with a friend!
Bearaby Napper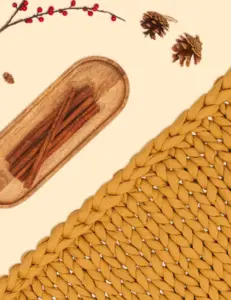 Check out the Bearaby Napper weighted napper blanket, to help keep your stress level down with a hugging blanket.
Product SKU: Napper
Product Brand: Bearaby
Product Currency: USD
Product Price: 199
Product In-Stock: InStock