NECTAR TRENTON BED FRAME REVIEW
We have built and tested the Nectar Trenton Bed Frame – Nectar's wood and metal bed frame. It has all of the looks you can be looking for in a modern or industrial style bedroom, and we are looking at how well it performs as a bed frame.
Is it sturdy, squeaky, easy to assemble, built to last? We are answering all of those questions for you!
33% OFF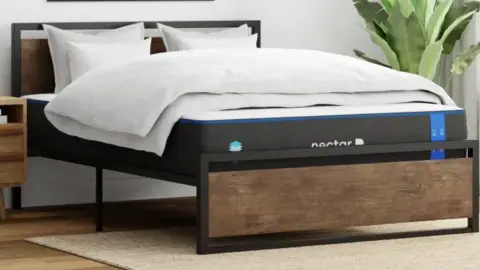 For the Upholstered Bed: 
50-night trial period
Free shipping
3-year warranty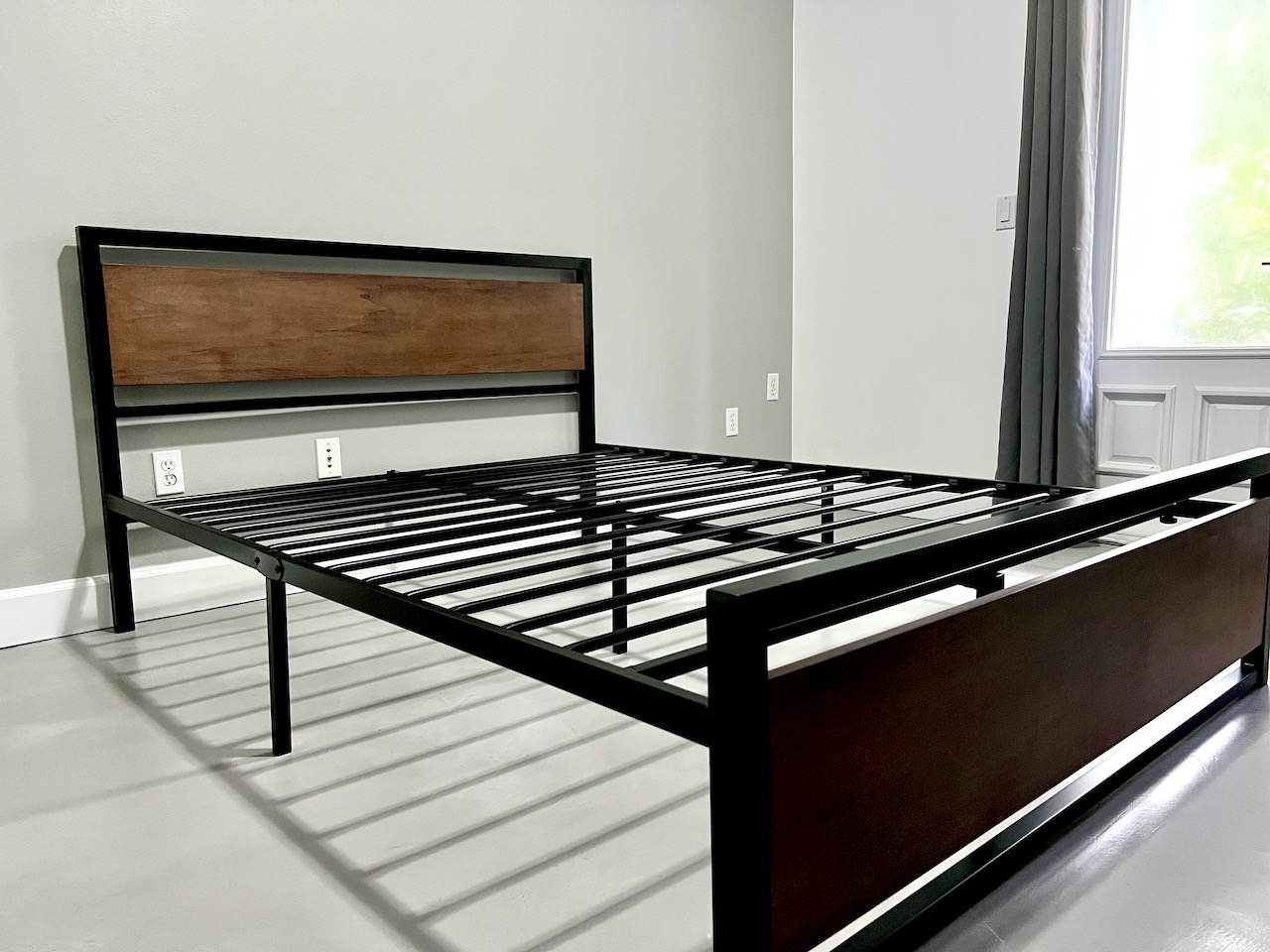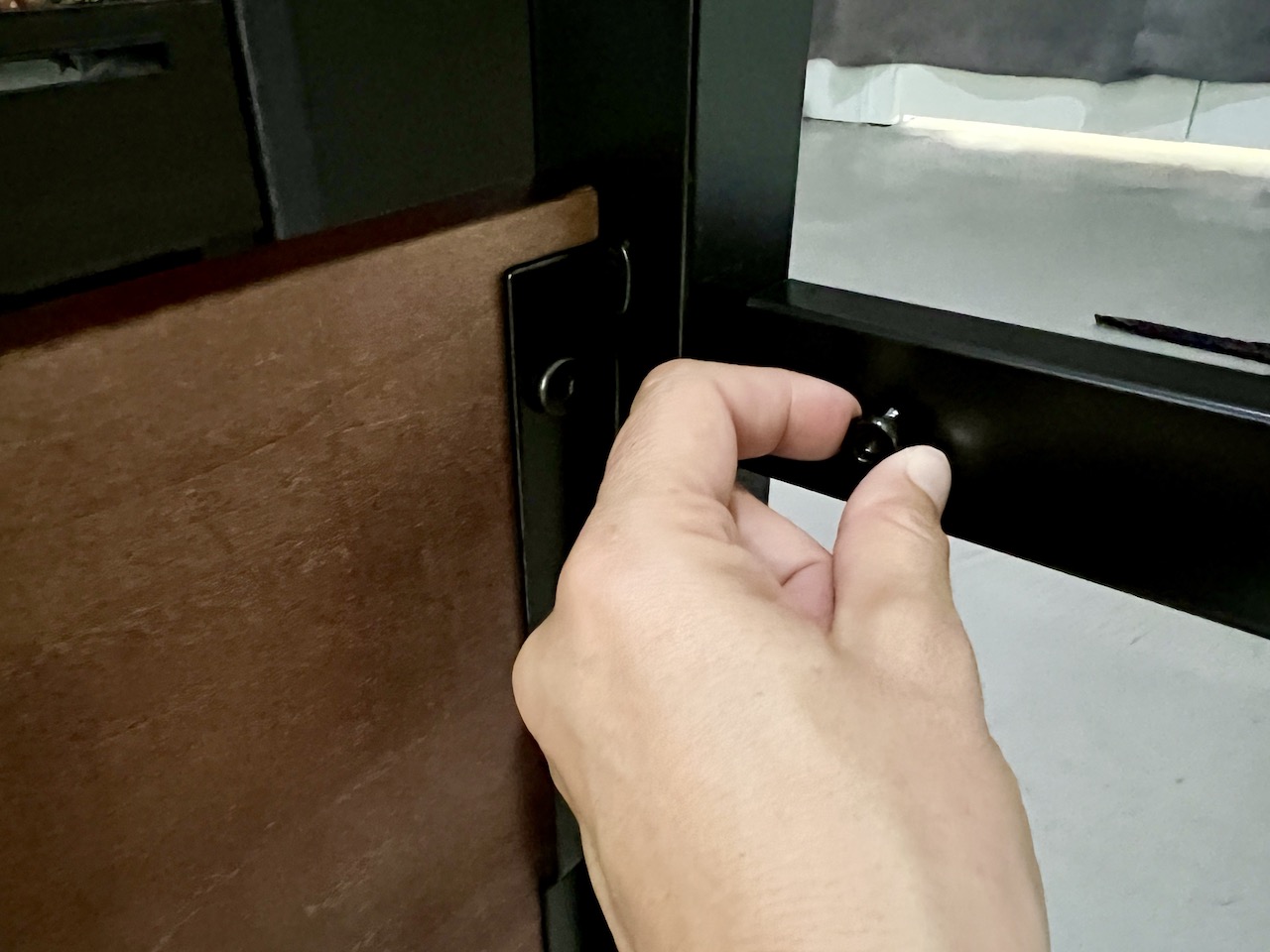 What's Inside The Nectar Trenton Bed Frame
In a nutshell:
Modern industrial look
Steel and lumber
No tools needed
Modern Industrial Look
If you are styling a modern or industrial bedroom, you will love the Trenton Bed Frame. With clean lines and materials reminding you of a modern loft, it will fit great in your modern home. 
The dark and cold steel is elevated and warmed up with two rich and dark wood panels at the head and foot of the frame for a beautiful and contemporary look. 
Steel And Lumber
The powder-coasted steel used in the Nectar Trenton Bed Frame is sturdy and durable. Expect a strong frame supporting the weight of the mattress and its sleepers without a fail (ideal for heavier folks). No wiggling or squeaking here.
The laminated veneer lumber wood in the foot and headboards bring style and warmth to the bed frame. We love that it is easily wiped with a wet cloth as needed. 
No Tools Needed
Best part maybe? Setting up the Nectar Trenton Bed Frame requires no tools other than the ones shipped in the box with it. Easier to build with another adult, you can expect the whole process to take around 30 minutes if you are alone.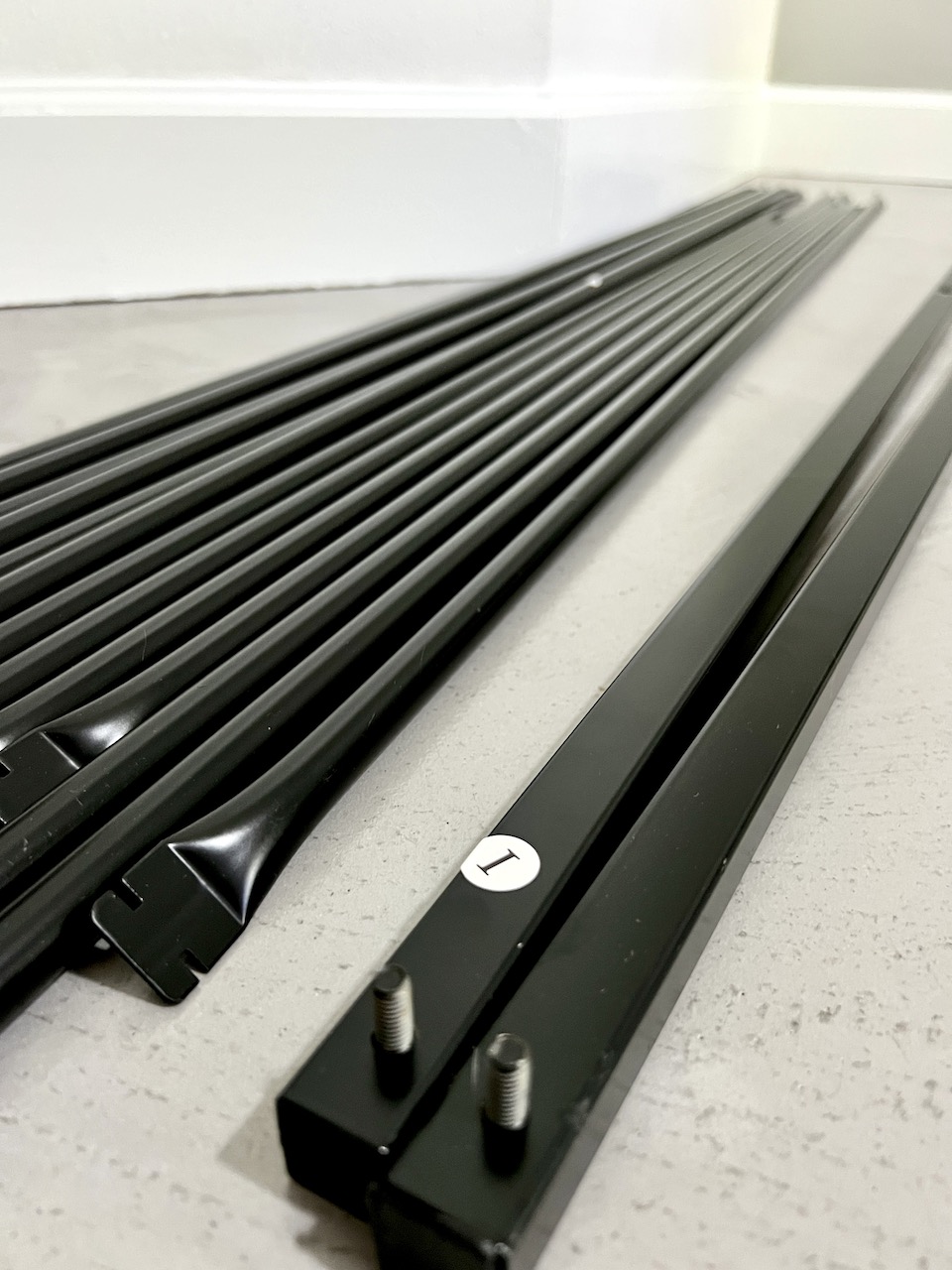 Nectar Trenton Bed Frame Install & Sleep Tests
Everything we felt in one box
| Install | Final Look | Sleep Test | Maintenance | Bed Base |
| --- | --- | --- | --- | --- |
| Building the Nectar Trenton Bed Frame is easy and straightforward. Grab your favorite human being and in less than 20 minutes, you will have a beautiful and sturdy bed frame to set your mattress on. The only tools you will need are included with the frame and following the building steps is super easy. | The Nectar Trenton Bed Frame is a beautiful modern-looking piece. Ideal for your modern, contemporary, and/or industrial home, it blends in with its black powder-coated steel and warm laminated veneer lumber wood. | The Nectar Trenton Wood Metal Frame did wonderful on the sleep test. Strong and sturdy, we noticed no wobbling or shaking while sleeping / tossing / getting in and out of bed. No squeaking or noises, it is a silent frame, thanks to its metal construction. | With a straightforward and clean design, as well as durable materials, the Nectar Trenton Bed Frame is easy to maintain and keep clean. Since the wood is laminated and veneer, it is easily wiped clean with a wet cloth. The powder-coated steel can be maintained the same way. | The Nectar Trenton Bed Frame comes as a platform bed with steel slats, making it very sturdy. No need to add box springs or a foundation - simply lay your mattress right on the slats. They are supportive and solid, and will handle enough weight to be an ideal bed frame no matter your and your partner's weight. |
Nectar Trenton Bed Frame Prices & Discounts
33% OFF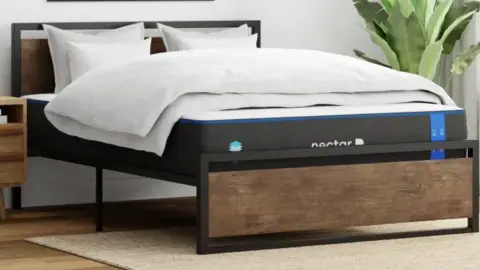 The Nectar Trenton Bed Frame comes in three sizes – Full, Queen, and King. There is only one model – the elegant alliance of steel and warm wood. If you are looking for a different style, Nectar sells a couple of other metal frames with or without headboards. 
For the quality and durability of this frame, the price is fair and offers great value, with all sizes priced under $1,000. 
Make sure to click the box above to claim the deepest discounts.
Price List updated: July  2022 – Pre-discounted prices
Detailed Nectar Trenton Bed Frame Review Conclusion
I am a big fan of how quick and easy the building process was on this Nectar Trenton Bed Frame. In about 20 minutes, we had an elegant bed ready for its mattress. 
If you are looking to elevate the look of your bedroom and turn it into an elegant modern / industrial haven, you will really enjoy the clean design of this headboard and bed frame. Just add a mattress, a few pillows, maybe one of Nectar's matching bedside tables, and you will get yourself a seriously good-looking bedroom. 
Let's look at our thoughts in more details below.
Find all of our Nectar reviews HERE.
Nectar has one simple mission – to make America's most comfortable mattress. And they're doing a pretty darn good job at it! We love that they also sell bed frames and bedding accessories.
In fact, they are so confident that their customers will get the best nights of sleep, that they were the first in the industry, to offer a 365-night at-home trial and a forever warranty!
Nectar is focused on bringing you the best sleep with the smallest price tag possible. Their mattresses are priced very competitively with quality materials sourced around the world. The foams are all CertiPUR-US certified and were vetted by third-parties for having no ozone depletes, PBDEs, TDCPP flame retardants, mercury, or lead. They passed rigorous independent tests for low volatile organic compound emissions for indoor air quality and more. 
Something that really sets Nectar apart from other mattress-in-a-box companies, is the ability you have to test their mattresses in nearly 2,000 retailers in the U.S. Retailers such as Macy's, Mattress Firm, and Rooms To Go carry the Nectar mattresses. However, since you have a whole year to test it at home, I probably would let the mailman deliver it right to your door.
If you wish, you can even elect to purchase white-glove service for $149 and a team member will deliver, unbox, and set up your mattress in your room of choice!
What Is Inside The Nectar Trenton Bed Frame?
The materials in the Nectar Trenton Bed Frame are elegant and clean. You will find powder-coated steel and laminated veneer lumber wood. 
Steel is used to build the frame as well as the slats. Bed slats are usually made of wood, however Nectar uses metal slats for a sturdier bed that can handle more weight. It also minimizes the wobbly feel some bed frames can have. 
The headboard and footboard are framed in steel with laminated veneer lumber wood pieces inside, for a warmer and cozier look. 
Both the wood and metal are easy to maintain and wash with a wet cloth. 
How Does The Nectar Trenton Bed Frame Test?
Install
I was very impressed with the install process on the Nectar Trenton Bed Frame. The directions are straight-forward and easy to follow, even for first-time bed builders.
The bed frame is shipped in one box, which includes headboard, footboard, all stabilizing bars, metal slats, screws, and a small wrench. While the assembly instructions recommend using 2 adults to build the Nectar Trenton Bed Frame, I did it on my own and it took me about 30 minutes from start to finish. A second adult would have made adding the side bars a little easier, but this is very manageable on your own if you do not have help!
I used the little wrench included in the box and did not need any other tools. The screws went in like butter and I only used the wrench to nicely tighten each bolt. 
Overall, I spend around 30 minutes unpacking and building this bed on my own. 
Final Look
The Nectar Trenton Bed Frame looks fantastic in a modern home. With clean lines and earthy materials, it elevates your modern design with a piece of industrial décor. 
While you only have one choice when it comes to design and colors, Nectar does offer a couple of other bed frames and headboards. We thought the Trenton look clean and the materials have a very nice and clean finish, for a well-rounded bedroom. 
Sleep Test
The first thing to strike us while sleep testing the Nectar Trenton Bed Frame is the sturdiness of the frame. We found it to be strong and stable, with no wobbling or squeaking, whether getting in or out of bed, turning or tossing, or during bedroom activities. 
While the headboard is a little hard, due to its wood and metal construction, adding some pillows while lounging fixes that and makes the bed very comfortable. 
Maintenance
Keeping your Nectar Trenton Wood Metal Frame clean is a piece of cake. We love bedding that makes it easy to keep clean. 
Simply wipe the steel and wood with a wet cloth to get rid of dust and potential stains. 
Bed Base
I love that what is coming in the Nectar Trenton Bed Frame box is a one-and-done deal. This bed is a platform bed that comes with metal slats that are easily installed during the building process. 
After building the bed frame, all that you have left to do, is add your mattress to your Nectar frame. No need for box springs or a foundation! 
How Do I Care For The Nectar Trenton Bed Frame?
The Nectar Trenton Bed Frame is very easy to keep clean. Thanks for straight-forward materials and clean design lines, you can simply wipe dust or stains with a wet cloth or sponge. 
33% OFF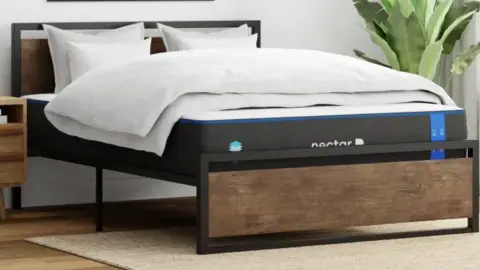 The PLUSES

The MINUSES

Modern / industrial design
Clean lines
Very sturdy 
Strong to accommodate heavier loads
Accessible pricing 
Easily add a Nectar bedside table for a full look

If you are looking for a traditional look, the Nectar Trenton Bed Frame has more of a contemporary look. 
Share this deal with a friend!