NEST ALEXANDER HYBRID REVIEW
The Nest Alexander Hybrid Mattress is one of the most unique mattresses we have ever tested. I love seeing mattress companies think outside of the box and Nest Bedding hit it out of the park with the Alexander Signature Hybrid! We loved it for 2 main reasons, read on!
10% OFF
Alexander Signature Hybrid
10% OFF site wide! On anything not part of the sale, use NONBIASED6 for 6% OFF!
Nest Bedding Company Policies
Made in the USA
Lifetime warranty
100-night at-home sleep trial
Built by hand and to order in Phoenix, AZ
What's Inside The Nest Alexander Hybrid
In a nutshell:
1″ gel memory foam quilted mattress cover
3″ TitanChil Endurance Foam
Transition foam layers
8″ of pocketed coils
1″ Gel Memory Foam Quilted Mattress Cover
The Nest Alexander Hybrid's mattress cover is absolutely wonderful. One-inch thick and quilted with gel memory foam, it prevents you from sweating at night and cradles you into the softest of sleep. Ever wondered what sleeping on a cloud might feel like? This must be about as close as it gets!
3″ TitanChil Endurance Foam
I don't even know where to start with the TitanChil Endurance foam layer. I am so impressed with it and Nest Bedding's R&D department overdid themselves! Those 3 inches of foam are infused with titanium, ensuring a cool night of sleep. It provides the perfect amount of soft contouring and pressure relief, as well as responsiveness to never feel like you're stuck in your mattress. But best of all, you can unzip the quilted mattress cover and replace the TitanChil Endurance Foam with a plusher or firmer layer to match your current sleeping preference. And when you think you are ready for a new mattress, simply exchange that layer of foam for a new one, and avoid sending your mattress to the landfill, while benefitting from a brand new mattress feel for a portion of the cost of a new mattress!
Transition Foam Layers
You will find 2 thin layers of transition foam in the Nest Alexander Hybrid Mattress. One to transition you from the soft TitanChil Endurance Foam to the supportive coils. And one underneath the coils as an outlet for the coils to compress into, adding life to your Nest Bedding mattress. 
8″ Pocketed Coils
The pocketed coils in the Nest Alexander Hybrid Mattress provide strong and healthy support to your spine throughout the night. It helps align your back and ensures that your high-pressure areas feel supported under the foam.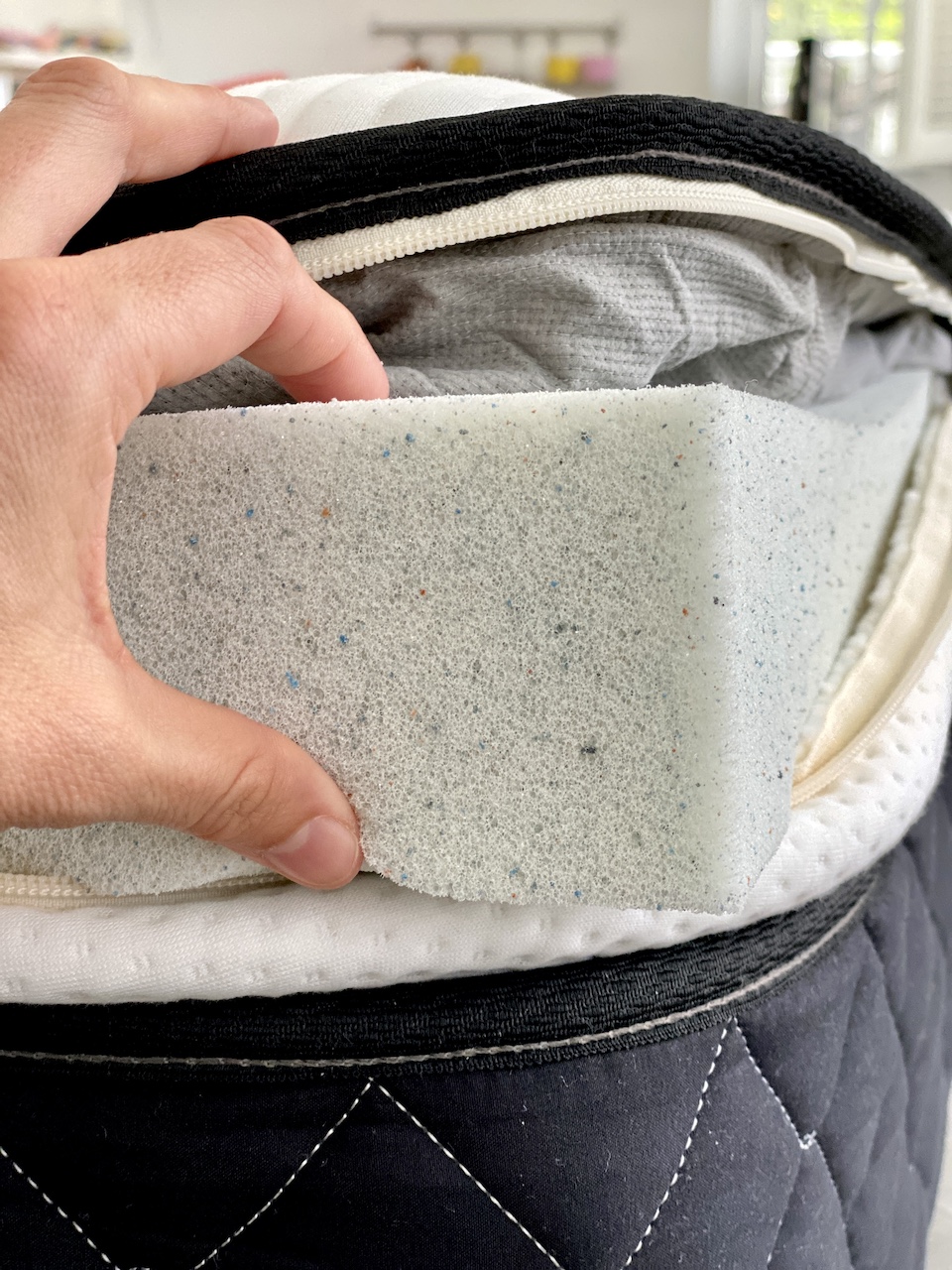 Nest Alexander Hybrid Sleep Tests
Everything we felt in one box
Nest Alexander Hybrid Prices & Discounts
10% OFF
Alexander Signature Hybrid
10% OFF site wide! On anything not part of the sale, use NONBIASED6 for 6% OFF!
The Nest Bedding Alexander Hybrid is priced very fairly for the high-quality mattress you are purchasing. This mattress is definitely hitting the luxury mattress market and a full-price Queen-size mattress is running under $1,500. Add to that the current discounts, or our exclusive coupon code for 6% OFF, and you are getting yourself a high-quality mattress for a very fair price.
Remember that you are getting 100 nights under the Free Exchange program, giving you 100 nights to call Nest Bedding and receive help from their team on which foam firmness will work best with your sleeping style. They will send you a different TitanChil Endurance Foam layer to insert into your Nest Alexander Hybrid for a different comfort.
Make sure to click the box above to claim the deepest discounts, and use discount code NONBIASED6 for 6% OFF on items not currently discounted.
Price List updated: March 2021 – pre-discounted prices
Detailed Nest Alexander Hybrid Review Conclusion
We have absolutely loved the Nest Alexander Hybrid and it is becoming a close call on whether it should become our guest room permanent mattress! It is an ideal mattress for couples, hot sleepers, and you can customize it to your personal sleeping style for the most comfort. 
There is so much to love about it and it is, in my opinion, a luxury mattress. It offers an incredible amount of comfort and support, with particularities that make it a bit of a wonder in the mattress world!
Three things I absolutely love about the Nest Bedding Alexander Hybrid: 
The 100-night comfort layer exchange program, letting you switch the firmness of your foam layer until you find the best one for your sleeping style
The dual firmness option for couples purchasing a King or California King. You get to choose a different firmness level for each side of the mattress if needed
Less filling of the landfills and long-term savings since you can replace the foam layer for a new one instead of trashing and getting an entirely new mattress
There is always something very special about purchasing a product from a family-owned company. Nest Bedding was established in 2011 as a factory-direct bedding and mattress company, and you feel the difference. Purchasing from Nest Bedding comes with a load of service, kindness, and knowledge. 
They believe in the products they place in your home and offer a lifetime warranty on their mattresses. That speaks so highly for the quality of their products! 
Each mattress is made to order and by hand, by Americans, for Americans. Their products are organic and natural, and their prices are very affordable once you consider the quality you are purchasing. 
Nest Bedding's mattresses do not contain any flame retardant chemicals, which is a wonderful plus. They use hydrated silica as a fire barrier in the entire mattress – a fabric woven with inert silica, which is a naturally occurring element.
Unlike many mattress-in-the-box companies, they have several showrooms in Los Angeles, San Francisco Bay Area, New York, Chicago, Seattle, and Denver for you to get a feel for their mattresses. And if you can't physically make it to one of their locations, remember that you are getting a 100-night at-home sleep trial to make sure you love your mattress before fully committing! 
Find all of our Nest Bedding reviews right here. 
What Is Inside The Nest Alexander Hybrid?
The Nest Alexander Hybrid mattress is a 14-inch thick mattress made of a combination of foam and coils, offering incredible comfort and spinal support for a healthy night of sleep. Thanks to its unique exchangeable layer of foam, we can recommend it to all kinds of sleepers. More on that below! Let's first look at the different layers in more detail: 
The Quilted THERMIC® Mattress Cover
The fully-zippable mattress cover on the Alexander Signature Hybrid is infused with gel memory foam and quilted. It is a whole inch thick and one of the plushest, most luxurious, mattress covers on the market, and the gel memory foam ensures that you sleep cool.
TitanChil Endurance Foam
All Nest Bedding foams are made in the USA and CertiPUR-US Certified, meaning that they do not release harmful chemicals in your home. In the Alexander Signature Hybrid mattress, you are getting 3 inches of TitanChil Endurance Foam in one of 3 firmness levels – Plush, Medium, or Lux Firm. That thick layer of foam is infused with titanium, further ensuring a cool night of sleep. This is a comfort layer you are able to exchange to give your mattress a new or different feel. King and Cal King sizes also give you the option for dual firmness, which is the only mattress I know that offers the option. 
Transition Foam
Transitional foam serves two purposes. It allows a soft transition between the plush foam and supportive coils, and gives an outlet for the coils to compress into, thus lengthening the life of the mattress. You will find a 1-inch layer of transitional foam on either side of the coils inside the Nest Alexander Hybrid. 
Individually-Wrapped Coils 
The Alexander Hybrid has 8 inches of pocketed coils that help provide full spinal support for a healthy night of sleep. They also do a great job at isolating a partner's motion during the night for a quiet and rested night of sleep. 
How Does The Nest Alexander Hybrid Sleep?
Firmness
The beauty and uniqueness of the Nest Alexander Hybrid resides in its TitanChil Endurance Foam. It gives 3 unique firmnesses to your mattress and you have 100 nights to exchange for a different firmness if you are not comfortable on the one you purchased. Here are the firmness scores we are giving each comfort foam layer: 
Plush: 4/10
Medium: 6.5/10
Lux Firm: 8/10
And guess what, couples? If you purchase a King or Cal King size, you can order dual firmness, where each partner customizes his/her side of the bed. With that internal split, if you have a different sleeping style or preference than your partner, you can each get the perfect feeling all in one mattress. 
Sleeping Style
The Nest Alexander Hybrid mattress accommodates different sleeping styles based on the comfort layer you purchase. 
Plush TitanChil Endurance Foam: this will be the perfect firmness for the side-sleepers looking for deep-pressure relief. It will work especially great if you are a heavier side-sleeper, like extra plushness, or need extra pressure relief in the shoulder or hip areas.
Medium TitanChil Endurance Foam: the Medium comfort layer is Nest Bedding's most famous. It is a nice starting point if you are unsure of your preference, or if you order a Queen-size bed and have a partner with a different sleeping style than yours. The Medium foam works really well with back sleepers and lighter-weight side-sleepers. Combo sleepers, who switch positions at night, will really enjoy the Medium as well. 
Luxury Firm TitanChil Endurance Foam: the firmest of the 3, the Lux Firm will be the most comfortable layer for stomach-sleepers who need to feel like they are floating on top of their mattress. It will work well with back-sleepers who prefer a firmer mattress. Side-sleepers, however, might find the Lux Firm too hard, and could feel shoulder and hip pain in the morning.
Temperature
The Nest Bedding Alexander Signature Hybrid mattress does an amazing job at keeping you cool at night. 
It uses a gel memory foam infused mattress cover, together with a titanium-infused foam to ensure that the foams you sleep on don't heat up unnecessarily. Your excess body heat is dispersed inside the mattress and the foam layers remain cool throughout the night. If you are a hot sleeper, you will sleep very comfortably on the Nest Alexander Hybrid!
Motion Transfer
With a total of 6 inches of foam, the Nest Alexander Hybrid is a great option for couples. Its 8 inches of individually-wrapped coils do a great job at isolating any motion. If you sleep with a partner, you should not be woken up by his/her movement. 
How Do I Care For The Nest Alexander Hybrid?
The Nest Alexander Hybrid mattress cover is not machine washable, and I ALWAYS recommend protecting your mattress investment with a waterproof mattress protector.
Spills and accidents unfortunately happen… If you do notice a stain on your Nest Alexander Hybrid mattress, tend to it as quickly as possible with a clean cloth, water and a mild detergent. Spot clean the stain without rubbing it to avoid spreading it. 
Let's now talk about your TitanChil Endurance Foam layer. You have ways to ensure it lives a long and happy life, while ripping all of the support and pressure relief benefits for many years. Simply rotate and/or flip it once every 6 months! And while you can't flip the whole mattress, you can unzip the mattress cover and flip and rotate the foam layer! You will gain 2 to 3 times the life of your comfort layer by doing so!!
10% OFF
Alexander Signature Hybrid
10% OFF site wide! On anything not part of the sale, use NONBIASED6 for 6% OFF!
Most frequent questions and answers
Share this deal with a friend!
Nest Bedding Alexander Signature Hybrid Mattress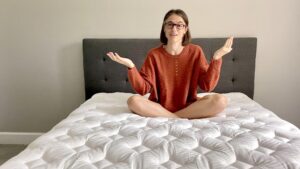 Nest Bedding Alexander Signature Hybrid - a precisely, American-made hybrid mattress. If you are looking for high-end materials for a restful night of sleep, this is a great mattress.
Product Brand: Nest Bedding
Product Currency: USD
Product Price: 854
Product In-Stock: InStock