BED SCRUNCHIE REVIEW & INSTRUCTIONS
Frustrated of popping bed sheets? Waking up in the middle of the night with half of your face on the mattress and the fitted sheet nowhere to be found? Bed Scrunchie is there to solve that frustration and hold your bed sheets tight and wrinkle-free. And guess what? We put Bed Scrunchie to its hardest test, and turned a flat sheet into a fitted sheet! Let's look at everything we found in our Bed Scrunchie review!
$5 OFF
Bed Scrunchie
$5 OFF with coupon code. The fabric clip that keeps your sheets tight
Bed Scrunchie Company Policies
100-night at-home trial
Lifetime warranty
International shipping available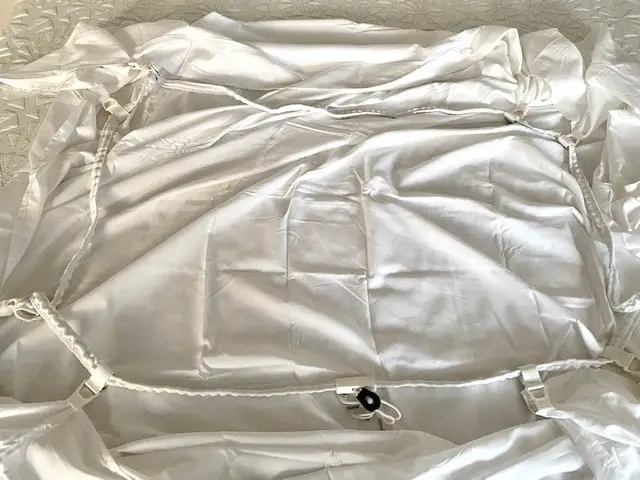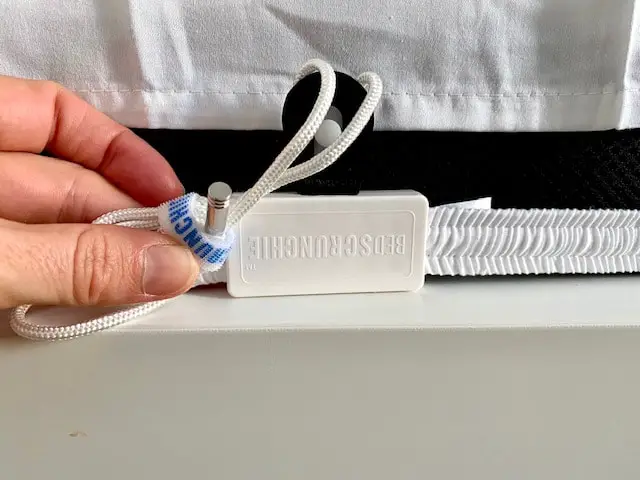 What's Inside The Bed Scrunchie
Coming in the box, are:
1 Bed Scrunchie
8 Bed Scrunchie premium fabric clips
The Bed Scrunchie

Coming in a very light grey (I'd call it white), is the Bed Scrunchie – the actual parachute-strength bungee cord that will reside underneath your mattress once installed. It is a one-size-fits-all and the same Bed Scrunchie will work with all mattresses from Crib to Cal. King, and everything in between – RV, boat, couch, and more.
8 Premium Fabric Clips

You will be attached 8 clips to the Bed Scrunchie and to your bed sheet. We found 8 clips to be exactly what we needed but you can order more on the website if needed.
Vegan
In case it matters to you, you will be happy to learn that Bed Scrunchie is vegan!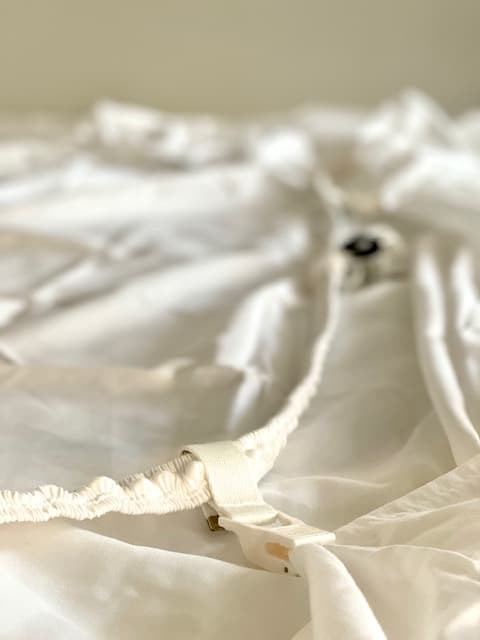 Bed Scrunchie Install + Sleep Tests
Everything we felt in one box
| Install | Look | Maintenance | Mattress Sizes | Discounts |
| --- | --- | --- | --- | --- |
| The Bed Scrunchie was super easy to install. I have a few tips for you later in this Bed Scrunchie review article, but count about 5 minutes the first time you install. After that, the Bed Scrunchie stays clipped to your bed sheet and fitting your sheet won't take you any longer than without using the Bed Scrunchie! | The Bed Scrunchie comes in one color and you won't be seeing it once installed. It is a nearly white light-grey and will reside underneath your mattress. The tightener tool is a tiny black plastic box located at the foot of your mattress and you will easily slide and hide it underneath the mattress. | Super easy - leave it attached to your fitted sheet and throw it in your washing machine and dryer, as you would your sheets! | The Bed Scrunchie fits all mattress sizes and everything else you can think off. It will keep your sheets tight from Crib to California King, boat, RV, couch, and more. The Bed Scrunchie comes with a tightener that allows you to fully customize the tightness on the sheets and perfectly fit the mattress you're dealing with. Additionally, its one-size-fits-all is a great option for adjustable bases and thick mattresses. | Looking for a Bed Scrunchie discount? Get the latest and deepest discount codes by clicking SHOW CODE in the coupon boxes found in this article. Additionally, buy more than one pack and receive bundle discounts! 44% when ordering 2 packs / 3 packs / Split King, and 47% on 4 packs! |
Bed Scrunchie Prices & Discounts
$5 OFF
Bed Scrunchie
$5 OFF with coupon code. The fabric clip that keeps your sheets tight
Bed Scrunchie sells one product only, making your purchase nice and easy!
The same Bed Scrunchie will work on holding and tightening sheets to all mattress sizes, thanks to its tightening mechanism, which adjusts to all mattresses sizes and thicknesses. And yes, it works wonders on adjustable beds!
Bed Scrunchie offers discounts on bundle purchases:
– 44% OFF: when ordering 2 packs, 3 packs, or the Split King option, which comes with 2 Bed Scrunchies
– 47% OFF: when ordering 4 packs

Should you require extra Bed Scrunchie clips, you can buy them in packs of 2. They are currently priced at $12.95, with discounts of up to 30% (current discounted price of $9).

Make sure to click the box above to claim the deepest discounts!
Price List updated: August 2023

Detailed Bed Scrunchie Review Conclusion
Sheets popping off of mattresses is a huge pain point in our household. I'm pretty sure my husband wakes up to no fitted sheet more often than not. I have also noticed my 8-year starting to struggle with the issue too.
The Bed Scrunchie is an amazing way to fix this problem! It is easy to install – and I am giving you a few pointers and tips below – easy to wash, and it will keep your sheets tight to your mattress and nearly wrinkle-free night after night!
Click HERE for all of our Bed Scrunchie reviews. 
Bed Scrunchie was invented by Jack and Michael – 2 friends with experience in the textile industry and a fair amount of frustration towards popping fitted sheets!
Jack is one of the owners of Luxor Linens (some of the softest sheets we've ever tested!), and when he realized that nothing seemed to solve the fitted sheet problem, and that not even Amazon could offer a good solving tool, he came up with the idea of a 360-degree hold he named Bed Scrunchie. He wanted a product that would not only keep his sheets fitted throughout the night, but also one he didn't need to lift his mattress and break his back installing.
Bed Scrunchie was born in his New Jersey workshop. It is designed and patented in the U.S. and revolutionizes the fitted sheet industry by holding sheets, extending them, converting flat into fitted, and fixing loose, short, and stubborn bed sheets like magic!
What Is Inside The Bed Scrunchie?
You can buy the Bed Scrunchie either on its website, or as an add-on to your Luxor Linens order. It comes in a box with 1 Bed Scrunchie (the bungee cord of sorts) and 8 premium fabric clips.
It also comes with an instruction sheet and a QR code for an instruction video.
Bed Scrunchie Instructions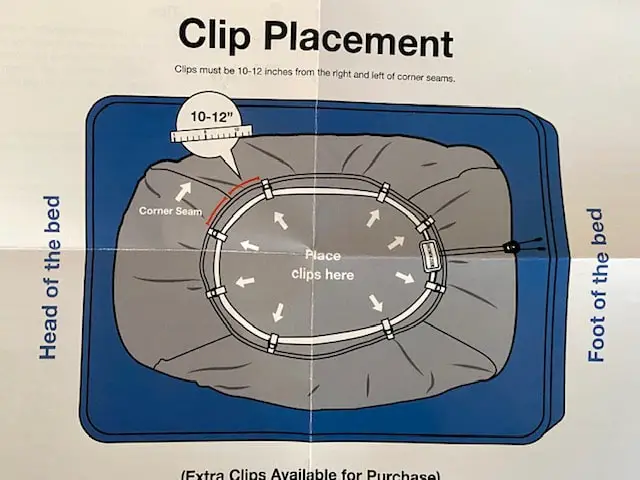 The Bed Scrunchie is very easy to install but we learned a thing or two while installing ours, that I want to share with you. Make sure you watch our video, embedded at the top of this article, for our Bed Scrunchie instructions on install!
1- Start by flipping your fitted sheet upside down.
2- Clip all 8 premium fabric clips to your fitted sheet. You will attach 2 per corner, each about 10-12 inches from the corner. So each side of your fitted sheet will have 2 clips attached, about 10-12 inches from each corner.
3- Next comes the Bed Scrunchie bungee elastic. Pro Tip: lay it on top of your sheet and align the tightener to the center of your sheet on the foot side! That way, when you flip your sheet, you know the tightener will be in the right spot!
4- Clip each clip onto the Bed Scrunchie. I recommend, once again, starting with the feet of the sheet and first clipping the 2 clips that come on either side of the tightener!
5- Flip the sheet and Bed Scrunchie over and get ready to slip your sheet around the mattress. Pro Tip: hold on to the sheet AND the Bed Scrunchie together as you slide the sheet around your mattress! Simply fit your sheet as you would normally. The Bed Scrunchie will slide underneath the mattress, where it belongs.
6- Move over to the foot of the bed and tighten the tightener by pulling on both draw cords. Pull as much as you need to tighten your sheets and remove wrinkles, then lock.
7- Bundle the strings and slide the tightener under the mattress.
How Well Does The Bed Scrunchie Work?
I am very impressed with the performance of the Bed Scrunchie on all sorts of sheets.
Starting with the install, the whole process took only a few minutes and a few easy steps. We posted a video of us going through unboxing and installing for the first time, so you know exactly what to expect. Feel free to watch it for our key learnings, and definitely read the section above for our best Bed Scrunchie Instructions and tips for install.
I find the Bed Scrunchie to be amazing on several levels:
It fits all mattress sizes, including thick mattresses
It adds a wrinkle-free render on the sheets, which looks amazing
Your bed looks professionally made all the time! Not even the kids jumping on the bed change that!
No need to lift the mattress to install. Keep the Bed Scrunchie attached to your sheets and do nothing more than fitting your sheet around your mattress
Install only once – after that, wash the Bed Scrunchie with your sheets. You can even throw them in the dryer
We put it to its hardest test and successfully turned a flat sheet into a fitted sheet. Now think of all of the brand-new fitted sheets that just created in my household!!
You can use the Bed Scrunchie on all and any sheets
You can use 2 Bed Scrunchies at once in case you'd like to also tighten a mattress protector for example
What Sets Bed Scrunchie Apart?
That's an easy one! Bed Scrunchie is the only one of its kind!
It is the only 360-degree bed sheet holder on the market. It holds and extends your sheets all at once. It converts your flat sheets into fitted sheets. No matter your mattress configuration, it keeps your sheets tight onto your mattress and wrinkle-free!
Bed Scrunchie is the ultimate solution to the popping fitted sheet problem!
How Do I Care For Bed Scrunchie?
The Bed Scrunchie + premium fabric clips are fully washable and dry-able! Leave them attached to your sheets, and you throw your fitted or flat sheet into the washing machine, the Bed Scrunchie will wash right along. It can also be dried in your dryer, at low, medium, or high speeds! Doesn't get any easier than that!
$5 OFF
Bed Scrunchie
$5 OFF with coupon code. The fabric clip that keeps your sheets tight
The PLUSES

The MINUSES

Fits all mattresses, including thick ones
Works with all sheets
Fixes loose, short, or stubborn sheets
Works really well with adjustable beds
Easy wash and dry
Easy to install and only need to install once
Extra clips can be ordered
Lifetime warranty

I really can't say anything bad about Bed Scrunchie. They beautifully solve the maddening fitted-sheet problem
Share this deal with a friend!
Bed Scrunchie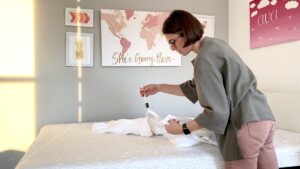 Frustrated with popping bed sheets? Bed Scrunchie solves that problem and more! In this Bed Scrunchie review, we put it through its toughest test!
Product Brand: Bed Scrunchie
Product Currency: USD
Product Price: 39.95
Product In-Stock: InStock