Our Top Mattress Picks - Updated Yearly
Did you realize that you spend about 1/3 of your entire life laying on your mattress? Do you know what goes into your mattress?
This is our Best Organic Mattress list – with organic and natural mattresses you can feel good about. Not only healthy to you, but safe to our planet as well, those Best Organic Mattresses use organic cotton, natural latex, responsibly-sourced wool, and none of the harsh chemicals often found in other mattresses.
Why Buying An Organic Mattress Is Important
I don't if you have ever thought of sleep in the following manner. If on average, you sleep or lay in your bed for 8 hours a day, you spend 1/3 of your life on your bed. One third of your life!
The quality of your mattress is of utmost importance. Whether you wrap yourself up in thick pajamas, or take a more natural approach, your skin gets plenty of contact time with the different layers in your mattress. You breathe in particles and chemicals raising from the foams, glues, steel, and latex. So do you truly know what is in your mattress and why buying an organic mattress is important?
You do not have to be that super organic / green / natural person to reasonable want to lay your head on a clean surface. Buying an organic mattress will not only be beneficial to your health, it will also have a much smaller and cleaner impact on our planet.
When purchasing an organic mattress, you are bringing non-toxic, organic, and natural materials into your home, which are often hypoallergenic and soft of your skin. You are also giving your support to mattress companies who conduct environmentally conscious, ethical, and sustainable business across their supply chain, from design to manufacturing, and all the way to the farmers (cotton, wood, latex) they work with around the world.
We are addressing more questions about organic mattresses below.
Without further ado, here is our list of Best Organic Mattresses
Please note that this article is informational and consists, in no way, in medical advice. Personal preferences vary and we cannot ensure that any of the mattresses listed below will result in better sleep. Mattresses in this list will however be some of the best organic mattresses this year, and are based on my personal opinions and knowledge of the mattress industry.

Non-Biased Favorite Pick - Best Organic Mattress
25% + $50 OFF + FREE Gift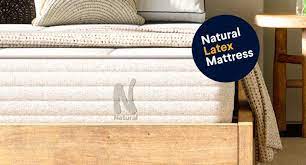 Nolah Natural 11
25% OFF + another $50 OFF for our readers exclusively, with coupon code (click to reveal) + 2 FREE Pillows (valued at $198) with the purchase of a...
Show More
25% OFF + another $50 OFF for our readers exclusively, with coupon code (click to reveal) + 2 FREE Pillows (valued at $198) with the purchase of a mattress
Show Less
Nolah hit it out of the park once more. This time, with their Nolah Natural mattress – a hybrid, environmentally-friendly and hypoallergenic mattress, which main comfort layer is made of natural Talalay Latex.
The organic properties do not stop there in the Nolah Natural. Its mattress cover is made of GOTS-certified organic cotton, delivering an incredibly soft sensation to the skin, while wicking away your body moisture for a cool night of sleep. Say goodbye to synthetic pesticides, insecticides, herbicides, and GMOs. This organic cotton's production process sustains the health of ecosystems, soils, and people. 
Below comes the fire-retardant layer, which happens to be the most chemically-treated layer in most regular mattresses – NOT here! Nolah uses wool as a natural fire-retardant material, and it's got to be one of my favorite materials on the planet, when ethically-sourced. Not only is wool natural, but you will feel the difference in temperature when laying on this naturally breathable material.
The stars of the show inside the Nolah Natural, are 2 layers of natural Talalay Latex! The top 2 inches provide pressure relief, up to 33% deeper that in synthetic or Dunlop Latex, while the lower 1 inch brings support to the body. Natural Talalay Latex features natural and biodegradable ingredients from renewable sources and water-based raw materials: natural latex, air, and water. Being hole-punctured, both layers allow for plenty of airflow and an optimal sleeping temperature.
If you are new to natural latex mattresses, know that they sleep a little firmer than foam. We rated the Nolah Natural at a 7/10 on the firmness scale. It has incredible responsiveness, meaning that you won't ever feel stuck in the mattress and it is definitely the best material for those intimate bedroom activities.
I will leave you with the fact that the Nolah Natural is OKEO-Tex-certified, proving its hypoallergenic properties and certified free of harmful chemicals. The steel used in the coils is recycled. The mattress is made of biodegradable materials from renewable sources. A very well rounded mattress, safe to bring in your home and enjoy 8+ hours each day!
Make sure to click the Nolah coupon box above for an exclusive coupon code for our readers only, getting you an extra $50 OFF the deepest discounts currently available!
Read the full Nolah Natural Review.
Nolah Sleep Trial – 120 nights
Shipping – FREE
Warranty – Lifetime
Best Luxury Organic Mattress
$700 OFF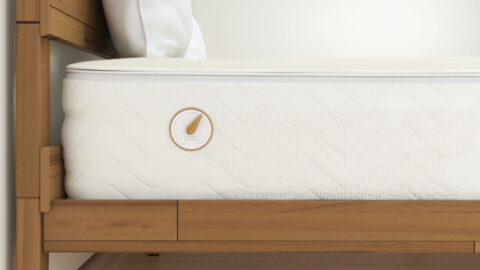 Natural Form Refresh Mattress
$550 OFF your NaturalForm Mattresses + 5% OFF ($175 for King / $145 for Queen) your first order when you sign up for emails! Grand total of $700 OFF!
$550 OFF your NaturalForm Mattresses + 5% OFF ($175 for King / $145 for Queen) your first order when you sign up for emails! Grand total of $700 OFF!
Show Less
Let's talk about another one of our favorite mattresses, here at Non-Biased Reviews. The Natural Form Refresh mattress is one of the most unique and luxurious mattresses on the market, and especially affordable, in our opinion.
Let's look at what makes the Natural Form Refresh mattress an organic mattress. It all starts with its unique mattress cover, made of thick Merino wool, responsibly-sourced in Australia. The wool's natural properties react with your body's temperature, helping you stay warm on colder nights and cool on warmer nights.
Then come 3 inches of Certi-PUR US-certified foam, which provide the pressure relief your body needs for a comfortable night of sleep.
But, outside of the thick Merino wool cover, what makes the Natural Form Refresh mattress so special and innovative, are the dual firmness control knobs allowing each partner to control, by the turn of a knob, the firmness of his/her side of the mattress (only 1 knob on Twin XL / Full). The knobs control up to 84 helix air pods, which allow for more pressure relief, or a firmer mattress, based on your favorite sleeping style.
The Natural Form Refresh mattress is not only a great organic mattress, it is ideal for all types of sleepers, especially couples with different sleeping styles, as well as those suffering from back and joint pains. Natural Form's experience comes from 20+ years in the medical industry and you will be in good hands if morning pain is a part of your daily life.
Read the Natural Form Refresh Mattress review
Natural Form Trial – 100 nights
Shipping – FREE
Warranty – 10 years
Best Organic Mattress Premium
$500 OFF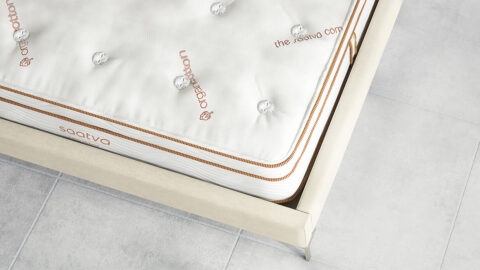 Saatva Latex Hybrid
$500 OFF $1,000 purchases sitewide (click to reveal code)
$500 OFF $1,000 purchases sitewide (click to reveal code)
Show Less
Saatva gives you all of the premium feels with services such as in-room delivery and setup included in your purchase. But what makes the Saatva Latex Organic our best organic mattress in the premium category? Its natural, eco-friendly, and responsibly-sourced materials, which make it a non-toxic and hypoallergenic mattress.
The Saatva Latex Organic's main comfort layer is made of all-natural latex. As with all natural latex, you will find the mattress to be responsive and sleep cooler, with excellent pressure relief properties. There is almost a feeling of weightlessness, as if you were floating on top of the mattress, bringing the deepest relaxation. 
The Saatva Latex Organic mattress does not stop there. Its cover is made of organic cotton, which makes it incredible soft and cozy. Saatva further treats the organic cotton with their very own Guardian botanical antimicrobial treatment to prevent the growth of bacteria and mold – a great advantage if you are prone to allergies.
In the Saatva Latex Organic, you will find that beloved layer of wool. It is in fact, the top layer, laying right underneath your skin and the organic cotton cover. The 100% GOTS certified organic New Zealand wool layer acts as natural fire retardant, which means that your Saatva mattress has none of the toxic chemical fire retardants. The wool keeps you from sweating at night and acts as another clean and hypoallergenic layer in the mattress.
Saatva Sleep Trial – 180 nights
Shipping – FREE
Warranty – 15 years
Best Organic Mattress Vegan
30% OFF FINAL SALE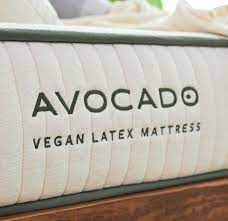 Avocado Vegan Latex
The all-latex Avocado mattresses are being discontinued and offered at 30% OFF. All sales are final and not eligible for returns or sleep trial.
Show More
The all-latex Avocado mattresses are being discontinued and offered at 30% OFF. All sales are final and not eligible for returns or sleep trial.
Show Less
Avocado is the green mattress manufacturer by excellence. Their niche is the organic one and they exclusively design and manufacture organic mattresses, pillows, bedding. Another neat fact about Avocado – they have been carbon negative as a company since 2020 and they support 30 non profits working towards carbon neutrality! Hats off from us!
While all of their mattresses are organic and would fit the bill for this article, I chose the Avocado Vegan Latex as it fills a niche important to many with its uniqueness. You will find no animal product (i.e., wool) in this mattress. So what exactly goes into a vegan mattress?
The Avocado Vegan Latex organic mattress is a 9-inch organic latex mattress. It is not a hybrid mattress, meaning that its do not have a layer of coils. You will find the motion to be very isolated (no waking up from a moving partner) and you do not lose out on cool sleep since latex sleeps a lot cooler than foam!
This vegan-certified, PETA-approved mattress is ideal for back or stomach-sleepers, since it is made of a firmer layer of organic certified natural latex from Avocado's own organic rubber farms. With a close eye on the farming and production, Avocado controls the product from farm to mattress and ensure an entirely biodegradable organic Dunlop latex.
While an all-latex mattress could feel too bouncy, Avocado adds a layer of organic cotton between each organic latex layer. To minimize the motion transfer, Avocado also uses its own proprietary convoluted latex and a tri-zone design to ensure your partner's movements won't wake you up and your spine is aligned and supported throughout.
And because the Avocado Vegan Latex mattress is 100% vegan, it does not use, but instead uses use a generous layer of USDA certified 100% organic cotton batting and natural hydrated silica as a non-toxic flame retardant.
The Avocado Vegan Latex mattress has earned the following certifications: GREENGUARD Gold, GOTS organic, Formaldehyde-Free certified, GOTS Organic Certified, Standard 100 by OEKO-TEX®, USDA Organic, GOLS Organic, Standard 100 OEKO-TEX®, eco-INSTITUT®, USDA Organic, Rainforest Alliance, and FSC® certified.
Avocado Sleep Trial – 1 year
Shipping – FREE shipping
Warranty – 25 years
Most Versatile Organic Mattress
PlushBeds Botanical Bliss
$1,250 OFF + FREE Bedding
PlushBeds Botanical Bliss
$1,250 off Bedroom Mattresses + Receive $599 in Free Bedding. Also 25% off Toppers, Pillows & Bedding. And, 25% off Sofa Mattresses & RV...
Show More
$1,250 off Bedroom Mattresses + Receive $599 in Free Bedding. Also 25% off Toppers, Pillows & Bedding. And, 25% off Sofa Mattresses & RV Mattresses. 50% off Adjustable Beds. $250 off Kids Mattress.
Show Less
Here comes another all-organic mattress manufacturer, crafting mattresses from botanical materials. We love the ability to order the PlushBeds in 2 different firmness levels, no matters the size you purchase. Side-sleepers will enjoy choosing the Medium firmness, while back and stomach-sleepers, as well as heavier folks will appreciate the Medium-Firm version of the PlushBeds Botanical Bliss mattress.
You can further customize your PlushBeds mattress by choosing one of 3 thickness. All thickness are made with a 1-inch thick organic cotton cover, and a 6-inch base made of GOLS certified Arpico organic latex.
If you choose the 9-inch PlushBeds Botanical Bliss mattress, the main decompression layer is 2 inches of 100% natural Talalay latex. If you upgrade to the 10-inch model, that Talalay latex layer is bumped to 3 inches (instead of 2).
The 12-inch Botanical Bliss by Avocado uses 2 inches of Talalay latex and adds a 3-inch layer of Arpico organic latex. But what is Arpico latex? It is a latex made from an Arpico plantation in Sri Lanka, where the trees grow without synthetic fertilizers and pesticides. The production process is free of petroleum chemicals, synthetic fillers, ash, or chalk. Wages paid to the workers are higher than market and the plantation removes more than 143 metric tons of carbon dioxide from the air each year.
Note that you have a 100-night at-home trial period? If during that time you are unhappy with the firmness you choose, request the other firmness and unzip your mattress cover to exchange the top layer of Talalay latex for the new one.
We love mattresses that are versatile and make it easy to be a customer!
PlushBeds Sleep Trial – 100 nights
Shipping – FREE
Warranty – 25 years
Best Organic Mattress For The Whole Family
15% OFF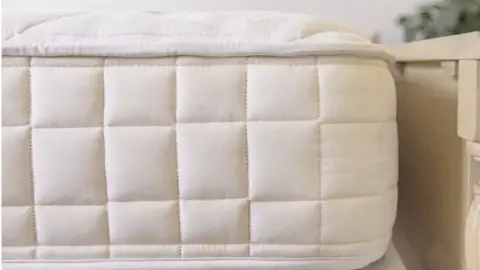 Naturepedic is one of the only mattress manufacturers offering an organic mattress solution for the whole family. And we are not talking just adult and kids, but organic crib mattresses as well.
Organic is a core mission at Naturepedic, in fact, its owner has been chasing chemicals his whole life as 30-year environmental engineer. He started manufacturing organic mattresses after being unable to find a chemical-free crib mattress for his first grandchild. Naturepedic created the "first and only organic baby crib mattress designed with a patented food-grade waterproof surface made from non-GMO sugarcane with various breathable options." Since then, the company has developed equally safe and luxurious mattresses for adults, that are safe for humans, and safe for our planet!
Naturepedic offers 3 mattress models for adults, varying greatly in price. The Naturepedic Serenade is the cheapest Naturepedic mattress I will recommend. A hybrid mattress, it is made of organic Talalay latex, 8 inches of individually-wrapper coils, and several layers of organic cotton. Its mattress cover is an intricate quilt made of organic cotton fabric, organic wool batting, and a pla comfort layer.
While the Naturepedic Serenade is a cheaper option, my favorite Naturepedic mattress, is one of the EOS – which stands for Ergonomic Organic Sleep. The Trilux is my personal favorite and an all-latex mattress. If you prefer the feel of a hybrid mattress, then the Classic or Pillowtop would be good options.
The Naturepedic Trilux is made of three 3-inch layers of organic latex encased in organic cotton. This design ensures limited bounce. Latex is naturally responsive and bouncy, and Naturepedic found a great solution to avoid unwanted bounce.
But what truly stands out in the Naturepedic Trilux, is the customization option in Queen, King, and California King. We are absolutely impressed with this design, and on top of virtually canceling any possible motion transfer (your partner waking you up from tossing around), each partner can choose the comfort level that best fits their personal preference.
When receiving your Naturepedic mattress, the process is a little different and you will be "building" your own mattress. Insert the 2 bases inside the cover (1 for each partner) and add the support layer on top, prior to zipping the mattress cover. The beauty of this? Each partner can choose from FIVE different firmness levels!! Believe me, that's an incredible feat in the mattress industry! And it gets better – you can swap out the firmness level during your 90-day trial, for free!
Once the mattress cover is all zipped up, you will never know that you are essentially sleeping on 2 individual mattresses!
Naturepedic Sleep Trial – 90 nights
Shipping – FREE
Warranty – 20 years
Best Organic Mattress On A Budget
Luma Natural Latex Hybrid
30% OFF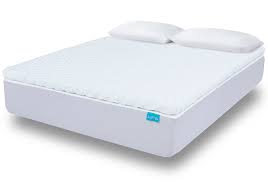 It is no wonder that the quality, and safety, of an organic mattress comes at a cost. You will also find that all mattresses on this Best Oganic Mattress list are proudly made in the USA, supporting our national economy, and further ensuring safety in the manufacturing processes.
But you can get yourself a natural latex mattress just over $1,000 in Queen with the Luma Natural Latex Hybrid mattress. Here again, choose your preferred firmness from 3 levels and customize each side of the bed in King! If you are looking for a little more comfort, upgrade the regular 2 inch of natural latex pillowtop for 3 inches (+$100) or 4 inches (+$200), or add an extra $100 to switch out the natural latex for Talalay latex.
Because this is a lot of choices, Luma has a mattress quiz right on the mattress page to help you decide on comfort level, and you can exchange your pillowtop layer for a different one during your first year.
Based on your choice, you are getting 4 or 5 inches of natural / Talaly latex in the Luma Natural Latex Hybrid mattress. The top 2 layers are made of latex encased for less bounce, and since this is a hybrid mattress, the bottom layer is 11.5 inches of pocketed coils, limiting the amount of motion transfer during the night.
While the Luma Natural Latex Hybrid mattress is natural, not organic, you are getting an incredible value for your buck and laying your body on a cleaner mattress than most other mattresses you'd be buying online or in store.
Luma Sleep Trial – 100 nights
Shipping – FREE
Warranty – 10 years
Best Organic Mattress With Wool
$400 OFF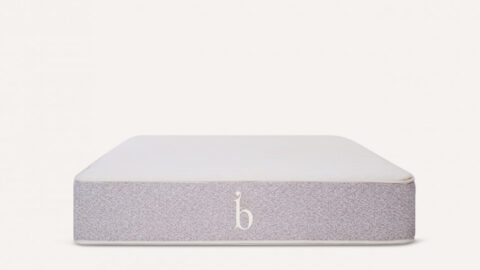 Our best organic mattress in teh wool category is the Birch Natural Mattress by Birch Living, a subsidiary of Helix.
As you know, we are big fans of wool in mattresses. Not only is it a natural fire retardant material, but it naturally adapts to your body temperature to provide the ultimate sleeping temperature. The Helix Birch Natural Mattress comes with not one, but two layers of wool.
The top layer of organic wool is mixed with rayon fibers, and provides that natural fire barrier to protect you. Below that first layer, is a layer of 100% all natural & organic Birch Wool, which helps you regulate your body temperature while you sleep.
As with most other organic mattresses, the main decompressing layer is made of latex. The Birch Natural Mattress uses natural Talalay latex, which provides excellent deep pressure relief with enough bounce to ensure you are never feeling stuck in your mattress.
Birch by Helix Sleep Trial – 100 nights
Shipping – FREE
Warranty – 25 years
Best Organic Mattress Under $1,000
2 FREE Pillows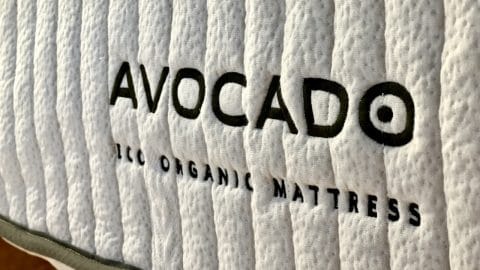 Avocado Eco Organic Mattress
Get two FREE limited-edition organic percale cotton pillows with the purchase of most queen- and king-sized certified organic mattresses. with coupon...
Show More
Get two FREE limited-edition organic percale cotton pillows with the purchase of most queen- and king-sized certified organic mattresses. with coupon code (click to reveal)
Show Less
It is hard to even believe that you can get an organic mattress under $1,000. Most regular mattresses are above $1,000, so thinking that you can bring one of the cleanest and healthiest mattresses in the world inside your home under a hundred dollars, is a wonder.
We loved testing the Avocado Eco Mattress and it is a beautiful mattress for side-sleepers, as well as most back-sleepers and lighter-weight stomach-sleepers. The Avocado Eco Mattress is made of 3 layers of 4 clean materials – certified organic cotton, certified organic wool, certified organic Dunlop latex, and recycled steel.
So how is Avocado able to offer their organic mattress under $1,000? By being the only vertically-integrated mattress company in the U.S. The wool and Dunlop latex come from sheep herds and rubber tree forests co-owned by Avocado. Not only are the savings past over to you, but Avocado is certifies the well-being of the animals and the organic processing of the materials from farming to mattress. 
Avocado Sleep Trial – 100 nights
Shipping – FREE
Warranty – 10 years
Best Organic Trundle Mattress
Avocado Eco Organic Kids Mattress
10% OFF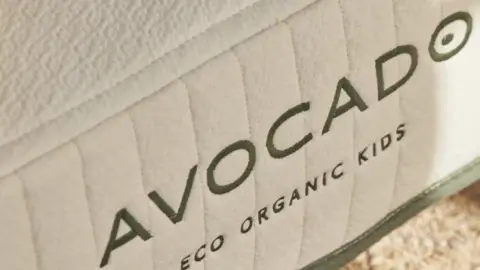 Finding an organic trundle mattress is not easy feat! Most organic mattresses are designed for adults. There are a few amazing organic mattress companies who deisgned kids mattresses, however, they are not strictly made for trundles. Trundle beds require a lower profile mattress, and it is best to stick to 6″ to 7″ in thickness. Anything thicker may be too high and make rolling the trundle bed a challenge.
We love the Avocado Eco Organic Kids Mattress for an organic trundle mattress. You can never go wrong with Avocado – the MADE SAFE mattress company that certifies their products at 100% non-toxic. It is one of the safest mattresses you can put your child on (honestly!). It comes with no fiberglass, no toxic chemicals or fire retardants, no off-gassing or polyurethane foams.
Instead, you get 6 inches of coils to support your child's growing body and a 1-inch layer of 100% certified organic latex. The latex morphs into the shape of your child's body, providing a equal amount of pressure relief and responsiveness, so those active bodies can toss and turn with no effort or disruption to their sleep.
We like the Avocado Eco Organic Kids Mattress as it is designed with the specificity of an organic trundle mattress. Only 7 inches thick, it will be a great option for your kids, whether on the bed or inside the trundle. We even think it is your best organic mattress for bunk beds, if that is what you are shopping for.
The Avocado Eco Organic Kids Mattress is available in Twin (49 lbs), Twin XL (51 lbs), and Full (69 lbs).
Avocado Sleep Trial – 100 nights
Shipping – FREE
Warranty – 10 years
Best Organic Mattress - Recap
Remember that most organic mattresses are made with a combination of the following products:
Natural Latex: natural Talalay latex or natural Dunlop latex, generally more expensive and softer on the planet. Latex is naturally hypoallergenic, repels dust mites, mold, and other common indoor allergens
GOTS-certified organic cotton
Ethically-sourced wool: a natural flame and fire retardant free of toxic chemicals, emissions, and pollutants
It is important for you to keep an eye on the use of chemical adhesives and glues and made sure the materials are OEKO-TEX100 certified, biodegradable, and coming from renewable sources.
I hope you found this guide helpful. Of course, each sleeper has his/her own sleeping preferences and what feels right to me, might feel different to you. I have based my selection of Best Organic Mattress on my industry testing experience and knowledge of the materials used in each model, and further vetted my selection sleep testing over 100 mattresses in the last few years.
All of the mattresses included in this list are mattresses that I would personally sleep on. They provide the comfort of high-pressure point relief and a healthy support of the entire body. Some of them let you customize the firmness level, which is amazing to accommodate your personal preference, or when sleeping with a partner with a different sleeping style.
And the great thing about all of those organic mattresses is that all are made in the USA and use natural and organic materials of the highest quality. And since they are mattresses made in the USA, your purchase supports our national economy and creates jobs, the processes and quality of materials and craftsmanship can be trusted, and you diminish your carbon footprint on the world.
All can be ordered online, which means that you benefit from a long (generally ~100 nights) at-home trial. There is no sales pressure, no one staring at you as you lay 5 micro-seconds on a mattress, and are then married to it. With any of the mattresses included in this list – order it, test it at home for as long as the sleep trial lets you, and if you are not entirely satisfied, return it. Check each brand's return policy, most let you do free returns, but some may have you pay for return shipping. And with most, you are asked to test the mattress for 30 nights prior to initiating return, which gives your body time to get used to the new sleeping surface 🙂 
What Is An Organic Mattress Made Of?
While each organic mattress is made differently, and a lot of the premium mattress brands use proprietary materials in their layer, we find several materials present in nearly all organic mattresses:
Latex is the main component in nearly all organic mattresses. Natural latex comes from the sap of tropical rubber trees, generally farmed in Southeast Asia, Africa, or South America. Most organic mattresses on this list confirm using latex from sustainable plantations.
Latex feels very different from the memory foam most people are used to. In the industry, we call that layer responsive, which is about as different as it gets from memory foam. A responsive layer has bounce, which means that the layer bounces back up after your body moves away from it. In other words, you don't feel stuck in your mattress and can move with ease.
Latex is a wonderful layer for sleepers who toss a lot at night, and especially comfortable for bedroom activities. Because thick layers could get too bouncy and risk having high motion transfer, we find that many brands individually wrap smaller layers of latex in organic cotton to reduce motion transfer and allow partners to move without waking up the other sleeper.
Natural latex naturally sleeps cool and is a great layer for hot sleepers. It is also hypoallergenic and anti-microbial, making it an ideal material for sleepers suffering from allergies, or in climates where mold and dust mites are an issue.
Latex tends to be a lot more durable than memory foam and gives your mattress a longer life.
The last property to note when it comes to latex mattresses, is that they sleep quite a bit firmer than memory foam. I love latex for back and stomach sleepers but some companies have now added softer latex options you can pick at checkout and attracting side sleepers.
Talalay Latex vs. Dunlop Latex
Talalay latex is the highest quality latex and our favorite in mattresses. It is produced through a more complex manufacturing process, making it more expensive and feeling more luxurious than Dunlop latex.
Talalay Latex is up to 7 times more breathable than other latex, allowing you to sleep comfortably and temperature-neutral all night long. You will also find Talalay latex to be softer and less dense / heavy than Dunlop Latex.
Dunlop latex on the other hand, will sleep firmer and can often be found below the Talalay latex layer in your mattress, to add support and a foundation to your mattress. When used as the main comfort layer, it will produce a mattress better suited for back and stomach sleepers.
GOTS-Certified Organic Cotton
There is cotton, and there is organic cotton out there. And once you've laid your body on organic cotton (whether in clothing or bedding), you will not be going back to regular cotton. 
Mattress manufacturers make sure to use organic cotton in the making of their organic mattresses. The GOTS certification is the "world's leading processing standard for textiles made from organic fibers." 
A GOTS-certified organic cotton contains at least 70% of organic fibers in its cotton. The few chemical inputs must meet environmental and toxicological criteria.
You can feel good about purchasing organic cotton as it is grown without harmful chemicals, leaving the soil, air and water free from harmful contaminators. And because organic cotton farmers rely on rain water, more than irrigation, organic cotton produces over 45% less CO2 than conventional cotton, leaving our planet a cleaner place.
So how does organic cotton feel? About as soft as you can imagine, and highly breathable to prevent your body from overheating. Its natural moisture-wicking properties allow your body to evaporate extra moisture and remain cool throughout the night.
You will find GOTS-certified organic cotton in many organic cotton mattresses' covers, as well as a stabilizer between latex layers.
Wool is one of my all-time favorite materials, and one I use for many applications. But I do ensure the wool I use is ethically-sourced and the farms are controlled for animal well being.
In organic mattresses, the wool is used as a natural fire retardant. Other mattresses use chemical flame retardants, whereas wool is a natural barrier against flames and free of toxic chemicals, emissions, and pollutants. 
Most wool used in organic mattresses is ethically-sourced in New Zealand or Australia. Most of the farms ensure free-ranging sheep that is pasture-fed, as well as best farming practices.
Some mattresses, such as Natural Form, use wool as a layer of its own! On a wool mattress cover, you are sure to sleep comfortably all year long. The wool fibers' hygroscopic nature and multi-layer cellular structure allow for your body to sleep warm on cold nights, and cool on warm nights, guaranteeing comfortable sleep through all seasons.
Are Organic Mattresses Worth It?
In my opinion, organic mattresses are worth every penny!
Yes, you can expect to pay a premium for organic mattresses, but remember that you are spending 1/3 of your life laying on it. How does that price compare to a year's worth of new clothing? Or groceries? So yes, $1,500 to $3,000 can seem like a lot at first, but they are worth every penny for your health and our planet.
Do you know what you will NOT find in an organic mattress, but will in a regular mattress? mercury, lead, heavy metals, Chlorofluorocarbons, chloroform, cyanide, PBDE Flame Retardants… all of those transfer into your skin over night as you rub the largest organ in your body on top of chemicals for 8 hours a day.
An organic mattress will be safer to your health and gentler on our planet and natural resources. So yes, organic mattresses are worth the money!
What Is The Best Organic Mattress For Side Sleepers?
Because most organic mattresses are made of natural latex, they tend to naturally sleep firmer than memory foam mattresses.
We are however finding more and more organic mattresses with a firmness option, and have 2 favorite organic mattresses for side sleepers:
The Naturepedic EOS series, including my favorite – the Trilux – offers an incredible 5 levels of firmness from Plush to Extra Firm. The side sleepers looking for extra cushioning will enjoy the Plush Trilux mattress. For side sleepers requiring a little less sink and more support, choose the Medium firmness. And remember the best part about Naturepedic's EOS mattresses? Each partner can customize the firmness of his/her side when purchasing a Queen, King, or Cal King mattress.
We also like the PlushBeds Botanical Bliss for side-sleepers. At check-out, choose the Medium firmness and know that you have 100 nights to request the firmer model if you are unhappy with the Medium. Simply unzip your mattress cover to exchange the top layer of Talalay latex for the new one.
Why Buy A Mattress Online?
I know the feeling. Buying a new mattress is one of the most important purchases you will be making in the next 5 to 10 years, yet I am encouraging you to buy from a website, with no chance to see, feel, or lay on the mattress. I promise you it's worth it, though! Feel free to read over our Guide To Buying An Online Mattress, but let's also look at the benefits of buying a mattress online vs. in store:
When walking inside a mattress store, you are limited to the brands and models carried by the store. Not only are they limited, but the store needs to survive and higher margin products will probably take the store-front, which doesn't always work in favor of the buyer. However, when shopping online, you will find dozens of online mattress brands.
Now of course, more options means that you need to educate yourself a little more, to understand which mattress brands will be worth your money, and this is where I come in. I test hundreds of mattresses for you each year, and when you read the reviews of an independent mattress reviewer such as Non-Biased Reviews, you get unbiased mattress reviews. Many mattress review websites are now owned by large mattress companies, so make sure you use the services of independent mattress reviewers!
Buying a mattress can feel as stressful as buying a car these days. You walk into the mattress store and get overwhelmed with sale tactics, straight out of the car lot! Online, you get the benefit of time and peace. Once you have narrowed your choices down to a brand or mattress style, take your time to read the details and do deeper research on the brand sites and right here. See all of the brands we have reviewed so far. Any questions, feel free to email me directly at laura@nonbiasedreviews.com and I'll be happy to brainstorm ideas with you!
By purchasing a mattress online, you are cutting the middle man. You do direct business with the mattress brands and they save on labor, rent, and other overhead costs. It is a win-win and you put the savings in your pocket! You also have many more options, and while you can buy extremely luxurious and expensive mattresses online, you also have access to a large number of cheaper options!
This one might seem counterintuitive. I bet that your first resistance to buying a mattress online is linked to the lack of testing. You can't see nor touch the mattress for yourself and you're not sure whether you can truly believe the edited photos you see online. 
Think about it for a second. You walk into a mattress store, lay on a mattress, shoes on, fully clothed, with an adult salesperson staring at you, while trying to keep your kids from taking the store for a trampoline arena. You've awkwardly laid on that mattress a total of 50 seconds before making a long-term decision… 
When purchasing your mattress online, it nearly always comes with a 100 to 365-night trial. You get to sleep full nights on your investment for several weeks before deciding whether it is adapted to your sleeping needs and preferences. I recommend sleep testing your mattress for at least 30 nights before making your final decision, to give your body a chance to adjust to the new sleeping surface.
Still unhappy, most online mattress companies will arrange for your mattress to be picked up from your home and donated, and your money will be refunded. There is generally no restocking fee and most of the time, your return shipping is free as well. If you buy a Purple mattress at MattressFirm, for example, your return will be subject to MattressFirm's return policy and restocking fees. Buy directly from Purple and your return is free!
When you buy a mattress online, it ships directly to your home, most of the time for free! Nearly all mattresses ship in a box, making them easy to transport to the room of your choice. 
Forget about renting a truck or trying to tie a king-size mattress to the roof of your car, then asking a friend to come help you to get it inside. Instead, a regular carrier drops off a manageable box by your front door, you set the vacuumed mattress on your bed, rip the plastic wrap, and watch it expand in seconds!
Share this deal with a friend!