WHO TAKES MATTRESS DONATIONS
Congratulations, you have decided to replace your current mattress for a new one! There is plenty of restorative sleep and long lazy mornings in your future! But for the time being, you are wondering who takes mattress donations.
Our mattress experts are here to answer your question. In the meantime, if you are still shopping for a new mattress, make sure to check our Non-Biased Reviews' list of Best Mattresses for this year!
What Happens To Your Mattress When You Get Rid Of It?
You might be wondering what happens to your mattress after your are done sleeping on it. Unfortunately, mattresses are very difficult to dispose of and fill landfills. They are hard to compress, tending to break and clog trash disposal equipment and thus are hard to contain into small spaces.
In some cases, mattresses can be recycled. When they are, their foam, steel, and fabric are repurposed and reused in fabric, upholstery, carpets, oil filters, tools, auto parts, and more.
Unfortunately, that is the exception to the rule, and most mattresses end up filling landfills. Did you know that Zero Waste Wisdom estimates that number to be 15 to 20 millions of mattresses trashed each year.
If you are not looking to become a part of that number, you can look into donating your mattresses locally or nationally, to organizations or people in need. Another good option for the environment would be purchasing greener mattresses. Such mattresses are up to 95% biodegradable.
Do Biodegradable Mattresses Exist?
:While no mattress is 100% biodegradable on the market today, you can find mattresses that are up to 95% degradable.
The best option for our planet is a latex mattress. Natural latex is processed from tree sap and most mattress companies manufacturing latex mattresses ensure they come from accredited farms. Of the two kinds of latex found in mattresses (Talalay and Dunlop), Dunlop latex mattresses are the most degradable and softest mattresses on our planet.
If natural latex mattresses are above your price tag, look into other highly biodegradable materials such as wool, cotton, and plant-based foams. The list below gives you great options:
Who Takes Mattress Donations?
Whether you are buying a new organic mattress or not, you need to find a home for your old mattress if you don't want to send it to the landfill. Let's take a quick look at who takes mattress donations and what your options are.
Before we do so, please make sure your mattress is still in usable condition. Mattresses past 8 or 10 years have probably become too old to donate. Also check the visual appeal to your mattress – yes, looking at those yellow stains in the center of that mattress cover. If you have been using a waterproof mattress protector and your mattress looks clean, good! If it is too stained, move over to the section below.
Donate To Family And Friends
Before looking into the different donation options, start by asking friends and family around you. You can't always tell what others are going through, and you might find someone very thankful to spare the expense for a new mattress. There might be a student, or newly-unemployed person near you who would be thankful for the donation.
I'd recommend only donating clean mattresses up to 6 years old to friends and family.
Goodwill, Salvation Army, Habitat For Humanity, Furniture Bank Of America
The large organizations accepting used mattresses in good condition are Goodwill, Salvation Army, Habitat for Humanity, and Furniture Bank of America.
Always call them first to make sure they are able to accept a used mattress in your area / state, as well as review their donation guidelines for mattresses. Their acceptance of used mattresses can also change with regional uptakes in bed bug infestations and such. I love working with those organizations as they typically pick up your donation for free! Yes, you heard that right. Salvation Army, for example, will give you a date and time when their local truck will come and collect the used mattress right from your front door, at no cost to you.
The benefit to you, of working with a non-profit is the ability to accept a tax break on the donation amount.
Local Shelters
Every city has a local or nearby shelter. Whether a homeless shelter or a women's shelter, research a shelter nearby and give them a call to see if they need and will accept a used mattress.
Since shelters are typically not-for-profit organizations, you will be able to deduct your donation from your income taxes. Remember to consult with your personal tax consultant regarding tax deduction. This is in no way acting as tax advice.
Second-Hand Apps / Website
If you are looking to donate your mattress inside your community, list it on local second-hand apps and websites. My favorite for used mattress donations are Facebook Marketplace, OfferUp, and Buy Nothing Facebook groups. Simple search for the name of your city or town, followed by "Buy Nothing Group" for groups centered around donating gently used items within the community.
Other websites such as eBay and Craigslist can also be used to donate or sell your old mattress.
No matter the app or website you are using, always be careful of meeting strangers and try to arrange for a pick up location in public sight and away from your home. Do not communicate outside of the app and keep your phone number and address private.
Local Thrift Store
Another good place that takes mattress donations is your local thrift store. Call ahead as not all accept used mattresses,
In most cases you will need to drop off your mattress donation at their locale, but feel free to ask if they'll come pick it up from your house.
Here again, some thrift stores are set up as non-profit companies. Check with your tax advisor if you can deduct the value of your donation in your upcoming taxes.
Churches
If you are running out of options, call a few of your local churches. Some will take mattress donations for their community or in an effort to help others, sometimes as relief even outside the country.
Up to $1,200 OFF + $50 OFF + FREE Pillows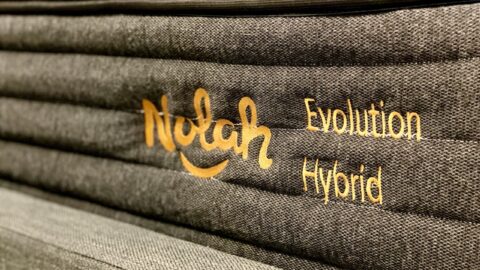 Nolah Evolution 15
Up to $1,200 OFF based on mattress size + 2 FREE squishy pillows (valued at $198). Add another $50 OFF your $800+ Nolah purchase with our exclusive...
Show More
Up to $1,200 OFF based on mattress size + 2 FREE squishy pillows (valued at $198). Add another $50 OFF your $800+ Nolah purchase with our exclusive coupon code (click to reveal)
Show Less
Other Options To Get Rid Of Your Old Mattress
If you live in a state that does not allow for mattress donations, or if you think that your mattress is too old to be donated, there are several ways to prevent it from piling up in a landfill.
Haul-Away By Mattress Companies
Did you know that some mattress companies will haul away your old mattress when they deliver your new one?
Companies like Saatva include free removal of your old mattress and old foundation the day they deliver your new mattress. Other companies such as Nolah, have a mattress removal + new mattress set up that you can purchase from $125 at checkout.
Local Recycling Center
Mattress recycling centers exist all over the United States. If you want to find one near you, use Bye Bye Mattress, a program of the Mattress Recycling Council, and their Nationwide Recycling List.
Earth 911 is another good resource to locate a mattress recycling center nearby.
Note that your local recycling center may not accept your old mattress if it is too stained, dirty, or has bed bugs. Each location will have its own guidelines to obey to.
St. Vincent De Paul
St. Vincent De Paul has become a major leader in mattress recycling in recent years. Their program provides employment to ex-convicts and other with barriers to employment. They offer wages above minimum wage and health benefits.
Most of their programs are located in California and Oregon. If you live near those cities, make sure to check out St. Vincent De Paul for mattress and box spring recycling: Livermore, Woodland, and Stockton, California; and Eugene, Oregon.
Once the mattresses are deconstructed, the covers are used to make privacy dividers used in shelters, and other materials are sent off to specific recycling locations.
Home Pick-Up
If your old mattress is no longer worth donating and you need someone to handle the pick-up, transport, and trashing of your mattress, several companies do just that.
LoadUp operated nationwide and lets you schedule a pick up time online. They will haul away your old mattress and drop it at a recycling center with rates starting at $80. Enter your zip code for an accurate price quote.
Support a veteran-owned and operated removal company by hiring JDog Junk Removal and Hauling, another nationwide mattress remover providing free estimates from their website and picking up your old mattress right from your home. With advanced notice, they will even pick up mattress infested with bed bugs. And instead of the landfill, they will take your mattress straight to the recycling center!
We love that College H.U.N.K.S. Hauling gives same-day and next-day appointments. When you need to get ride of your mattress quickly, they are the company to call. And we love that they take the mattress to a recycling center when it can't be donated. 
1-800-Got-Junk is another nationwide mattress removal company. They will come to your home during a 2-hour window, take a look at the mattress and/or box spring you need removed, give you a quote and remove your household items if you approve of the quote. You can schedule their visit right from their website as well. Whenever possible, they will donate or recycle the items they remove from your home.
Repurpose
If you are the handy type and have a little time on your hands, your used mattress can become a really fun creative project.
Take it apart and repurpose the different components:
Steel: if your mattress is has steel innersprings, use those to create decorations, hand photos, divide rooms, as stakes for new plants, or the base of a new holiday wreath. Did you know that there is about 25 pounds of steel in your mattress? Take it down to your local metal recycler and get money for it!
Wood: some old mattresses, most box springs, and some bed foundations have a wood frame, which can turn into firewood, mulch or raised garden boxes around the yard
Foam: if you are a pet parent, use the foam for a new pet bed, or use to fill cushions, pillows, hand-sown plushes and stuffed animals, or as kids' stamps cut into different shapes
Cotton, wool, and other mattress cover materials: those can be repurposed to cover the trunk of a car against messes, or the garage floor against oil spills
Use your imagination and have fun with your old mattress!
Is It Legal To Donate A Used Mattress In Your State?
Some states made donating used mattresses illegal. Before trying to find who takes mattress donations, make sure that it is legal where you live.
Other states, such as Texas, require that extensive cleaning and sanitization is applied, and a "Previously Used" label is hung to any used mattress.
In some states, it is also illegal to cut up and trash your mattress. You could be fined and get into legal trouble. Make sure to check all mattress disposal legalities before getting rid of your mattress.
In the states of California, Connecticut, and Rhode Island, you will notice a disposal fee to your mattress purchase. It is used to fund mattress recycling programs in those states and you should be able to find a mattress recycling drop-off location near you.
Most frequent questions and answers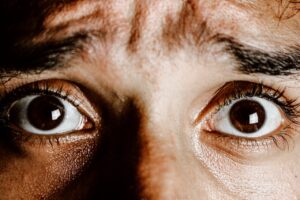 Kids Corner
SHOULD YOU WAKE SOMEONE UP FROM A NIGHTMARE Nightmares are unsettling and distressing dreams that can affect individuals of all ages. Whether you are the
Read More »
Share this deal with a friend!