Are you tired of waking up in the middle of the night feeling too hot or too cold? Do you struggle to get comfortable and fall asleep? The BedJet 3 might just be the solution to your sleep woes. The improved BedJet is designed to help regulate your body's temperature, ensuring you get a restful night of sleep, every night, no matter the season or temperature in your room.
In this BedJet review, we'll take a closer look at the BedJet 3 and how it works, explore its features and benefits, and help you decide if it's the right cooling / heating device for you. So, if you're ready to say goodbye to uncomfortable nights and hello to sweet dreams, keep reading!
Things To Know About The BedJet 3 Before Reading Further
If you currently own a BedJet, note that the BedJet 3 is a 2019 upgrade on the prior BedJet version
If you sleep with a partner with different sleep temperature preferences, look into the BedJet 3 Dual Zone system to each have control over your own temperature and schedule
Your room needs to be 79 degrees Fahrenheit or lower to benefit from the cooling function
You get to create your customized sleep schedule to make sure you don't wake up at night from hot flashes, or other temperature-related discomfort
You will love the wake-me-up gently mode, that slowly and gradually raises the temperature to lead you to a gentle wake up at the time you requested
You should purchase the Cloud Sheets – they are not only very comfortable, but they are designed to give you the best experience out of your BedJet system
They claimed it, we tested it… the BedJet 3 replaces towels (see video above)
The system is shipped with 1 or 2 remotes, but you can connect it to your SmartHome with the free app
If your partner prefers to not use the BedJet 3, order the single-zone Bedjet (1 unit) and the Dual Zone Cloud Sheets and connect the BedJet to one size of the bed only
After an incredibly successful Kickstarter campaign, the folks at BedJet improved on their BedJet V2 design and launched the new BedJet 3, which was released in the Summer of 2019. I purchased mine as a preorder in June and I have been using it ever since.
So what is a BedJet?
There are several bed cooling and heating devices on the market, and the BedJet is one of them, though very unique in its genre.
A BedJet Climate Control Comfort System is a sleep aid that attached to the side of your bed, thanks to a bracket, and blows air into your sheets to help cool your bed or warm it. It main control unit is 5.75″ tall and will fit under most modern bed frames. It grabs air from the ground level and blows it into your sheets. Most users have it blow air near their feet (that's what I do), but you could place it anywhere under your sheets (closer to your hips or even shoulders).
The BedJet unit fits under your bed if you have at least 6″ of clearance.  A collapsible hose attaches to the back end of the unit and is held in place by an adjustable bracket. Should your bed be further away from your power source, you can purchase a hose extension to reach that plug.
Your Sheets Vs. The Cloud Sheets
How about the sheets? If you purchase a single zone BedJet 3 and choose not to buy the BedJet Cloud Sheets, you can slide the hose nozzle under your sheets and tuck the sheets into it.  Unfortunately, if you do any tossing and turning you may dislodge the sheets from the hose, which stops the air from flowing under your sheets.
That is the reason why we recommend getting the single-zone, or double-zone, Cloud Sheets. The Cloud Sheets have a pocket to help trap the air that the BedJet blows out. 
Dual Zone BedJet 3
If you purchase the BedJet 3 Dual Zone, you will receive a Dual Zone Cloud Sheet with your order, as it is required to rip the benefits of the two zones. Under this set up, one partner could have cold air blowing on them, while the other partner has warm air blowing on them. Each partner can set their own schedule for their side of the BedJet and control intensity and temperature.
With the Dual Zone BedJet 3, one partner could use the BedJet and the other partner could be in a zone that is not directly hit with the airflow (in other words, not using the BedJet on his/her side of the bed). 
Single Zone BedJet 3
The other option is to get the "regular" single-zone BedJet 3. You can use it with your own sheets or add a single-zone Cloud Sheet (our recommendation).  This is the best setup if you and your partner have similar sleep temperature preferences.  In this case, the air will be trapped under the sheets that you both use.
The sheets won't blow you away with their quality (as you can imagine you could buy better sheets).  However, they are soft enough to sleep comfortably, and the air pockets that they create are really easy to use. We found it difficult to dislodge the sheets from the air hose, which was a nice surprise.
BedJet Alternatives
Note that the BedJet is quite a bit different from the Eight Sleep Pod Pro and the OOLER, ChiliPAD, or DockPro. It heats and cools the bed sheet on top of you. All BedJet alternatives include a water-powered pad you sleep on, which changes the feel of your mattress to some extent. With the BedJet, you can fully enjoy the comfort of your mattress. It uses air, so you don't risk any leaks and it does not require electricity running around your body. 
$250 OFF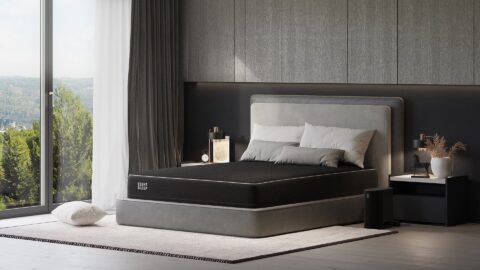 Eight Sleep Pod 3
The Eight Sleep Pod is discontinued - add the mattress to the Cover, at checkout. Get $250 OFF the Mattress OR $100 OFF the Eight Sleep Cover when...
Show More
The Eight Sleep Pod is discontinued - add the mattress to the Cover, at checkout. Get $250 OFF the Mattress OR $100 OFF the Eight Sleep Cover when signing up for email + 20% off Accessories with Cover purchase.
Show Less
What Comes With The BedJet 3?
Single Zone BedJet 3
The single zone BedJet 3 comes with one 5.75″-tall BedJet unit that you can slide underneath your bed. The hose and its nozzle will run from to the unit to the foot of your bed, and be held in place thanks to the provided bracket. You can of course choose to locate the nozzle in a different place than the foot of the bed.
You will receive one remote with a colored screen, and have the option to use the free app if you prefer to control your BedJet with your phone. 
No Cloud Sheet is provided with the single zone BedJet since you can use it with your own sheets. We recommend purchasing the single zone Cloud Sheet (Twin XL, Queen (for Queen and Full), King (for King and Cal. King) to a better experience. If your partner would rather not feel the BedJet, order a Dual Zone Cloud Sheet (Queen or King only) and connect the BedJet hose to your side of the Cloud Sheet.
Dual Zone BedJet 3
If you order the Dual Zone BedJet 3, you want to be able to control your temperature, intensity level, and schedule, independently from your partners (we get it, we do too!). In that case, you will receive 2 BedJet units to slide under the bed, 2 hoses and nozzles, 2 brackets, 2 remotes, and 1 Dual Zone Cloud Sheet included, since it is required to operate each zone independently.
Who Should Buy The BedJet 3?
In our bed-cooling-device comparison article, we often receive messages saying that their favorite is the BedJet 3. It seems to withstand the test of time better than some of the alternatives.
Financial Means
If you have the means to purchase a BedJet 3, we think that it is a great investment. It is cheaper than its bed cooling / bed heating competitors, and provides really good quality of sleep.
Room Temperature Requirements
Since the BedJet blows room air in your sheets, if you are purchasing it to sleep cool, note that your room should be no warmer than 79 degrees. If you are are using your BedJet 3 on cold nights to warm your feet and body, you will surely enjoy the heating function, no matter the temperature in your room. All that to say that the BedJet 3 will not replace your air conditioning – but neither does any of its competitors – however, you may be able to raise your A/C setting by 2 or 3 degrees, saving you money in the long run.
Sleep Schedule
One remarkable feature of the BedJet 3 is the ability to set up a sleep schedule. For a few nights, try to jot down how you feel when you wake up at night. Do you feel cold as you fall asleep, but wake up hot at 2AM and then again at 7AM? Do you have frequent hot flashes between the hours of 4AM and 6AM?
Based on that information, set up a schedule with the remote, or the app, to ensure that your BedJet 3 adjusts the temperature based on your needs, all on its own. That way, you won't be scrambling for the remote in the middle of the night, to cool yourself down.
You can also schedule a gentle wake-me-up by gradually raising the temperature of your BedJet for several minutes ahead of your wake-up time, helping your body gently wake up.
Who Is The BedJet 3 Good For
We think that the BedJet is a great option for anyone whose sleep is disrupted by temperature. If you find yourself turning and tossing because you are hot at night, if you suffer for hot flashes, if you despise sliding into a cold bed, or if you and your partner can't agree on the bedroom temperature, the BedJet 3 is a great solution to bring peace and extra sleep in your life.
Our Experience
I often tell the story of our heater breaking on an exceptionally cold day, and our daughter running into our bed in the middle of the night, saying that she was too cold to sleep.  My husband got up, grabbed the BedJet V2 from storage, hooked it up and let her climb into our bed. Five minutes later and she was all warm and "toasty."
As for the summer time, it is different story.  It cools you down in a similar way to that of a ceiling fan.  You will notice how, on a really hot day, turning your ceiling fan on can help your room feel about 10 degrees cooler. The BedJet acts in a very similar way. Note, however, that it is not an air conditioner, so if your room is 80 degrees or hotter, you will just bed blowing hot air into your sheets.  In that case, the BedJet would be an improvement, but you wouldn't jump up and down screaming to your friends and family about how much you life has changed.
Why Is The BedJet 3 Better Than The BedJet 2?
I noticed right away that my BedJet 3 was much smaller than my BedJet V2 – a whole inch in fact.  They say that they shrunk the unit by 30%, but what is really important is that the BedJet 3 requires only 6″ of clearance under a bed versus the V2 requiring 7″.  In the video above, I placed it under a bed and had less than an inch of extra space, which means my BedJet V2 unit would not have fit under there.
The BedJet V2's remote was so outdated that I used to call it a clicker.  Tangent… If you ever had a TV remote that had the options of power on off, channel up/down and volume up/down, then you may remember that it would actually click when you hit those buttons.  Anyone under 30 probably has no idea that "clickers" used to exist.  Yes, the old BedJet V2's remote was remarkably similar to a clicker, but without the clicking noise.
The new BedJet 3 has a much more modern remote with a color screen that is about 2″ tall and 1.5″ wide.  It has many buttons and the ability to program the settings that you want based on your preferred schedule.
The BedJet V2 required a Bluetooth app to access all of the unit's features, while the BedJet 3 is SmartHome compatible and has a wifi chip installed.  You have the option to create an hour-by-hour schedule of temperature and intensity, and can even program a gentle wake-me-up program. If you are someone, like me, who turn your cell phone off at night, you will love that the remote is smart enough to give you access to all of the cool capabilities of the device, even with your phone turned off!
But for me, the best feature of the BedJet 3 is that it is much quieter than the V2.  Not that the BedJet V2 was fairly loud, but that the BedJet 3 has a super quiet cool mode.  You will find a comparison in the video above.
BedJet 3 Prices & Discounts
You have three options when it comes to purchasing the BedJet 3:
– You can purchase the regular BedJet 3, which will blow air under your blanket and is a one-size-fits-all, working with all mattress sizes. For that one, you can set the hose nozzle to blow the air under your current bed sheets, or you can add the Cloud Sheets for better performance. If your partner does not want to feel the BedJet, simply order the regular BedJet 3 with a Dual-Zone Cloud Sheet, and connect only your side of the Cloud Sheet to the hose nozzle
– You can upgrade to the BedJet 3 Dual Zone system, which allows each partner to control his/her side of the blanket. The BedJet Dual Zone system is delivered with a Dual Zone Cloud Sheet, and a partner can heat his/her side of the bed, while the other person cools his/hers. If you have a Split King and each partner sleeps with his/her own Twin XL sheets, order the Split King version of the BedJet
– Save a bit by ordering a refurbished BedJet 3 (available only to U.S. customers)
Make sure to click the box above to access the deepest BedJet discounts!
Price List updated: April 2023 – featuring pre-discounted prices (current prices are all under $1,000)

BedJet 3 Review Conclusion
Struggling with sleep because of your room and/or body temperature, is an exhausting process that can end up taking a toll on your life and daytime performance.
The BedJet 3 is an innovative and practical solution for those who struggle to achieve a comfortable sleeping temperature. With its powerful heating and cooling technology, adjustable air flow, and the ability to let each partner setup their own sleep schedule, the BedJet 3 provides a customized sleeping environment that greatly helps improve sleep quality and overall health.
You will find that the BedJet 3 is easy to install and use, and its compact size makes it a great option, even if you have limited space. It is also much easier to store when you don't need it, than its competitors!
Additionally, the BedJet 3's energy-efficient design and eco-friendly materials make it a responsible choice for consumers looking to reduce their carbon footprint.
The BedJet 3 has now been on the market long enough to show positive reviews and high customer satisfaction ratings. From our experience, we believe that it is a worthwhile investment for anyone who struggles with sleep temperature.
Most frequent questions and answers
We purchased the BedJet 3 on our own to test it against the BedJet V2
No, it can be ordered online and comes with a 60-day at-home trial and a 2-year warranty
Yes, you can purchase a Dual Zone BedJet 3, a refurbished unit, as well as Cloud Sheets to complement your purchase and experience
Is the BedJet loud?
No, the BedJet only adds about 6 decibels of noise to your bedroom at most. The noise emitted by BedJet is very close to the noise your regular HVAC system would make, and less than a window air-conditioning unit. The Burst Heat mode, which quickly heats your sheets up, is a little louder but should only be used as you get in bed and times out after 10 minutes!
How cold does BedJet get?
The BedJet will blow air as low as 66 degrees and as hot as 104 degrees Fahrenheit into your sheets, keeping cool or hot, based on your nightly preference. It also gets you rid of moisture, such as sweat, 8 times faster than a regular sheet would.
Where can I buy BedJet?
The latest BedJet model, BedJet 3, can be purchased directly on the BedJet website. You can also purchase a refurbished model to save about $50 on the device.
Share this deal with a friend!