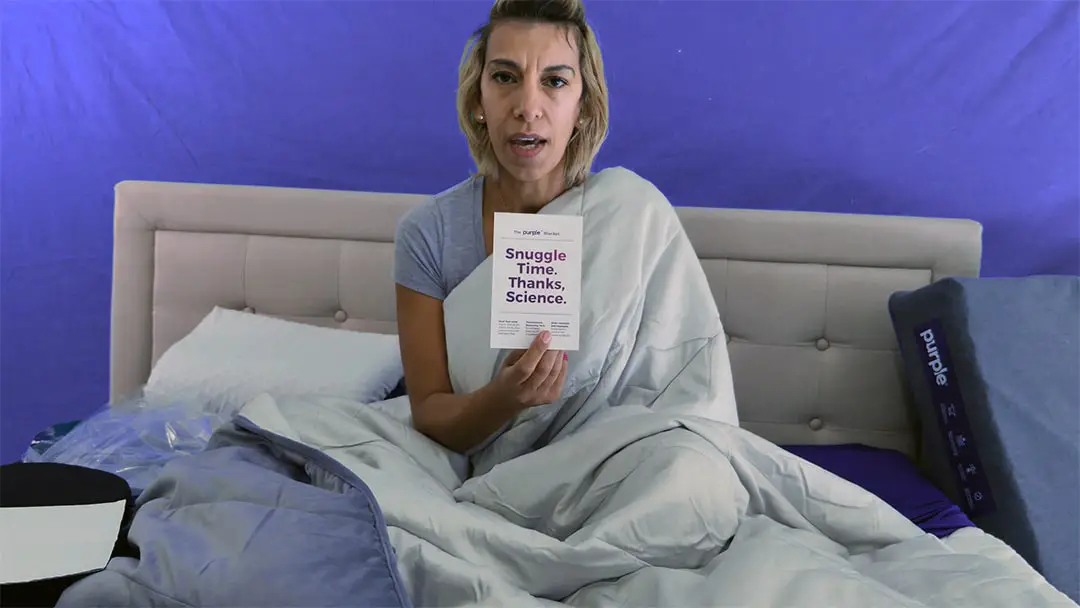 The Purple Blanket comes to us from Purple Innovations, the company behind the grid like mattress.
Note, that it is a throw type of blanket it is not large enough to replace a comforter.  You will find me wrapped up in mine while I'm on the couch.
Purple Blanket Review Menu
Purple Blanket

Video Review
I decided to show you all of the Purple stuff that I have accumulated over the last 3 years.  The purple blanket was the latest addition to my stash.
Purple Blanket

Company Policies
They have offered this blanket with the purchase of a mattress in the past.  Unfortunately, I don't see it listed on their website for sale right now.  Perhaps they are going to tweak it a bit?  Maybe add some weight to it?
What's Inside the Purple Blanket?

There are so many specifics that make the Purple Blanket stand out from other blankets I have tried. My favorite one is the Dual-feel design for two unique experiences with 100% rayon from bamboo fibers on one side is sleek, smooth, and cool. The plush mink fabric on the opposite side is super soft, cozy and warm. And there you have it, you can pick the side that fits the moment. With tech to keep you in your comfort zone during any season, the dual-feel Purple™ Blanket is everything you want to wrap yourself up in. The outer or Top shell is made of 100% rayon from bamboo while the bottom part of the blanket is 100% Polyester The fill: EiderTech™ (100% Polyester). What does the EiderTech™ fill exactly is that it mimics the loft, breathability, and insulating features of eiderdown while providing a sustainable and eco-friendly alternative. Filling won't migrate, clump, or poke like natural down. Helps you stay warm through the colder months and cool during warmer months. Always follow the Care Instructions: The blanket is machine wash on cold with like colors. Tumble dry low, but Do NOT bleach or iron.
Purple Blanket

Price & Discounts
Purple Blanket

Review Conclusion
The blanket isn't a comforter, it simply isn't designed to go on your purple mattress. At 60″ by 80″ it isn't big enough for a queen sized mattress, and it isn't thick enough for winter sleeping. Where you will find it in my house is either on the couch, or on my lap when I'm on the computer. It is the perfect size to cuddle up with a partner on the couch, or just keep to yourself.
Purple Sent us this Purple Blanket for testing.
All of the opinions expressed in this review are mine.

$400 OFF
Purple
$400 OFF the Purple Plus Mattress with coupon code (click to reveal) and 20% OFF Pillows