BEST MATTRESS FOR BIG AND TALL 2023
Our Top Picks - Updated Yearly
I asked my friend who is about 3 times my size to test out all of the mattresses that are built specifically for Big & Tall people.  After a few months, he came back to me with surprising results and a clear winner.
Finding The Best Mattress For A Big And Tall Person
Laura, you are small! What if I'm big, or tall, or have the body of a football player?
This is an issue that I have spent a good deal of time considering. But, how could I possibly answer this question without help? So, I enlisted the help of a friend of mine who is THREE TIMES my size.
At 6'8″ and 350 pounds.
He defines the BIG & TALL category.

I set aside several mattresses that I thought could hold up to his weight, and he spent some time testing them. Then, I had our top mattresses for big and tall people sent to his house, so he could sleep test them.  Are you excited to see the results?
A quality mattress made to accommodate the specific needs and requirements of heavy and tall people can help solve many aches and pains. You will get better, deeper, and longer nights of sleep, positively impacting your quality of life.
Mattress Requirements For Heavier Folks
This is what our big and tall tester looks for in a mattress:
full body support with reinforced areas in the hips and shoulders
reinforced perimeter for side-to-side sleeping
responsiveness of materials so turning around is as effortless as possible
some cool factor to sleep comfortably throughout the night
Without further ado, here is our list of Best Mattress For Big And Tall 2023.
Please note that this article is informational and consists, in no way, in medical advice. If you are experiencing acute or chronic back or joint pains, consult your physician as soon as possible. Personal preferences vary and we cannot ensure that any of the mattresses listed below will result in better sleep. Mattresses in this list will however be some of the best mattresses for tall and heavy-weight sleepers in 2023, and are based on my, and my tester's, personal opinions and knowledge of the mattress industry.

Best Mattress For Big And Tall 2023
Click on the Best Mattress category for more info on each mattress and 2 runner-ups in each category for other good options!
Non-Biased 2023 Favorite Pick
40% OFF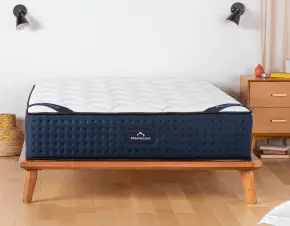 DreamCloud Mattress
40% OFF Mattresses with our exclusive coupon code (click for code)
40% OFF Mattresses with our exclusive coupon code (click for code)
Show Less
I must admit I was a bit shocked by this result at first.  DreamCloud is a well built thick luxurious mattress, but I wasn't sure it would hold up to his weight, since they don't really market it as a mattress for Big & Tall people.  Turns out it is firm enough for large people, in California King size of course!  
It is the thickest mattress that we have tested so far at a full 15″.  Comprised of 8 different layers, ranging from a tufted cashmere cover, various layers of foam, a natural latex layer, and the magic behind the support a 5-zoned foam encased pocketed coil system.  
It has taken a daily beating from our tester for over a year now.  So, we aren't worried about there being any issues for Big & Tall folks.  
DreamCloud offers a full year trial period, so you have nothing to lose by giving it a try. Make sure to click the DreamCloud box above for our exclusive coupon code getting your the deepest discounts currently available!
Read the full DreamCloud Review.
DreamCloud Sleep Trial – 365 nights
Shipping – FREE
Warranty – Lifetime
Best Mattress For Big And Tall Couples
55% OFF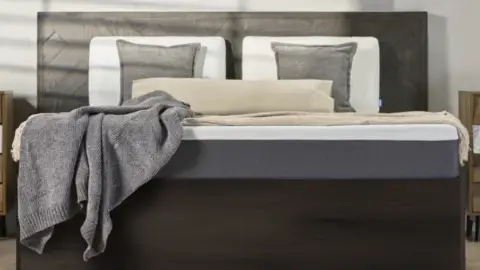 Emma CliMax Hybrid Mattress
50% + 5% OFF Emma mattresses with our exclusive coupon code (click to reveal)
50% + 5% OFF Emma mattresses with our exclusive coupon code (click to reveal)
Show Less
The Emma CliMax Hybrid is a new addition to the list this year. We recently tested this mattress, designed and built in North America. Emma Sleep was started in 2015 near Frankfurt, Germany, and has truly become a global brand. Sold in over 30 countries on 5 continents, and present in over 4 million homes, Emma Sleep designs mattresses that fit each market's needs and preferences.
The Emma CliMax Hybrid mattress is designed for sleepers above 250 lbs, with an astounding 1,000 lbs max. in total for sleepers. It is also an excellent option who those looking for value and who want to stay on a budget. With large sale volumes and a powerful in-house R&D department, Emma Sleep is able to keep prices low and provide proprietary foams that work to achieve the goal they set for each mattress.
In the Emma CliMax Hybrid, you will find 3 layers of foams and a thick layer of coils. The upper foam layer provides just enough plushness for a cozy feel, while the one below is designed to provide pressure relief and support differently to 5 different zones in your body. No matter your body type and size, you are getting the support exactly where you need it. Below the top 2 layers of foam is a 5-inch layer of individually-wrapped coils, that gives bounce to make it easy to turn and toss, support to ensure no sagging and full support, as well as targeted coil compression so you are not woken up from your tossing partner.
Read the full Emma CliMax Hybrid review
Emma Sleep Trial – 365 nights
Shipping – FREE
Warranty – 10 years
Best Organic Mattress For Big And Tall
$200 OFF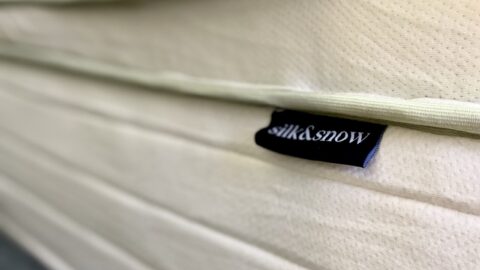 Silk & Snow Organic Mattress
$200 OFF your Silk & Snow Organic Mattress - 100% organic and natural mattress!
$200 OFF your Silk & Snow Organic Mattress - 100% organic and natural mattress!
Show Less
You spend up to 1/3 of your life laying on your mattress. Have you checked what is in it?
We love the Silk & Snow Organic mattress for the Big and Tall for several reasons. First and obvious one, it is on the firmer side of mattresses and provides incredible support thanks to its organic latex layers and tri-zoned coil system, providing stronger support to the hip and lumbar areas.
The Silk & Snow Organic mattress cover is made of organic cotton and sits right on top of a layer of organic Joma wool, used as organic fire retardant. Both of those layers are naturally moisture-wicking and cool sleeping, ensuring you will not overheat at night.
Overall, the quality of the materials used, coupled with strong support and high responsiveness, make the Silk & Snow Organic Mattress an ideal choice for the earth-conscious Big and Tall sleepers!
Read the Silk & Snow Organic Mattress review
Silk & Snow Sleep Trial – 100 nights
Shipping – FREE
Warranty – 15 years
Best Responsive Mattress For Big And Tall
$978 OFF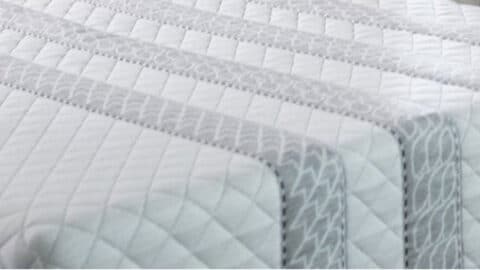 Leesa Hybrid
$700 OFF select mattresses + 2 FREE hybrid pillows ($278 value), and 20% OFF select bedding. Or use our exclusive discount code NONBIASED for 15% OFF...
Show More
$700 OFF select mattresses + 2 FREE hybrid pillows ($278 value), and 20% OFF select bedding. Or use our exclusive discount code NONBIASED for 15% OFF your entire order!
Show Less
With a thickness of just 11″, we weren't sure if our huge tester was going to be able to sleep comfortably on the Leesa Hybrid.  Surprisingly, we were wrong and it was picked as his second favorite mattress. 
Here is the secret behind how they packed enough support into the mattress:
5″, 14.5 Gauge Pocket Spring System with 1,000+ active response springs with edge support, allowing for edge-to-edge sleeping and giving the impression of a larger sleeping surface, as well as incredible responsiveness of the foam to ensure easy moving around
Two separate 1″ layers of support foam with between 1.8-2 pound density, providing all of the support our Big and Tall tester needs to feel supported throughout the night
The Leesa Hybrid combines the look and feel of the original Leesa Mattress with enough support to please our Big & Tall tester.
Click the Leesa Hybrid box above and discover our exclusive coupon for 15% OFF your purchase!
Leesa Sleep Trial – 100 nights
Shipping – FREE
Warranty – 10 years
Best Recovery Mattress For Big And Tall
Brooklyn Bedding Spartan Hybrid
25% OFF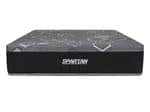 Although it is advertised as more of a mattress for athletes, it is a perfect fit for people in the Big & Tall category.  At 13.5″ thick the Spartan Mattress has more than enough material to hold up to very large people.  The key ingredient to a Spartan is the 8″ encased Quantum Edge Coils, which I was honored to see first-hand during my Brooklyn Bedding factory tour.
The Brooklyn Bedding Spartan's unique technology makes it an ideal mattress for larger bodies who need more recovery during the night. It's proprietary infrared ray's technology transforms your body's heat into waves of energy, helping you recover while you sleep.
You will find that the top layer of patented Copper Flex foam provides targeted pressure relief to the areas of the body a Big and Tall person needs more pressure, while allowing for enough responsiveness and easy movement.
If you are a Big and Tall person, you will appreciate the opportunity to pick your firmness level and I recommend the Firm version of the Brooklyn Bedding Spartan Hybrid mattress. Coming with 1.5 inches of TitanFlex foam, it adds support to your body and allows your spine to stay aligned from neck to the lumbar region. The extra firmness is enhanced by a thicker (1.5″) layer of transition foam to provide a firmer sleeping surface, ideal for heavier and taller folks. 
And of course, as most mattresses in this list, you will find the 1,000+ tri-zoned coils that provide stronger support to the heavier parts in your body.
We love the Brooklyn Bedding 120-night sleep trial, the fact that all mattresses are made in Arizona, and their 10-year warranty!
Brooklyn Bedding Sleep Trial – 120 nights
Shipping – FREE
Warranty – 10 years
Best Latex Mattress For Big And Tall
Saatva Latex Hybrid Mattress
$500 OFF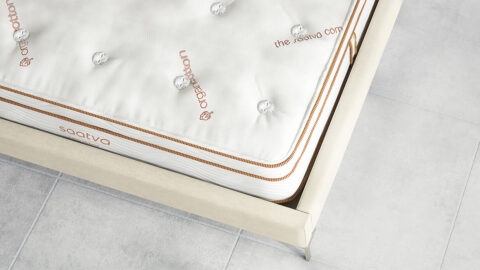 Saatva Latex Hybrid
$500 OFF $1,000 purchases sitewide (click to reveal code)
$500 OFF $1,000 purchases sitewide (click to reveal code)
Show Less
The 11.5″ Saatva Mattress held up to the weight of our tester and has a true luxury feel.  There is a ton to love about the Saatva Latex Hybrid mattress and this one is right up the luxury mattress aisle!
Thanks to its combination of latex (my favorite sleeping material for Tall and Heavier people) and coils, the Saatva Latex Hybrid brings not only increased support, but amazing responsiveness and a naturally hypo-allergenic sleeping surface.
We love the natural, organic, and non-toxic Talalay latex layer. It offers a weightless feel to the sleeper. You will find that you are floating on top of the mattress with some of the best pressure-relief, support, and responsiveness a mattress can offer. Talalay Latex is a lot more breathable than most foams, keeping your body cool and from overheating at night.
We are big fans of the organic cotton cover, which offers a naturally-breathable and hypoallergenic sleeping surface, wicking away body moisture faster and adding to the cool sleep feeling of the Saatva Latex Hybrid mattress. It also prevents the growth of bacteria, mold, and mildew in a natural and organic way.
The zoned coils are made of recycled steel and provide increased support to the entire body, as well as the reinforced perimeter feeling of being kept inside of bed, instead of rolling out. This is ideal for Big and Tall folks who might require a slightly larger sleeping surface.
The folks at Saatva have likely solved both of those issues with the launch of their new Saatva HD.  It features handles and a full 15.5″ thick frame, geared for people in the 300-500 pound range.
Saatva Sleep Trial – 180 nights
Shipping – FREE shipping + in-room delivery
Warranty – 15 years
Best Mattress Designed Specifically For Big And Tall
$300 OFF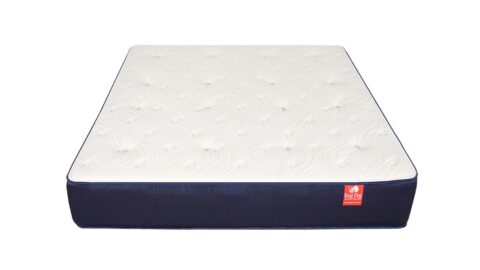 Big Fig Mattress
$300 OFF the Big Fig Mattress with coupon code (click to reveal). The mattress specifically designed for bigger figures!
$300 OFF the Big Fig Mattress with coupon code (click to reveal). The mattress specifically designed for bigger figures!
Show Less
As the name has it Big Fig = Bigger Figure, Big Fig specifically designs its mattresses to heavier-weight people.
Big Fig has identified pain points when it comes to sleeping comfortably for bigger figures, and has designed a mattress solving most problems. In the Big Fig mattress, you will find 50% more coils for a total of up to 1,600 individually-wrapped coils, versus the regular ~1,100.
Big Fig uses a gel-infused material in its cover to ensure a cool night of sleep and latex as it's main pressure-relief layer. The latex ensures a great amount of pressure relief coupled with the support and bounce you need for a pain-free night of sleep.
The firmness comes from 3 layers of high-density memory foam. The reason why this mattress is not higher on our list of Best Mattress For The Big And Tall is that it does feel very VERY firm, even for our 300-lb tester.
But if you are someone who prefers really firm mattresses, the Big Fig mattress will be a good option for you. We love that they sell a stronger-than-average foundation, able to support up to 5 times more weight than a regular foundation.
Of course, the mattress itself is really heavy, providing support and stability, so make sure you are at least 2 adults to install it!
Big Fig Sleep Trial – 120 nights
Shipping – FREE
Warranty – 20 years
Best Luxury Mattress For Big And Tall
Natural Form Refresh Mattress
$700 OFF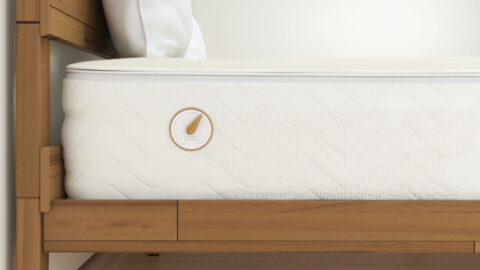 Natural Form Refresh Mattress
$550 OFF your NaturalForm Mattresses + 5% OFF ($175 for King / $145 for Queen) your first order when you sign up for emails! Grand total of $700 OFF!
$550 OFF your NaturalForm Mattresses + 5% OFF ($175 for King / $145 for Queen) your first order when you sign up for emails! Grand total of $700 OFF!
Show Less
The Natural Form Refresh Mattress is an incredible mattress all around. It cries out luxury and if your budget allows, it is totally worth it. It is a unique mattress in many ways, and will be a great addition to your bedroom if you fall in the Big and Tall category.
Natural Form started making mattresses for the medical industry. Today, they are the trusted mattress partner to over 1,200 health organizations around the world, bringing spinal support, back and joint pain relief to patients around the world. Natural Form is the only mattress that lets you bring medical-grade mattress technology into your private home. We love the Natural Form Refresh Mattress so much that it made our list of Best Mattress For Lower Back Pain!
Now let's look at why we recommend it to the Big and Tall! The Natural Form Refresh Mattress comes with an impressive patented technology that lets you turn a knob on either side of the mattress to adjust the firmness of your half of the bed! It compresses and decompresses helix air pods to your desired comfort level and allows each partner to control their side of the mattress.
You are able to customize the pressure relief to the exact shape of your body, without impacting your partner's comfort, which is amazing. It also allows you to change the firmness level at anytime, in case you are dealing with acute pains or your preference changes with time.
We also love the thick Australian Merino Cover, which is washable and exchangeable, and allows your body to naturally wick away moisture and stay cool in the summer and warm in the winter.
The layers of foam are high-resilience foam, which are firmer and which goal is to align your body and provide the support to your high pressure-relief areas in the hips and shoulders.
This is an all-around excellent mattress for the Big and Tall and worth the extra spending if you can afford it!
Read the Natural Form Refresh Mattress review
Natural Form Sleep Trial – 100 nights
Shipping – FREE
Warranty – 10 years
Best Mattress For The Big And Tall 2023 - Recap
I hope you found this guide helpful. As I mentioned earlier, each sleeper has his/her own sleeping preferences and what feels right to my 300-lb tester, might differ from your own personal preferences. I have based my selection of Best Mattress For The Big And Tall on my industry testing experience and knowledge of the materials used in each model, and further vetted my selection with a tall and heavy-weight sleeper who hand-picked his favorites out of nearly 15 mattresses.
All of the mattresses included in this list are medium-firm to firm and provide the comfort of some pressure-relief and a strong support of the entire body, including your pressure areas in the shoulders and hips.
What Mattress Is Right For Me?
Did you know that, if you lay on your bed 8 hours each day, you spend over 121 entire days on it each year? That's right – 2,912 hours each year, laying on your mattress. You better make it good! 
Each person has their own set of preferences when it comes to mattresses and comfort levels, and while I can't make the decision for you, I will do my best to give you enough information to help in your buying process. 
Big and Tall people have specific needs led by their body shape and size. See below for a list of mattress requirements for the Big and Tall for a comfortable night of sleep:
What Should I Be Looking For In A Mattress If You Have Lower Back Pain?
Someone tall and heavier-weight needs a lot of support. You do not want to sink in too deep and get your spine out of alignment.
By choosing to sleep on a medium-firm to firm mattress (firmness of 6/10 and above), you are able to align your entire spine. Of course you will want an upper layer of softer foam to provide relief to the high-pressure areas in the hips and shoulders, but underneath should be a firmer foundation to support all areas of your body.
You will hear me talk about support a LOT when it comes to finding the right mattress for Big and Tall people. You want your entire spine supported – from neck to your hips, as well as a bed that will be strong enough to hold heavier-weight night after night without sagging.
A supportive mattress with tri-zoned and reinforced coils in the perimeter, a strengthened lumbar zone, high-density foam or latex, will ensure that your body is supported in a healthy position throughout the night.
You will also need support of the high-pressure points. Those are your shoulders and hips. A good mattress will allow those areas to sink in a little deeper to relieve the pressure and not feel crushed. However, you want to choose a mattress that supports those high-pressure areas in a lower layer of either high-density foam or latex.
I find latex to be a great material for Big and Tall people, as it offers more bounce and responsiveness than memory foam and will better support your entire body and allow for easy movement.
Here it is. You want just the right balance of firmness and support, coupled with pressure relief properties, especially if you are a side sleeper.
The top layer(s) of foam will generally be softer than the bottom layers of the mattress. They allow for the heavier parts (high-pressure areas) in your body to sink in deeper than the rest of your body, keeping your spine straight.
Side-sleepers will require more pressure relief than back and stomach sleepers, and all mattresses on this list provide for healthy pressure-relief, coupled with strong and healthy support down your spine.
I know that buying a mattress involves a certain level of investment… and spending $700 to $2,500+ online without having seen or touched the mattress can be scary and discouraging. 
In this Best Mattress For Big And Tall 2023 list, I am not only telling who I think would love each mattress, I am also including information such as at-home trials and warranties. This information should be carefully considered, especially if you feel that you might need from trial-and-error testing prior to finding your favorite mattress. Each mattress company's website includes clear information on their at-home trials (i.e., no return before 30 nights, restocking fees, etc.). Things to look out for are whether returns are free, whether there is a restocking fee, if a replacement becomes a final sale, etc.
Why Buy A Mattress Online?
I hear you. I am telling you that this is one of the most important purchases you will be making in the next 5 to 10 years, yet I am encouraging you to buy from a website, with no chance to see, feel, or lay on the mattress. I promise you it's worth it, though! Feel free to read over our Guide To Buying An Online Mattress, but let's also look at the benefits of buying a mattress online vs. in store:
When walking inside a mattress store, you are limited to the brands and models carried by the store. Not only are they limited, but the store needs to survive and higher margin products will probably take the store-front, which doesn't always work in favor of the buyer. However, when shopping online, you will find dozens of online mattress brands.
Now of course, more options means that you need to educate yourself a little more, to understand which mattress brands will be worth your money, and this is where I come in. I test hundreds of mattresses for you each year, and when you read the reviews of an independent mattress reviewer such as Non-Biased Reviews, you get unbiased mattress reviews. Many mattress review websites are now owned by large mattress companies, so make sure you use the services of independent mattress reviewers!
Buying a mattress can feel as stressful as buying a car these days. You walk into the mattress store and get overwhelmed with sale tactics, straight out of the car lot! Online, you get the benefit of time and peace. Once you have narrowed your choices down to a brand or mattress style, take your time to read the details and do deeper research on the brand sites and right here. See all of the brands we have reviewed so far. Any questions, feel free to email me directly at laura@nonbiasedreviews.com and I'll be happy to brainstorm ideas with you!
By purchasing a mattress online, you are cutting the middle man. You do direct business with the mattress brands and they save on labor, rent, and other overhead costs. It is a win-win and you put the savings in your pocket! You also have many more options, and while you can buy extremely luxurious and expensive mattresses online, you also have access to a large number of cheaper options!
This one might seem counterintuitive. I bet that your first resistance to buying a mattress online is linked to the lack of testing. You can't see nor touch the mattress for yourself and you're not sure whether you can truly believe the edited photos you see online. 
Think about it for a second. You walk into a mattress store, lay on a mattress, shoes on, fully clothed, with an adult salesperson staring at you, while trying to keep your kids from taking the store for a trampoline arena. You've awkwardly laid on that mattress a total of 50 seconds before making a long-term decision… 
When purchasing your mattress online, it nearly always comes with a 100 to 365-night trial. You get to sleep full nights on your investment for several weeks before deciding whether it is adapted to your sleeping needs and preferences. I recommend sleep testing your mattress for at least 30 nights before making your final decision, to give your body a chance to adjust to the new sleeping surface.
Still unhappy, most online mattress companies will arrange for your mattress to be picked up from your home and donated, and your money will be refunded. There is generally no restocking fee and most of the time, your return shipping is free as well. If you buy a Purple mattress at MattressFirm, for example, your return will be subject to MattressFirm's return policy and restocking fees. Buy directly from Purple and your return is free!
When you buy a mattress online, it ships directly to your home, most of the time for free! Nearly all mattresses ship in a box, making them easy to transport to the room of your choice. 
Forget about renting a truck or trying to tie a king-size mattress to the roof of your car, then asking a friend to come help you to get it inside. Instead, a regular carrier drops off a manageable box by your front door, you set the vacuumed mattress on your bed, rip the plastic wrap, and watch it expand in seconds!
Share this deal with a friend!