What is the Best Bed Size for My Room?
I recently downsized from a Standard King (aka Eastern King) to a Queen size.  I did this for two reasons; my room is relatively small, and mattresses are HEAVY.  Since I test mattresses, I end up moving on to another mattress to sleep test every two weeks or so.  It is so much easier to move around Queen Size bed.  What I didn't count on was the increased intimacy I discovered.  As much as he tries to, my husband has less room to run and hide from me.  My room now feels so much larger and I'm happier in general.
I just compiled the results of a sleep study and found that 53% of the people that I surveyed sleep on a Queen size mattress.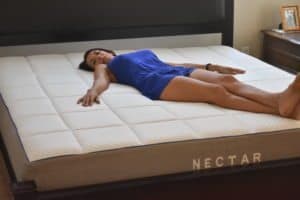 I Switched from King on the left to Queen on the right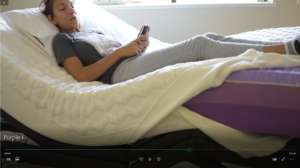 The general rule of thumb is to make sure that you have 3 feet of space on each side of your bed.  You could get away with 2 feet, but your room will feel much larger if you ensure that you have 3 feet of clearance on all three sides of the bed.  To remember this rule of thumb just think 3X3, three sides three feet each.
Navigation Menu
Bed Size Table
| Size | Dimensions | Ideal For | Pros | Cons |
| --- | --- | --- | --- | --- |
| Twin | 38″W x 75″L | Children, Single Adults (under 6 ft.) | Leaves room for activites, used in most bunk beds | Children will outgrow them |
| Twin XL | 38″W x 80″L | Split Adjustable bed users, Single Adults (up to 6'4″) | Used in Adjustable beds (buy 2) | Likely won't fit in bunk bed |
| Full (Double) | 54″W x 75″L | Children, Single Adults, Skinny Adult Couples | Will make the room look large | Too small for most adults |
| Queen | 60″W x 80″L | Single Adults, Couple (average size increased intimacy) | Ideal size for normal sized couples | Too small for tall and heavy people |
| King | 76″W x 80″L | Couples, Couples with Large Pets | Ideal size for large couples | Will take up large part of bedroom |
| California King | 72″W x 84″L | Couples, Single Adults (comfortably up to 6'8″) | Ideal size for tall couples | More difficult to find bedding & frames |
| Split King [1] | [2]38″W x 80″L | Adjustable Frame users (with different sleep preferences) | You want firm, your partner wants soft, go split king | Creates a "no mans land" |
Notes:
[1] Split Kings have what I call "no mans land".  There will be a dip between the mattress.  This means that you and your partner can't use the middle of the bed, which otherwise is a nice meeting area for couples.
[2] You need to purchase 2 Twin XL mattresses for a split king.  This will allow you and your partner to have different angles on an adjustable bed.  Also you can choose to get two different types of mattresses, as long as they are similar in thickness.
King vs. California King
We just gave up our Queen for a King size.  My husband is 6'3″ and fits within the 80″ of length that both a Queen and a King share.  He doesn't need the extra four inches of leg room that we would pick up if we were to change to a California king (aka "Western King).  Only about 1% of American society is taller than he, so the California King is a really small part of the market.  This, in turn, makes it more difficult, and sometimes costly to buy Cal King beds, and bedding.
The main question that you have to ask is: would I sacrifice 4″ of distance from my partner to pick up 4" in leg room.  To make that decision you, or your partner, need to be really tall.  Otherwise, there is no reason to select a California King size.
Split King vs King
King size adjustable bed frames have two options.  You can either put a King mattress on them or you can put 2 Twin XL mattresses on them, for the split king option.  The Split King option allows you and your partner to have completely different mattresses.  If you have different mattress firmness desires this allows you to each get your own twin XL mattress.  In addition, you can set your side of the adjustable base to a different angle.  Perhaps you like the zero gravity position and he needs to be in the anti snore position.  The only way to accomplish this is with a Split King adjustable frame.  To read more about adjustable frames go to my best adjustable beds page.
Personally, I wouldn't select a Split King as there is one major draw back.  When you have two separate mattresses sitting side by side, they won't be connected.  This means that snuggling with your partner isn't going to be comfortable.  This is the you can run and hide option, for decreasing intimacy between partners.
Are you curious to see how different mattresses perform on adjustable bases?
King Vs. Queen
The King is the same length as the Queen, but you pick up an extra 16″ of width.  The king size is recommended for large couples, or people who just want more space from their partner.  If you have a giant room and want extra space (and are under 6'6″) the King size is a nice choice.  For those who want a more intimate sleeping situation, or have a smaller room the queen size is a nice choice.