ZAMAT NEKGENIC CERVICAL PILLOW REVIEW
Cervical pain can put a real tamper on your daily life. If you suffer from chronic neck and back pain, tension headaches, or stiffness in your upper back, you may need to restore the natural curve of your neck. The ZAMAT NekGenic cervical pillow was designed to train your body in recovering cervical alignment. 
From using the ZAMAT pillow as little as 10 minutes per day, you can expect a strong reduction in pain and long-term benefits from a healthier posture. Even without chronic pains, we have loved the benefits of the neck stretch from using the ZAMAT NekGenic! 
Here's everything we think about it!
Up to 40% OFF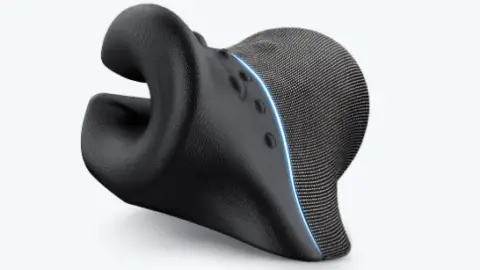 Zamat NekGenic
Up to 40% OFF site wide with coupon code (click to reveal)
Free shipping
10-year warranty
100-day at-home trial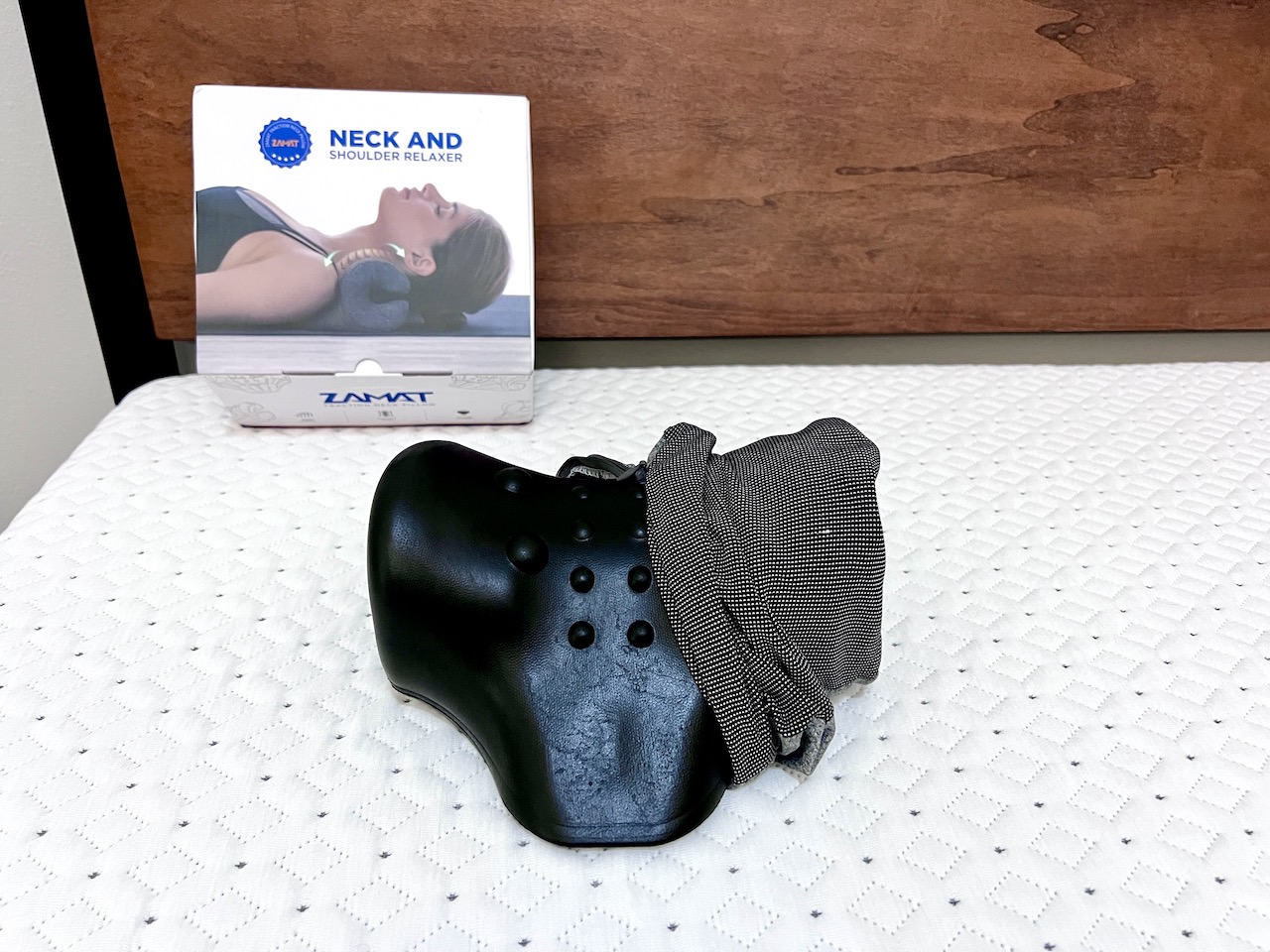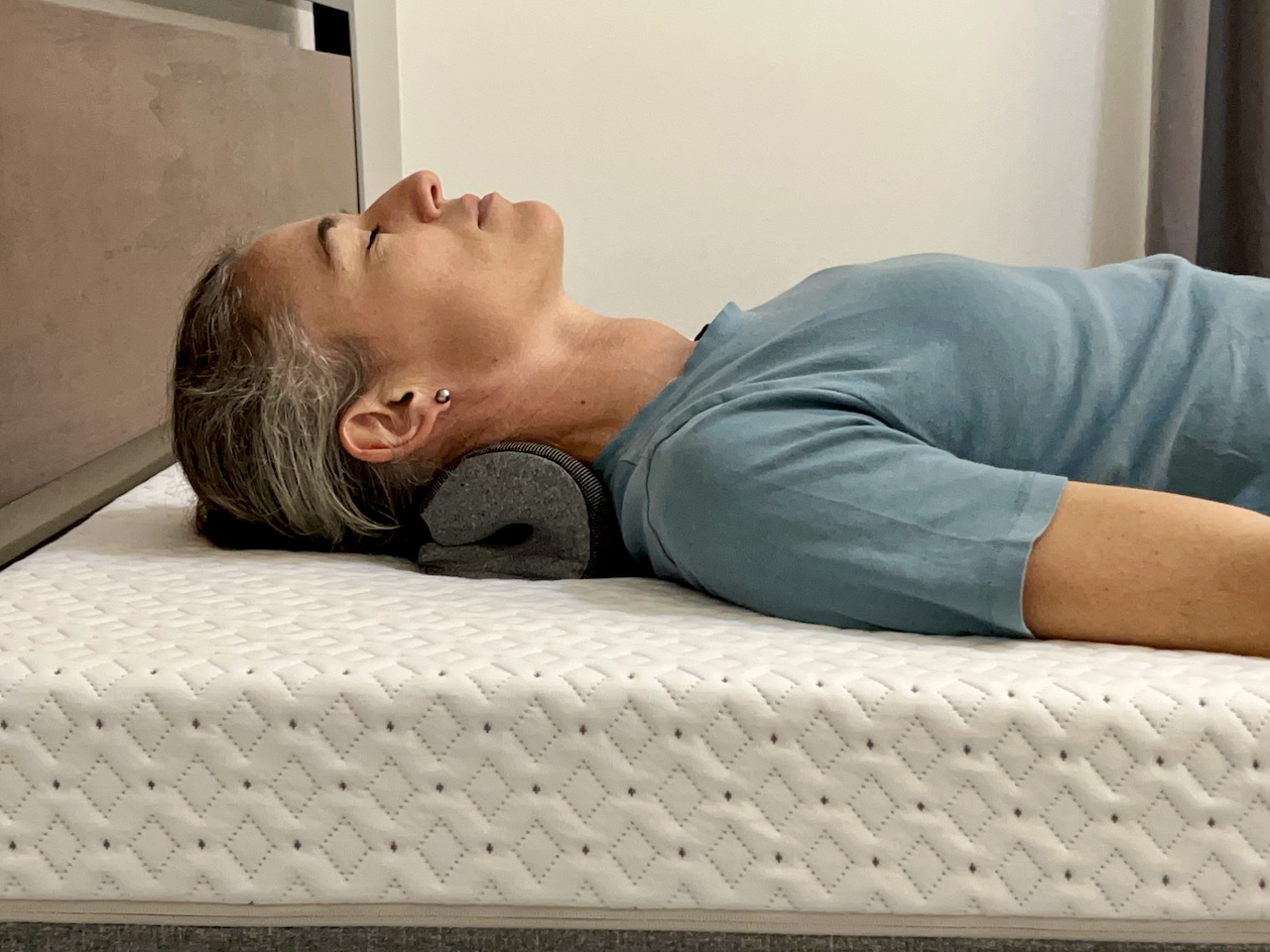 What's Inside The ZAMAT NekGenic Cervical Pillow
In a nutshell:
Cervical pillow + travel pouch
Nanomag implant magnetic therapy
Targeted pain therapy
Self-skinning polyurethane foam
Cervical Pillow + Travel Pouch

When purchasing a ZAMAT NekGenic, you receive the cervical pillow, small enough to take everywhere with you. At just 7.5 x 5.5 x 4 inches, it is the perfect size to keep in your purse or car to have without you during the day. You also receive a protective pouch with it, allowing you to keep it clean all day long!
Nanomag Implant Magnetic Therapy

The ZAMAT NekGenic cover is made of a cloth with millions of implanted magnetic particles. The magnetic therapy promotes healthy circulation and reduces inflammation, hence sooting aches and chronic pain.
Targeted Pain Therapy

The pillow's foam is molded with 12 pressure point relief nodes. Those nodes are placed on effective human acupuncture points to deliver relaxation benefits similar to that of a massage. 
Self-Skinning Polyurethane Foam
The ZAMAT NekGenic cervical pillow is made of 1 piece of self-skinning polyurethane foam. This foam is commonly found in mattresses and medical equipment and provides a small amount of pressure relief and large amount of support.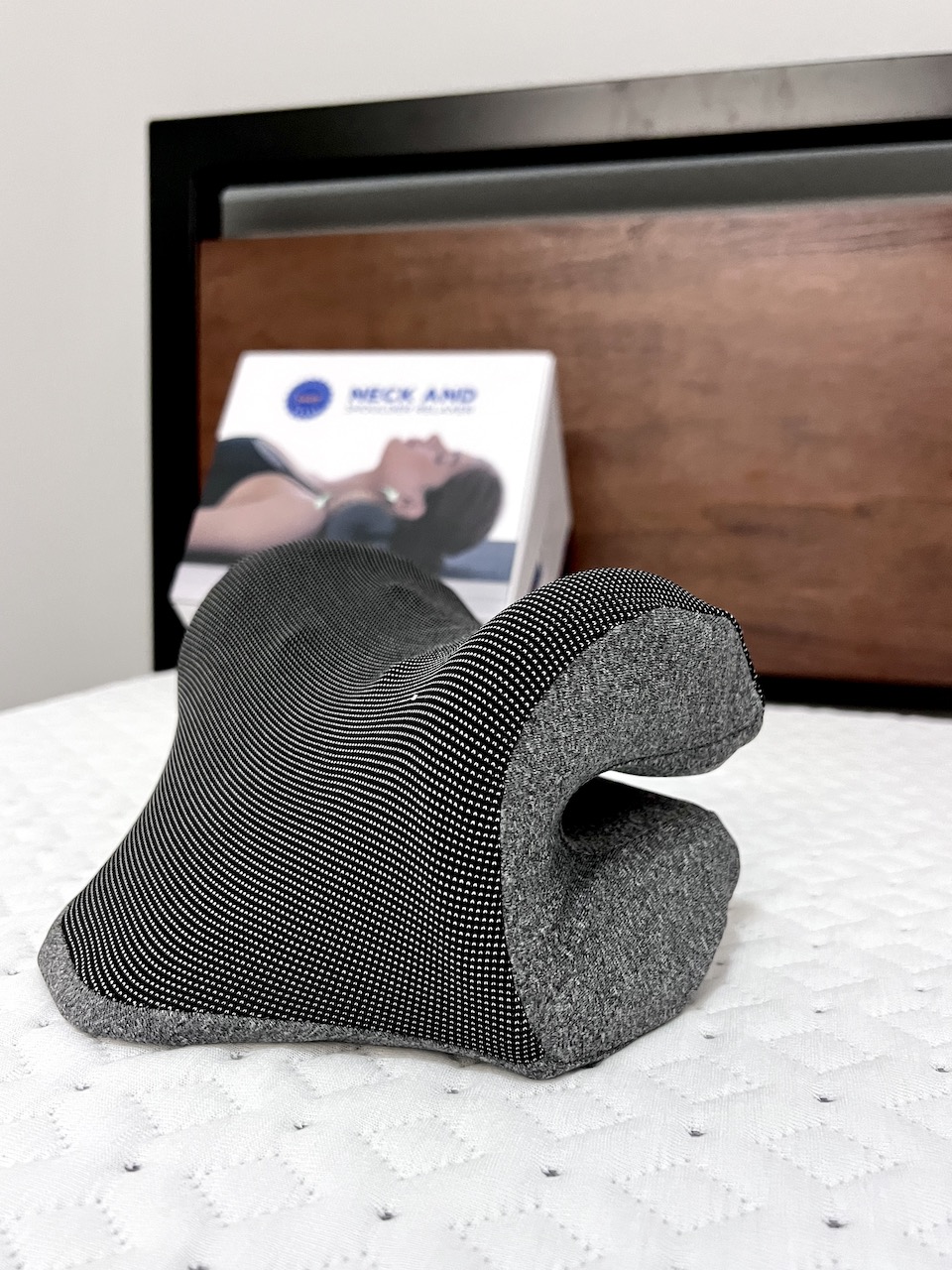 ZAMAT NekGenic Cervical Pillow Tests
Everything we felt in one box
| Firmness | Pain Relief | Maintenance | Usability | Portability |
| --- | --- | --- | --- | --- |
| The polyurethane foam used in the ZAMAT NekGenic cervical pillow is a high density foam that provides the right amount of support and firmness to align your neck in its natural position without giving in to your weight. Its goal is to restore the natural curve of your neck and the firmness is just right to recover cervical alignment with the right amount of pressure relief and coziness. | We were very impressed with how instantly we felt the gentle stretch in the back of our necks when using the ZAMAT NekGenic pillow. While we do not suffer from neck pain, we quickly felt the benefits of laying on the cervical pillow, and how it naturally aligned our bones and muscles in the neck and upper back area. You should feel a difference after the first use, but it is recommended you lay on the ZAMAT NekGenic 10 minutes a day for 2 weeks for optimal results. | The ZAMAT NekGenic pillow cover is made of stretchable cloth. When in need of a wash, simply soak with soapy water and air dry. When you need to clean the foam, use a wet sponge / cloth, and spot clean with clean water and a gentle soap. Do not throw either in the washing machine. We have found that remove and re-zipping the cover was very easily done! | Using the ZAMAT cervical pillow is very easy and you can choose to use it in 2 different ways. Simply place the V tip of the pillow between your shoulder blades to reduce the amount of traction and for severe neck pain. Once you are an experienced user, you can flip the pillow and place the V tip under the base of your head for a stronger stretch. I recommend using this pillow on a hard surface (i.e., yoga mat or floor) for the best alignment. Too soft a mattress will misalign the heavier parts of your body and be counterproductive. | We love how small and portable the ZAMAT NekGenic cervical pillow is! You can take it with you everywhere you go. Use it at the office against a wall or tall office chair. Take it to travel by plane or train. And bring it with you on vacation to keep training your body to restore natural and healthy alignment! |
ZAMAT NekGenic Cervical Pillow Prices & Discounts
Up to 40% OFF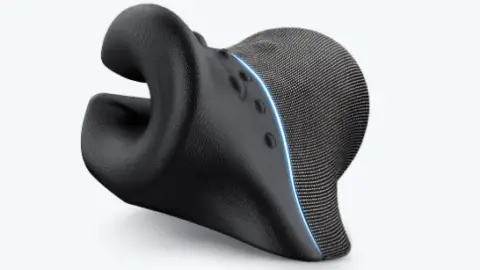 Zamat NekGenic
Up to 40% OFF site wide with coupon code (click to reveal)
The ZAMAT NekGenic cervical pillow comes in one-size-fits-all. At just 7.5 x 5.5 x 4 inches, it is the perfect size to fit nicely behind your head and neck. 
You have the choice between 3 colors: gray, navy blue, and pink. 
Make sure to click the box above to claim the deepest discounts for the ZAMAT NekGenic cervical pillow. Click on SHOW COUPON CODE box above for the current coupon code.
Price List updated: October 2022 – pre-discounted prices
Detailed ZAMAT NekGenic Cervical Pillow Review Conclusion
The NekGenic cervical pillow by ZAMAT is a beautiful product! Perfect to use at home, and small enough to take with you for relief on-the-go!
If you suffer from cervical pain and aches, upper-back stiffness, or tension headaches, you should find relief with your very first use of the ZAMAT pillow. It is recommended that you lay on the pillow for 10 minutes every day for 2 weeks to start enjoying long-term benefits
This cervical pillow aims at training your body in restoring its natural and healthy cervical curve. With poor posture comes cervical misalignment. Being able to restore the curve and stretch the whole area a little more every day, gives your body a chance at healing itself naturally.
Let's take a closer look at everything that plays into the ZAMAT NekGenic cervical pillow.
ZAMAT is a pillow and bedding manufacturer with a mission to ensure everyone gets the quality sleep they deserve. They understand that every day external factors, such as poor posture and stress, affect the way people rest and sleep. 
Cindy Chen, ZAMAT's founder, decided to start manufacturing her own cervical pillow after suffering from neck pain herself, and not finding a suitable pillow on the market. She worked closely with ZAMAT's medical advisor to create a unique pillow curvature to keep sleepers' necks loose and their bodies naturally and comfortably aligned. 
While ZAMAT specializes in cervical pillows, they also manufacture accessories to further their mission of giving pain-free sleep back to those suffering from chronic neck pain, tension headaches, tightening in the back, TMJ, shoulder and upper back aches, and more. 
They believe that their innovative and ergonomic cervical pillows are the first step towards bringing quality of life back to those suffering from these ailments. A good night of sleep brings physical and mental health back to people's life, turning into increased energy and joy!
Find all of our ZAMAT Reviews here.
What Is Inside The ZAMAT NekGenic Cervical Pillow?
The ZAMAT NekGenic cervical pillow is made of 2 parts – its cover and the molded foam. Let's look at both independently: 
The ZAMAT NekGenic Magnetic Pillow Cover 
ZAMAT has invested time and money in developing a product that works with, and for, your body. They continue to come up with technologies to stay ahead of the industry and provide stress and pain-relieving sleep. 
In this particular pillow – the NekGenic – ZAMAT has implanted millions of permanent magnetic particles to provide the benefits of magnetic therapy to its sleepers. Those magnetic particles lay underneath your head and neck and help improve blood flow and circulation, reduce inflammation, and in turn, reduce pain and aches. 
We found the pillow cover to be soft and stretchy, with enough friction to ensure your head does not slide off of it. It can be easily wiped off, or even removed to quickly soak in soapy water, in case you need to wash it. 
Self-Skinning Foam Insert

The pillow itself, is made of one piece of foam. The polyurethane foam is the same commonly used in many mattresses and medical instruments. It provides a small amount of pressure relief, so you don't feel like you are laying your head on a brick! But it is a firmer foam, that supports your head and neck, no matter your body weight. 
We found it to be a very comfortable  foam and the perfect size to easily lay on. 
One thing we loved about the pillow, are the molded massage points. Twelve raised points around the head and neck, are located on known shiatsu acupuncture points. While they do not move, they apply pressure on known area, which provide benefits similar to that of a massage. From the simple weight of your head, you will get a soothing feeling, combined to the magnetic therapy cloth, for increased relaxation and pain relief. 
How Does The ZAMAT NekGenic Cervical Pillow Feel?
Firmness
The high-density foam used in the NekGenic ZAMAT pillow provides a very comfortable mix of softer pressure relief, with the ultimate support you need to lay in a healthy position. We found it comfortable and soft enough to be cozy and not get a headache from the pressure, while perfectly aligning the neck and head to restore the cervical curvature. 
Pain Relief
We tested the ZAMAT pillow without currently suffering from cervical pain. We do however know and feel tension in the general area on an ongoing basis. Hours of work sitting in front of computers, years of poor posture, have affected our neck and upper-back areas. 
We were impressed with the immediate feeling of stretch. The best way to describe it, was a feeling of space – as if space was created inside our cervical area, relieving a ton of pressure! 
ZAMAT recommends using the NekGenic pillow 10 minutes a day for 2 weeks to start feeling a real difference in recovering cervical alignment. 
We also very much enjoyed the benefits of the shiatsu points of pressure, which are present but not overwhelming. 
Maintenance
Unzipping and removing the cervical pillow cover is very easy. You can then wipe it with clear water, or even soak it in soapy water, rinse well, and air dry. Its size is small and makes it easy to care for.
The pillow foam itself, is nicely sealed, almost like a waterproof material. Simply wipe it with a wet cloth or sponge!  
Usability / Portability
Because of its small size and the travel pouch it comes with, it is very easy to take your ZAMAT NekGenic pillow with you, everywhere you go! 
We love being able to take it to the office, to use during a short breaks, sitting against a wall or even just your office chair! You can use it on airplane or public transportation, or while traveling.
We have loved testing the NekGenic pillow at home, and recommend laying on a firmer surface. If you sleep on a firm mattress, use it on your mattress as you rest, meditate, or nap. If your mattress is too soft to keep your entire spine aligned, lay on a yoga mat right on the floor, for the greatest benefits. 
How Do I Care For My ZAMAT NekGenic Cervical Pillow?
Simply unzip the magnetic cover from the NekGenic and hand wash with soapy water, then let air dry. Because of the thin material and its small size, the whole process will be quick and easy, and you can expect your pillow cover to dry quickly. 
Should you need to clean the foam insert, use a wet sponge or cloth and wipe the foam clean, then let air dry or dry with a cloth. 
Up to 40% OFF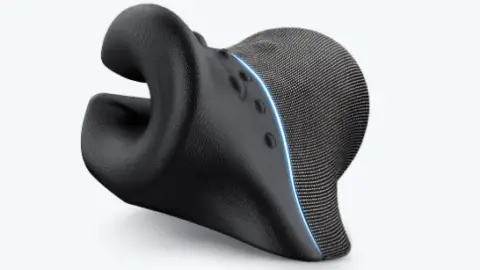 Zamat NekGenic
Up to 40% OFF site wide with coupon code (click to reveal)
The PLUSES

The MINUSES

Great value
Unique ergonomic design
Easily portable for on-the-go use
Instant relief, even on first use
Requires only 10 minutes a day to be effective
Easy to clean 
Restores cervical alignment for long-term benefits (i.e., improved posture, pain relief, etc.)
Can be quickly used throughout the day to treat acute pains and aches
No sweating on cover
Replicates physical therapy at home
Recommended by chiropractors

Can't think of a negative...
Share this deal with a friend!