MOLECULE 2 AIRTEC MATTRESS REVIEW
We sleep tested Molecule's latest mattress – the Molecule 2 AirTEC Mattress. 
Filled with layers of impressive proprietary materials, this mattress designed for athletes is a great mattress for everyone looking to recover from their day overnight – if you ask us, that should be YOU! 
We all deserve a night of restorative sleep. Waking up refreshed and ache-free should be on your list, and the Molecule 2 AirTEC Mattress performed incredibly well on several parameters during our test nights. Ready to see who we recommend it for, and whether it could be a good addition to your bedroom? 
Up to 40% OFF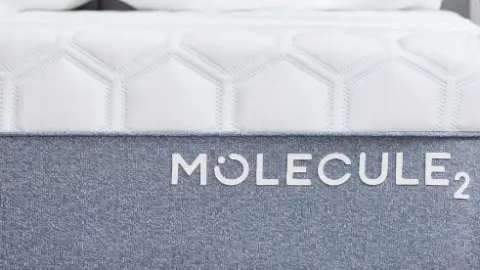 Molecule Company Policies
Free shipping and returns
365-night trial
Lifetime warranty
100% made in the USA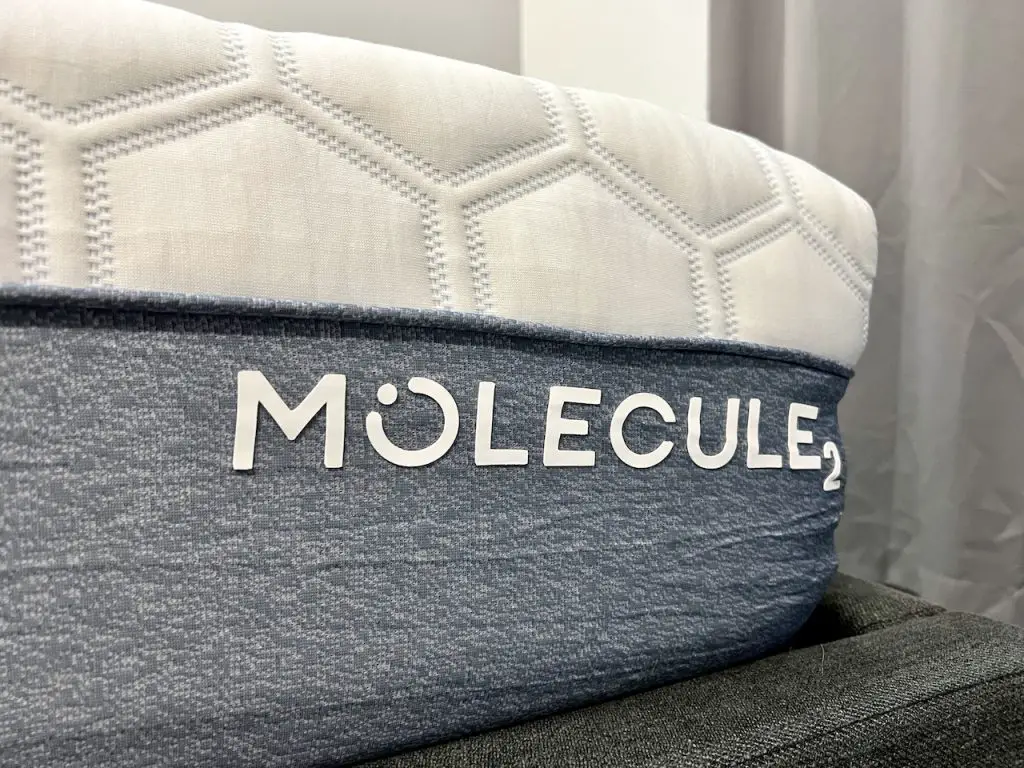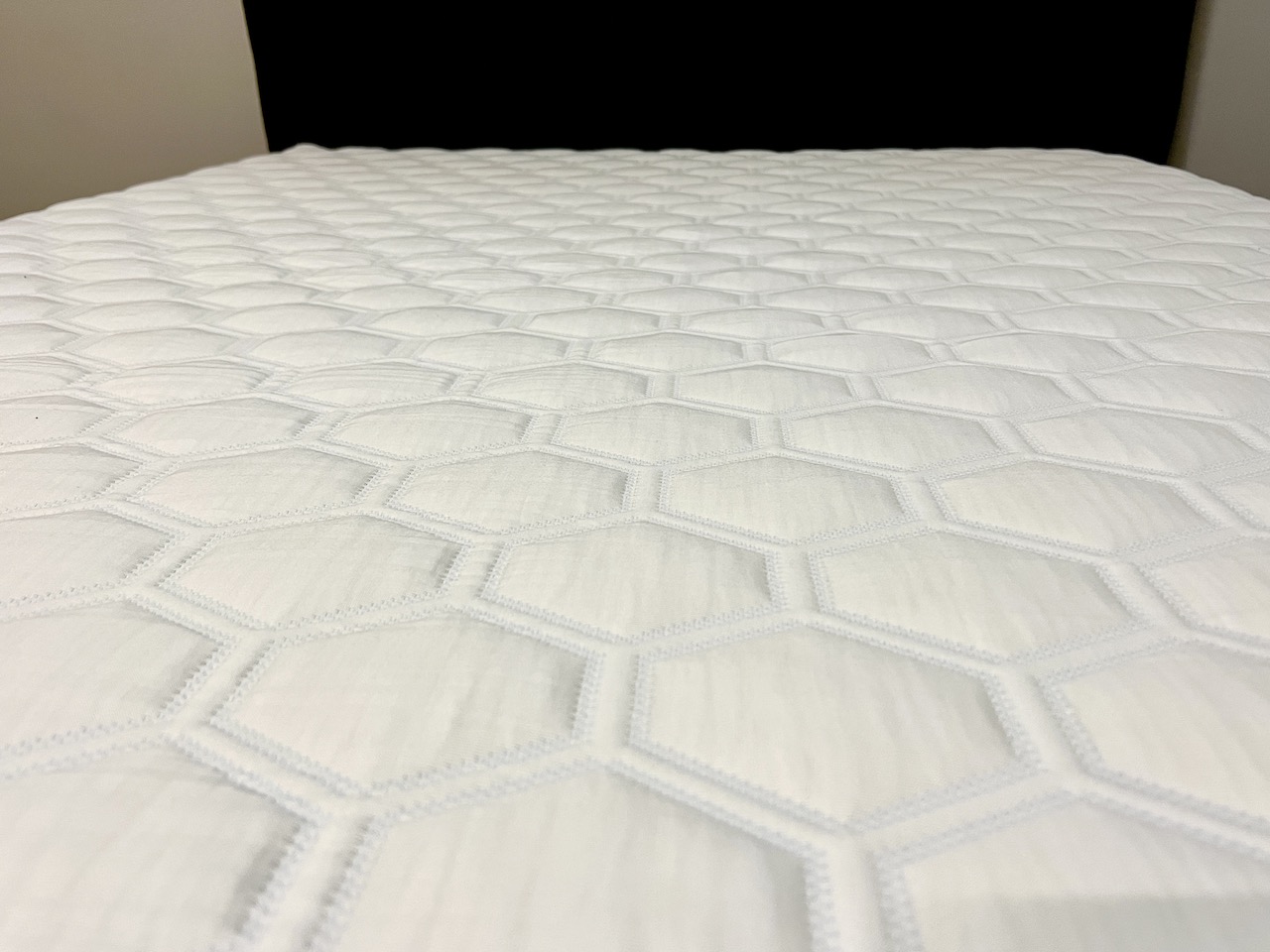 What's Inside The Molecule 2 AirTEC
In a nutshell:
Quilted cover with antimicrobial treatment
Biocharge™ foam layer for body recovery

AirTEC™ foam for airflow

Recoveryflo™ for targeted relief 

Contourflo™ high-density foam
Quilted Cover With Antimicrobial Treatment
The Molecule 2 AirTEC's mattress cover is treated with Microban, a proprietary treatment to prevent the growth of mold, mildew, bacteria, and odors. The mattress cover is plush and elastic, minimizing motion transfer, and aiming at increasing airflow for a cool night of sleep. 
Biocharge™ Foam Layer For Recovery
The second layer is a proprietary foam layer, using unique technology to improve your recovery after a busy day. It has been lab-tested and clinically-proven to improve body functions and help you feel more rested in the morning. 
AirTEC
™ Foam For Airflow
 The third layer is made of AirTEC foam – an incredible invention by Molecule, featuring very large open cell for lots of airflow and bounce to support your spine and body while providing the pressure relief where you need it. The AirTEC foam gives an impression of weightlessness like no other material we have ever tested.
Recoveryflo™ For Targeted Relief 
We are very impressed with how much the Molecule 2 AirTEC mattresses adapts to each body's shape and position. The Recoveryflo layer is made of 5 zones and a 3-D geometric surface that self-adjusts during the night, to provide relief and support exactly where your body needs it.
Contourflo™ High-Density Foam
The bottom layer in the Molecule 2 AirTEC provides stability and adds life to the mattress.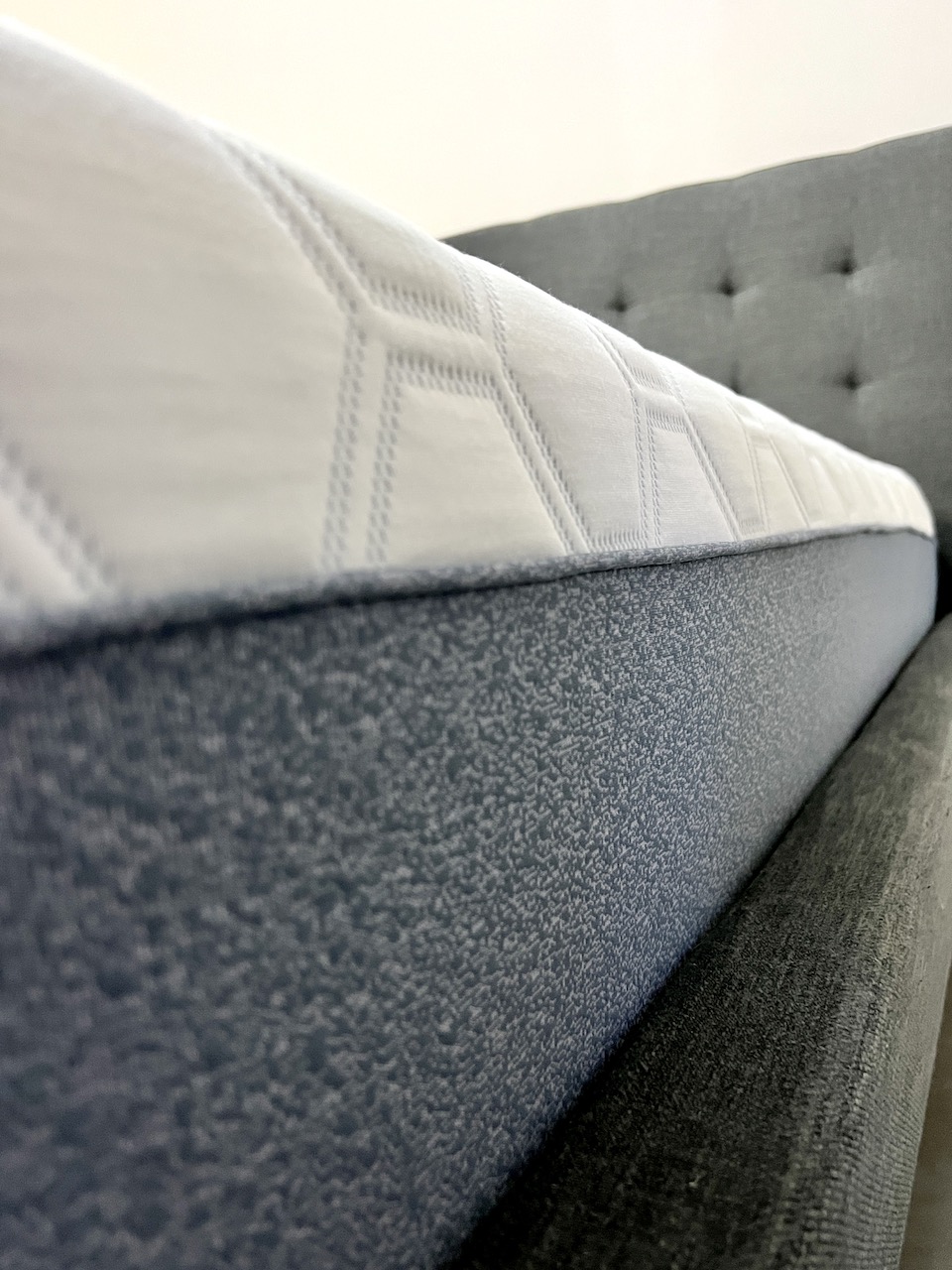 Molecule 2 AirTEC Sleep Tests
Everything we felt in one box
| Firmness | Temperature | Maintenance | Sleeping Style | Bed Base |
| --- | --- | --- | --- | --- |
| We rated the Molecule 2 AirTEC mattress as a 7 to 7.5 out of 10 on the firmness scale, making it slightly firmer than average. Because of the AirTEC's very particular feel, it is difficult to really pin point a firmness for the mattress. It feels very versatile and perfectly adapts and contours your body's shape, no matter its position. We rated it a little firmer than average, feeling that it provided better-than-average support to the entire body. | The Molecule 2 AirTEC sleep temperature neutral thanks to several layers (including its cover) working together to provide airflow. While there is no feeling of extreme cool, we never felt hot sleeping on the mattress. The different layers work well together to allow your excess body heat to escape into the mattress, and cooler air to come in from the bedroom and rise to your body. | The cover of the Molecule 2 AirTEC mattress cannot be washed. You can spot clean the mattress with mild detergent, clear water, and a cloth. Try blotting the stain, instead of rubbing it. | Thanks to the unique properties of the AirTEC and Recoverflo layers, we found the mattress to work very well for various sleeping styles. The responsive foams spring back to contour the body, no mattress your sleeping position. We can recommend the Molecule 2 AirTEC for light to average-weight side-sleepers, all back-sleepers and stomach-sleepers. This makes the Molecule 2 mattress an excellent choice for couples with different sleeping styles. | The Molecule 2 AirTEC Mattress can be laid on any flat surface: flat platform beds, slatted beds, boxsprings or foundation, adjustable beds, or even the ground. |
Molecule 2 AirTEC Prices & Discounts
Up to 40% OFF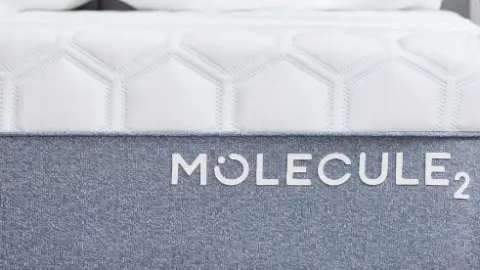 The Molecule 2 AirTEC is an excellent value, beating similar-quality mattresses by $1,000 in each size. 
The pricing structure is easy to follow, with mattress sizes grouped by two, and a small difference between Twin and King, making it easy to choose a larger size mattress. 
Make sure to click "SHOW CODE" above to claim the deepest discounts and an exclusive coupon for 20% OFF your order!
Price List updated: June 2022 – PRE-DISCOUNTED PRICES. Use our exclusive coupon code for 20% OFF, by clicking SHOW CODE in the box above.

Detailed Molecule 2 AirTEC Mattress Review Conclusion
We are very impressed with the quality of sleep we got on the Molecule 2 AirTEC Mattress and think the value is absolutely incredible. We will repeat ourselves – you do not have to be a professional athlete to rip the full benefits of the Molecule 2 Mattress. 
The proprietary materials developed by Molecule make this mattress an excellent option if you are looking for cool and responsive sleep that will help your body regenerate after long days. You have a right to the best recovery and waking up feeling healthy and refreshed can be in your future with the Molecule 2. 
Let's look at everything we found out during our test nights, in this detailed Molecule 2 AirTEC Mattress review. 
Find all of our Molecule reviews HERE.
Molecule has a very distinctive feel as a mattress manufacturer. They focus on getting their sleepers recovered through cool, supportive, and pressure relieving sleep, so they can have a high-performing day when they get out of bed. 
Molecule spends time and money in developing advanced materials to change the way people sleep. They invest in air technology and created the AirTEC layer that allows for air to flow in and out of their mattress to facilitate cooling. With science backing them up and a team of sleep doctors and neurologists helping in product development, they have been able to fine-tune mattresses truly designed for performance. 
Their marketing has always pushed professional athletes as faces of the company. If Michael Phelps and Russell Wilson get restorative sleep, so can you. 
Molecule offers an array of products, from mattresses to mattress toppers, bedding accessories, pillows, and bed frames, you will be able to shop for all of your bedding needs if you become a Molecule fan. 
Let's look at what exactly hides inside the Molecule 2 AirTEC Mattress and understand how each layer works with your body to get you quality sleep. 
What Is Inside The Molecule 2 AirTEC Mattress?
The Molecule 2 AirTEC Mattress is made of 5 layers for just over 12 inches in thickness. Thanks to its air technology, you will find it to be on the lighter end of the weight scale, which makes moving, transporting, and adjusting the mattress fairly easy. If you are used to moving often, this is a great plus! 
All foams used in Molecule mattresses are CertiPUR-US certified and Molecule uses a technology to reduce emissions by 97%, which is not only softer on the planet, but virtually eliminates off-gassing once to unpack the mattress at home.
Microban-Infused Mattress Cover
The Molecule 2 mattress cover is designed to be a clean and breathing layer. It is closest to your skin, and thanks to its Microban treatment, it repels the growth of odor and stain-causing bacteria, mold, and mildew. If you are someone who suffers from allergies or irritable skin conditions, this can be a great option to ensure clean and healthy nights of sleep.
Because of the mattress cover's design, you will also find that air is allowed to easily flow from the foams up to your body, keeping you as cool as possible throughout the night.
Biocharge™ Foam Layer 
Right underneath the mattress cover is a Biocharge™ foam layer, which is engineered by and for Molecule. You will not find Biocharge™ foam in any other mattresses. 
This proprietary foam is infused with a lab-tested and clinically-approved crystal combination that helps your body recover by promoting proper cell function, increasing oxygen consumption, and improving circulation. This is the layer than physically alters your recovery for the best, leaving your body more rested after a night of sleep. 
AirTEC Foam Layer
AirTEC is the star of the Molecule 2 Mattress. This Air-Engineered™ foam is using very large open cells to provide a unique feel. It reminded us most of latex, without carrying any of the latex – if you are allergic to latex but like its responsive feeling, this is a wonderful option! 
Because of the large open cells, lots and lots of air flows through this layer, allowing cool room air to reach the upper layers of the mattress, and giving an escape route to your excess body heat! 
Not only does AirTEC bring cool to the Molecule 2 Mattress, it also carries high responsiveness and an incredible feel of weightlessness. The responsiveness allows you to move at night, without extra effort, and without ever feeling stuck in the mattress. It allows allows the mattress to bounce back in lower-pressure areas, allowing your body to relax thanks to strong support down the entire spine. 
As you lay on the Molecule 2, the AirTEC layer gives you that amazing feeling of weightlessness. While sitting, you may feel like you're sinking into soft foam, but as soon as you lay your body, the foams bounce up to encase your body in just the right amount of support and coziness. 
Recoveryflo™ 3-D Layer
Another proprietary layer comes up – the 3-D geometric surface with 5 zones, giving you the targeted support each part of your body needs. It works incredibly well with the AirTEC layer to ensure no part of your body is left unsupported. 
Contourflo™ High-Density Layer 
You are likely not going to feel the bottom-most layer in the mattress. The high-density foam provides stability to the Molecule 2 and adds life. While fairly custom in most foam mattresses, Molecule has designed a high-density foam that allows for most airflow than average. 
How Does The Molecule 2 AirTEC Sleep?
Firmness
The Molecule 2 AirTEC sleeps a little firmer than the average mattress. We rated it a 7 to 7.5 out of 10 on the firmness scale.The AirTEC has a very unique feel that gives an impression of floating in the mattress, with pressure being applied exactly as each body part needs it. You will find that high-pressure areas (i.e., hips, shoulders) sink in a little deeper, while lighter body parts receive extra support, making this a very versatile mattress. Because of its extra bounce, we rated it a little firmer than average. 
Sleeping Style
The Molecule 2 AirTEC shines in the sleeping style category. Because of its unique layers of proprietary foams, it adapts nicely to several sleeping styles. Back and stomach sleepers will find the support they need for a healthy sleeping position. 
Side-sleepers of average, and below-average weight, will find a very comfortable mattress in the Molecule 2. The only group that may find the Molecule 2 too firm, is heavier folks. You may need a little more plushness to sleep comfortably. 
The AirTEC and Recoveryflo layers do a beautiful job at adapting to all body shapes and sleeping styles, making the Molecule 2 AirTEC a wonderful mattress for couples, especially those with different sleeping styles. 
Temperature
Thanks to lots of air flowing through the different layers of this mattress, from its breathable cover to the open cells in the AirTEC foam, the Molecule 2 is a great mattress for hot sleepers. We found it to sleep temperature-neutral during a hot Florida summer test.  
Motion Transfer
Thanks to 12.25 inches of foams, the Molecule 2 Mattress tested very well on the motion transfer test. Movements of partners during sleep are well absorbed by the mattress and you can expect virtually no distraction. 
How Do I Care For The Molecule 2 AirTEC Mattress?
The cover of the Molecule 2 AirTEC with Microban Mattress is not removable and cannot be thrown in the washing machine. The best way to tend to a stain is to use water, a mild detergent, and blot the stain with a cloth. Do not rub the stain as you'd risk making it larger. A gentle blot on fresh stains should help you clean them up. 
How Much Does The Molecule 2 AirTEC Mattress Weigh?
Depending on the size you purchase, the Molecule 2 AirTEC mattress weighs anywhere between 50 and 94 lbs. It is a lighter-weight mattress, making it easy to move around your home and set up, thanks for airy and lighter layers of proprietary foam used in its construction.
Twin: 50 lbs
Twin XL: 52 lbs
Full: 64 lbs
Queen: 78 lbs
King: 94 lbs
Cal. King: 94 lbs
Up to 40% OFF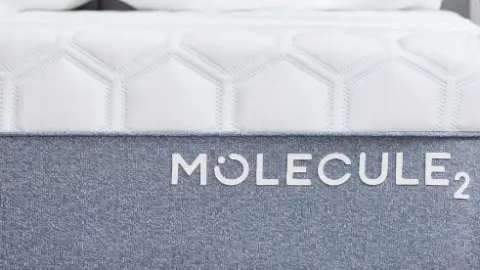 The PLUSES

The MINUSES

Clinically-proven body function recovery
Lighter mattress easy to move and adjust 
Temperature-neutral sleep throughout the night and seasons
Modern design
Great value for the quality
Proprietary foams found in no other mattress
Truly appeals to ALL sleeping styles!
Nearly no motion transfer and ideal for sleeping with a partner who moves a lot at night
Virtually no off-gassing
Lifetime warranty
Durable foam for years of quality sleep
CertiPUR-US-certified foams
100% made in the USA
365-night at-home trial

Cover is not machine washable
Is Nolah a good mattress?
Nolah currently makes 3 mattresses - 2 foam (Nolah Original & Nolah Signature) and 1 hybrid (Nolah Evolution). All Nolah mattresses are extremely comfortable and use the proprietary AirFoam. They are a great option for side-sleepers. The Nolah Original and Nolah Signature are good options for back-sleepers, while the Nolah Evolution performs really well for back-sleepers.
Where are Nolah mattresses made?
All 3 Nolah mattresses are designed in Denver, CO and made in the USA. Nolah manufactures its mattresses in 8 factories across the U.S. and sources all materials (foam, coils, and covers) in the U.S. as well.
How long has Nolah Mattress been in business?
Nolah is an online bed-in-a-box company that launched in 2015. All of their products are designed in Denver, CO, and made in the USA.
How much does the Nolah mattress cost?
Costs vary with the Holiday seasons and you will find a Nolah coupon on our website. The pre-discounted Nolah Evolutions prices are: $1,700 Twin -- $1,899 Twin XL -- $2,099 Full -- $2,199 Queen -- $2,399 King and Cal. King. The currently discounted Queen-size Nolah Evolution is for sale for $1,399, down from $2,199.
Share this deal with a friend!