SUPER MOON POD REVIEW (+ CRESCENT)
Are you looking for a zero gravity bean bag and feeling overwhelmed with the number of options you find online? Or maybe you've heard about this ultra-comfortable bean bag that raised over $1.2M on Kickstarter? Either way, you're in the right place. Our family has been using bean bags for over 10 years and we're always on the hunt for the most comfortable one! In this Super Moon Pod review, we give you our full thoughts on this Moon Pod built for 2. So what do you think? Did the zero gravity knock us into instant deep relaxation? 
25% + 15% OFF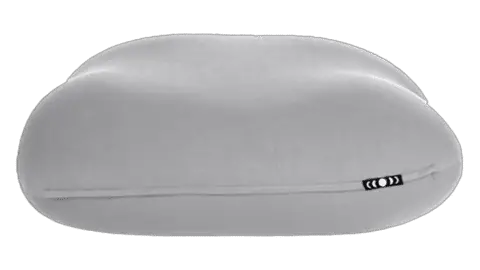 Super Moon Pod
25% OFF Site Wide + 15% OFF with coupon code (click SHOW CODE for code!)
Moon Pod Company Policies
Free shipping
1-year warranty on Moon Pod's cover seams and zippers
Returns accepted within 14 days of delivery – you will need an RMA number to be reimbursed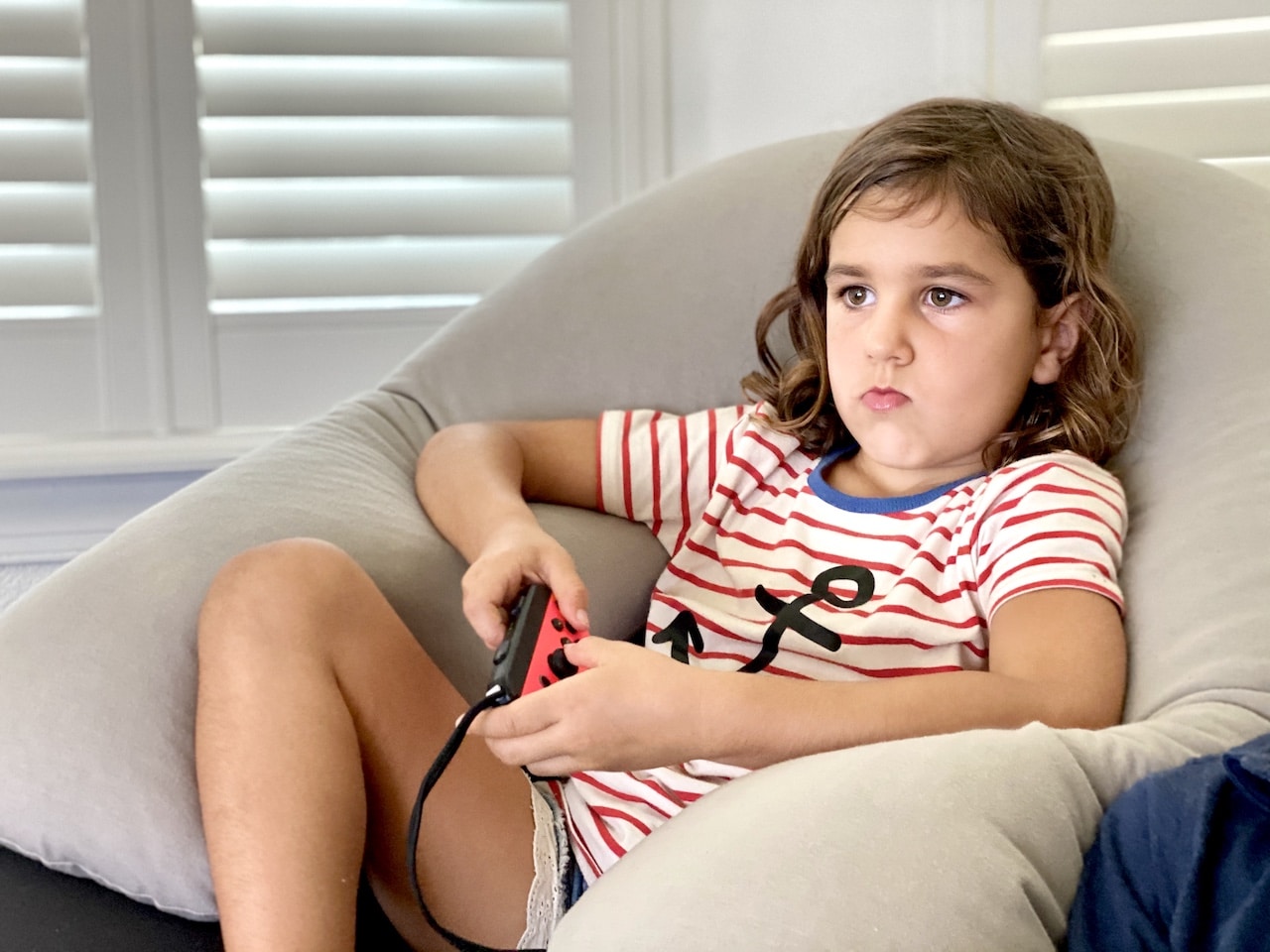 What's Inside The Super Moon Pod
In a nutshell:
2 Moon Pods
1 Cover
Custom-density beads
Machine-washable outer shell
2 Moon Pods
The Super Moon Pod is made of 2 individual Moon Pods encased in 1 large supportive cover. Each Moon Pod only weighs 12 lbs (there could be slight variation as each Moon Pod is filled by a human being!) and you can expect the Super Moon Pod to be roughly 8 sq. ft. I personally LOVE the small amount of space it takes – super easy to put away when needed!  
The Cover
For this review, we tested the Super Moon Pod and the Crescent – Moon Pod's ergonomic backrest. Both covers are made of a proprietary blend of fabric that allows you to machine wash them on cold and tumble dry on low. They are ultra soft and stretchy, to adapt to the shape and weights of all bodies.
Custom-Density Beads
Each Moon Pod (you have 2 inside a Super Moon Pod) is filled with custom-density beads. The filling is brand new material manufactured in the U.S. by a fully sustainable manufacturer who recycles all of their unused materials – the kind of filling you can feel good about.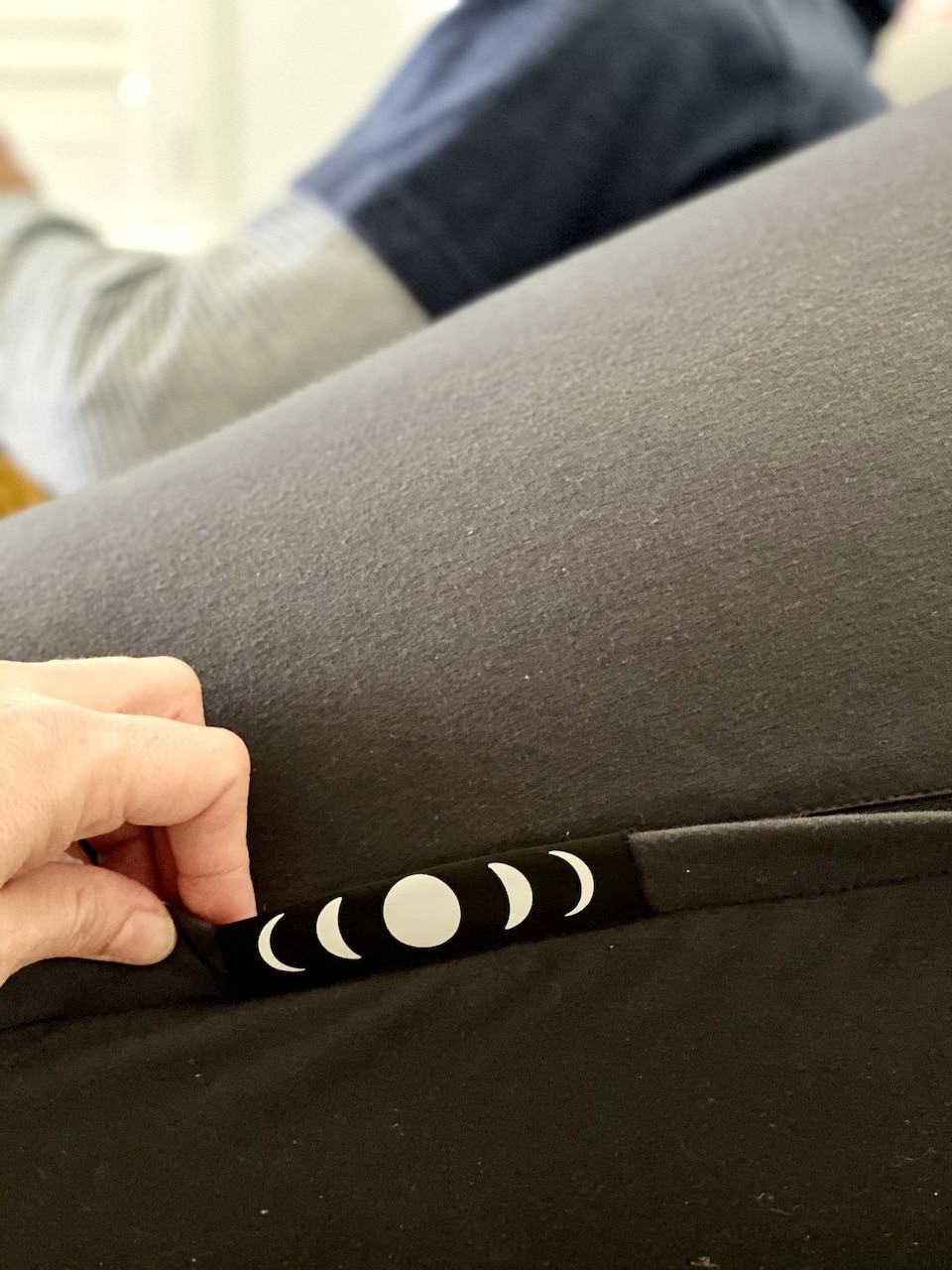 Super Moon Pod Zero-Gravity Test
Everything we felt in one box – our Moon Pod Review
| Firmness | Temperature | Maintenance |
| --- | --- | --- |
| The Super Moon Pod is filled with custom-density beads that are responsive and give you a floating feel. Add a stretchy and super soft cover to that, and you have a bean bag that perfectly molds to your body shape. Once you have settled in your perfect position, the Moon Pod brings quite a bit of support down the entire body, creating that impression of floating in zero gravity. It's an interesting concept of soft turning firm as you mold the bean bag to your body, with an overall feeling of coziness. | The Moon Pod's cover is a blend of polyester, cotton, and spandex. With 31% cotton, it keeps a body-neutral temperature and provides no feeling of heating. There is, instead, a feel of breathability flowing through the bean bag. | The Super Mood Pod and the Crescent's outer shells are machine washable on the cold setting. I recommend washing with like colors and you can tumble dry both on low heat. That makes keeping the Moon Pod clean, very easy, which I am a huge fan of, especially since we mostly use our Moon Pod while homeschooling the kids! The inner bead pods should only be spot cleaned as needed. |
Super Moon Pod / Crescent Prices & Discounts
25% + 15% OFF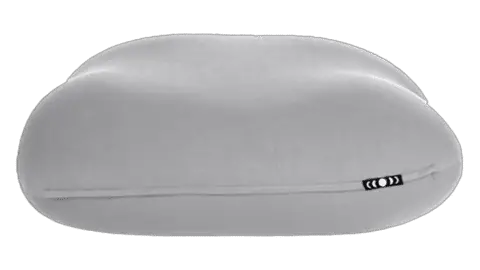 Super Moon Pod
25% OFF Site Wide + 15% OFF with coupon code (click SHOW CODE for code!)
We have been testing the Super Moon Pod, coupled with the Crescent, which is Moon Pod's ergonomic backrest. While the Super Moon Pod (or Moon Pod) are great products on their own, adding the Crescent to either of them truly elevates the relaxing experience. 
Make sure to click on SHOW CODE above, to claim the deepest discounts. All Moon Pod products come at a premium, but it is easily justified by the quality of the products and the therapeutic impact they bring on the body and the mind. Our Moon Pod review was amazing and the Moon Pod Crescent really elevated our experience.
Price List updated: January 2021
Detailed Super Moon Pod Review Conclusion
We have been using the Super Moon Pod every day since receiving it. It is one of those test products that have found a place in our home!
We use it to homeschool the kids and teach them their group lessons. The Super Moon Pod fits all three of the kids comfortably and makes a soft and comfortable spot for them to learn, read books, and later in the day, play a video game or watch a little movie.
It is the ideal size for 2 adults to lounge, or you can fit 3 or 4 kids. My only word of advice though, is to try and keep the jumping under control, to give the Moon Pod as much life as possible! 
Moon Pod started as a Kickstarter a few years ago. 5,000 backers raised over $1.2M, making the zero gravity bean bag a reality.
The owner and founder, John Fiorentino, knows a thing or two about relaxation. He started the Gravity Blanket through kickstarter in 2017 – which has quickly become a market leader in weighted blankets!
Today, Moon Pod has a few products: the original Moon Pod – the zero gravity bean bag for one; the Super Moon Pod – which is 2 Moon Pods brought together in one sleeve, and designed for two; the Crescent – an ergonomic backrest and the perfect addition to the Moon Pod; and the Lunar Lift – a foot rest that aligns your feet with your heart when relaxing on the Moon Pod, and which started shipping in August 2020.
Entering the bedding category in 2022, Moon Pod sells its Moon Pod 4D Pillow, for a full sensory experience, relaxing you and lulling you to sleep at night!
What Is Inside The Super Moon Pod And Crescent?
The cover of both the Super Moon Pod and the Crescent is a proprietary blend of fabric made of polyester, rayon, and 31% cotton. The fabric can be machine washed on cold and tumble dried on low. It is also soft and stretchy, allowing the bean bag to change shape and mold itself to your body. 
The Pods are hand-filled with about 12 lbs of custom-density beads, which eliminates pressure points by evenly distributing your weight across its surface. What we found out during our test, is a feeling of our body's weights disappearing – as if no part of our body was heavier than another… it's a very difficult feeling to explain, but could this be what zero gravity feels like? 
How Does The Moon Pod Feel?
Firmness
The feel of the Super Moon Pod is a fascinating thing. Let me start by mentioning that you can use the Moon Pod in three different positions: 
Stand up the Moon Pod and sit into it for a bean bag chair experience. The Moon Pod will shape itself around your back and bottom and stay fairly straight in an upright position while providing back support
Gently lean into the Moon Pod for a reclining relaxation. This is the way we mostly use the Moon Pod. It is perfect for reading, watching TV, homeschooling… this is also when you'll most like using the Crescent as shoulder / neck / head support 
Lay the Moon Pod down and lay flat on your back for one of your best naps yet!
Our testing of the Super Moon Pod have been very interesting and I can't quite tell you whether I find it soft or firm. 
As you first sit on it, there is a feeling of softness as the beads get out of the way to find a spot underneath and around your body. The result is a perfectly contouring shape that hugs the shape of your body. As soon as you have found your desired position, it feels as if the Moon Pod hardens underneath you. 
As it hardens, you feel supported from head to toe and the feeling is really hard to describe. The best way I can say it, is a feeling of your weight being perfectly distributed and evenly spread into the Moon Pod. As if each piece of your body weighed the exact same amount and received an equal amount of pressure. Does that kind of make sense? 
Scientifically, I am ready to bet this is what zero gravity feels like. Like a lack of weight… You can almost feel stress exiting your body and being replaced by relaxation. 
Once again, I am not paid to say any of this… The Moon Pod is just a thing of engineering beauty and it is with us to stay! It is definitely priced at a premium, but you feel the difference the second you unpack the cover!
Temperature
Because the cover is 1/3 cotton and the Moon Pod itself is only about 12 lbs (24 lbs for the Super Moon Pod), it feels very temperature neutral. The cover is incredibly soft and you'll probably want to cuddle with it. And it feels as if enough air circulates through the beads to prevent over heating. 
Maintenance
A product that I can quickly unzip and throw in the washing machine and dryer will always be on my Good List! 
The covers for all Moon Pod products (including the Crescent and the Lunar Lift) can be washed on the cold cycle and tumble dried on low. 
Removing the cover is easy and takes a few seconds. Zipping it back up is easier when getting help from a partner to ensure you don't zip right through the pod's outer layer. When preparing the Super Moon Pod, you will put 2 Moon Pods, parallel to each other inside the cover.
Is The Moon Pod Crescent Worth The Price?
If you can comfortably afford the Crescent – currently priced at $169 and discounted at $129, I think it's a great buy. 
I find the Crescent in different parts of the house all day long. While we mostly use it as back support on the Super Moon Pod, the kids love snuggling in it on the couch while watching TV and bringing it up to their beds to read books. 
The Crescent does a great job at propping you up if you are actively using the Moon Pod. Though I did catch my husband sneaking a power nap on the Crescent too! 
My only complaint is that the Crescent is currently only designed for one person. While you can comfortably fit two Crescents on the Super Moon Pod, it would be nice to have a Crescent to share.
I like that the Crescent comes in 5 really cute colors! I think the pink or the blue would look really good with the grey Super Moon Pod!
If you decide to bundle the Crescent with a Moon Pod, you are currently set to receive 10% OFF your order.
How Do I Care For The Super Moon Pod?
Simply remove the two Pods from within the cover and machine wash the cover on cold and with like colors if possible. 
You can then tumble dry on low, and immediately zip it back up around the pods. 
If, after a few years of use, you notice that your Moon Pod gets flatter, try washing and drying the cover to recover the original shape. 
Lastly, in order to give your Moon Pod the longest life possible, avoid jumping on it. Excessive jumping could alter the Moon Pod's shape and function. 
25% + 15% OFF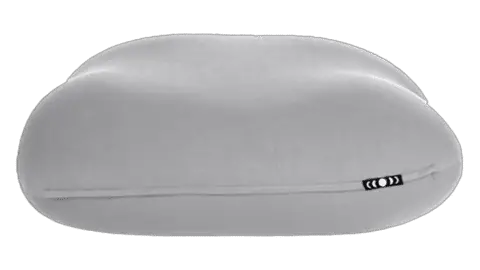 Super Moon Pod
25% OFF Site Wide + 15% OFF with coupon code (click SHOW CODE for code!)
The PLUSES

The MINUSES

Fits 2 adults, or 3 or 4 children
Can be used to sit up, lounge, or lay
For the Super Moon Pod: choose from 3 shades of grey, while the Moon Pod and Crescent come in 5 colors
Purchase separate covers for a quick change of look or a pop of color
You can even get an outdoor cover (Moon Pod only, not available for the Super Moon Pod) for a water-resistant beach or outdoor option

Comes at a premium but current discounts make it more affordable 
Are Moon Pods worth it?
If you're looking for the ultimate relaxation and the zero gravity feeling, absolutely! It is worth every penny, and you feel the premium price in premium comfort every time you lounge in!
How much does a Moon Pod cost?
The one-person Moon Pod starts at $299. The Super Moon Pod for 2 starts at $499. The Crescent back support starts at $129. The Lunar Lift foot rest starts at $129.
What are Moon Pods?
Moon Pods are a line of premium zero gravity bean bags. They are engineered to provide full-body relaxation and are a great options for people suffering from back and neck pain.
How do you clean a Moon Pod?
The removable / zip-able Moon Pod cover can be machine washed on the cold setting. You can even tumble dry it on low to dry. Easily wash and zip back up.
How long do Moon Pods take to ship?
We received our Moon Pod in less than a week. It generally ships within 10 days however, especially during COVID.
Share this deal with a friend!
Super Moon Pod Review 2023 | Non Biased Reviews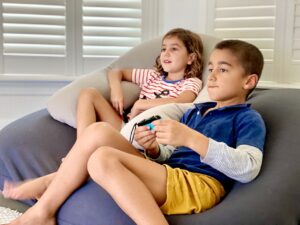 How does relaxing in zero gravity sound? How about a calm spot to homeschool the kids? The Super Moon Pod is made for you!
Product Brand: Moon Pod
Product Currency: USD
Product Price: 299
Product In-Stock: InStock