MOON POD REVIEW (+ OUTDOOR COVER)
Your zero-gravity dreams are coming true with this Moon Pod you can use outside! You heard that right! 
Those summer days are getting sweeter, thanks to Moon Pod's Outdoor Cover that lets you enjoy your zero-gravity bean bag indoors and outdoors! 
We are huge fans of everything Moon Pod and don't think that bean bags get any better than that. Let's take a look at what we thought of the outdoor cover on the Moon Pod!
Moon Pod Company Policies
Free shipping
1-year warranty on Moon Pod's cover seams and zippers
Returns accepted within 14 days of delivery – you will need an RMA number to be reimbursed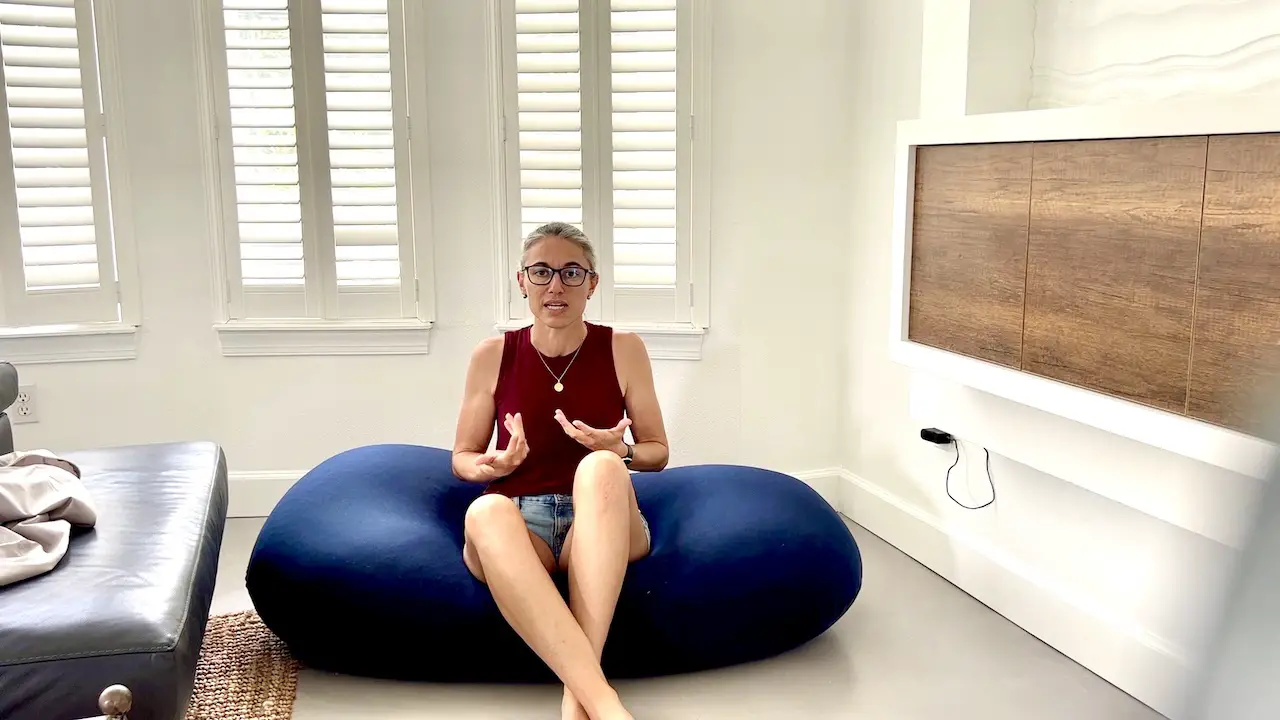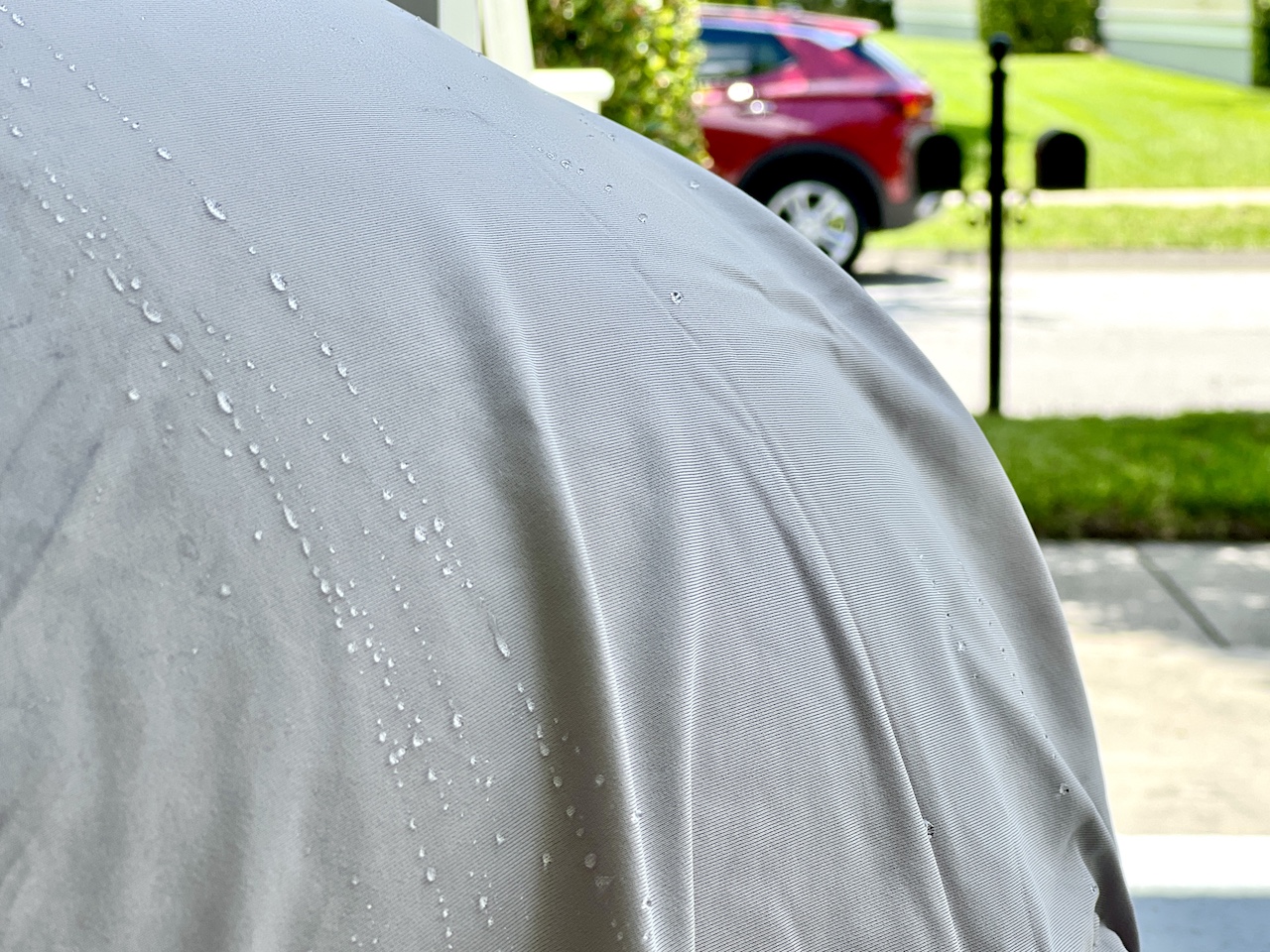 What's Inside The Moon Pod And Its Outdoor Cover
In a nutshell:
1 Moon Pod + indoor cover
Custom-density beads
Water-resistant Moon Pod outdoor cover
1 Moon Pod + Indoor Cover
The Moon Pod and its Moon Pod outdoor cover are sold separately. When you purchase your Moon Pod, it will be delivered with its regular dual membrane cover. Choose from 5 colors and enjoy your Moon Pod indoors with its soft and stretchy signature cover. 
The indoor cover is made of a proprietary blend of fabrics that makes it machine washable on cold and you can tumble dry it on low. 
The Moon Pod takes up only 4 sq. ft. of space and weighs in at 12 lbs, making it ideal for smaller places easy to move around and bring outside!
Custom-Density Beads
The Moon Pod is filled with custom-density beads. The filling is manufactured in the U.S. by a fully sustainable manufacturer who recycles all of their unused materials – the kind of filling you can feel good about. 
The high-friction custom beads give you the zero gravity bean bag you are looking for. It is engineered to mimic floating and helps relieve stress and anxiety. To be honest, the feeling is fairly indescribable – we like to call it weightless. 
Water-Resistant Moon Pod Outdoor Cover
The Moon Pod Outdoor Cover is water resistant and allows you to use your Moon Pod outside outside – whether it be on your pool deck, backyard, beach, or front porch. You can now bring the relaxation with you, without having to worry about damaging your Moon Pod. Even better – simply wipe with water and/or a mild cleaner if needed!
The Outdoor Cover should not be used IN water, it is however water resistant and allows the Moon Pod inside to remain dry. Even better, you don't need to remove your Moon Pod's indoor cover – simply slide the Outdoor Cover over it and you are ready for the summer!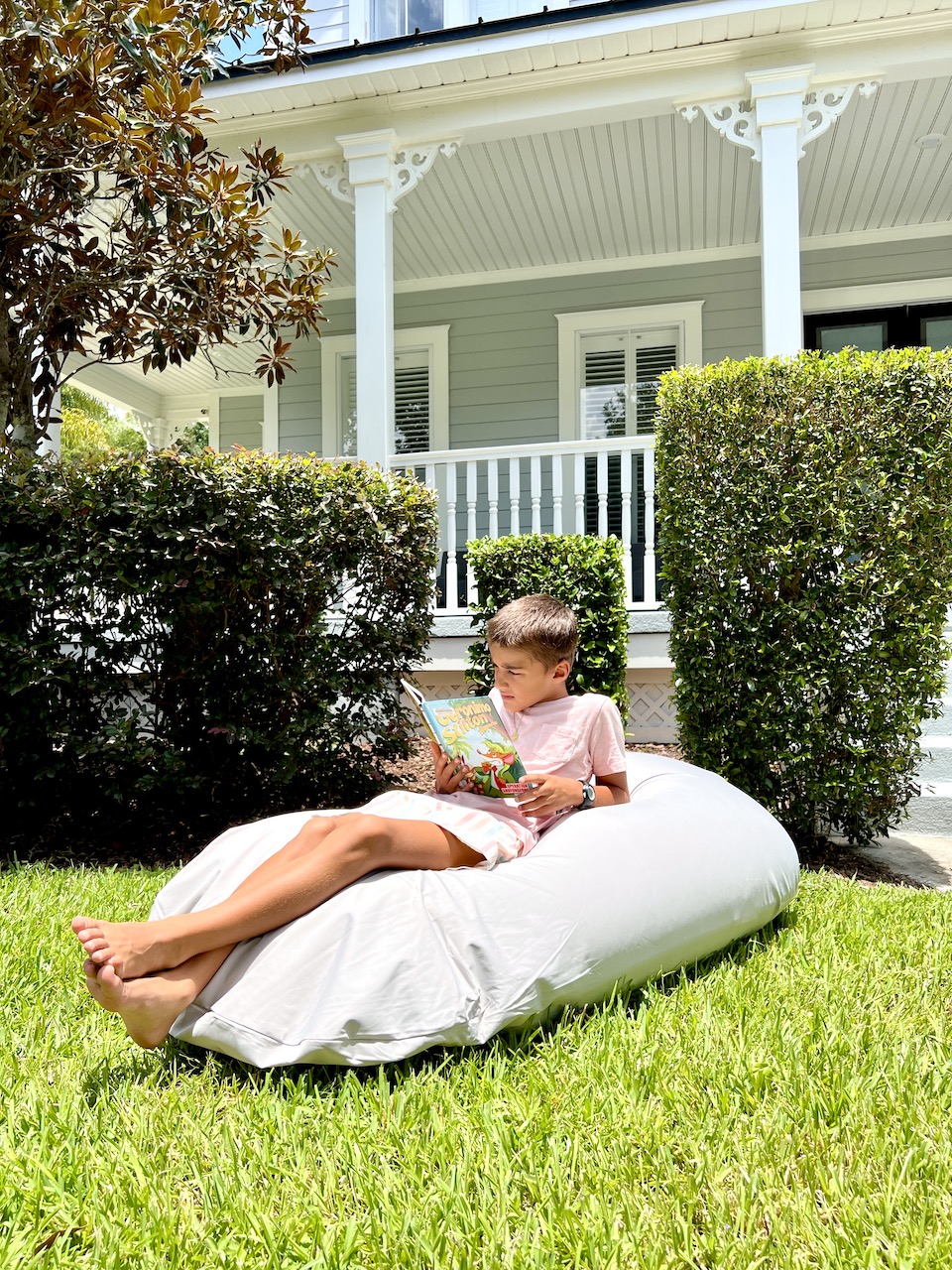 Moon Pod Zero-Gravity + Outdoor Test
Everything we felt in one box – our Moon Pod Review
Firmness

Temperature

Maintenance

The Moon Pod is filled with proprietary custom-density beads that are responsive and give you a floating feel. Add a stretchy and super soft cover on top, and you have a bean bag that perfectly molds to your body's shape. Once you have settled in your perfect position, the Moon Pod brings quite a bit of support down the entire body, creating that impression of floating in zero gravity. It provides just the right amount of support down the entire body, while conforming to your body's shape, to give an impression of weightlessness. It's an interesting concept of soft turning firm as you mold the bean bag to your body, with an overall feeling of coziness.

The Moon Pod's cover is a blend of polyester, cotton, and spandex. With 31% cotton, it keeps a body-neutral temperature and provides no feeling of heating. There is, instead, a feel of breathability flowing through the bean bag.


With the Outdoor Cover on, we were impressed to find a surface that did not make us sweat. Made of polyester, TPR, and spandex, the cover is able to keep from overheating in the sun, and sits at a comfortable temperature.

The Mood Pod's indoor cover is machine washable on cold and can be tumble dried on low. That makes keeping the Moon Pod clean, very easy and convenient.

The inner bead pods should only be spot cleaned as needed.

The Moon Pod Outdoor Cover is water resistant, which means that it will repel liquids (not waterproof and not to be used on water). If it becomes stained, simply wipe it with water with, or without, mild detergent. 
Moon Pod + Outdoor Cover Prices & Discounts
25% + 15% OFF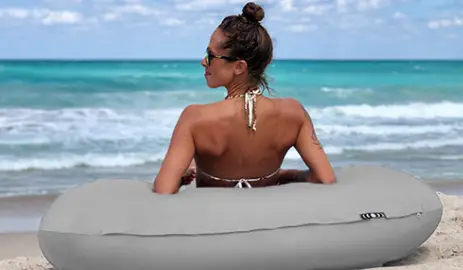 We have been testing the Moon Pod with, and without its Outdoor cover. 
The Moon Pod consists of 1 Mood Pod beanbag + its indoor cover. The cover currently comes in Moon Indigo (navy blue), Space Gray (light grey), Cosmic Ash (anthracite grey), Neptune Blue (pastel blue), and Rose Quartz (pastel pink). 
The Outdoor Cover currently only exists in Space Gray, which is the lighter grey color. It is only available for the Moon Pod, and not currently carried in the Super Moon Pod size, which is the largest Moon Pod, made up of 2 individual Moon Pods. 
Make sure to click on SHOW CODE above, to claim the deepest discounts. Moon Pod's prices are easily justified by the quality of the products and the therapeutic impact they bring on the body and the mind. Our Moon Pod review was amazing and we have personally been using the Super Moon Pod for nearly two years, and it has been holding up beautifully!
Price List updated: July 2022 – PRE-DISCOUNTED PRICES
Detailed Moon Pod + Outdoor Cover Review Conclusion
While this was our first time testing out the Moon Pod, we have been using our Super Moon Pod with the Crescent for nearly two years, and absolutely love it. It has weathered two years of extreme love by three children, impressively well and appears to have several years of life left in it. 
The difference between the Moon Pod and the Super Moon Pod is that the Moon Pod is designed for 1 adult. The Super Moon Pod is simply two Moon Pod held together in the cover. The Moon Pod can still be used with the Crescent (amazing to rest your head and arms on and feel super cozy, can be used on the couch or bed, without a Moon Pod) and the Lunar Lift (great to lift your feet up). 
We had been curious about the Moon Pod Outdoor Cover. We love our Moon Pod so much and have used it on the porch many times, but having a cover made to repel water and other dirt, is a wonderful addition to the Moon Pod if you intend on taking it with you to events, concerts, lawn events, or simply in your backyard, porch, at the beach, or the pool!
Note that the outdoor cover is currently only available for the Moon Pod, not the Super Moon Pod. If you own a Super Moon Pod, remember that it is made up of 2 Moon Pods, so you could purchase 2 Outdoor Covers and have 2 Moon Pods to bring outside!
Let's look at what we thought of the Moon Pod and its Outdoor Cover in more detail. 
Moon Pod started as a Kickstarter a few years ago. 5,000 backers raised over $1.2M, making the zero gravity bean bag a reality.
The owner and founder, John Fiorentino, knows a thing or two about relaxation. He started the Gravity Blanket through kickstarter in 2017 – which has quickly become a market leader in weighted blankets!
Today, Moon Pod has a few products: the original Moon Pod – the zero gravity bean bag for one; the Super Moon Pod – which is 2 Moon Pods brought together in one sleeve, and designed for two; the Crescent – an ergonomic backrest and the perfect addition to the Moon Pod; and the Lunar Lift – a foot rest that aligns your feet with your heart when relaxing on the Moon Pod. And for the outdoor lovers, don't forget to grab the Moon Pod Outdoor Cover to protect your Moon Pod.
Entering the bedding category, Moon Pod sells the Moon Pod 4D Pillow, for a full sensory experience, relaxing you and lulling you to sleep at night!
What Is Inside The Moon Pod And Outdoor Cover?
The Moon Pod's cover is a proprietary blend of fabric made of polyester, rayon, and 31% cotton. The fabric can be machine washed on cold and tumble dried on low. It is soft and stretchy, allowing the bean bag to change shape and mold itself to your body. We find it very soft and temperature neutral so you won't start feeling hot while watching your favorite show. It is breathable enough for your body heat to escape and for you to keep a comfortable temperature while relaxing. 
The Moon Pod is hand-filled with about 12 lbs of custom-density beads, which eliminate pressure points by evenly distributing your weight across its surface. What we found out during our test, is a feeling of weightlessness – as if no part of our body was heavier than another… it's a very difficult feeling to explain, but it is what we imagine zero gravity to feel like. The Moon Pod provides the perfect amount of pressure to give the body the perfect relief. 
The Moon Pod Outdoor Cover is made of 70% polyester, 10% TPR, and 20% spandex. It gives the Moon Pod a water repelling protection while not feeling hot and sweaty, and while retaining the stretchy and soft properties of the indoor cover. You do not loose any comfort in using the Moon Pod with its Outdoor Cover. Instead, you simply add a layer of protection. 
How Does The Moon Pod Feel?
Firmness
The feel of the Moon Pod is a fascinating thing. Let me start by mentioning that you can use the Moon Pod in three different positions: 
Stand up the Moon Pod and sit into it for a bean bag chair experience. The Moon Pod will shape itself around your back and bottom and stay fairly straight in an upright position while providing back support all the way to your head, in a way that you can lean the back of your head into the Moon Pod
Gently lean into the Moon Pod for a reclining relaxation. This is the way we mostly use the Moon Pod. It is perfect for reading, watching TV, homeschooling… this is also when you'll most like using the Crescent as shoulder / neck / head support and Lunar Lift, if you own either of those
Lay the Moon Pod down and lay flat on your back for one of the best naps!
Our testing of the Moon Pod have been very interesting and I can't quite tell you whether I find it soft or firm. 
As you first sit on it, there is a feeling of softness as the beads get out of the way to find a spot underneath and around your body. The result is a perfectly contouring shape that hugs the shape of your body. As soon as you have found your desired position, it feels as if the Moon Pod hardens underneath you. 
As it hardens, you feel supported from head to toe and the feeling is really hard to describe. The best way I can say it, is a feeling of your weight being perfectly distributed and evenly spread into the Moon Pod. As if each piece of your body weighed the exact same amount and received an equal amount of pressure. Does that kind of make sense? 
I am ready to bet this is what zero gravity feels like. Like a lack of weight… You can almost feel stress exiting your body and being replaced by relaxation. 
Additionally, the overall conforming around your body, provides incredible sensory relief that calm your nervous system and releases stress and anxiety on the whole body level.  I can only compare the feeling to that of a weighted blanket, except that you lay on top of it, instead of below. 
Temperature
Because the Moon Pod's indoor cover is 1/3 cotton and the Moon Pod itself is only about 12 lbs, it feels very temperature neutral. The cover is incredibly soft and you'll feel like cuddling with it. Thanks to the large amount of air inside the actual bean bag, the Moon Pod never feels hot while lounging on it. 
We were impressed with the Outdoor Cover. We had expected a sticky / easy to sweat on material, but it was none of that. We tested it in the Florida summer and it did not feel any hotter than any regular outdoor pillow. 
Maintenance
A product that I can quickly unzip and throw in the washing machine and dryer will always be top of my list! 
The covers for all Moon Pod products (including the Crescent, the Lunar Lift, and the 4-D Pillow) can be washed on the cold cycle and tumble dried on low. 
The Outdoor Cover can be slipped right over the indoor cover and is water resistant. It is not waterproof and the Moon Pod should be not used in the water. However, you will find that liquids from the pool or ocean, will roll right off the Outdoor Cover. It also repels most dust, grass, and other dirt found outdoors. 
When needed, simply wipe the Moon Pod Outdoor Cover with a cloth and clear water. Add a soft detergent if needed. 
Is The Moon Pod Outdoor Cover Worth The Price?
If you plan on using your Moon Pod outside, absolutely! 
We have had the Super Moon Pod for nearly 2 years and have taken it outdoors several times, but always on a carpet under a covered porch. Having the Outdoor Cover to protect our investment bring great piece of mind. 
We love the water resistant properties and find the feeling of laying on it, very pleasant. No sweating, the cover is very breathable and feels soft and comfortable, with the added protection. 
With the ease of cleaning with just water, and a mild detergent as needed, it is a great investment for your Moon Pod. Priced just under $100 after discounts, we think the Moon Pod Outdoor Cover is worth the price. 
How Do I Care For The Moon Pod?
Simply remove the Moon Pod from its indoor cover and machine wash the cover on cold, with like colors if possible. 
You can then tumble dry on low, and immediately zip it back up around the pod. 
If, after a few years of use, you notice that your Moon Pod gets flatter, try washing and drying the cover to recover the original shape. You can also contact Moon Pod to request extra beads. 
Lastly, in order to give your Moon Pod the longest life possible, avoid jumping on it. Excessive jumping could alter the Moon Pod's shape and function. 
The PLUSES

The MINUSES

The Moon Pod:

Takes up very little place (4 sq. ft. only) yet sits a full adult
Only weighs 12 lbs, perfect for moving around the house or to bring outdoors / on day trips
Can be used to sit up, lounge, or lay
Comes in 5 beautiful colors - 3 modern colors and 2 fun ones
Purchase separate covers for a quick change of look or a pop of color

 

The Moon Pod Outdoor Cover:

Water resistant
Very easy to wash / low maintenance 
Easy to slip right over the Moon Pod's Indoor Cover

Moon Pod Outdoor Cover only available in Space Gray
Which brand is best for bean bag?
We have been using the Super Moon Pod in our home daily, with three young kids, for nearly 2 years, and it is still my favorite spot to sit and lounge. We recently tested the Moon Pod (for 1 person) and its Outdoor Cover, and truly believe it is the best bean bag on the market today!
What is the difference between a Moon Pod and a bean bag chair?
The Moon Pod can be used in three positions, by simply changing the way you lean the Moon Pod and how you sit in it. You can sit up in your Moon Pod like a chair, lounge in it, or sleep in it. Add a Crescent to work from it and increase arm and neck support, and a Lunar Lift to lounge horizontally!
Share this deal with a friend!