DreamCloud Mattress Protector
DreamCloud Premium Luxury Mattress Protector is finally here! So, you have invested in that amazing mattress, I'm talking about The DreamCloud Luxury mattress of course. You love it so much you want to keep it forever if you could, and want to protect it from stains, sweat spots and everything gross. Guess what, now you can. So many mattress protectors out there, true but what makes one better than the other? Although appearance plays a factor, to me what makes or breaks a product is the ultimate spill proof test. But then of course we had durability, comfort and materials. Ever since I got into the mattress testing business, I have been a HUGE fan of mattress protector, I have gathered some of the best and put them in that video for a – very painful to watch- experiment. Chocolate syrup, wine, kids' juice… You name it, we've tried it. It was gross but it was also part of the test and believe it or not, only a few made it, and that's why I love testing products for you. The internet can be full of reviews but that doesn't mean they are all true or trustworthy. That's why I make sure I personally test and release reviews and videos for you to see with your own eyes. Back to the star of the show, The DreamCloud Mattress Protector. What makes it stand out from the rest.
DreamCloud Mattress Protector Review Menu
DreamCloud Mattress Protector Video Review
You can see that the dreamcloud was tested in this brutal wine spilling, food throwing mattress protector test.  It's the tufted one right where the wine is about to hit.
DreamCloud Company Policies
50-Night Trial- Sleep on it, risk free. Free Shipping and Returns- Door-to-door with full refund.
What's Inside the Mattress Protector?
I try to avoid comforters and mattress protectors that crinkle, they are annoying, and they wake me up when I move. The DreamCloud mattress protector does NOT do that because it's NOISELESS! 300- thread-count and 100% cotton give this protector its premium appeal and incomparable softness. Quilted, down-alternative topper featuring baffle box construction with 1-inch loft. Say goodbye to spills, stains, juice, wine, potty training gone bad and more. This protector is 100% waterproof. If you happen to own the amazing luxurious 15" DreamCloud mattress ( that completes the mattress protector), or any other thick mattress you're in luck. This mattress protector is stretchy and covers mattresses up to 22". Pro-tip: Make sure your mattress cover or protector is deep-pocket, it's an absolute nightmare when they don't stretch enough covering barely half of the mattress edges making them useless. Details: The DreamCloud Luxury Mattress Protector comes in Twin, Full, Queen, King and Cal King. Twin Dimensions: 80" x 39" x 16" and weights 5.1 lbs Full Dimensions: 75" x 54" x 16" and weights 6.62 lbs Queen Dimensions: 80" x 60" X 16" and weights 7.85 lbs King Dimensions: 80" x 76" x 16" and weights 9.94 lbs Cal King Dimensions: 84" x 72" x 16" and weights 9.89 lbs Things to keep in mind: Easy care- Just wash in cold water and tumble dry.
I don't have any coupons for the mattress protector.
40% OFF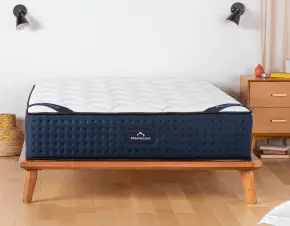 DreamCloud Mattress
40% OFF Mattresses with our exclusive coupon code (click for code)
40% OFF Mattresses with our exclusive coupon code (click for code)
Show Less
DreamCloud Mattress Protector Review Conclusion
Reasons why you should consider buying the DreamCloud protector. Breathable comfort: The 300-thread-count cover is crafted from ultra-soft, 100% cotton with a breathable, quilted top layer and deep-pocket panels that fit securely around any mattress, up to 22 inches high. Considered design: A true touch of luxury, the quilted layer boasts baffle box construction which preserves the plush, 1-inch loft and prevents the down- alternative fill from shifting or clumping. Seamless durability: The noiseless, 100% waterproof barrier guards your sleep sanctuary against spills, stains, and allergens- without the crinkling sounds made by lower quality protectors. So rest your mind and drift off on the DreamCloud Premium Mattress Protector knowing your sleep is safe from dust and spills while experiencing cloud-like luxury beyond compare!
No, fortunately it has a sleep trial so that you can test it at home. 
Yes the Nectar one is the same.