DreamCloud Headboard and Bed Frame
I shot a video of my assembly and I went out of my way to see if their Adjustable Base would fit inside.  It took me close to an hour to assemble, and the outcome is amazing.  It simply looks great and matches the DreamCloud mattress.  The video is still in editing so give me a bit of time so I can get it uploaded here.
httpss://youtu.be/dq8elvkgMto
Bed Frame from DreamCloud Review
It features a luxurious button-tufted upholstered headboard, elegant metal frame with real wooden slats, and a timeless design. This bed frame with headboard will absolutely elevate any bedroom!
I am waiting on mine to arrive and I cannot wait to share with you my video as I will be assembling it. It says it is easy to build, and we're about to find out if it's true very soon.
Here is what I think about this Bed Frame:
I live on the west coast which is close to the DreamCloud distribution facilities so the delivery was only 4 days
Looks great with the DreamCloud Mattress on it
Affordable Price
Works with the DreamCloud Adjustable Base
Some Assembly Required
The DreamCloud mattress is 15″ thick so a good portion of the headboard is hidden.
As you can see from the video above, I was able to assemble the DreamCloud Frame by myself.  I chose to put a DreamCloud adjustable frame inside it to make sure that it would fit.
Modern Design
Unique button-tufted headboard
Luxurious and silky soft upholstery
Sturdy support system with real wood
No box spring required
Headboard, frame, wood slats and tools included
Ships direct in compact package
Easy assembly
Quality Design
It's like a five star treatment or sleep experience in this case, from the moment you walk into your bedroom to the moment you fall asleep. The DreamCloud upholstered headboard features a high quality and durable design so you can enjoy an elegant bed frame to support your mattress.
The stylish low profile DreamCloud platform bed frame provides a stylish foundation for your mattress, while the plush upholstered headboard offers luxurious comfort. Experience the bedroom of your dreams with a headboard and frame that is contemporary and durable.
Easy to setup. If I can do it you can do it!
The DreamCloud Bed Frame with Headboard is built to last but has easy set up and can be disassembled quickly for storage or moving. All parts, instructions, and tools are neatly packed inside.  This not only makes the shipping so easy, as it all fits in on box, but if you move you could put all the pieces back into the headboard and then move it as one piece.  
It took me close to an hour to assemble it, but I was making a movie which is just slower, plus I took the extra step and put my DreamCloud Adjustable Base inside this bed and headboard.
The stylish low profile frame and sturdy wooden slats function as the perfect foundation to support your mattress, while the 8-inch legs provide an ideal height to get in and out of bed smoothly.
40% OFF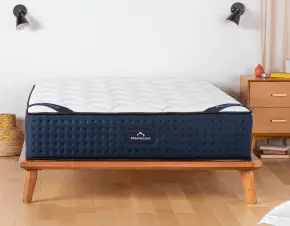 DreamCloud Mattress
40% OFF Mattresses with our exclusive coupon code (click for code)
40% OFF Mattresses with our exclusive coupon code (click for code)
Show Less
Trending Today
Leesa Hybrid Pillow
Nectar Adjustable Frame
Best Mattress
DreamCloud Luxury Hybrid Mattress
Best Mattresses in Canada
Best Mattress for Side Sleepers (Like Me)!
Dream Cloud Adjustable Frame
Don't leave before you enter our Contest!
It is easy to enter the August contest for a free Google Home Hub.
Like & comment on any videos that were published in August of 2019, include the #august
And of course:
Subscribe to our YouTube Channel