Our Top Picks - Updated Yearly
The number one complaint of any camper is related to the comfort of their RV mattress. Millions of Americans set off on road trips with their RV each year. After a long day of driving, you should be getting a comfortable night of sleep. Let's take a look at the Best Mattress For RVs.
The options are pretty scarce and we have tested most of the market today. Almost any RV mattress from a reputable mattress company is going to be better than the hot foam mattress that comes with your new rig.
So which one earns top spot as Best Mattress For RVs this year?
If you end up on this page, you are proud RV owner. Whether a travel trailer, a fifth wheel, toy hauler, Class C, van, or Class A motorhome, chances are high you are unhappy with the mattress that came with your RV.
Most rigs are fitted with an all-foam mattress that sleeps very hot. The cheaper foam mattresses trap the heat underneath your body and lack the technology found in most of today's proprietary foams used in the mattress industry. About half of RVers find their mattress too soft, the other half is given a mattress hard as rock. Believe me… I'm a stomach sleeper, and even I thought the mattress was too firm. A side-sleeper would have not lasted longer than a night.
After testing most RV mattresses on the market, I have compiled this list of Best Mattress For RVs. This is what I look for in those mattresses:
Good balance of pressure-relieving foams and support down the spine
Firmness levels that works for most sleepers and couples with different sleeping styles
Heat relief!!! RVs get hot – they are not well isolated – and most campers live an active lifestyle that can raise their body temperature long after going to bed. You need a mattress built for heat control.
Without further ado, here is the list of Best Mattress For RVs.
Please note that this article is informational and consists, in no way, in medical advice. Personal preferences vary and this list is based on my personal opinion and knowledge of the mattress industry.

Click on the mattress name to be taken straight to the manufacturer's page, or scroll down to learn more about why we recommend this mattress.
Non-Biased RV Mattress Favorite Pick
GhostBed RV Hybrid Mattress
50% OFF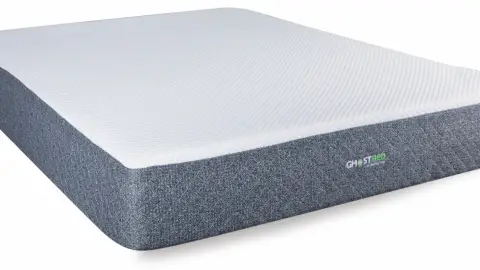 GhostBed RV Mattress
50% OFF site wide. Receive 2 FREE Pillows ($219 value) with every mattress purchase, with coupon code (click to reveal)
50% OFF site wide. Receive 2 FREE Pillows ($219 value) with every mattress purchase, with coupon code (click to reveal)
Show Less
We have a thing for GhostBed mattresses and are so excited that they launched an RV mattress in late 2021!
The GhostBed RV Mattress comes in 2 variants – an all-foam and a hybrid mattress. We love the hybrid mattress for camping. It brings in more airflow thanks to the 6 inches of springs inside of it, cooling the upper layers of foam, and giving an escape route to your excess body heat.
The individually-wrapped coils also provide a healthy spinal support and are reinforced to give you the impression of a wider sleeping area.
Above the coils are 2 layers of foam and a cooling cover. Two inches of foam are made of GhostBed's proprietary cooling gel-infused foam. This is the closest foam layer to your body as you sleep, and it collects your body heat and transfers it away from you to keep you cool. It is a cozy and contouring layer, giving you all of the softness you could wish for. The mattress cover is quilted with cooling fibers and incredibly soft to the touch, adding to the coziness of the mattress.
We recommend the GhostBed RV Mattress to all sleeping types. It provides enough deep-pressure relief to side-sleepers and all the support a back- or stomach-sleeper could need. It is ideal for couples with different sleeping styles and those with different schedules or a moving partner. The pocketed coils and 5 inches of foam block motion transfer for a comfortable night of sleep for both partners.
The GhostBed RV Mattress is made in the U.S.A. and its foams are CertiPUR-US -certified.
Available in Short King and Short Queen
GhostBed Sleep Trial – 101 nights
Shipping – FREE
Warranty – 25 years
Best Environmentally-Friendly Mattress For RVs
25% OFF + FREE Gift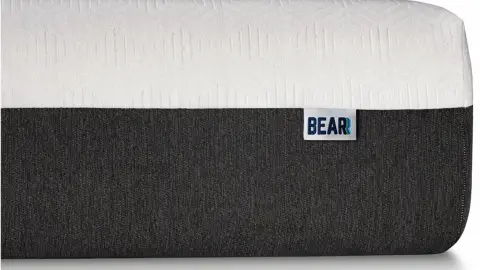 Bear Trek RV Mattress
25% OFF sitewide + FREE Cloud Pillows with a mattress purchase, with coupon code (click to reveal)
25% OFF sitewide + FREE Cloud Pillows with a mattress purchase, with coupon code (click to reveal)
Show Less
The Bear Trek is a Bear Mattress. We love it for its comfort and are impressed by its environmentally-friendliness.
Made in the U.S.A., it uses only CertiPUR-US -certified foams, which are free of toxins and harsh chemicals. The Bear Trek is also fiberglass-free, a material usually found in mattresses' fire barrier layer.
The Break Trek RV Mattress is an all-foam mattress. Its comfort layer (the closest to your body) is made of cooling gel memory foam. That foam relieves your body of excess heat and provides a cozy layer to lay your body into.
The Bear Trek's mattress cover is breathable and helps your body's sweat evaporate on hot nights.
We recommend the Bear Trek RV Mattress to all sleepers. Heavier-weight side sleepers might find it a little firm, but most should sleep comfortably on the Bear Trek.
Available in: RV King, RV Queen, RV Bunk
Bear Mattress Sleep Trial – 120 nights
Shipping – FREE
Warranty – Lifetime
Best DOT-Certified Mattress For RVs
25% OFF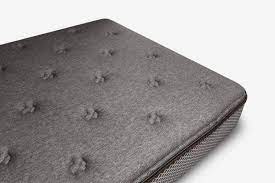 SleepDog BigDawg
25% OFF SleepDog's RV mattresses and trucking mattresses
25% OFF SleepDog's RV mattresses and trucking mattresses
Show Less
SleepDog started as a truck mattress manufacturer. All of their mattresses at DOT-certified, making them the safest mattress to use in a moving vehicle.
We loved testing the BigDawg, which is SleepDog's more expensive mattress, with the RV Queen under $700. A great value mattress, but also designed to help professional drivers fall asleep faster and deeper, turning them into safer drivers.
We found the SleepDog BigDawg to be an excellent all-foam mattress for RVs. Nine inches in thickness, it is a flippable mattress with a firmer and a softer side.
Back- and stomach-sleepers will really enjoy the firm side. We found it to be on the firm side of mattresses and to provide great support for those with back pains, heavier weight, or sleeping on their backs or stomachs. For couples with different sleeping styles, the soft side will work really well. We rated it a little firmer than average, providing just the right amount of plushness and support.
The SleepDog BigDawg mattress is made of CertiPUR-US -certified foams. The soft side has a 2-inch quilted foam cover that provides extra pressure relief, while the firm side has you laying straight on high-density foam for perfect spine alignment.
The inner layer is made of 2 inches of gel-infused cooling memory foam, allowing you to sleep comfortably, even on hot nights.
Available in RV King, RV Queen, but also household Queen, and truck sizes A, B, C, and D

SleepDog Sleep Trial – 120 nights
Shipping – FREE
Warranty – 10 years
Best Customizable Mattress For RVs
CHECK PRICE ONLINE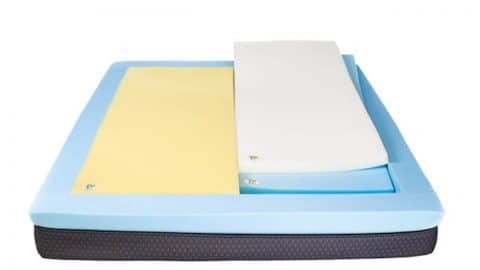 Tochta Divini
9 different firmness levels, fully customizable size.
9 different firmness levels, fully customizable size.
Show Less
Tochta is one impressive mattress company! Their mattresses are so customizable, they are actually hard to describe! Let me try my best.
The Tochta mattresses can be customized in two ways, for an endless customization. When ordering, you can customize:
– the size: the Tochta Divini can be customized to the exact size requirement you have. If you are building up your own van and needing a size that is not the regular RV Queen or King, simply put in your measurements and Tochta will build a mattress up to your individual specifications
– the shape: Need rounded corners to maximize the space in your rig? Tochta can do that too!
– the dual-sided firmness levels for Queen and larger: Maybe my favorite thing about the Tochta Divini… each sleeper gets to choose his/her exact firmness preference, with 9 different firmness levels to choose from. You read that right… nine firmness levels!
While on the firmness topic, it gets ever better… Your Tochta Divini mattress is delivered with 3 layers of foam for each side of the mattress, giving you the 9 firmness levels by combining any two layers of foam together. If you need an extra layer of foam because your partner is using both soft, medium, or firm, simply contact Tochta and they will send you a new layer FREE of charge!
But there is more to love about the Tochta Divini RV Mattress. Thanks to its reinforced foam edges, you have the impression of a wider sleeping area. If your RV is a queen, but you are used to a king-size mattress at home, the reinforced edges will go a long way in giving you the impression of a wider mattress.
You will also find that the comfort layer (the one closest to your body) is made of cooling foam, to prevent sweating on hot nights.
Lastly, you get to choose the thickness of your mattress. The Tochta Divini is available as an 8-inch or 10-inch mattress.
By using the custom mattress builder, you get to design the mattress that perfectly fits your RV or van space, and get an instant quote before placing your order.
Available in virtually any size (and dual firmness) you wish for
Tochta Sleep Trial – 100 nights
Shipping – FREE shipping
Warranty – 10 years
Best Cooling Mattress For RVs
Brooklyn Bedding RV Aurora Luxe (Formerly Aurora Hybrid)
25% OFF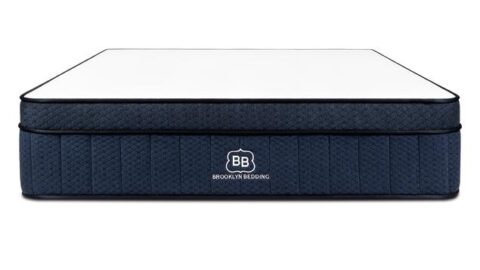 The Brooklyn Bedding Aurora Luxe (formerly Aurora Hybrid) is on several of our Non-Biased Best Mattress lists, and we couldn't be happier to see it offered as an RV mattress.
In fact,  Brooklyn Bedding offers 4 of its mattresses in RV sizes, which is absolutely incredible! Seeing high-end mattress companies deliver products specifically to RVers is a huge step in this industry. We chose the Aurora Luxe for this list, as we absolutely love it in our home, and often rank it as best mattress for hot sleepers.
Brooklyn Bedding added a very advanced technology as top layer in the Aurora. A phase-changing material liquefies itself as the body heats it, and solidifies back up as soon as it senses the body temperature dropping. In other words, it operates without the need of power, to keep its sleeper at the optimal body temperature of 88 degrees.
This is the ultimate luxury on the road. You will be sleeping in varying temperatures, and having a mattress that reacts mechanically to changes in your body temperature, is a match made in heaven!
Another 3 layers of foam, on top of 8 inches of pocketed coils, bring you the optimal pressure-relief in the hip and shoulder areas, while supporting your body down the entire spine.
We love that you can pick from 3 firmness levels depending on your sleeping style. We can hence recommend this mattress to all sleepers, just make sure to pick your firmness level at checkout.
The Brooklyn Aurora Luxe RV mattress is another made-in-the-USA mattress, using CertiPUR-US -certified foams.
Available in RV King, Short Queen, and RV Bunk, as well as all residential home sizes
Brooklyn Bedding Sleep Trial – 120 nights
Shipping – FREE
Warranty – 10 years
Best RV Mattress Made In Canada
15% OFF + Gift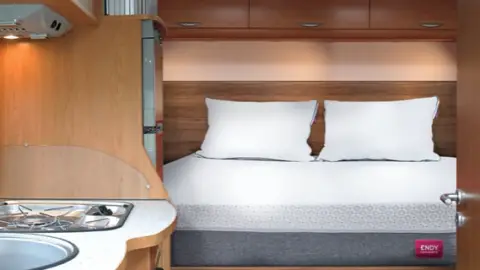 Endy RV Mattress
15% OFF site wide + a FREE Gift with mattress purchase
15% OFF site wide + a FREE Gift with mattress purchase
Show Less
For all of our RVers north of the border, we have a great option of an RV Mattress Made in Canada! It is so exciting to see Canadian mattress manufacturers cater to the outdoorsy families and making RV mattresses. 
The Endy RV Mattress is targeting comfort with a great blend of firmness and support coupled with pressure relief. With most RVers being active during the day, having a mattress specifically designed to bring you restorative sleep in a healthy position is important.  
The Endy RV Mattress uses open-cell foams to help air flow through the mattress and to facilitate the escape of your body heat, keeping you cooler at night.
The 3 layers of foam are 100% CertiPUR-US certified, and poured in facilities in Ontario and Québec. The GREENGUARD Gold Certification ensures that the Endy RV Mattress emits less chemicals and harmful pollutants, which is important when using in a small space like an RV. 
We love the option to unzip the quilted mattress cover, which can be machine washed. RVs are notorious for getting dirty quickly, with kids and pets jumping on beds. The option to trow the cover in the washing machine as needed, is wonderful!
If you find yourself enjoying the Endy RV Mattress, know that you can order the same mattress for home, and have a seamless transition from home to RV!
Available in short queen only. Try buying 2 Twin Endy Mattresses for your RV King (this will come at 78″W x 75″L x 10″H)
Endy Sleep Trial – 100 nights
Shipping – FREE shipping (to Canada only – Whitehorse, Yukon; Yellowknife, Northwest Territories; and Iqaliut, Nunavut will incur shipping charges)
Warranty – 10 years
Best Mattress For RVs - Recap
I hope you found this guide helpful. As I mentioned earlier, each sleeper has his/her own sleeping preferences and what feels right to me, might not work with your personal preferences. I have based my selection of Best Mattress for RVs on my industry testing experience and knowledge of the materials used in each mattress, as well as the requirements of living on the road.
All of the mattresses included in this list, provide an average amount of pressure relief and spinal support, to sleep comfortably, no matter your sleeping style. They all cater to RV sizes, and you can be confident that all will sleep comfier than your original RV mattress!
Always measure the space you actually have in your RV. You will want to make sure to do not push excessive pressure on your slide-outs, or structure, and that you measure both the width and length available for your mattress.
You will encounter two ways of calling an RV mattress: RV and Short. If your rig is sold as a King bedroom, you will likely be purchasing a Short King or RV King Mattress.
Let's look at the actual measurements: 
King:
Regular household – 76 x 80
RV or Short – 72 x 80
Queen:
Regular household – 60 x 80
RV or Short – 60 x 74
Twin:
Regular household – 38 x 75
RV or Short or Bunk – 42 x 80
The smaller sizes give you more space to navigate around your bed in a smaller space.
Bed Sheets For RV Mattresses
Since the mattress size is shorter in RV mattresses, you might wonder what kind of sheets to use.
I recommend using your regular household sizes. What is most important in a sheet, is its pocket depth. Since RV mattresses are typically thinner to limit their weight and be more transportable, your regular bedsheets will fit just fine.
You will find them to be a little too long and can simply tuck them in under your mattress and never know the difference.
What Should I Be Looking For In An RV Mattress?
Most original RV mattresses are either too firm, or sagging, creating all sorts of back and body pains and aches.
When purchasing an RV mattress from a regular mattress manufacture (such as all mattresses on this Best Mattress For RVs list), you should be aiming for the same firmness as at home. Side-sleepers will generally prefer a medium to medium-firm mattress, giving them plenty of foams for their hips and shoulders to dip in. Back and stomach sleepers will be looking for firmer mattresses.
Heavier folks should air on the side of firmer mattresses to support their spines. So should people suffering from back pain.
What original RV mattresses lack the most, is breathable and cooling materials. They usually comes as all-foam and use cheap foams that are not engineered for hot-sleepers.
Even if you are not a hot-sleeper, you will find that your camper's bedroom temperature is much harder to control and more likely to fluctuate than at home. You want to make sure you are sleeping on a mattress made of foams and materials that are breathable and cooling.
On hot nights, a cooling gel infused foam and breathable mattress cover will allow your body's excess heat to dissipate down the layers, keeping you nice and cool. If you purchase a hybrid mattress (combination of coils and foams), the airflow will be accentuated and you are less likely to suffer from the heat.
On cold nights, do not be worried – most of those materials are temperature neutral and they will not keep you cooler than you are. Those proprietary foams are engineered to work with your body and allow for quicker evaporation of your body's moisture, to keep you at an ideal sleeping temperature.
Once you find a mattress that fits your sleeping preferences, size will be the biggest thing to pay attention to. Do measure the maximum space available in your rig, and air on the side of caution.
Too large of a mattress risks putting stress on your slide-outs. Make sure to understand the width you have, as well as the length once your slide-outs are all retracted! You do not want a mattress too long, pushing on the opposite wall of slide-out. In some cases, you may have enough space for a regular residential-size queen or king! 
This is our case. We are able to fit a regular queen-size mattress without putting any pressure on either of our bedroom slide-out. We are however, eating up all the space meant for us to navigate around the bed when retracted… which is something we are ok with.
Weight is the other parameter to keep an eye on. Check your slide-outs weight limit and make sure to add your body weight + under-bed storage content + mattress weight to ensure you are not passing that weight limit.
Why Buy A Mattress Online?
I hear you. I am telling you that this is one of the most important purchases you will be making in the next 5 to 10 years, yet I am encouraging you to buy from a website, with no chance to see, feel, or lay on the mattress. I promise you it's worth it, though! Feel free to read over our Guide To Buying An Online Mattress, but let's also look at the benefits of buying a mattress online vs. in store:
When walking inside a mattress store, you are limited to the brands and models carried by the store. Not only are they limited, but the store needs to survive and higher margin products will probably take the store-front, which doesn't always work in favor of the buyer. However, when shopping online, you will find dozens of online mattress brands.
Now of course, more options means that you need to educate yourself a little more, to understand which mattress brands will be worth your money, and this is where I come in. I test hundreds of mattresses for you each year, and when you read the reviews of an independent mattress reviewer such as Non-Biased Reviews, you get unbiased mattress reviews. Many mattress review websites are now owned by large mattress companies, so make sure you use the services of independent mattress reviewers!
Buying a mattress can feel as stressful as buying a car these days. You walk into the mattress store and get overwhelmed with sale tactics, straight out of the car lot! Online, you get the benefit of time and peace. Once you have narrowed your choices down to a brand or mattress style, take your time to read the details and do deeper research on the brand sites and right here. See all of the brands we have reviewed so far. Any questions, feel free to email me directly at laura@nonbiasedreviews.com and I'll be happy to brainstorm ideas with you!
By purchasing a mattress online, you are cutting the middle man. You do direct business with the mattress brands and they save on labor, rent, and other overhead costs. It is a win-win and you put the savings in your pocket! You also have many more options, and while you can buy extremely luxurious and expensive mattresses online, you also have access to a large number of cheaper options!
This one might seem counterintuitive. I bet that your first resistance to buying a mattress online is linked to the lack of testing. You can't see nor touch the mattress for yourself and you're not sure whether you can truly believe the edited photos you see online. 
Think about it for a second. You walk into a mattress store, lay on a mattress, shoes on, fully clothed, with an adult salesperson staring at you, while trying to keep your kids from taking the store for a trampoline arena. You've awkwardly laid on that mattress a total of 50 seconds before making a long-term decision… 
When purchasing your mattress online, it nearly always comes with a 100 to 365-night trial. You get to sleep full nights on your investment for several weeks before deciding whether it is adapted to your sleeping needs and preferences. I recommend sleep testing your mattress for at least 30 nights before making your final decision, to give your body a chance to adjust to the new sleeping surface.
Still unhappy, most online mattress companies will arrange for your mattress to be picked up from your home and donated, and your money will be refunded. There is generally no restocking fee and most of the time, your return shipping is free as well. If you buy a Purple mattress at MattressFirm, for example, your return will be subject to MattressFirm's return policy and restocking fees. Buy directly from Purple and your return is free!
When you buy a mattress online, it ships directly to your home, most of the time for free! Nearly all mattresses ship in a box, making them easy to transport to the room of your choice. 
Forget about renting a truck or trying to tie a king-size mattress to the roof of your car, then asking a friend to come help you to get it inside. Instead, a regular carrier drops off a manageable box by your front door, you set the vacuumed mattress on your bed, rip the plastic wrap, and watch it expand in seconds!
Share this deal with a friend!