WHAT ARE THE DIMENSIONS OF AN RV QUEEN SIZE MATTRESS
Do you feel the road calling? If you are planning to purchase or upgrade your RV, one of the essential things to consider is the quality and size of your RV mattress. Getting good sleep will make a huge difference in the quality of your trip, especially if you are embarking on long road trips.
Among the popular options for RV mattresses is the RV queen size mattress (aka Short Queen), which is designed to fit comfortably in most campers. But what are the dimensions of an RV queen size mattress? Just as wide, but shorter than the residential queen size mattress, it is designed to give campers more space to navigate around their RV. In this article, we'll explore the standard dimensions of an RV queen size mattress, factors to consider when choosing one, and some tips on how to maintain it.
Our family of 5 has personally been full-timing in our RV for 13 months, testing and shooting much of this website's content from the RV. We have owned and full-timed in a fifth wheel and a Class A motorhome, and vacationed in a van and Class C. If you have any questions about your RV mattress, please reach out!
Don't forget to check our list of Best RV Mattresses, updated yearly!
Evolution Of RV Mattresses
When it comes to outfitting your RV, one of the most important considerations is finding the right size mattress. There is not a ton of information from RV manufacturers on mattress sizes, but we are slowly seeing that change. Pre-pandemic, you purchased an RV and dealt with the sub-par mattresses installed by RV manufacturers. Poor nights of sleep were a given (maybe even a rite of passage?) in RV life! You had to rough it out on the road, right?
With the pandemic and sales of RVs taking off since 2020/2021, RVers are now expecting the comforts of home in their campers. All of it starts with a good and comfortable night of sleep. The kind that leaves you rested and ache-free.
When you purchase as RV, the manufacturer, or old owner, will typically tell you whether you have a queen or king size mattress. Some may not even know whether the mattress is residential or RV size… And the last thing anyone tells you, are the exact dimensions of the mattress. So let's take a look at the dimensions of an RV queen size mattress.
RV Queen Size Mattress Dimensions
An RV queen size mattress (also known as Short Queen in some manufacturers) is the most standard size of mattresses found in RVs and campers. They are shorter than a standard queen size mattress, but larger than a full or double size mattress, making it a good size for couples. The exact dimensions can vary depending on the manufacturer and the specific model, but in general, an RV queen size mattress measures:
60 inches wide by 75 inches long
That is 5 inches shorter, but the same width, as a residential queen size mattress, so the impression of space, when sleeping with a partner, should be very similar than at home as the width is the same.
Important things to consider:
Some RV manufacturers may use non-standard mattress sizes in their units – some like Airstream, for example, use rounded edges to give more space to move around the bed
More and more manufacturers use residential size queen mattresses in their RVs – do not assume that your RV has an RV queen size mattress if you read "queen" on the owner's manual or the brochure, it could be residential (60″W x 80″L)
It is always a good idea to measure the mattress yourself before purchasing new bedding or a replacement mattress. We will look into what exactly to measure in a paragraph below, to make sure you buy the right mattress for your specific rig!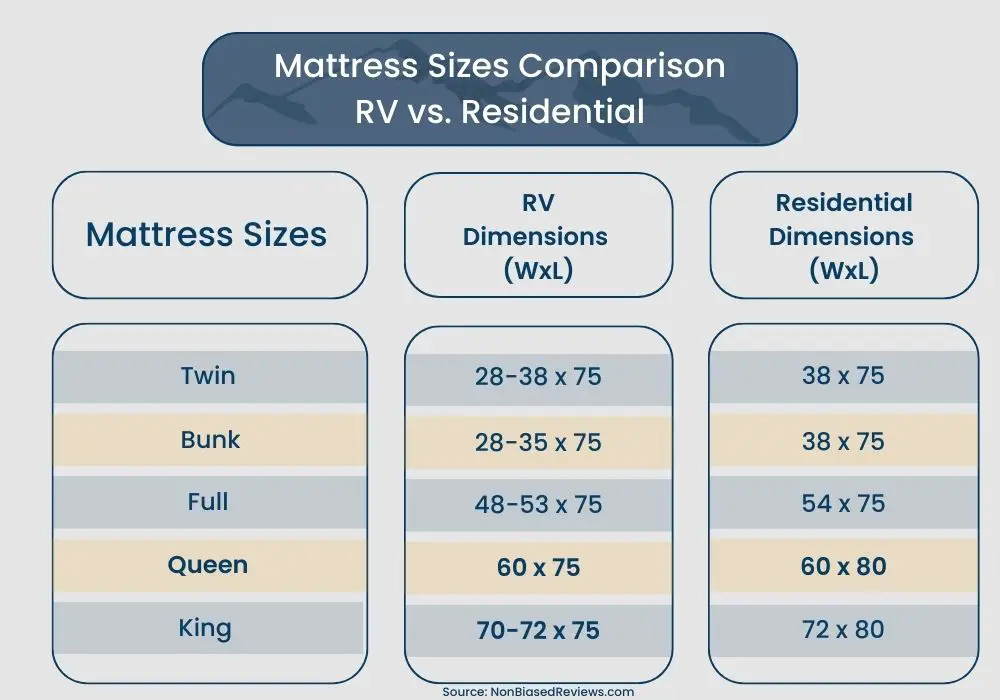 Benefits Of An RV Queen Size Mattress
Footprint
One of the main benefits of choosing an RV queen size mattress is that it provides a comfortable sleeping space while still leaving plenty of room for moving around in the RV. Because RVs are typically smaller than traditional homes, every inch of space counts and you know it can get tricky to go around bulkier items, such as beds, sofas, dinettes, etc. An RV queen size mattress provides a comfortable sleeping surface for 2, without jeopardizing your walking around the bed.
Replacement
Because RV queen size mattresses are so popular, it can be easier to find bedding and replacement mattresses in this size than in some of the less common RV mattress sizes.
Weight
Another benefit of adding a mattress that is 5 inches shorter than residential, is its smaller weight. While RV mattress manufacturers engineer lighter mattresses (weight is everything in RVing / towing), every inch helps with reducing your load. As a rule of thumb, you can expect your RV queen size mattress to way between 75 and 90 lbs.
Considerations When Choosing an RV Queen Size Mattress
RV Mattress Features
When choosing an RV queen size mattress, there are a few things to keep in mind. First, consider the level of comfort you're looking for. While RV mattresses aren't always engineered with the level of precision of residential mattresses, we are seeing more and more manufacturers focus on bringing comfort to campers' sleep. 
Some RV mattresses are designed for the unique needs of RVers, with features improving support, cooling, durability, and mold control. While those mattresses may be a little more expensive, we recommend them as a worthwhile investment if you plan on spending long periods of time on the road.
RV Mattress Weight
Another consideration is the weight of the mattress. Because RVs are often limited in terms of weight capacity (especially when towing – always check the weight of your rig and ensure you don't surpass your truck's towing capacity), it is important to choose a mattress that is lightweight and easy to move for when you switch rigs.
Most manufacturers have RV mattress weights readily available on their website, as they know this is a concern for their customers. If you cannot find it, reach out to the company prior to purchasing.
RV Mattress Thickness
Finally, consider the thickness of the mattress. While a thicker mattress may provide more comfort, it can also be more difficult to maneuver in a small RV space. This is not much of a concern when you first receive it, since RV mattresses come in a box nowadays, and you can open the box on the RV's bed platform, however, hauling a mattress out of an RV, for having done it multiple times, it not a fun process.
How Do I Know If An RV Queen Size Mattress Will Fit
If you do not know what mattress size your RV was designed for, you will need to take out your measurement tape. Measuring the current mattress in your rig, can help you understand what fits, however, if buying second-hand, you may want to take your own measurements to compare.
We purchased a used rig once – the last owners had upgraded to a residential queen. When both slide-outs were brought in, it fit snuggly and we didn't think anything of it. Turns out, we upgraded to a comfier RV queen, which gave us an extra 5 inches of space. With the RV queen, when both slide-outs were collapsed in, we still had space to walk around the bed and access our master closet! That actually made a world of a difference on travel days!
So what should you measure?
Start with the length, as an RV queen (or Short Queen) is 5 inches shorter than a residential queen. From the head of your bed, do you have 80 inches of space when your slide-outs are slid in? If so, would 75 inches give you space to walk around your bed and let you access some of your RV's features (i.e., bathroom, closet, storage), that 80 inches won't let you get to?
Once you know whether 75″ or 80″ work best for you, measure the width, across the head of your bed. Many RVs are built-in bedside tables. Other RV mattresses go from one side of the slide-out to the other. Pick the narrowest part and ensure that you can comfortably fit 60 inches of mattress across. That is best done with 61 or 62 inches of space. If you are thinking about upgrading to an RV king, ensure that you have 72 inches across! If you purchase a mattress that is too wide, you run the risk of putting pressure on your slides, which can damage your rig with time.
How To Maintain an RV Mattress
Being on the road means dust (loads of dust…), sand, varying temperatures, and hard time controlling humidity… For that reason, we recommend a hypo-allergenic mattress to prevent the growth of mold, mildew, and allergens.
In order to keep a clean RV mattress, we recommend pulling the blankets during the day, to give your mattress and fitted sheet breathing time. Your bed can be made – but fold your comforter over to the lower part of your bed to air as much of the mattress and sheet as possible!
If you are not in a super dusty desert, or very humid climate (i.e., summers in Florida, Louisiana, etc.), ventilate your room every morning by propping your windows open for at least an hour. This will bring fresh dry air into your RV and ensure the air is recycled.
When you clean your sheets, let your mattress air dry and ventilate. Do not put sheets right back on it – instead let it air without any sheets while you do the laundry.
Lastly, always use a waterproof mattress protector. We recommend bamboo mattress protectors for their comfort, breathing, cool sleeping, moisture-wicking, and hypo-allergenic properties. This will keep the dust and dirt away from your mattress, and contain spills in case of accidents! Believe me, it is much easier to clean, than your RV mattress cover.
What To Do In Case Of A Stain On Your RV Mattress
In case of a stain, and if your mattress cover is not removable, you should try to tend to the stain as early as possible.
Grab a clean cloth, fresh water, and a mild detergent, and blot the stain (do not rub), until the stain disappears. Some stains are harder to treat, and you may need to make a paste of baking soda and water, or fresh lemon juice. For blood stains, read our guide here.
What Are The Dimensions Of A Queen Size Mattress
An RV queen size mattress can be a great choice for RVers who are looking for a comfortable sleep surface that doesn't take up too much valuable space in their RV. With its 60-inch width and 75-inch length, the RV queen provides a good amount of sleeping space for couples, and excellent sleep quality if you pick the right mattress for your sleeping style. With the right mattress, you can get a good night's sleep no matter where the road takes you. Just be sure to measure your RV space carefully and consider your specific needs when choosing a replacement mattress for your RV.
Most frequent questions and answers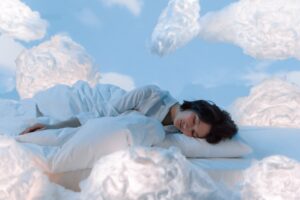 Sleep Info
SLEEP SANCTUARY: 8 STEPS TO CREATING THE PERFECT HAVEN FOR REST AND RESTORATION In today's fast-paced world, getting a good night's sleep has become increasingly
Read More »
What size RV mattress do I need?
The size of your RV mattress will depend on the size of your RV bed. Common RV bed sizes include Twin, Twin XL, Full, Queen, Short/RV Queen, King, and Short/RV King. You should measure the dimensions of your RV bed to determine the correct size of mattress to purchase.
How do I care for my RV mattress?
To care for your RV mattress, you should regularly air it and ensure good room ventilation, and use a mattress protector to keep it clean and free from moisture. For cleaning in case of a stain or spill, blot the fresh stain with fresh water, a mild detergent, and a clean cloth.
Do RV mattresses come with a warranty?
Yes, most RV mattresses come with a warranty. The length and terms of the warranty will vary depending on the manufacturer, so be sure to read the warranty information before making a purchase. Most also come with a sleep trial!
Can I use a regular mattress in my RV?
While you technically can use a regular mattress in your RV, as long as it fits the space you have, it may not be the best option. RV mattresses are designed to be lightweight and compact, while regular mattresses are often heavier and bulkier.
What are the dimensions of an RV Queen size mattress?
An RV Queen size mattress, or Short Queen mattress, is just as wide, but shorter, than a residential Queen mattress, to allow for space to navigate around your bed. An RV Queen size mattress is generally 60" wide and only 74" long (instead of 80").
Share this deal with a friend!