Leesa just began selling their pillow this fall
I ordered a couple of them yesterday, so check back in a couple of weeks and I'll give you my review of them.  I have had them for a good week now and I shot a video review and featured it in my ultimate pillow fight video below.
Leesa Pillow Review:
The Leesa cover is one of the best in the industry, so you will understand why they chose to put the same cover on the blanket and on their pillow.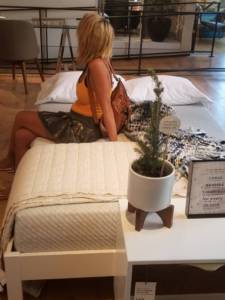 If you have been on a Leesa mattress you can assume that the cover of the pillow will have that same stretchy, soft feel.  The Lessa pillow cover is made from the same polyester lycra blend.  I don't see their iconic 4 stripes on the pillow when I look at the pictures from their site, but that doesn't mean that they aren't on the back side.  I'll confirm when I get them.  Update 10/7/17 no stripes.
---
---
Inside the pillow we expect to see the Avena foam that you see on the top layers of both the Leesa and the Sapira mattresses.  So I expect a cooling pillow that will have some give to it.  The top Avena layer of the mattresses is more dense, 3.65 PCF vs the Leesa Pillow at 2.5 PCF.
The Leesa pillow comes with a 100 night trial period and a 3 year warranty.
Fun fact, Leesa donates 1 pillow for every 10 they sell.
The Leesa pillow combines the beautiful look and feel of Leesa's signature cover with the cooling and responsive Avena® performance foam
You will notice right away a lot of time and effort into selecting the combination of materials used inside all Leesa products.
I don't currently have a coupon for the Leesa pillow, but if you are looking to get one with a purchase of a Leesa or Sapira mattress please use the code below.
Take $100 off a Leesa or Sapira Mattress Use code Nonbiased.

The Leesa pillow was featured in my Ultimate Pillow Fight!
Want to see how the Leesa Pillow stacks up against other pillows that I have sleep tested?  Drag and drop a few pillows into the pillow comparison tool below:
Photo
Company
Pillow Name
Type
Features
Sleep Test Rating
Price
Coupon Code
Current Discount
Purchase
Thinking about buying the items we have reviewed? Help Non-Biased Reviews out if you do. Just click on any of the seller links above and the seller will contribute a portion of the sale to help support this site. It won't cost you anything extra and is a simple way to help us fund more items to review. Thank You!
Pros
Cover has the same feel as the Leesa
Breathable Avena Foam
Cons
It may feel a bit small on a King Size Bed
Final Thoughts
Leesa Pillow: If you are a fan of the Leesa mattress cover, you need to try the pillow. It's a low profile pillow that is supportive and cool. Plus if you don't want to throw a pillow case on it you don't have to!