HOW OFTEN TO REPLACE PILLOWS
How often to replace pillows can depend a lot on the kind of pillow you choose, as well as your personal preference when it comes to pillows.
As a pillow age, so will its comfort, and while many worry about finding the perfect mattress, it is equally important to sleep on a pillow that places your head, neck, and upper spine in a healthy position. As your pillow looses life, you may start finding that you wake up with neck or back pain. So let's take a look at the different kinds of pillows available on the market today, and how often to replace your pillow. 
Know everything there is to know about pillows? Jump straight to the How Often To Replace Pillows section.
Different Kinds Of Pillows
If you feel confused and overwhelmed with choosing the best pillow, you are not allowed. A few short years ago, you'd be looking at feathers vs. synthetic fill. Today, it seems like the choices are endless and new and innovative products come on the market all the time. Let's look at the different kinds of pillows available today: 
Synthetic Fill Pillows 
The cheapest pillows on the market are typically filled with polyester, or recycled polyester. You can find such pillows are as low as $5, but they are neither a healthy, nor a sustainable, nor a quality long-lasting alternative. Typically, after going through their first wash, synthetic pillows come out with hard balls on synthetic fibers clotted throughout the pillow.  
Down Pillows
Typically made of a cotton cover and filled with a mixture of duck down and feathers, down pillows can come in several heights and feel fairly airy, keeping the dreaded night sweats at bay. Many love the natural fluffy and cool feeling of a down pillow. It can be a great pillow for all sleeping types and can be washed on hot to kill bacteria and dust mites. We recommend at least 60% down / 40% feathers, to avoid pointy feathers poking at you here and there. 
Down-Like Pillows / Shredded Memory Foam Pillows
For sleepers preferring a vegan alternative to the down pillows, without compromising on the airy and cozy feel of down, many manufacturers offer a down alternative, typically in the form of a microfiber-filled outershell, and shredded memory foam inside. All shredded memory foam pillows are not created equally – while some companies cut small pieces from new Certi-PUR US certified memory foam, others use recycled scrap foam. Use our menu above: Other Bedding > Pillow Reviews to research the pillows we have tested for you.
Adjustable Pillows
There are several kinds of adjustable pillows on the market today. Most shredded memory foam pillows allow you to add or remove memory foam until you find the perfect loft for your neck and sleeping position. Other adjustable pillows come with a couple of inserts inside a fiber-filled outer shell, allowing to adjust to your preferred firmness and loft.
Polymer Pillows
 Some mattress manufacturers make pillows from the polymer they use in their mattresses. Polymer typically looks like a grid and comes as one piece. Being ergonomic, it conforms to the shape of your neck and head, and lets plenty of air through, allowing for a cool night of sleep. 
Polyurethane Foam Pillows
Some pillows are made of one solid piece of foam. Because memory foam is often known to sleep hot, foam pillows are typically infused with cooling gel to channel your body heat down, and encased with a moisture-wicking and breathable pillow cover. Those pillows conform perfectly to the shape of your head and relieve a lot of pressure from your face and neck.
Which Pillow Is Best For Me?
While each pillow looks and feels different, there is a pillow for everyone based on your sleeping preference and body morphology. 
The purpose of a pillow is to provide cushioning comfort to your head and neck, while supporting that area of the body to ensure proper spine alignment from the neck down. Thus, it is important to choose a pillow that prevents a bend in your neck, and instead aligns your upper spine.
Adjustable pillows are a fantastic invention in the bedding industry. They are very versatile and allow you to tailor the pillow to your specific needs and preferences. They typically come slightly overfilled to give everyone a chance at customizing the loft. We recommend never trashing the extra shredded foam, in order to fill your pillow back up, should your needs ever change (i.e., pregnancy, injury, preference, new mattress, etc.)!
Best Pillow For Side-Sleepers 
Side sleepers need a firmer and higher pillow than other sleeping types. As a side-sleeper, try to find a pillow with a loft matching the height between your mattress and your head. You will have the best pillow for side-sleepers once you find one that gives gentle support to your neck, keeping it in a natural position, avoiding an angle at all. This loft will be different to each person, and based on your personal morphology, body type, and mattress firmness. 
Best Pillow For Back-Sleepers 
Back-sleepers require a lower pillow than side-sleepers, and will generally enjoy a sightly softer pillow that provides cozy comfort and contouring. Most pillow types work for back-sleepers. We like shredded memory foam and polymers pillows for back-sleepers for the ultimate comfort. Make sure it is low profile enough to not bend your head forward. Ensure your chin is not tilted towards your chest, which could close your airways, making it more difficult to breathe, and create some pain in your neck.
Best Pillow For Stomach-Sleepers
Stomach-sleepers need a very low profile pillow, if they choose to sleep on a pillow at all. Due to sleeping on their stomach, they need to make sure their pillow will not create a bend in their neck, which would create pain and aches. Additionally, they will need less cushion, as to not block their airways (nose and mouth). Some pillows are specifically made for stomach-sleepers, and are low profile and a little firmer, as to diminish the face's sink into it. 
Make sure to read our List Of Best Pillows, updated yearly, giving your our favorite pillows for each sleeping type!
Why Should You Replace Your Pillow
Pains And Aches
As we have just determined, laying your head on a performing pillow is of outmost importance for proper sleep and to reduce the risks of neck and head pain / injury. As pillows age, they typically become saggy and offer less support. Some also collect their fibers into a clog of material, angling your head and neck in unhealthy positions. By sleeping on your pillow past its useful life, you may find yourself suffering from neck and/or back pain, headaches, and have difficulty falling asleep and staying asleep.
Health Concerns
Additionally, pillows collect all sorts of dirt, dead skin cells, dust mites, mold, mildew, pet dander, and more. Did you know that it is estimated that 10% of your pillow weight after 2 years, is made of dust mites and their droppings. Dust mites thrive by feeding off of your dead skin cells… be it in pillows or mattresses. They thrive in warm and wet environments, hence the importance of airing your room, mattress, and cleaning your sheets, pillow cases, and pillows often!
Unfortunately, dust mites can create allergic reactions. The Mayo Clinics describes the symptoms of dust mite allergy as similar to that of hay fever, including sneezing, cough, and runny nose, as well as signs of asthma, such as wheezing and difficulty breathing; amongst other symptoms.
If you are sensitive to mold and mildew, you may find yourself experiencing upper respiratory issues. You may also start noticing skin rashes and ailments, such as acne or eczema. 
Check current pricing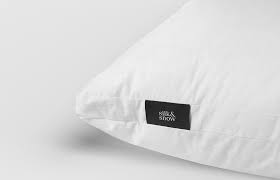 Silk & Snow Pillow
A hybrid pillow design using soft down-like microfiber fill along with adjustable shredded memory foam. Customizable to fit all sleepers.
A hybrid pillow design using soft down-like microfiber fill along with adjustable shredded memory foam. Customizable to fit all sleepers.
Show Less
How Often To Replace Pillows
The Asthma and Allergy Foundation of America (AAFA) recommends that you replace your pillow every 2 years!
Pillows are known to trap dust mites and mold, which are common household allergens, which will cause health issues to those with eczema, allergies, and asthma. 
By replacing your pillow every 2 years with a new one, you not only ensure a clean pillow to rest your head on, but a performing pillow that keeps your spine aligned, so you wake up with energy and minimize poor sleeping hygiene. 
It is proven that 34% of people suffering from asthma, wake up every night, and 29% wake up several times a week. That is 2/3 of those with asthma!! For that reason, it is absolutely necessary to keep your pillow as clean as possible! But how do you do that? 
How To Keep Your Pillow Clean
Whether or not you suffer from a skin or respiratory issue, it is a good idea to keep your pillow very clean, as dust mites, mold, and mildew can create symptoms and discomfort in anyone. 
In order to benefit from the best quality sleep (read deep and uninterrupted), follow the following steps: 
stick to pillow cases and protectors that are naturally anti-allergen (i.e., bamboo, eucalyptus) and wash them on hot once a week
when making your bed, pull and fold your sheets to air your mattress and pillow. Never cover your pillow with your sheets, as it would make the perfect ground for dust mites to strive and multiply (hot and wet environments)
if you live in a dry area, prop your windows open for a few minutes each morning, with your sheets folded back. In a wet environment, ensure that you change your A/C filters monthly. In case of high humidity, add a dehumidifier to your room
wash your pillow in the washer and dryer (follow cleaning instructions) once a month
50% OFF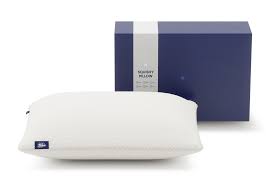 Nolah Squishy Pillow
50% OFF and get an extra $50 OFF your purchase $800+ with our exclusive coupon code (click to reveal)!
50% OFF and get an extra $50 OFF your purchase $800+ with our exclusive coupon code (click to reveal)!
Show Less
Most frequent questions and answers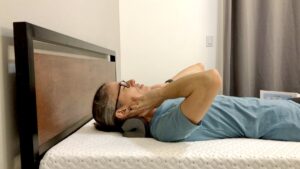 Sleep Info
HOW OFTEN TO REPLACE PILLOWS How often to replace pillows can depend a lot on the kind of pillow you choose, as well as your
Read More »
How often to replace pillows?
The Asthma and Allergy Foundation of America recommends you replace your pillow every 2 years to minimize poor sleep hygiene caused by upper respiratory symptoms from dirty pillows.
Can a pillow cause headaches?
Yes, a pillow that bends your neck due to being too thick or too thin, will put pressure on your neck and spinal cord, which can lead to pressure headaches. 
What is the best pillow for stomach sleepers?
Stomach sleepers need a flat and responsive pillow in order to keep their spine aligned and to prevent the blocking of airways.
Can a pillow cause allergies?
Unfortunately, pillows are the perfect nesting ground for dust mites, which feed off of dead skin cells. Exposure to dust mites, especially as an early age, can cause allergies, which can result in moderate to severe symptoms and negatively impact your sleep.
How do I clean and maintain my pillow?
It is recommended to use an anti-allergen pillow protector and pillowcase. Make sure to clean your pillowcase in hot water weekly, and your pillow monthly (per instructions). Additionally leave your pillow uncovered during the day and give your room fresh dry air daily (open window or clean A/C filters + dehumidifier).
Share this deal with a friend!