INSOMNIA SUCKS: CONQUERING THE SLEEPLESS NIGHTS
Sleep, a vital aspect of our lives, is often taken for granted. We drift off to dreamland effortlessly, wake up feeling refreshed, and continue with our daily activities. But what happens when sleep eludes us? Insomnia sucks… The debilitating sleep disorder affects millions of people worldwide, leaving them groggy, frustrated, and struggling to function.
In this article, we dive into the world of insomnia, exploring its causes, consequences, and strategies for overcoming its grasp. So grab a cup of warm tea, get cozy, and let's navigate insomnia's sleepless nights together.
Note that we are not medical professionals. This does not consists in medical advice and should be used at your own risks. We recommend you consult a medical professional to further explore your relationship with insomnia, if symptoms persists.
Insomnia, simply put, is the difficulty in falling asleep, staying asleep, or getting restorative sleep. The National Institute of Health considers it a "common sleep disorder, [that] can get in the way of your daily activities and may make you feel sleepy during the day." If you suffer from insomnia, you are not alone… The Cleveland Clinic estimates that "1 in 3 adults worldwide have insomnia symptoms, and about 10% of adults meet the criteria for insomnia disorder," experiencing daytime disruptions in how they feel or function, because of the lack of restful sleep.
Insomnia can be classified into two broad categories: acute insomnia and chronic insomnia.
Acute insomnia is short-term, and often triggered by temporary stress, jet lag, a traumatic event, or changes in your environment or schedule. It typically affects the sleeper between a few days and a few weeks.
On the other hand, chronic insomnia (also known as insomnia disorder) is long-term, occurring at least three nights a week over a 3+ months, with no obvious cause (i.e., no change in your routine, environment, schedule, no stressful or distressing event).
While insomnia is not considered a dangerous condition, those affected should act with caution when it comes to driving or operating machinery when tired. It is also important to note that people suffering from insomnia can experience minor to major disruptions from their sleep deprivation, and not every person will report the same symptoms, which can range from trouble concentrating to delayed reflexes, disruption to work routines, feeling sleepy, and more.
Insomnia can be caused by various factors, ranging from physical and psychological, to environmental. Let's look at some of the main causes and triggers:
Stress and Anxiety
Psychological factors such as stress, anxiety, and emotional disorders can make it difficult to relax and fall asleep. If you suffer from stress and/or anxiety, you are family with racing thoughts and a brain that you can seemingly not shut down. Worry can keep your mind active and interfere with your ability to fall asleep. It can also wake you and make it difficult to fall back asleep.
Stress and anxiety can be acute and related to a one-time event or short-term situation, or be a chronic struggle and require the help of a medical professional.
Poor Sleeping And Lifestyle Habits
Irregular sleep schedules, frequent / too long / too late napping, engaging in stimulating activities close to bedtime (i.e. blue light from electronic devices, drinking caffeine or too much alcohol, high physical activity) can disrupt sleep patterns and lead to insomnia. Similarly, lack of regular exercise, irregular meal times, or consuming heavy meals close to bedtime, can lead to insomnia.
Sleep is sacred and you may not realize it until it goes away. If it takes creating a routine to find sleep again, I urge you to put the work in. Unfortunately, as we age, some activities may need to be reduced to fall asleep faster and deeper. While you could get a flat 12 hours of sleep in college, after 5 or 6 beers… you may find that all it takes is a couple of beers for you to lay eyes open, unable to drift away. It is ok! Adapt to your body's new needs.
Medical Conditions
Certain medical conditions like chronic pain, pregnancy arthritis, asthma, gastrointestinal problems, sleep apnea, restless-leg syndrome, hormonal imbalances (i.e., thyroid disorders), and neurological conditions can cause insomnia or make it worse.
Medications / Substance Abuse
Some medications, including certain antidepressants, asthma medications, ADHD drugs, decongestants, corticosteroids, and medications that affect the central nervous system, can interfere with sleep and cause insomnia as a side effect. If you can link the start of insomnia to your taking of a new drug, inform your doctor as soon as possible.
The consumption of stimulants, such as caffeine or nicotine, can disrupt sleep. Additionally, alcohol and sedatives may initially help with falling asleep but can lead to fragmented and poor-quality sleep later in the night. Sometimes, something as simple as consuming too much liquid late in the day, can lead to frequent sleep interruptions to use the bathroom.
Environmental Factors
Noisy or uncomfortable sleeping environments, extreme temperatures, excessive light and noise, poor quality of bedding, and disruptions caused by factors like shift work or jet lag can interfere with sleep and contribute to insomnia. 
It is important to note that insomnia can often be a result of a combination of these factors, and identifying and addressing the underlying cause is essential for effective treatment. If you are experiencing persistent sleeping difficulties, it is recommended to consult a healthcare professional for proper evaluation and guidance.
Consequences of Sleep Deprivation
Insomnia can have a range of consequences that affect a person's physical and mental well-beings. Each individual will have his/her own experiences, and the below may not apply to all. You may suffer from one, or multiple of the common insomnia consequences below:
Daytime Sleepiness and Fatigue: Insufficient sleep due to insomnia can lead to daytime sleepiness, fatigue, and reduced energy levels. This can negatively impact concentration, attention, and overall cognitive function, affecting performance at work or school. It may also impact your relationship with family, friends, and acquaintances, as you may find those relationships to require more energy than you have to offer.

Impaired Memory and Learning: Lack of restorative sleep can impair memory consolidation and learning abilities. It becomes challenging to retain and recall information, affecting academic, professional, and even personal performance. Ever forgot to pack junior's snacks ahead of soccer practice?

Mood Swings: Insomnia is often associated with mood swings such as irritability, increased anxiety, depression, and emotional instability. Sleep deprivation can exacerbate existing mood disorders or increase the risk of developing them, which unfortunately, can in turn, exacerbate insomnia.

Reduced Immune Function: Chronic sleep deprivation weakens the immune system, making individuals more susceptible to illnesses and infections. It can also prolong the recovery time from common illnesses.

Increased Risk of Accidents: Sleepiness and impaired cognitive function can lead to an increased risk of accidents, both on the road and in other daily activities. Drowsy driving, in particular, is a serious concern, so is the operating of machinery.

Impaired Physical Health: Insomnia is associated with an increased risk of various health conditions, including obesity, diabetes, cardiovascular disease, and hypertension. Chronic sleep deprivation can also disrupt hormonal balances and metabolic processes in the body.

Impaired Quality of Life: Insomnia can significantly impact an individual's overall quality of life. It can interfere with social interactions, relationships, and participation in activities, leading to decreased enjoyment and satisfaction, which can circle back to anxiety and depression.

Mental Health Disorders: Chronic insomnia is strongly associated with the development of mental health disorders such as anxiety disorders and depression. The relationship between insomnia and mental health is often bidirectional, with each condition exacerbating the other.
Can Dehydration Cause Insomnia?
Let's answer one of your most-frequently-asked questions: Can dehydration cause insomnia?
While dehydration can lead to various health issues, it is not directly linked to causing insomnia. However, it is important to note that dehydration can contribute to discomfort, restlessness, and other physical symptoms that may disrupt sleep.
When your body is dehydrated, you may experience symptoms such as dry mouth, increased heart rate, and muscle cramps, which can make it difficult to relax and fall asleep. Additionally, dehydration can lead to feelings of general discomfort, making it harder to achieve a restful state and fall asleep.
Therefore, while dehydration itself may not be a direct cause for insomnia, it can indirectly impact your lifestyle and sleep quality. It should be addressed to promote optimal sleep hygiene. Per the University of Missouri System, you should drink half of your body weight (in pounds) in ounces of water daily. For example, if you are 150 lb woman, simply divide 150 lbs / 2 = 75 oz of water. You should be drinking 75 ounces of water each day to avoid dehydration.
Can Anemia Cause Insomnia?
Another frequently-asked question: Can anemia cause insomnia?
Anemia is a condition characterized by a deficiency of red blood cells or hemoglobin in the blood, often caused by a lack of iron or vitamins in the blood. It is believed to potentially contribute to insomnia.
Unfortunately, anemia leads to reduced oxygen-carrying capacity in the body, which can result in various physiological changes. These changes may include increased heart rate, shortness of breath, and general discomfort that can disrupt sleep.
Additionally, anemia is known to cause heavy chronic fatigue, some weaknesses, and difficulty concentrating, which may make it harder to fall asleep or stay asleep throughout the night. Addressing and treating the underlying anemia can help alleviate these symptoms and improve sleep quality. If experiencing persistent insomnia or suspecting anemia, it is best to consult with a healthcare professional for proper diagnosis and management, as the condition is easy managed when kept in check.
Strategies for Overcoming Insomnia
Although insomnia can be a depressing foe, there are effective strategies to reclaim your sleep and bid farewell to restless nights. Here are some actionable steps you can start taking today, because insomnia sucks and you deserve a good night of sleep – every night:
Establish a wind-down and sleep routine
There are different ways to establish a positive and calming wind-down nighttime and sleep routine.
Establishing a pre-sleep routine signals to your body that it is expected to get into sleeping mode. With practice, your body and mind will start unwinding if you are consistent and work out a routine that works for you. Things like a warm bath, reading a book, guided mediation, a warm herbal tea, listening to soothing music, or even just skin or hair care, can all be worked into your wind-down routine.
In terms of getting into a healthy sleep routine, setting a consistent bedtime and wake-up time, even on weekends, will help your body and mind stick to what they know. That routine helps regulate your internal body clock, promoting better sleep quality.
You will also want to exercise regularly during the day (just not too close to bedtime), avoid heavy meals, alcohol, or caffeine close to bedtime, get plenty of hydration, and live an overall healthy lifestyle to put your best chances on your side! And remember that your bed should only be used for sleep – avoid spending the last hours of your day reading or watching TV in bed. You want to make it clear to your brain, that laying in bed = sleeping.
Create a sleep-friendly environment
With a few tips and minimal investment, you can turn your bedroom into a sleep sanctuary. Your bedroom should be a haven for rest and restoration – a safe and positive place for you to wind down, recuperate, and sleep.
Start by ensuring that your bedroom is cool, quiet, and dark. Invest in a comfortable mattress and pillows, based on your sleeping style and preferences. Add some bedding that helps your body regulate its own temperature, but that you also find pretty to look at, and soft to sleep in. Consider using noise-canceling earplugs, eye masks, or white noise machines if you find yourself bothered with ambient noises or can't block the natural light from coming in.
Limit stimulants
Try to reduce or eliminate caffeine, nicotine, and alcohol intake, especially in the late afternoon and evening. These substances can interfere with your ability to fall asleep or maintain a deep sleep. We recommend you try a few different hours to note how quickly you feel asleep at night. What happens when your last cup of coffee is drunken at 5PM, vs. 4PM the next day, etc.?
Prioritize relaxation
Incorporate relaxation techniques into your routine, such as deep breathing exercises, meditation, progressive muscle relaxation, aromatherapy, or gentle stretching. Engaging in calming activities before bed can help calm your mind and prepare your body for sleep. Working with guided meditations can install a longing for sleep, by setting your mind and body into deep relaxation. Our favorite free app is our personal go-to for times of stress and in case of struggles to fall asleep.
We have also tested the Apollo Neuro Wearable for many weeks, and have used it personally during a time of incredibly-high stress, as a way to regulate stress and anxiety, and to fall asleep faster, as well as fall back asleep when stress woke us up in the middle of the night. It is an incredible medication-free tool to induce relaxation and help your nervous system reset itself and gain control back into your life.
Limit screen time
Many of us are guilty of watching a show (or 2) at night before falling asleep… Unfortunately, the blue light emitted by electronic devices and TVs can disrupt your sleep-wake cycle. Avoiding screens at least an hour before bedtime or using blue light filters on your devices (at the very least), will help your body understand that it is sleeping time. Unfortunately, blue light signals daytime to your brain, as it mimics the waking effects of the sun.
Seek professional help
If your insomnia persists despite your best efforts, consult a healthcare professional. They can help identify any underlying causes and recommend appropriate treatment options, such as cognitive-behavioral therapy for insomnia (CBT-I) or medication.
CBT-I therapy helps you, and your medical practitioner, understand the root cause of your sleep problems, by digging deep into your thoughts and behaviors. Once identifies, it aims at replacing them with habits that support restful sleep.
Practice sleep hygiene
Adopt healthy habits that promote better sleep. This includes avoiding heavy meals close to bedtime, exercising regularly (but not too close to bedtime), and ensuring your sleep environment is clean and comfortable.
Cognitive-behavioral therapy for insomnia (CBT-I)
CBT-I is a proven therapeutic approach that helps individuals identify and change negative thoughts and behaviors associated with sleep. It can be done individually or in group settings and has shown significant effectiveness in improving sleep quality.
Keep a sleep diary
Maintaining a sleep diary to track your sleep patterns, noting the time you go to bed, wake up, and any factors that may have affected your sleep, can be crucial to self-assess and self-treat your insomnia. This can help identify patterns or triggers that contribute to your insomnia, allowing you to make necessary adjustments.
Record things like: time of last caffeine, meal quantities and time of last food, activities during the day, stress level, bedtime routine activities, time in bed, and time you think you fell asleep and woke up. Add anything else that you feel is relevant and could potentially impact the quality of your sleep and speed you fall asleep.
Avoid clock-watching
We have all done it… Constantly checking the clock while struggling to fall sleep can create anxiety and heighten frustration. Consider removing the clock from your line of sight or turning it away to avoid the temptation of clock-watching.
Engage in regular physical activity
Living a healthy lifestyle helps in getting healthy rest at night. Regular exercise during the day can promote better sleep at night. Engaging in activities like walking, jogging, or yoga can help reduce stress, improve overall health, and contribute to a more restful night's sleep. Making to also eat healthy and drink plenty of water.
Manage stress
Stress and anxiety can often be contributors to insomnia. Find healthy ways to manage and reduce stress in your life, such as practicing mindfulness, seeking support from loved ones, or engaging in stress-reducing activities like listening to music or engaging in a hobby. Jogging or fast-walking outdoors can be an excellent way to release stress. Guided meditations and breath work are fantastic tools that only require a few minutes of your time.
Managing your stress and anxiety is probably the hardest step to take on this list to tackle insomnia. It may also be the most efficient.
Check your napping routine
Lastly, if you are a napper, watch your napping behavior. While a short power nap can be refreshing, excessive daytime napping can disrupt your sleep-wake cycle and make it more difficult to fall asleep at night. Limit daytime napping to a maximum of 20-30 minutes if necessary, and do not nap too close to bed time.
Insomnia Sucks - Say Goodnight To Insomnia!
Insomnia sucks… I agree! It can be a relentless adversary, but it does not have to control your life and the way you feel. By understanding the causes and consequences of insomnia and implementing strategies to promote healthy sleep habits, you can gradually regain control over your nights and restore balance to your life. Remember that overcoming insomnia is a journey that requires patience, consistency (!!!), and a willingness to make the necessary changes to your lifestyle, environment, and mindset.
Embrace the power of a good night's sleep and wave goodbye to the sleepless nights—because you deserve the rejuvenating benefits that restful slumber brings.
Most frequent questions and answers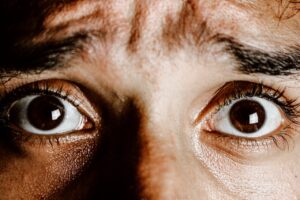 Kids Corner
SHOULD YOU WAKE SOMEONE UP FROM A NIGHTMARE Nightmares are unsettling and distressing dreams that can affect individuals of all ages. Whether you are the
Read More »
Should I see a doctor for my insomnia?
If insomnia persists despite efforts to improve sleep hygiene and affects your daily life, it may be beneficial to consult a healthcare professional. They can help identify any underlying causes, assess your sleep patterns, and recommend appropriate treatments, such as cognitive-behavioral therapy for insomnia (CBT-I) or medication if necessary.
How can I improve my sleep hygiene?
Improving sleep hygiene involves adopting healthy habits and creating an optimal sleep environment. This includes establishing a consistent sleep schedule, creating a relaxing pre-sleep routine, ensuring a comfortable sleep environment (cool, dark, and quiet), avoiding stimulating activities and substances (caffeine, nicotine) before bed, and promoting relaxation techniques.
How long does insomnia last?
The duration of insomnia can vary depending on its underlying causes and individual circumstances. Acute insomnia is usually temporary and lasts for a few nights or weeks, often related to a specific event or stressor. Chronic insomnia, on the other hand, persists for at least three nights a week over a month or more.
How does insomnia affect health and daily life?
Insomnia can have significant consequences on both physical and mental health. It can lead to daytime fatigue, impaired cognitive function, decreased productivity, mood disturbances, irritability, weakened immune system, increased risk of accidents, and the development or worsening of other health conditions.
What causes insomnia?
Insomnia can have various causes, including stress, anxiety, depression, lifestyle factors (such as irregular sleep schedules or excessive caffeine intake), medical conditions (such as chronic pain or sleep apnea), certain medications, and environmental factors.
Share this deal with a friend!