Technology is evolving rapidly, in a good way! One of the latest smart sleep products I was curious about was the Pod from Eight Sleep.
I was mainly intrigued by the fact that it tracks both sleep stages as well as quality of sleep with a detailed, daily sleep report. From what it looks like, the Pod is not your typical sleep tracker. That's why i decided to put it to the test to find  out how it works, DOES IT WORK and if it's worth it!
It is super easy to set up the smart grid once you have your Eight Sleep mattress sitting in place! Follow the instructions, find the zipper and you are good to go and ready to set up your Hub and Pod. Don't forget to install the app.! 
Eight Sleep Company Policies
I have been to one of the Eight Sleep offices before and I have seen them working hard and meticulously trying to make sure they deliver high standards and quality products at the end of the day! I fell in love with their NYC "smart" showroom, I was like a kid when their smart system integrated with Alexa, made me coffee when i was visiting! Super cool stuff. 
So what do they offer that is intriguing enough for you to try the Pod? Besides the fact that you will get to experience something out of this world – sci-fi level almost- at Eight Sleep you get to try their new Pod for free in the comfort of your home, financing is available as well as free shipping and return. 
First, the mattress. 
You know it typically takes time for your body to adjust to a new mattress, well it didn't take too long for us to get used to the Eight Sleep. It is absolutely comfortable and adapts to your body movements and motions almost instantly. 
Inside the mattress sit four layers of CertiPur- certified adaptive foam integrated with technological components. That's what it sounds like when smart bed meets comfort. 
Let's not forget to mention that amazing cover! Feels soft and cool at the same time and does not smell bad when you unwrap the mattress. 
So what is the Pod, how does it work and what powers it? 
The Pod is like when science meets technology that leads to better sleep. 
It is designed with the great efficiency of water- powered thermal technology paired with premium comfort features. 
When it comes to temperature control, the Pod's Active Grid  technology regulates to temperature on each side of the bed to deliver individual, customizable and perfect sleep environment. 
They call it Smart Grid for a very good reason!
Sensors track your sleep phases, heart and respiratory rate, almost every movement of your body while your sleeping, to deliver detailed reports. 
The hub or what i like to call the conductor with its sleek design, is the Pod's thermal engine. Clean water flows from the Hub to the Active Grid to keep temperatures as cool or warm as you desire. I love that it is not bulky and that it can sit perfectly by your bed side while still looking neat.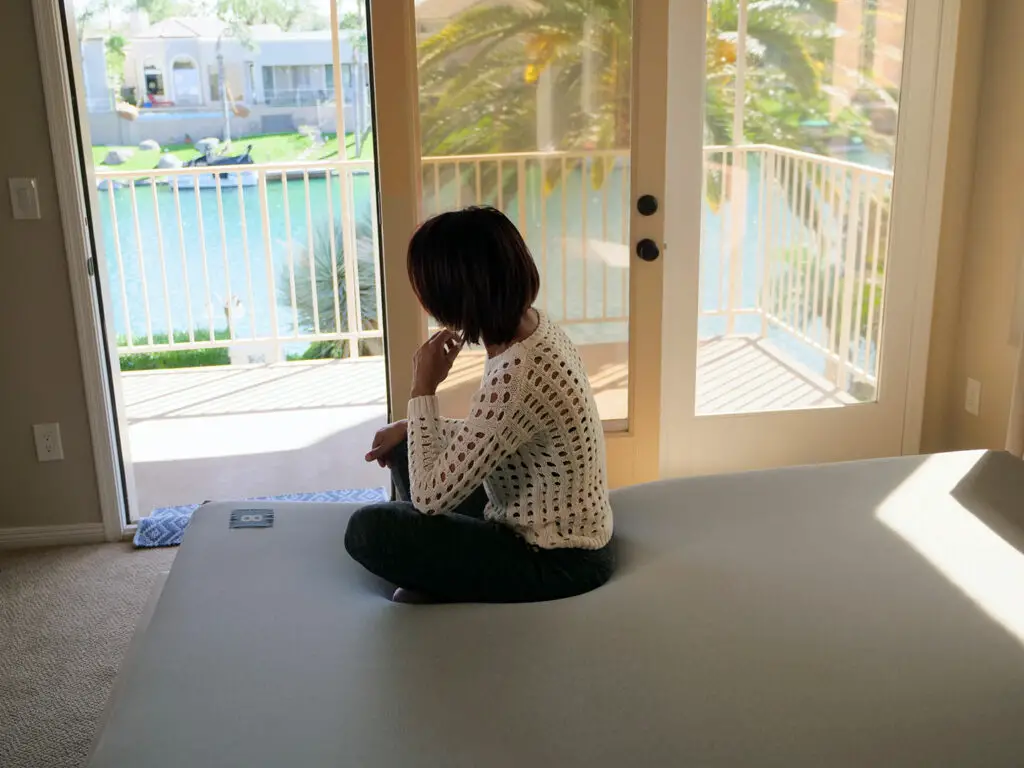 Once i was done installing the Pod and the hub was running, i downloaded the Eight Sleep App that was able to find my unit and filled out my info. What time do i sleep? Do I like to sleep warm, cold or neutral? Do i share my bed with someone? Basic but critical information for the app and the Smart Active Grid to act together to deliver that optimum sleep we all look forward to. 
What i really like is that whether you sleep solo or share your bed with someone, you just need only one unit. No need to worry about getting a second one for your partner. One is enough! 
No need to wear a wrist band to track your sleep anymore, the App has got you covered. It is easy to install, to use, and to get used to it. Most importantly it is promised to deliver accurate results and to help you restore that energy you need for a better overall healthier life and well-being. 
Just like exercise and nutrition, sleep is a essential for your wellness. While we sleep, our body and brain recover. 
Eight Sleep Pod Price & Discounts
For a queen size bed if you purchased a dual zoned cooling/heating system and cover you could expect to pay around $1,000.  This means that the 11″ queen sized mattress is priced at around $1,500.  It is a fantastic mattress, but I think it would be a better deal at $200-$300 lower.  Fortunately, you can use our coupons or discounts and pick one up during the holiday sales.
The Pod Vs. The Smart Bed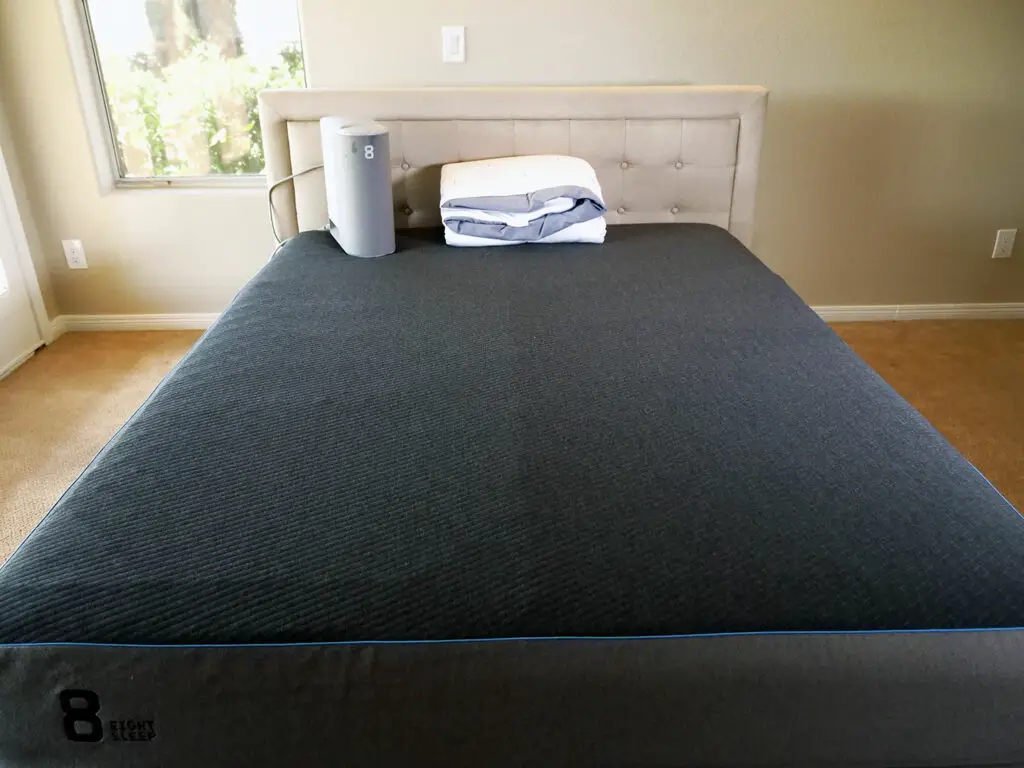 There are 4 key differences between the pod and the smart bed, they are:
Price
Temperature Regulation
Feel
Bed Size
The price should be pretty obvious to shoppers.  You can just about get 2 smart beds for the price of one pod.  What your choice really comes down to is: "How much do I value being cool at night?"
The smart bed has all of the same sleep tracking features as the pod, but it DOES NOT COOL the bed.  Both the pod and the smart bed have the ability to heat up the bed on schedule to get you up in the morning.
The smart bed's grid on the cover is easier to feel than the cover on the pod.  It feels like an electric blanket, because it essentially is, with added sensors to provide the sleep tracking.
Although it isn't a huge difference the profile of the pod's bed is higher.  The mattresses themselves are different by an inch.  Which may not sound like a lot, but the smart bed has an ok mattress, whereas the pod has an AMAZING mattress.  I have reviewed well over 100 mattresses and the pod shocked me with quality.  I did not expect it to be this nice of a mattress.
So, if you don't mind paying more and you need a cooling system that you can barely feel the tubes, consider buying the pod.  Otherwise, you can save a good deal of money by sticking with the eight sleep smart bed.
Eight Sleep Pod Review Conclusion
Here's what i have gathered from testing the Pod. 
It sleeps cool where the temperature can go as low as 55 Degrees on each side of the bed. To me personally this is super cold, not just cool but i had to try it to see if it works, and IT DOES. Also sleeping cool enables faster and deeper sleep. Now you can always chose to sleep warm too since the Pod's smart temp will adjust temperatures with many levels of cooling or heating for a more comfortable way of sleep. 
It took me a few nights for my body and the Pod along with the Smart Grid to get to know and used to each other. But once I have set it up to my liking I started to feel more refreshed.
It's like my body was waking up from the inside out with an extra boost of energy.