Finding the Best Mattress For You
I just got back from the CES in Vegas and am excited to update my mattress picks for 2018, now that I know about all of the new and hot items on the market!
Unlike many of the review sites out there, I sleep test every mattress that I review for about 2 weeks.  This means that I can only get to 20-25 mattresses per year, so I am pretty selective about the ones that I choose to test.  Everyone has different sleep preferences and there is no one solution for every sleeper.  If you are a side, back or the rare stomach sleeper we have solutions for you.
We have compiled a list of the best mattresses we have tested and separated them into different categories to help you choose. The prices listed are before discounts on a queen size mattress.
 Best Memory Foam Mattresses 2018
| Brand | Score | See Reviews | Price | Coupons |
| --- | --- | --- | --- | --- |
| | 95 | Purple Review | $999 | Free Pillow |
| | 93 | Leesa Review | $995 | $150 Off |
| Alexander | 93 | Alexander Signature | $1199 | OMG100 |
| | 92 | Layla Review | $899 | $100 Off |
| | 92 | Nectar Review | $824 | $125 Off, + 2 Free Pillows |
| #Bestmattressever | 91 | Brooklyn Bedding Review | $949 | 20% Off! Code Nonbiased20 |
| | 90 | Jupiter + Review | $899 | NB50 $50 Off |
| Casper | 87 | Casper Review | $950 | Free Shipping |
| | 87 | tulo Review | $750 | 20% off |
|  Tuft & Needle | 80 | Tuft & Needle Review | $675 | Free Shipping |
|   | 78 | Bear Review | $940 |  $50 off |
| Casper Essential | 78 | Casper Essential Review | $600 | Free Shipping |
| Casper Wave | 66 | Casper Wave Review | $1,850 | Free Shipping |
Best Hybrid Mattress 2018
| Brand | Score | See Reviews | Price | Coupons |
| --- | --- | --- | --- | --- |
| | 95 | DreamCloud Review | $1,399 | $200 Off |
| | 94 | Tomorrow Sleep Review | $980 | Nonbiased100 for $100 Off |
| |  94 | Sapira Review | $1,475 | $225 Off |
| Signature |  92 | Signature Review | $1,699 | Nonbiased20 20% Off |
| Aurora |  91 | Aurora Review | $1,699 | Nonbiased20 20% Off |
| Alexander Signature | 90 | Nest Alexander Review | $1,199 | $150 Off Code OMG150 |
| | 88 | Helix Review | $995 | $100 Off Helix |
Best Material and Type
This is my dream category, there is a mattress that I want to test I just haven't found it yet.  My perfect mattress will be a combination of the following characteristics:
Gel infused cover with a bit of spandex for a stretchy feel
1″-2″ of copper infused memory foam on the top
2″-3″ of Talalay latex
1″ of support foam
Individually wrapped or pocketed coils 4″-6″
1″ of support foam
So I am in search of a 9″ to 13″ mattress I can picture "Frankensteining" one out of the parts that I have laying around (like I did when I made the Casper Dream).  I plan on making one in a diy way by ordering the components, but for now I'm still in the wishing/dreaming phase.
For the cover I'm looking for the feel of a Layla cover, but mixed in a bit of cooling gel to give it a bit cooler of a feel.  I'm looking for a top layer of copper infused memory foam, but I would like it soft/not very dense like the top layer of the Casper Wave.  I want some copper to be infused into it to give me some of the antimicrobial benefits of copper infusion.
Talalay latex beds tend to preform well on my adjustable bed frame, so that would be my pick to give the bed the bounciness that I like.  The key component to this bed is going to be the individually pocketed coils.  It is important that they are flexible and individually wrapped, or else they won't work on an adjustable base.  I also want these to be "hidden" like the Tomorrow Sleep coils.  So I would need to find a way to add a bit of support foam to the edges to help conceal the coils.
 Memory Foam
You will generally find two forms of foam within a mattress.  A base layer is usually going to be constructed of polyurethane foam.  This foam is generally going to be more dense than the memory foam that you would likely find on top of it.  The top layer of many mattresses will generally have 1-2 inches of visco-elastic (or memory) foam.  This is the material where you can see your hand print right after you remove your hand.  In the picture below you can see the give that the memory foam layer has.
 Hybrid (Coils & Foam)
This category is a must for heavy sleepers.  If you are in the 250+ pound category you really need the additional support that coils or innersprings will provide to you.  There are two secrets to making a great hybrid mattress.
The coils must be individually wrapped
layer of foam on the sides of the coils.
Back in the early days of mattress making
Wait not that early, more like this:
Coils were interlocked.  Imagine trying to bend this mattress, what do you think would happen?  If you said that the coils would start to break apart and unwind you are a winner.  Now imagine putting a mattress like this on an adjustable frame and setting it to the zero gravity position.  Which do you think is more likely to give, the interlocked mattress, or the adjustable base?  My money is on the interlocked coils failing.
The other secret to making a great hybrid mattress is to make the user feel as if there aren't any coils or springs inside the mattress.  That was my experience with Serta's Tomorrow Sleep Hybrid mattress.  During my unboxing video I had to stop taping and search for the pocketed coils.  I was like, wait I thought this was a hybrid mattress.  After some digging around (I opened up the mattress with a knife) I realized that there were individually wrapped coils inside.  Their secret?  They use about an inch of poly foam on the 4 vertical edges of the bed to hide them from you.
 Latex
Latex is a much more breathable substance than memory foam.  That helps keep it cooler in the summer, which for me is an incredibly important as I live in Arizona.  There are two competing ways of making latex, they are:
Dunlop
Talalay
Talalay is considered the more refined & better process.  The molded pieces of latex foam are vacuumed of air and then frozen.  The resulting talalay latex product is much more bouncy than that of a Dunlop process.  If you are looking for a bed that is more springy then talalay will be your choice.
In addition to the two manufacturing methods there is a spectrum of ways that the foam can be constructed from synthetic to 100% natural.  The closer you get to 100% natural the fewer additives will be found in the mattress.  You can expect to pay more for anything approaching 100% natural talalay latex.
Latex mattresses will last much longer than foam or coil mattresses.  Some latex mattresses are designed to last up to 30 years if properly cared for.
Innerspring (Coils)
These are rapidly leaving the marketplace.  I'm not sure if they will completely disappear, but it will be much harder to find a pure innerspring mattress in the future. We have dealt with interlocked coils for far too long and judging by what I see when I walk into mattress stores I don't think they will be here much longer.  The market has changed from interlocked coils to individually wrapped coils.  Why?
Is it because it sounds cool and helps them sell?  Perhaps, but the real reason is that interlocked coils just don't work on adjustable beds.  If you haven't tried an adjustable bed, it's time to start saving.  Go to a local store, sure the experience will be difficult.  Almost every mattress you sit on will be on an adjustable frame.  Tell the salesman that you want to test out their top of the line adjustable frame.  Once you see what they do, you are going to want one.  In the mean time check out our adjustable bed section.
Waterbed
In the 1970s the world was introduced to the waterbed.   Our manufacturing technology has increased greatly since the 70's so it is likely that puncturing a waterbed is a less frequent event.  However, insurance companies still have to figure out a way to stop their losses from claims resulting in waterbed related damages.  Imagine living on the third floor of an apartment, could your water damage both the first and second floors? If you have a waterbed it may be time to pull out your insurance policy to see if they have special riders or rules around covering that potential loss.
The waterbed was revolutionary for its time. The water was displaced by your weight and pushed up equally on all parts of your body. It's always fun to roll around on one, but the motion transfer would certainly drive your partner crazy. If you are a toss and turner, it's likely your partner would have difficulty sleeping next to you.
The closest mattress to a waterbed, without the water based risks is the Purple Mattress.  I know it sounds strange, and some people even talk about how great the purple mattress is with motion transfer.  Those people must not be sleeping on it, because if you tap your toe on one end your partner will feel it, just like a waterbed.  However, the way you sink in to the support of a purple is just like the way that you sink into a waterbed.  TLDR right, if you want a waterbed like feel, but don't want the danger of a waterbed, go with a purple mattress!  Combine this with an adjustable bed's massage feature and you will be in heaven.
Best Mattress for Side Sleepers
I'm a side sleeper, so this category is my specialty.  I try to avoid mattresses that are too squishy or too firm. As a petite person I will end up with lower back pain, sometimes hip pain. My go to type of mattress would be a medium-firm / medium-soft, preferably a mattress with pocketed coils hiding between foam layers.  You can see a more detailed analysis on my best mattresses for side sleepers page.

Here are the winners for the best mattress for side sleepers category:
I surveyed my audience in April and found out that 46% of you sleep on your sides.
Best Mattress for Back Sleepers
I just shot a video for my top 5 best mattresses for back sleepers.
I'm a side sleeper so I don't spend as much time on my back.  However, now that I have discovered adjustable bed frames (like the one I currently have);  I am able to spend much more time sleeping on my back.
Back sleeping is considered the healthiest way to sleep; however, very few of us sleep this way.  I find that some mattresses can trick me into waking up on my back, so those beds are looking out for me.  Back sleepers need that goldilocks feel, it can't be too soft or they will sink in too much.  They will also find themselves in an uncomfortable situation if the mattress is too firm.  Back sleepers are searching for a medium firmness level, with above average cooling tech in the mattress.  Some of the cooling tech that a back sleeper should keep an eye out for:
Copper infusion in the foam or latex
Gel infused covers
Tencel covers
Creative foam construction (like the avena foam in a Leesa Mattress)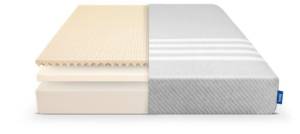 A back sleeper is "using" more surface area of the mattress so they have a potential to heat up; therefore all of my picks for this category have cooling tech in them.  Another issue that Back Sleepers commonly face is SNORING.  I have suffered many sleepless nights due to my husband's snoring, that is until recently.  Do you want to know what has cured his snoring?  Of course you do, you may even be suffering from the same situation.  Hurry up RANA!
My adjustable bed's anti snore position!  Seriously, I hear a snore, I wake up grab the remote and with one touch the bed's head position raises a few inches and the problem is solved.  I'm in search of an adjustable bed that is integrated with smart technology so that it will automatically adjust.  I believe that I found this solution at the CES in Las Vegas last week.  I haven't had the chance to put it to the full test, but I'm extremely excited to try it.
Our survey results show that only 4% of our audience sleeps strictly on their backs.
Top Mattresses for Stomach Sleepers
Stomach sleeping is said to be the worst sleep position for your health.  However, if that's the way you sleep we can still help to point you in the right direction. Stomach sleeping position is the least common of them all. Personally, it's not my thing, and if I try to sleep on my stomach it is always uncomfortable. Stomach sleepers need a specific mid-range comfort to ensure healthy, restful sleep. Which mattresses offer the perfect alignment in such a non-ordinary position?
I didn't expect that a lot of my audience sleeps on their stomach, and my survey results backed that up.  Only 4 percent of you sleep on your stomachs.
Best Bed for Combo Sleepers
My top pick for combo sleepers (people who toss and turn always searching for the best sleeping position) changed the way I sleep.  I am a SIDE sleeper; however, when I tested this mattress I always woke up on my back.
How did the geniuses at Nest Bedding temporarily convert me to a back sleeper?
One other cool thing about Nest Bedding is that they accept Bitcoin.  Why not trade some of your cryptocurrency gains for some restful sleep?
The results of my recent survey showed that 45% of you are combo sleepers.  I did not anticipate that result at all, so it looks like I need to spend some more time thinking about the best mattresses for combo sleepers.  I'm going to put on my thinking cap and narrow down the list to make sure that I capture all of the mattresses that will work for those of you who flip and flop during the night.  Expect a new video soon.
I get questions from people asking what mattress would be a good choice for large people.  I have been searching for the answer for a while now and I finally have an answer that works for those of you who are heavy, tall, or both.  I asked my friend, who no doubt qualifies as both big & tall, to test out some mattresses for me.  The one he settled on?  The DreamCloud.  Here he is on his California King sized mattress:  I call the video Giant and a Cloud
DreamCloud just lowered their prices by $200 from now through Memorial Day.  I can't stress this enough, the queen size is a buy at $1,399, it is a steal at the $1,199 (after discount) price.
Top Budget Mattresses
On a tight budget?  You aren't going to find great quality mattresses under $750 if you walk into a mattress retailer.  They have too many salaries and other major expenses like rent and utilities to pay to get you out the door at the $750 or below price range.  To find a mattress of the proper quality you need to think "outside the box" or rather get one that comes shipped to your door in a box.  My top pick based on the price and overall comfort is the Nectar.  However, Nectar's amazing growth has come with a major drawback.  They, from time to time, experience more sales than they are prepared to ship.  I purchased mine in February of 2017 and it took a full month before it arrived on my doorstep.  This makes it hard to recommend as people all want their purchases now, but believe me the Nectar is well worth the wait.  Plus if you are lucky and they are all caught up on their orders you can receive one within a week.
Shipping concerns with Nectar still linger on the internet.  I was one of the first to point out their issue in early 2017.  However, I have some great news for you about Nectar shipping.  I PURCHASED a Nectar for my mother in law on February 24th of this year.  I had her use her credit card (I wrote her a check) and her address so that there wasn't any possible favoritism, Nectar had no idea I was testing their shipping issue and customer service.  She received her Nectar in 4 days, it is time to put the Nectar shipping issue to bed.  Problem solved.
Did you notice the part where I said I purchased a Nectar?  I can get just about any mattress I want for free, in exchange for testing it of course.  I chose to purchase this mattress.  That should give you a pretty large hint as to how much of a value I believe that the Nectar is.  At the queen size it is $670, but it comes with 2 pillows so when somebody asks me how much a Nectar is I say the mattress is a steal at under $600 for a queen.
I suggest taking advantage of my additional $25 discount to stretch your budget even further.
Best Luxury Mattresses
Want a mattress delivered to your door that just screams luxury at a fraction of an in-store price?  Of course, you do!
 Recommendations for People with Medical Issues
Back Pain
I was in a major car accident in 2002, every day I am reminded how lucky I am to have survived by the pain that I encounter.  Each day it is difficult to escape from bed, and I truly know the difference between sleeping on a good bed and a bad bed, by how my body reacts in the morning.  I know back pain and a few mattresses that I have tested find a way to completely block out that pain for me.  My go to mattress, when I'm not testing one, is the Purple Mattress.  My second and third picks for making sure that my back isn't sore are my Layla (on the soft side) and my Leesa.
Scoliosis
As embarrassing as this is to admit, I have slight scoliosis.  This coupled with my life threatening car accident force me to mainly sleep on my side.  Therefore, I need to sink in a bit into a mattress.  My top picks for this are the Purple and the Tomorrow Sleep Hybrid.
Neck Pain
Fortunately, I don't currently suffer from neck pain.  I found an adjustable shredded memory foam pillow and I swear by it.  If my husband is using it, even if he is sound asleep, I will yank it out from under him.  I won't go anywhere without my Nest Bedding Easy Breather Pillow.
Snoring
You can try sleep masks, or mouthguards, and they may provide you with relief from snoring at an affordable price.  However, there are two simple ways to combat snoring.  One is to upgrade your pillow to something thicker.  This will allow you to get a better angle to increase your flow of oxygen while you sleep.  The best cure to snoring is the one that worked wonders for my family.  An adjustable bed frame will tilt up the head section of the bed just enough to keep your partner from snoring.
Bed Size Table
| Size | Dimensions | Ideal For | Pros | Cons |
| --- | --- | --- | --- | --- |
| Twin | 38″W x 75″L | Children, Single Adults (under 6 ft.) | Leaves room for activites, used in most bunk beds | Children will outgrow them |
| Twin XL | 38″W x 80″L | Split Adjustable bed users, Single Adults (up to 6'4″) | Used in Adjustable beds (buy 2) | Likely won't fit in bunk bed |
| Full (Double) | 54″W x 75″L | Children, Single Adults, Skinny Adult Couples | Will make the room look large | Too small for most adults |
| Queen | 60″W x 80″L | Single Adults, Couple (average size increased intimacy) | Ideal size for normal sized couples | Too small for tall and heavy people |
| King | 76″W x 80″L | Couples, Couples with Large Pets | Ideal size for large couples | Will take up large part of bedroom |
| California King | 72″W x 84″L | Couples, Single Adults (comfortably up to 6'8″) | Ideal size for tall couples | More difficult to find bedding & frames |
| Split King [1] | [2]38″W x 80″L | Adjustable Frame users (with different sleep preferences) | You want firm, your partner wants soft, go split king | Creates a "no mans land" |
Notes:
[1] Split Kings have what I call "no mans land".  There will be a dip between the mattress.  This means that you and your partner can't use the middle of the bed, which otherwise is a nice meeting area for couples.
[2] You need to purchase 2 Twin XL mattresses for a split king.  This will allow you and your partner to have different angles on an adjustable bed.  Also you can choose to get two different types of mattresses, as long as they are similar in thickness.
King vs. California King
We just gave up our Queen for a King size.  My husband is 6'3″ and fits within the 80″ of length that both a Queen and a King share.  He doesn't need the extra four inches of leg room that we would pick up if we were to change to a California king (aka "Western King).  Only about 1% of American society is taller than he, so the California King is a really small part of the market.  This, in turn, makes it more difficult, and sometimes costly to buy Cal King beds, and other bedding.
Our Rating Criteria
We use 10 categories to rate the mattresses we sleep test.  Each category is scored 1-10.  Unlike other reviewers we aren't scared to give a mattress a low score if it is deserved.  If I spend 2 weeks sleeping on a mattress that consistently gives me back pain, you will read about it on my review!
Packaging/Shipping:
First Impressions count right?  Some of the mattresses come in boxes, and some come in over sized bags.  I prefer boxes as they are much easier to move around.  Some boxes have cute logos and some have really fun quotes, and yes I really made a video called box vs. box vs. box in a box.  Try saying it fast three times in a row.  Did you get tongue tied?
Smell
On the subject of first impressions, some of the mattresses will have a bit of an odor when they are unboxed.  Most people use the term off-gassing to describe it.  Some of the mattresses take a few days for the smell to go away and sometimes it is barely noticeable.
Comfort
When you lay on a mattress and it's not comfortable that's surely something that we should point out right?  If I'm having trouble sleeping on a bed, I'll tell you that.  If I can't sleep on a mattress I will scream to high heaven that you need to steer clear of a mattress if you have a similar sleep profile as I do (petite side sleeper).  Remember, just because it doesn't work for me doesn't mean that it won't work for you.
This is a key category to focus on when you are going through my various reviews.  The more mattress that I sleep test the larger my comparison database gets.  If you ask me about 2 mattresses that I have tested, I can instantly tell you which one was more comfortable to me.
Support
I have had a ton of mattresses which fail to give me the proper support.  There is nothing worse than falling into a deep depression that you have to climb out of.  Sometimes you can even get multiple sinking parts and huge mountains in between, clearly not ideal for restful sleep.  I test for support with:
weights
sitting on the edges and corners
jumping/standing/walking on the mattress
If I fall all the way through the mattress to the ground, it won't score very high.  Conversely, if I hardly notice any sinking in the mattress it will get a high score.
Recently we added adjustable base tests to our review process.  How do different mattresses stand up to the test?
Have you ever walked into a mattress retailer?  Of course, you have!  Did you notice that almost every mattress is now on an adjustable base?  This is the wave of the future, I know that I will never sleep on a bed frame that isn't adjustable.  Sure, I'll test different frames and foundations, but my go to sleep set will always be adjustable.  It's hard to explain, but once you try one you won't go back.  I even credit my adjustable frame with curing my husband's snoring with just a click of the anti-snore button on my remote.
Company
With the hundreds of new brands that have popped up over the last few years it is difficult to sort through them.  I'm putting in the leg work to figure out which companies are connected to each other.  In doing so I can help determine the expected longevity of each of these mattress companies.  If I don't think a mattress company is going to make it in the long term, then I won't expect their warranty to hold up.  A company my promote a forever warranty, but if it closes down in six months you surely won't be able to get your bed replaced.
I use Fakespot to see if companies are planting fake reviews.  You will be amazed by some of the results some of these online retailers get on fakespot.
I research other review sites to see which ones are owned by mattress companies.  For example; Sleepopolis, mattress clarity and slubersearch are all connected to Casper.
Community outreach by the company: I love companies that give back to their communities.  If your company is holding an event for the community in the Phoenix area let me know and I'll cover it.
Customer support:  If a company has poor communication or support, you will read about it here or hear about it on my video reviews.
Warranty: the companies in our top categories all score highly in the warranty field.  If we don't think a company will be around to honor their warranty they won't be included on our list.
Motion Transfer
When I'm standing on a bed and a wine glass doesn't move when I walk near it, it will score high on this test.  A high number is great for when you have a partner who is tossing and turning and not disturbing you.  On our scale from 1-10, one is a waterbed, 10 is; wait what? There is someone in the same bed as me!
Sleep Quality
If I'm not able to sleep on a mattress, then it's possible that you may have the same issues.  This is really the most important category that a buyer should be focused on.  It is nice when a bed is well constructed or made by a reputable company.  However, if you can't sleep on it, you are going to find yourself shopping for a new bed sooner than planned.
Stays Cool
I live in Scottsdale; Arizona and I'll tell you a little secret about the weather here…  It gets hot in the summer.  Having a breathable mattress is a must here.  There aren't a ton of things worse than having extra heat rising up from your mattress making your back or side sweat.  I'm a huge fan of talalay latex, gel infusions, and alternative construction (like Leesa's Avena foam).
Materials/Durability
Surely what's inside the mattress matters right?  I also pay close attention to the covers.  Size matters; the Casper Essential is 8.5″ while the DreamCloud is a full 15".  Almost double the thickness of the mattress, but is it double the price as well (no)?
Value
You really have to look at the prices of the mattress vs. the competition.  Not just the direct to consumer, bed in a box model, but the in store values as well.  The bed in a box model offers consumers huge cost savings vs. buying from the store.  This is because the middle man is cut out and the companies don't have to pay electricity and rent.
We give each category a score from 1-10 with 10 being the highest.  I am using a 10 point must system.  The mattress that preformed the best in a category gets a 10 and all other mattresses are judged against that standard.
Mattress Firmness Scale
We also assess the overall firmness of a mattress from 1-10 with 10 being almost rock hard firm.  Since different people have different preferences on the firm level that works best for them, that number doesn't go into the total ratings.  Here is our Firmness scale as of 2/11/18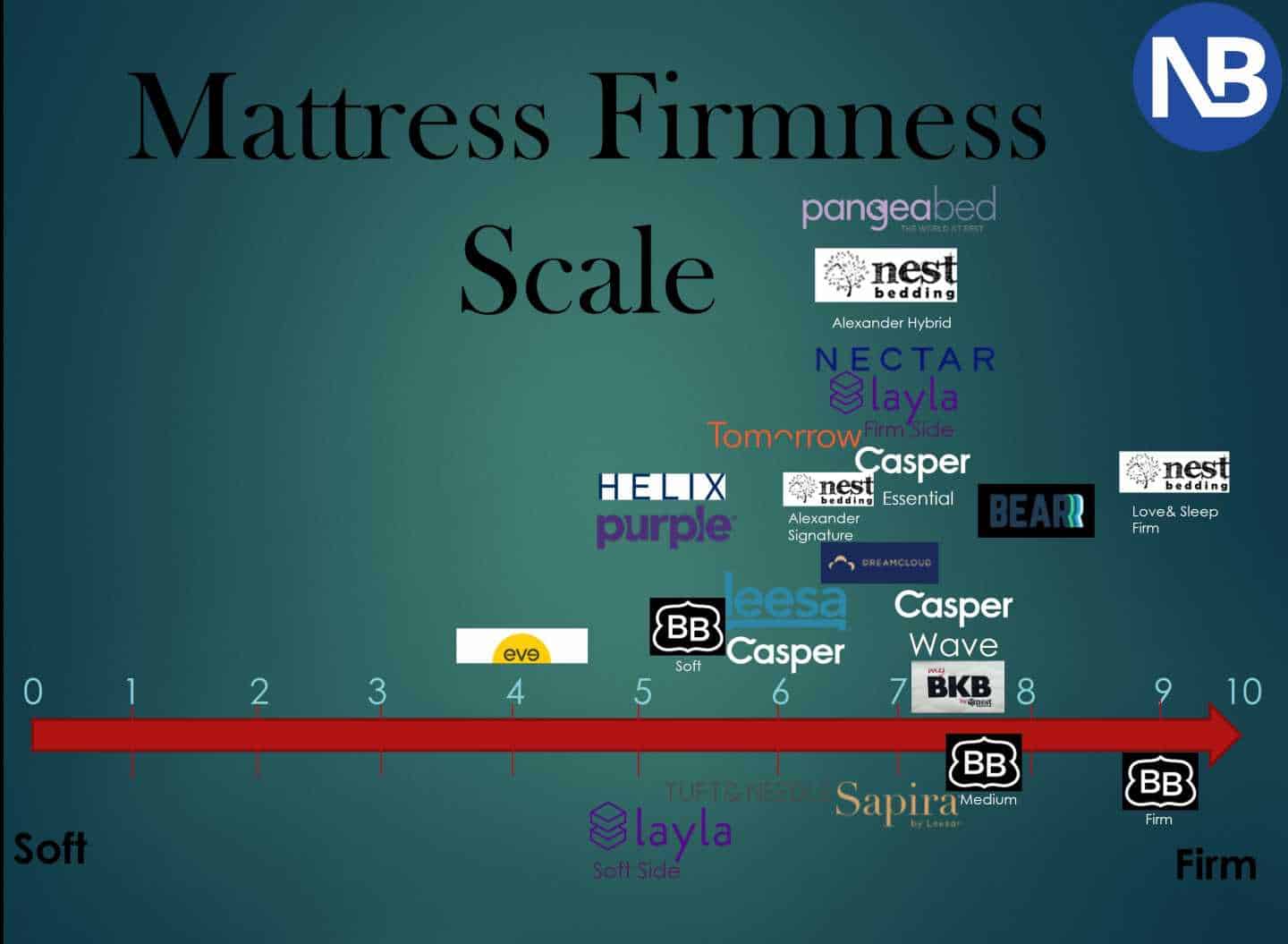 Recently, we noticed that just about every mattress you see in the store is staged on an adjustable frame.  These giant retailers must be on to something right?  So we decided that every mattress we test should also go through a few cycles of adjustments with our adjustable bed.  Currently we are using a Rize Verge.  We assume that other adjustable frames will have many of the same characteristics.  What we have found is that some mattresses don't fare well on an adjustable frame, while others take a step up to a new level.
If you haven't been on an adjustable frame you are really missing out, so we feel that it is crucial to our review process to add this wrinkle.  We understand that everyone doesn't have an adjustable bed, but if you are considering one with your next mattress purchase we feel you should be prepared.  If a mattress is too thick or sturdy, it likely won't perform well on an adjustable base.  If it has interlocked coils, forget about it.
Why Buy a Mattress Online?
It will ship directly to you, most of the time for free
Do you really enjoy having a mattress salesman follow you around and check you out as you try out all of the mattresses? The answer is NO
Wouldn't you rather take some time to test a mattress rather than just be lead around by the salesman to the highest commission bed he sells?  Most online retailers offer a trial period of 100 days or more to test out your new mattress.
Same quality mattress for a fraction of the cost.
You have more time to comparison shop from your home.
Thinking about buying the items we have reviewed? Help Non-Biased Reviews out if you do. Just click on any of the seller links above and the seller will contribute a portion of the sale to help support this site. It won't cost you anything extra and is a simple way to help us fund more items to review. Thank You!
Sleep Interview Results
From time to time I survey my audience to find out more about their sleep habits.  I figure the better I understand your needs, the more I will be able to help you find the right products to improve your sleep.  Here are the percent of my viewers who:
Have a Mattress that is 7 + years old