HOW OFTEN TO WASH A MATTRESS PROTECTOR
We always recommend protecting your mattress investment with a mattress protector. A mattress protector is a thin mattress pad resembling a fitted sheet, that is used to protect your mattress from stains, dust, and dirt. Like any other bedding, it must be washed to keep your sleeping healthy and clean – so how often to wash a mattress protector?
Know everything there is to know about mattress protectors? Jump straight to the How Often To Wash A Mattress Protector section.
What Is A Mattress Protector And What Is Its Purpose?
Whether shopping for a mattress online or in store, you will often be advised to add on a mattress protector to your purchase for additional protection. But is it really needed? Let's figure it out.
Looked at very simply, mattress protectors are the MVP of the bedding industry. A mattress protector resembles a regular fitted sheet, but its purpose is to protect the mattress from stains, dust, dirt, mold, mildew, and more. My recommendation? Find yourself a good quality waterproof mattress protector and protect your mattress investment.
Types Of Mattress Protectors
At first glance, a mattress protector is a mattress protector, and all we need it to do is protect the mattress it covers.
As you start researching mattress protectors, however, you realize that there are many kinds, and not all are created equal. If you look at all mattress protectors, you will quickly notice that they help solve different problems, helping you with:
Mattress Cleanliness
This is the basis of protection offered by a mattress protector. The cheapest ones will, at least, protect you and and your mattress against:
– dust 
– stains
– pollution
– damage
Allergies
Because a mattress protector will protect your mattress against the build up of mold and mildew, it is often used as a way to relieve those suffering from allergies. If you are worried about some of the materials used in your mattress, a mattress protector can consist of a first barrier against exposure.
Antibacterial Properties
However, if allergies are your main concern for purchasing a mattress protector, make sure to look into bamboo mattress protectors. Bamboo is naturally hypoallergenic and antibacterial, ensuring that you lay your head on a clean and safe surface every night.
An antibacterial mattress protector prevents the growth of bacteria, dust mites, and other invisible microorganisms.
Waterproof
A must-have benefit for all, from small children to elderly people, there is nothing more frustrating than waking up to wetness, staining your mattress through your sheets. It can be as silly as a glass of water spilling, but imagine your morning cup of coffee or a baby's milk bottle staining your brand new mattress…
Waterproof mattress protectors typically have a waterproof layer attached to its mattress-side, which does not allow moisture or liquid to pass into the mattress.
Why Is A Mattress Protector A Must-Have Bedding Accessory?
When considering all of a mattress protector's properties and benefits, it becomes evident that it is a must-have bedding accessory for all mattress owners.
You will always hear me recommend that you protect your mattress investment with a mattress protector. A new queen-size mattress can cost anywhere between $700 and $6,000 online, and more in store. In order to enjoy the full life of your mattress, it is always recommended to purchase a mattress protector.
Most mattress covers are not washable. They cannot be removed from the mattress, nor thrown in the washing machine. In case of a stain, your best bet will be to blot the stain with a clean cloth, clear water, and a mild detergent, typically leaving you, at best, with an outline of the stain for the rest of your mattress' life.
Cleaning a spill or stain from a mattress cover, on the other end, is a much easier endeavor. You can easily take it off of your mattress, the same way you would a fitted sheet, and throw it in your washing machine. In most cases, it is totally safe to dry in your drier on low heat.
Can You Wash A Mattress Protector?
It is no secret that, in order to prolong your mattress protector's life, it must be well taken care of.
So can you wash a mattress protector? And how often should you wash your mattress protector?
Yes, you can, and should, wash your mattress protector. It is located between mattress and fitted sheet and collects particles, such as skin, dirt, and dust that fall through your fitted sheet. It will also collect the occasional spill.
If you are using a bamboo mattress protector, while the bamboo is antibacterial, you will want to make sure you keep it clean, especially if you are subject to allergies and rashes. If your mattress protector is not bamboo, you will want to wash it to ensure you are not exposing your body to allergens, dust mites, mold, and dust!
Now let's look at the best ways to wash a mattress protector.
How To Wash A Mattress Protector
There are two ways to wash a mattress protector and you should always refer to the label attached to your specific model. Some mattress protectors, such as the Casper Waterproof Mattress Protector, should only be hand washed, while others, such as the Nolah Bamboo Mattress Protector, can be thrown in the washing machine and dryer. Here are the three ways to properly wash your mattress protector:
Washing Your Mattress Protector In A Washing Machine
Most mattress protectors can be washed in your washing machine, which makes them a really easy bedding accessory to use, as long as you don't see a tag counter-indicating the practice. We recommend washing your mattress protector with a mild detergent and to never add softeners or bleach to your load. Wash your mattress protector on medium or low heat with like colors, or even better, on its own. It will be best to run a gentle, or delicate wash cycle.
It is a good idea to run a full rinse cycle after the wash cycle to ensure all of the detergent was removed from the mattress protector. If not, you run the risk to see mold or mildew growth.
Once washed, your mattress protector will dry well in your dryer on low heat, or you can let it air dry. Letting it dry in the sun, if you are able, is my favorite way to dry white bedding. Watch any leftover stain lift right up, thanks to the power of the sun.
While it is tempting to wash and dry on hot, you would risk delamination (especially if you are using a recommended waterproof mattress protector) or shrinkage.
Washing Your Mattress Protector By Hand
If the label recommends to only hand wash your mattress protector, you are best forgetting the washing machine and dryer. Some companies want to avoid the risk of shrinkage and delamination. There is nothing more frustrating that watching the giant tears in the waterproof lining after two or three washing machine cycles. Always read the label first!
You will want to remove the mattress protector from your bed and gently dab at the stain with clear water, a clean cloth, and a mild detergent. If needed, soak your mattress protector in warm water + detergent and gently rub the fabric on the fabric side of the protector.
Once you are satisfied with the washing, simply air dry your mattress protector. If you can find a sunny spot, hanging your mattress protector in the sun will be the best way to get rid of tenacious stains!
$30 OFF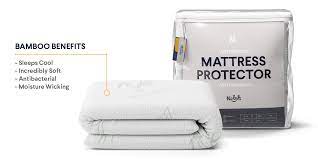 Nolah Bamboo Mattress Protector
$30 OFF and get an extra $50 OFF your purchase $800+ with our exclusive coupon code (click to reveal)!
$30 OFF and get an extra $50 OFF your purchase $800+ with our exclusive coupon code (click to reveal)!
Show Less
How Often To Wash A Mattress Protector
How often to wash a mattress protector will really depend on your use of it, personal health, and preferences.
Main Mattress, Used Nightly
The mattress in your master bedroom, used nightly, should be washed every two months, as a good rule of thumb. This is prevent the accumulation of allergens, dust mites, dust, dirt, mold, and mildew. Since you will be washing your bed sheets every seven to ten days, you will always lay in clean and crisp sheets. The mattress protector is located below the sheets, and unless you notice a spill, can be washed every couple of months.
Guest Bedroom
If your guest bedroom is only used occasionally, wash it every 4 months or so, to get rid of dust settling in. If you live in a hot and humid region (i.e., Florida), wash your guest bedroom mattress protector every three months, Dust mites are more prevalent in those regions and the extra wash will ensure you are keeping your mattress clean and healthy.
Suffering From Allergies
If you suffer from allergies, washing your mattress protector every two to three weeks will help you steer clear of allergens. Make sure that your bed sheets are cleaned once a week, helping you feel healthier and breathe easier throughout the night.
Recent Sickness
If you have recently been sick (cold, stomach bug, pin worms, etc.), wash your mattress protector as soon as you start feeling better. It will help wash off viruses, worms / eggs, and bacteria. The best drying method after sickness, is hanging in full sun. 
Noticing A Spill
The faster you can tend to a spill, the better! It will always be best to blot a stain when fresh, and you will see your chances to completely eradicate the stain diminish as it dries.
As soon as you notice the spill (hello morning coffee!), blot it with a clean cloth to remove any excess liquid, then wash as directed by the label on your mattress protector – either wash in your washing machine on cold or medium heat and gentle cycle, or hand wash with mild detergent and warm water.
Most frequent questions and answers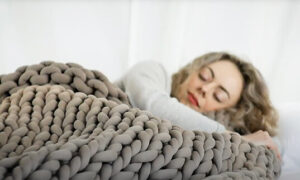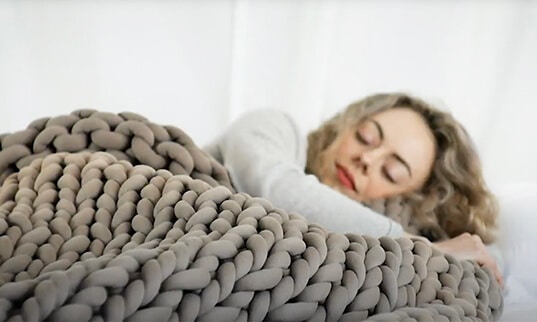 Blanket
IDEAL WEIGHT FOR A WEIGHTED BLANKET You have heard of the benefits of weighted blankets. The cozy hug helping you fall asleep faster and deeper,
Read More »
Share this deal with a friend!