HOW TO TELL IF YOUR BED IS CAUSING BACK PAIN
Do you wake up with back pain? Are your neck and back keeping you up at night? Do you feel discomfort? Are you tossing around in bed?
Your mattress could be the source of your aches. How to tell if your bed is causing back pain and what to do about it – we are giving you all of our tips below!
First of all – if you go to bed feeling good and healthy, and wake up with pain in the morning or during the night, you can almost certainly blame your mattress.
Good news! There is definitely something you can do to remediate to the situation. I do not want you to have false expectations, however. You can't expect an immediate fix, but it is a fair expectation to be waking up ache-free within 30 days of switching out your bedding.
Now let's look at whether the below scenarios apply to you.
How To Tell If Your Bed Is Causing Back Pain
There are several outcomes when you sleep on a bad mattress: 
You are waking up with back pain in the morning
If you find yourself feeling pretty good during the day, as well as immediately prior to going to bed, but consistently wake up with back pain, you can almost certainly blame your mattress for it. While the problem could also be your pillow (we will discuss this later), there are high chances that your mattress is either too old, or not a good fit for your personal sleeping style.
You are waking up during the night and/or tossing and turning more than you used to
Here is another symptom of a bad mattress causing back pain. You find yourself restless and moving from one awkward position to the next. You can't seem to get comfortable and that idea of "sleeping on a cloud" has been long gone. Laying in one position becomes painful within a handful of minutes and you keep waking up at night, never getting a restful night of sleep.
Just like any other product, mattresses have a lifespan. After 8 to 10 years, most mattresses have reached the end of their useful life and will start causing you body aches. When you look at your mattress, stripped of all sheets, do you notice sagging where your body lays? Some very specific, more luxurious mattresses, such as Natural Form or the Nest Bedding Alexander, allow you to replace the top layer of foam, giving your mattress a new life. If you do not have that option, you are due for a new mattress!
Your mattress has moved one too many times
Yes… unfortunately, moving is not a mattress' favorite past time. During carrying and transport, many mattresses bend. The foams can be badly affected and your mattress could be badly damaged. Remember that mattresses hsould never be folded for transport. But even without folding, your mattress is probably bending and having moved it a handful of times can adversely affect its future performance and causing you back pain.
You suffer from chronic back pain and need to find a mattress to help alleviate that pain
Some of you are reading this article because you have chronic back pain and sleeping at night has become a painful and frustrating experience. If this is you, check out our specific list of Best Mattresses For Back And Neck Pain. You have specific needs and need more support than most. We have curated that list to fit your personal needs!
Can A New Mattress Cure Your Back Pain?
Yes… but only if you get the right mattress, and there is definitely a perfect one out there for you! The ideal mattress, however, will depend on your personal needs and preferences, and it will be different for each person.
There are a few things to consider on your quest for the perfect mattress:
What kind of sleeper are you?
Without getting into too much detail, each sleep position has its own mattress firmness requirements. Are you someone who sleeps exclusively on their side, back, or stomach? Are you a combo-sleeper sleeping on your side and one other position?
Do you have a personal preference?
I can tell you exactly what kind of mattress works best for each type of sleeper, however, each person has his/her own preferences. Two people of the same size sleeping in the same position will probably call two different mattresses their ideal mattress. So this is where you need to think:
– What kind of firmness do I prefer?
– Do I like more bounce or prefer sinking in?
– Am I a hot sleeper or do I like cuddling under heavy blankets?
– Do I sleep with a partner who moves a lot at night?
Do you suffer from a poor back?
Unfortunately, many of you are reading this guide because you suffer from chronic back pain. I firmly believe that there is a mattress out there for each situation, but if you suffer from a back injury, you might need to try out a few before finding the right one.
Once you find the right mattress for your specific needs and preferences, you will find that your spine aligns naturally. Your body receives the pressure relief it needs, in the right areas, to relieve you of pains and aches. The right mattress will further provide strong support below the initial pressure-relieving layers, ensuring proper alignment and support of the high-pressure points.
What Makes A Good Mattress Against Back Pain
Ideal Mattress Firmness For Back Pain
We just talked about finding a mattress that provides deep pressure relief and strong support. If you suffer from back pain, you will want to find a mattress that provides enough support to all areas of your body, including your high-pressure areas (shoulders and hips).
With that in mind, research shows that a medium-firm to firm mattress will help prevent most back pains. It will provide the support some softer mattresses lack. That support helps align your entire spine, from neck to hips. I highly recommend looking for a firmness level of 6/10 and above!
The mattress industry calls an average mattress firmness a 5.5 or 6 out of 10 on the firmness scale. If you suffer from back pain and consider yourself a side-sleeper, shop for a 6 or 6.5/10. If you don't mind a slightly firmer mattress, you can go up to 7/10.
If you are a back-sleeper, shop a 7/10 firm mattress. That will give you enough firmness to align your hips and shoulders without sinking, putting your body in a healthy sleeping position.
The stomach-sleepers need the firmest mattresses to avoid their hips sinking in too deep, which is a main source for back pain. They need that feeling of sleeping "on top" of their mattress. Shop an 8/10 firm mattress to be on the safe side, and that should help alleviate pains and aches.
Ideal Layers For Back Pain
You want several layers in your mattress to avoid back pain in the morning. But with all of the choices on the market, you are wondering what will work best in giving you pressure relief and support. Let's look at each in more detail:
The top of your mattress should allow for deep pressure relief. Since over 70% of Americans sleep on their side, this is especially important. The top layer of your mattress should give in and allow your hips and shoulders to sink in to avoid them getting crushed.
All-Foam Mattresses: if you are a fan of memory foam mattresses, make sure you stick for firmer models with a thinner (~2 inches) contouring upper layer, quickly followed by high-density foams. Those lower and firmer layers will ensure your body is nicely supported.
Hybrid Mattresses: again, if you are a fan of laying on memory foam, hybrid mattresses are an excellent option, and one I recommend over all-foam. The bottom layer of coils offers increased body support for a better aligned spine and less back pain in the morning!
Latex Mattresses: I am a huge fan of latex mattresses and think they are a wonderful option for people suffering from back pain. They do have a slightly different feel than you might be used to, and you should allow a few weeks to get used to it. Latex has more bounce than foam and it provides more support to your high-pressure areas, allowing you to move throughout the night with ease and to keep your high-pressure areas supported!
Our Top 3 Best Mattresses For Back And Neck Pain
30% OFF + 2 FREE Pillows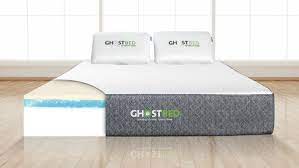 The GhostBed Classic feels firm with good balanced amount of comfort. It supports the spine from neck to the lumbar region and allows for a healthy alignment down the entire spine.
Sleepers with back pain and hip pain will find relief, thanks to the upper 1.5 inches of aerated latex. Not only does the GhostBed Classic sleep cool, its latex top allows for support to the pressure areas and ease to move around and switch positions. Below the latex come 2 inches of gel memory, helping the hotter sleepers to sleep cool. Bringing strong spinal support are 7.5 inches of high-density foam. That bottom layer keeps your entire back and hips aligned and stable through the night.
Up to $500 OFF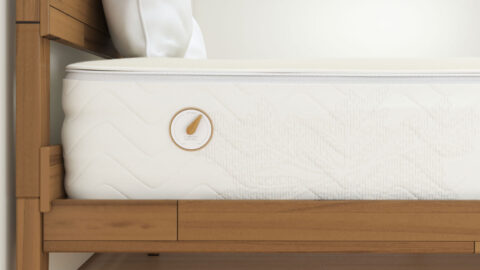 Natural Form Refresh Mattress
Save up to $500 Off Mattresses during our Earth Day Sale
Save up to $500 Off Mattresses during our Earth Day Sale
Show Less
Natural Form's experience lays in the medical bedding industry and they are the only brand bringing medical technology into private homes!
Its unique cover is made of 100% thick Australian Merino wool that helps naturally wick body moisture away and sleep cool in the summer and warm in the winter.
But the true wonder comes below the cover. Natural Form comes with a manual proprietary air system that allows you to control the firmness of your mattress manually. A turning knob instantly adjusts the firmness of up to 84 helix air pods and gives you instant feedback so you can make small adjustments as needed, and based on how you feel. And guess what? There is an adjusting knob on each side of the mattress, allowing each partner to adjust his/her side of the mattress to their personal preference!
The Natural Form Refresh Mattress is the most technologically advanced mattress when it comes to back pain. It is patented and recognized by 1,200+ health organization for its spinal support, back and joint pain relief. If your budget allows, you cannot go wrong with the Refresh Mattress!
15% OFF
Alexander Signature Hybrid
15% OFF select mattresses! On anything not part of the sale, use NONBIASED6 for 6% OFF!
15% OFF select mattresses! On anything not part of the sale, use NONBIASED6 for 6% OFF!
Show Less
The Nest Bedding Alexander Signature Hybrid has quickly become one of our favorites in 2021. It comes with a very unique offering that sleepers with back pain will love: the ability to switch out the upper layer of foam to three different firmness levels.
I recommend the Lux Firm comfort layer of TitanChill Endurance Foam for sleepers with back problems. Not only does it sleep cool, it will also provide support to your high-pressure areas and lumbar area. No worries, the pillow top provides plenty of comfortable plushness right under your skin!
Getting Used To Your New Mattress Against Back Pain
Wouldn't it be wonderful to get a new mattress one day and to wake up pain-free the next morning? While that might be the case for a few lucky sleepers, expect the process to take a little longer.
It can take your body up to 4 weeks to fully adjust to a new mattress. After all, you are laying your body in a new sleeping position for 1/3 of your day and it will need to tense and relax in new places. As you slowly adjust your sleeping position to a new, more supportive, mattress, your body will naturally learn to get comfortable and accept the new pressure point relief.
If after 30 nights you are still waking up with back pain or tossing around and waking up at night from discomfort, make sure to return your mattress-in-the-box for reimbursement. The beauty of buying mattresses online today, is the ability to take your time to test them in the comfort of your own home. Most online mattress companies offer a 100 to 365-night at-home trial, allowing you to return your mattress if you are unhappy with it!
I will leave you with one more thought: have you looked into the quality of your pillow? Your spine alignment starts in the neck area and the loft and firmness of your pillow can play a big part in ensuring your entire spine is aligned! So make sure you have given a deep look into your pillow selection!! We are huge fans of adjustable pillows that let you fully adjust the firmness!
Don't miss our unbiased pillows reviews!
If you have any questions, as always, don't hesitate to reach out or leave a question in the comment box below for everyone else to benefit for the answer!
Share this deal with a friend!