Purple Mattress Review (after a year)
When I started 2018, I went to my storage area and looked at all of the mattresses in there.  I knew in my mind which one I was going to pick out, but I spent some time looking at all of my options.  The last four mattresses that I had tested were hybrids, so I knew that I wasn't going to pick one of those.  I dug around for awhile and realized the one I wanted was on the bottom of one of the stacks.  After the workout of moving things around, it was ready.  Well almost, my workout wasn't complete as the Purple mattress is VERY heavy.  The materials are dense, so be prepared to sweat a bit when you unbox or move your purple mattress around.
I shot this video to show which mattress I choose when the decision is entirely up to me.

It's just a personal preference.  If you don't believe me I'll show you my invoice:
Menu:
What is Inside the Mattress?
The Purple mattress is unlike any other mattress on the market.  It all starts with a stretchy 98% polyester white cover which also has 2% spandex in it.
The bottom two layers are foam, 4″ of support at the base and 3″ in the middle.
It's the top layer that really makes the Purple mattress unique.  In addition, it's also the layer that is surrounded in controversy.
I'm sure that I'm not the first person to discuss the Purple powder issue, and I certainly won't be the last.  For those of you who haven't heard about it or for those who want a recap, I'll go through the basics.
Purple's Smart Comfort Grid is coated with a non-toxic polyethylene copolymer powder (say that three times fast)
Someone who is likely associated with a mattress rival released a video (which I'm sure you have seen as it has 1.8 Million views on Youtube) asking Purple what the story is with the powder.
Purple was unhappy with the videos and filed a lawsuit
Purple has released information about the powder on their blog.  Here is an excerpt snapshot.
I'm way more afraid of dying while crossing the street than being killed by Purple's non-toxic powder, but I guess there is a risk in everything we do in life. I'm still going to chance walking my dog to the dog park tomorrow even though I'll have to cross the street.

When I cut the netting off the purple mattress I did discover the powder which purple admits putting on their smart comfort grid. They say on the purple blog that it is a non-toxic polyethylene copolymer powder. It keeps the "honeycombs like grid" from sticking together. You can see midway through the video that without the powder it will stick together, which would probably be uncomfortable while sleeping.
Sleep Test Results
Long story short, I hated the purple pillow, and purple seat cushion.  Take a guess at how I feel about the Purple mattress, or you can just watch and see…

Pros
Works well for a side sleeper.  You get a nice "waterbed" like hug, note there isn't any water in the bed…
Works really well with an adjustable bed massage feature.
Actually if I had to put a Top mattresses list that conform well on an adjustable bed, The Purple would beat them all making the others not even close! I was very impressed by the way The Purple mattress moved, took shape and form on The Verge adjustable bed from Rize.  I think Purple should be one of the top suggestions when it comes to "which mattress is the most compatible with my adjustable bed".  But here I am strongly suggesting it, so there.
Cons
Waterbed like motion transfer.  Of course, if your frame has a massage feature this could actually be considered a pro.
People on the heavy side may sink too far into the mattress.
It is really heavy, the tube that it comes in is a real challenge to "unbox".  Worse, moving the mattress around makes me cringe, but I move mattresses around more frequently than most people.
When unboxed my son said "it smelled like a cake".  That smell has long been gone, but it was the only time I have noticed anything like that while unboxing all of these mattresses.
Who Should Buy the Mattress?
So here's the deal, Purple is MY go to mattress whenever I am in between reviewing mattresses. Kind of like recharging my batteries to get ready for my upcoming mattress to be sleep tested.
Typically, I sleep on a mattress for anywhere between 2 to 3 weeks than leave a review. While waiting for the next mattress to be tested to show up, and even though I have a descent amount of mattresses in my storage, I always pull out the Purple to lay down on. It is so comfortable I sometimes secretly wish why can't I just sleep on it forever?
Thanks to its perfect blend of polyurethane foam and Hyper-Elastic Polymer The Purple mattress is suitable for both side and back sleepers, I haven't tried to sleep on my tummy yet because I am a side/ back sleeper naturally, but I am willing to bet it is a great choice for stomach sleepers since it's soft and flexible which means comfortable.
For Back Sleepers:
When you lie on your back, you want your spine to maintain its natural curve. This relieves pressure points and can help prevent back pain.  What's cool about the Purple mattress is the "honeycomb" polymer top layer.  Since it creates little pockets you won't get hot when you are sleeping on your back.
As for Side Sleepers:
When laying on your side, you really want your spine to be aligned. Straight spinal alignment helps you sleep better preventing side (hip and shoulder) pain.  As a a petite side sleeper this mattress is perfect!  It took a bit to grow on me, but it is now my go to sleep solution for when I'm not testing a mattress.  You may want to see where the Purple mattress placed on my
Best mattress for side sleepers list
.
The Side Sleeper's Guide To Sleeping
Next to back sleeping, side sleeping is the next best thing. However, sleeping on the wrong mattress can put you in a world of pain and discomfort. So much discomfort like numb arms  and aching shoulders and sore backs. All this can be avoided by choosing to sleep on the right mattress.  45% of my audience sleeps on their side, do you?
To top it all off, The Purple sleeps COOL! 
The key for deep sleep is always less stimuli. A mattress that is too hot or too cold will wake you up. Purple keeps you body elevated above the breathable grid AKA Hyper-elastic polymer™ Smart-Comfort Grid.
Purple breathes and promotes airflow to keep you sleeping soundly .
Ventilation is the key to sleeping just right—not too hot, and not too cold. Purple achieves the ultimate sleep comfortably by combining a totally new material with a totally unique design. Bottom line, Purple or not, to sleep cool get a mattress that breathes.
What Type of Bed Frame Works for this Mattress?
Solid Platform
Solid Foundation
Slatted Base
Adjustable Frame (Winner of all of the mattresses I tested in 2017)
I pulled my purple mattress out of storage yesterday to film part of a video on how various mattresses preform on my adjustable bed.  I wrote more details on my purple powerbase page, so I'll just summarize here.
Out of all of the beds that I have tested on my adjustable base, the Purple mattress did the best job of conforming to the frame.  After testing and shooting that video, I had to sleep on it again.  My sleep experience was better than I remembered and so I needed to reevaluate some of the rankings that I had previously given it.  As a side note, I mention in my videos that we have a house divided, so as much as I love the Purple mattress, my husband hated it.  That all changed last night, a few different positions on the adjustable frame and he was converted.  So a guy who just didn't like the "waterbed" feel of the Purple has been completely converted to a lover with just a little lift from the head part of the bed.
Not all adjustable frames have a massage feature, the purple powerbase does, as does the Rize Verge that I am using.  The Purple mattress's motion transfer is poor; like a waterbed, small movements are felt by your partner.  However, when you turn on an adjustable frame's massage feature this is a huge plus.  Typically, the massage feature sends most of the vibration to your back area, on the Purple Mattress you feel the vibrations throughout your whole body.  All of these reasons have led me to declare that the Purple Mattress was the best preforming mattress on my adjustable base.  I need to do some video editing still, but soon I'll release my video so that you can see.  In the meantime, here is a photo showing how the purple mattress bends to fit on my adjustable frame.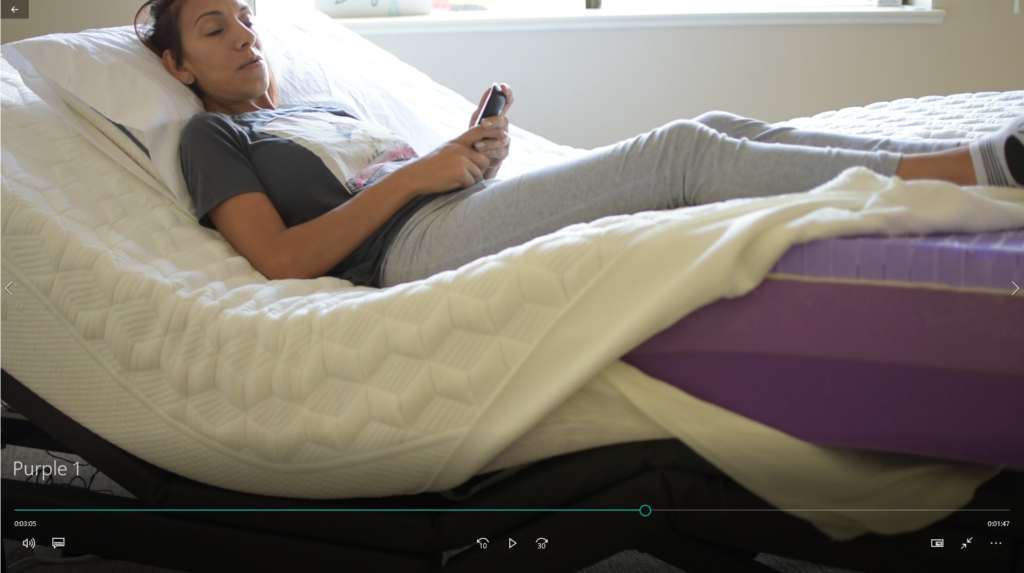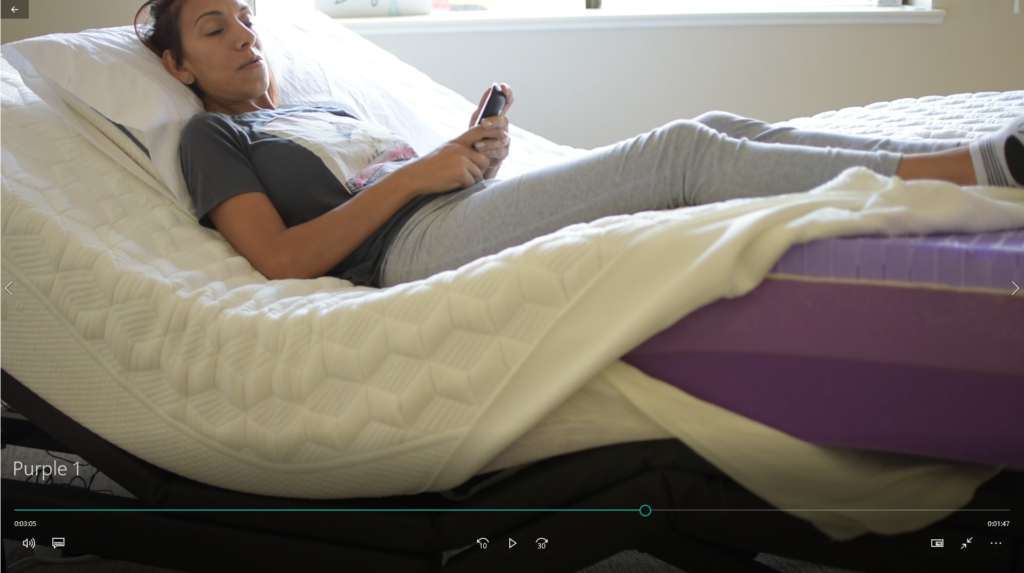 The Purple mattress just needs a sturdy surface to sit on. This can be a platform, slats (make sure they are 3″ apart or less), box foundation opposed to a box spring (a box spring in this case can break down over time and cause the mattress to sag), an adjustable bed frame, or even the floor! Just make sure your mattress won't be on a sagging frame or foundation and you are all set.
At the end it's not just temperature! You also need your spine aligned
The walls that make up Purple's Smart-Comfort Grid™ relax underneath pressure points while pulling to support areas like the lower back. This balances weight distribution and keeps the entire body in correct alignment.
And that's the reason why I pull my Purple out of storage every once in a while. As much as I love hybrid mattresses there's always this je ne sais quoi that makes me want to sleep on Purple.
Keep in mind if you are looking for a mattress that: Supports your back like a firm mattress and cradles your hips and shoulders like a soft mattress you have found what you are looking for with the Purple mattress. It's like getting the best of both worlds: Firm + Soft
And then ask yourself:
Are you waking up with back, shoulder and neck pain? Are you tossing and turning and are restless at night? Maybe it's time to invest in a Purple mattress.
Current Specials
Purple has fun promotions from time to time, sometimes they will offer free sheets or a seat cushion with the purchase of a mattress.  For free sheets.  They rotate through different freebies with their mattresses and this is my favorite.  I really enjoy the clinginess of their sheets.  Fair warning though if you sleep with a partner you may need to tuck them in, or else you will find yourself fighting for them.  In addition, I offer a $25 off Purple mattress coupon when purchased through these links.
I expect Purple to have a big push for Thanksgiving and I'm hoping that they do the same pick the item that they ran for July 4th.  Currently they are offering a free sheet set with purchase, but if they offered all of their side items I would go with the travel seat cushion as it is football season.
Thinking about buying the items we have reviewed? Help Non-Biased Reviews out if you do. Just click on any of the seller links above and the seller will contribute a portion of the sale to help support this site. It won't cost you anything extra and is a simple way to help us fund more items to review. Thank You!
Unboxing
Unboxing Pictures
Thank you, your order has been placed.
An email confirmation has been sent to you
New! Get shipment notifications on your mobile device with the…
Order Number: XXXXXXXXXX
The Purple Bed – Queen Size Mattress will be shipped to rana landreth by Amazon.com.
Guaranteed delivery: Aug. 9, 2017
$999 is a pretty steep price for a queen mattress, but I'm going to give it a fair shot, maybe it will surprise me
The bag is HEAVY!  I can't imagine how much heavier it must be in king size.  The top has a zipper, but you need to cut the mattress out of the bag.  Well that's what the instructions say, so I tried to see if it would slide out of the bag when lifted and one end, but that didn't work.  Luckily, Purple provides a handy box opener, which I have only seen included with the Nectar mattress so far.  Per instructions the box opener will cut through the outside bag so that you can get to the mattress.  After that it's standard mattress opening.  Before I show you the unboxing video, let's talk about the issue that is probably on your mind.
Unboxing Video
You can see my Purple unboxing video from early 2017
Other Purple Information:
You can read about the NEW Purple Mattress (it has individually wrapped coils in it for additional support)
Original Purple Mattress vs. New Purple Mattress
Purple vs. Honest Mattress Reviews lawsuit
The original Purple ships to Canada, it is a bit more expensive to cover the additional shipping.
I recreated the Human Egg Drop Test, you can watch it here.
I just tested out the Purple Mattress Protector.  It did two things that amazed me.  First, it stretched over a 15″ thick mattress.  Second, I intentionally created a giant wine spill on it and it kept my mattress clean.  It is a steal at $59 for a queen size mattress protector.
A cool article on Seeking alpha about the growing presence of Purple mattresses in Mattress Firm.  It is interesting that the Purple .3 & Purple .4 aren't sold there.  The one thing that the article doesn't mention is a huge advantage that Mattress Firm's online option the Tulo has.  The Tulo has nationwide distribution with mattress firm so they can promise 2 day delivery anywhere in the US.  Since Purple isn't in all of the Mattress Firm locations the probably can't match the same distribution advantage.  This is likely to change as Purple and Mattress Firm grow their relationship.  Is this article responsible for a 10% increase in PRPL stock today (4/30/18)?
Warning not investment advice, just public data: Purple trades under the ticker PRPL.  Personally, I like to buy stock in things that I use and believe in (so I am considering buying PRPL).  Unfortunately, the Price to earnings ratio for PRPL is WAY too high for me to jump in at the current price of $9.33 per share on 3/21/18.  Plus Thomson Reuters just gave them a Negative outlook, so it looks like I'll be waiting for a while to get a hold of some PRPL.  Thomson Reuters 2017 PRPL.  When compared to others in the home furnishings retailers industry they state: "the debt to capital of 95.7% for PRPL is the highest".  So currently a lot of debt to finance their amazing (200% year over year growth) growth.  Plus Sam Bernards stepped down as CEO about a week ago.
Can I test out a Purple Mattress before I buy it?
There are a few mattress firm locations that carry the purple so that you can test it out in your store.  The current problem is that they are not available nationwide.  They just launched in Chicago, Phoenix, San Francisco , Fresno, Austin, DC and Sacramento.
I have been to 3 locations in Phoenix/Scottsdale that carry Purple products, and I'm going to say that they have a different feel and a different kind of buzz.  Seriously, the Purple products pull in a younger demographic of buyers that are ready to purchase before they even test the products.  It is really fun to be a secret shopper!
They Mattress Firm locations that carry Purple products are boldly presenting them, there is always signage like Purple is here on the front, sometimes even on the sides of the locations.  Then when you get in the sections that are allocated to Purple really stand out.  You won't find any difficulty finding the Purple section in a Mattress Firm.
Here are some of the current mattress firm locations that carry purple mattresses and accessories:
| Chicago | Phoenix | SF Bay Area | Sacramento |
| --- | --- | --- | --- |
| Skokie | Dysart | Mt View | Arden |
| West Fullerton | Tempe | Colma | Zinfandel, RC |
| Orland Park | Camelback, Scottsdale | Pleasant Hill | Citrus Heights |
| Addison | Mountain View, Scottsdale | Richmond | Florin Town Center |
| Northlake | Happy Valley Peoria | Van Ness, SF | Natomas |
| Lawrence | Mesa | South San Francico | Elk Grove |
| Oak Lawn | Surprise | Fremont | Roseville |
| Clybourn | Chandler | Dublin | Rocklin Crossing |
| South Loop | Paradise Valley | Vallejo | Blue Oaks |
| Chicago (river north) | Prescott Valley | Brentwood | Folsom |
| Forest Park | Buckeye | Milpitas | Vacaville |
| Park Place Plaza | Sonora Village, Scottsdale | Daly City | Wemento |
| Melrose Park | Happy Valley | Stevens Creek | Madison |
| Roscoe Village | Glendale | Santa Rosa | Rocklin |
| Broadway Square | S Power Rd, Gilbert | Gilroy | Lincoln |
| Mount Prospect South | Gilbert Commons | Geary | Town & Country |
| Broadview | Crossroads, Chandler | NA | Davis |
| Pulaski Promenade | Town & Country, Phoenix | NA | Citrus Heights |
| Wicker Park | Flagstaff | NA | Truxel Rd |
| Ford City Mall | Desert Ridge, Phoenix | NA | Iron Point, Folsom |
| Crystal Lake | NA | NA | Hazel, RC |
| Evergreen Park | NA | NA | Woodland |
| Lincoln Park | NA | NA | 5 Star, Rocklin |
| Lakeview West | NA | NA | Auburn |
| Niles | NA | NA | Laguna, Elk Grove |
| Riverpoint | NA | NA | Stanford Ranch |
| Skokie (touhy ave) | NA | NA | NA |
| State Street | NA | NA | NA |
| Park Ridge | NA | NA | NA |
Summary
Rana Landreth
Review Date
Reviewed Item
Author Rating