ODINLAKE ERGO PRO 633 CHAIR REVIEW
We tested the OdinLake Ergo Pro 633 office chair, which is OdinLake's mid-line ergonomic chair. We reviewed the OdinLake Ergo Pro 633 chair a few weeks ago and absolutely loved it, and were looking forward to trying another high-quality OdinLake chair. 
Let's take a closer look at this adjustable and ergonomic office chair with footrest. 
15% OFF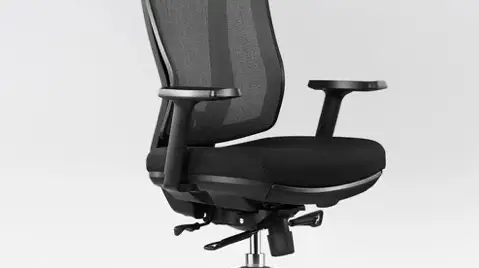 OdinLake Company Policies
Free shipping
Returns within 30 days of delivery
2-year warranty
Designed for 10 years of continuous use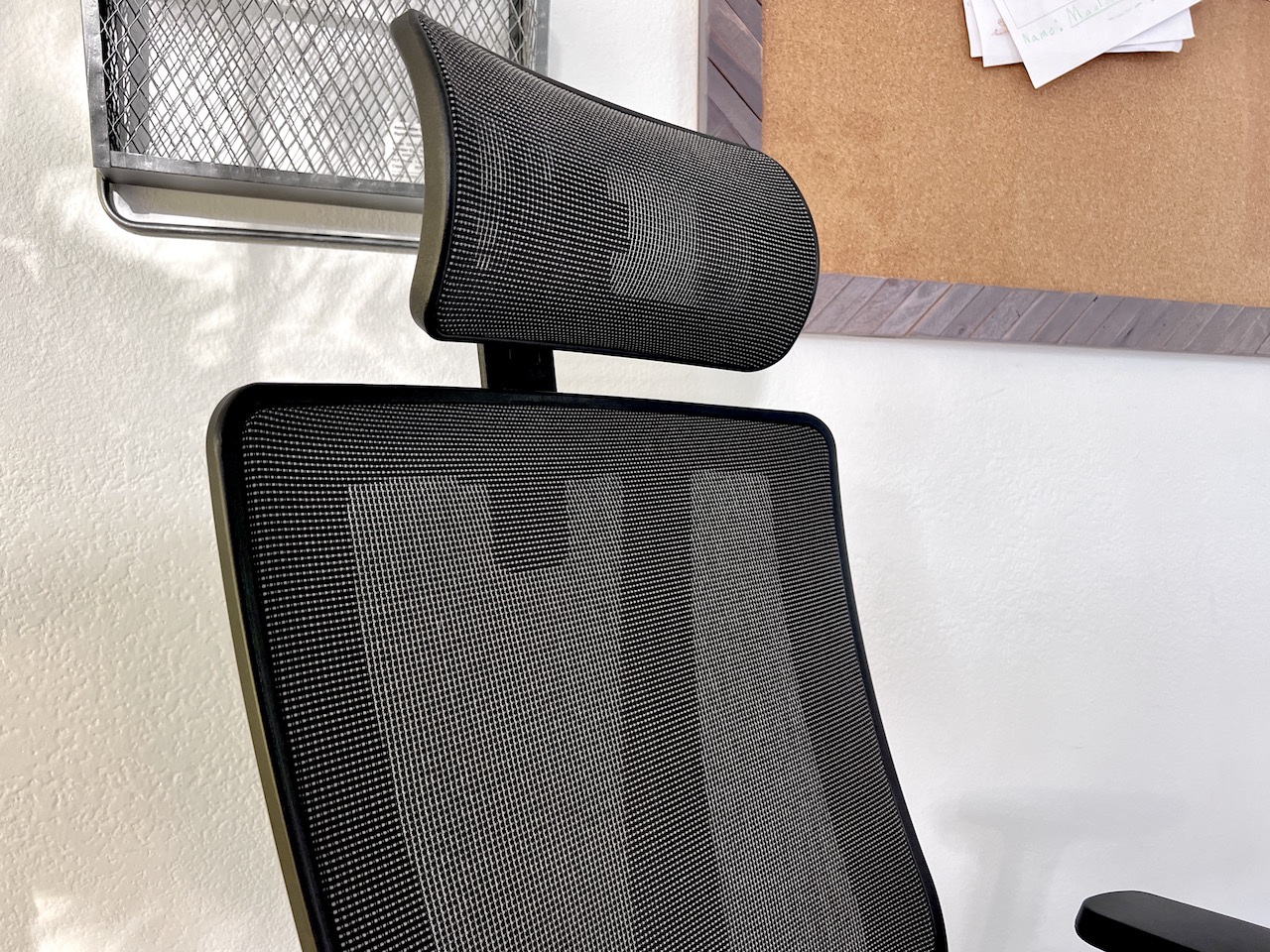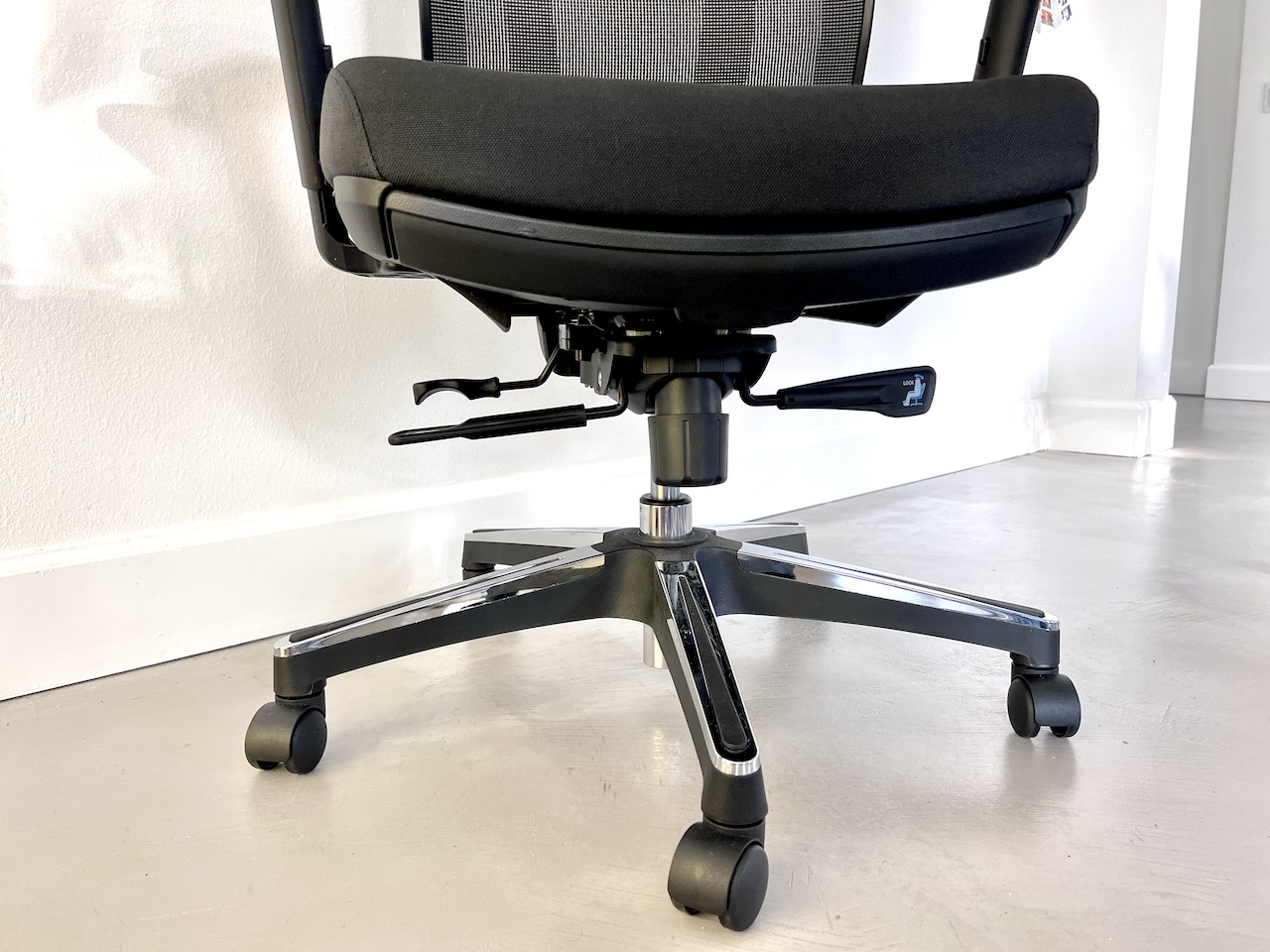 What's Inside The OdinLake Ergo PRO 633 Chair
In a nutshell:
German design 

Premium materials

6 ergonomic adjustments
German Design

Like other OdinLake office chairs, the OdinLake Ergo PRO 633 Chair is of German design. A true engineering statement, it is built to be fully ergonomically, adjustable to the needs of your body, and to last at least 10 years!
Premium Materials

OdinLake uses only the best materials in its Ergo PRO 633 office chair: a 3-mm steel plate in its base, thick and soft PU leather in its armrests, a thick seat cushion made of high-density foam for pressure relief, and a high-quality breathable mesh in the back.  
The OdinLake Ergo PRO 633 ergonomic chair is equipped with a BIFAMA certified gas lift, which supports up to 300 lbs of weight and can withstand 35,000 lifting cycles. 
We also loved that the urethane wheels left no marks on our sensitive floors. It uses similar wheels to the Ergo ART 643 chairs, which we have been using daily for 5 months, and still boasts perfectly smooth wheels!
Six Ergonomic Adjustments

The OdinLake Ergo PRO 633 office chair allows six ergonomic adjustment  to fully conform to your body shape + a footrest to turn your favorite office chair into a lounge chair! From your neck to the curve of your back, the height of your elbows and your knees, the angle of your arms and depth of your sitting, this OdinLake ergonomic office chair provides the support and pressure relief you need to sit in a healthy position all day long. It reclines up to 135 degrees and the footrest under the seat allows you to lounge as needed.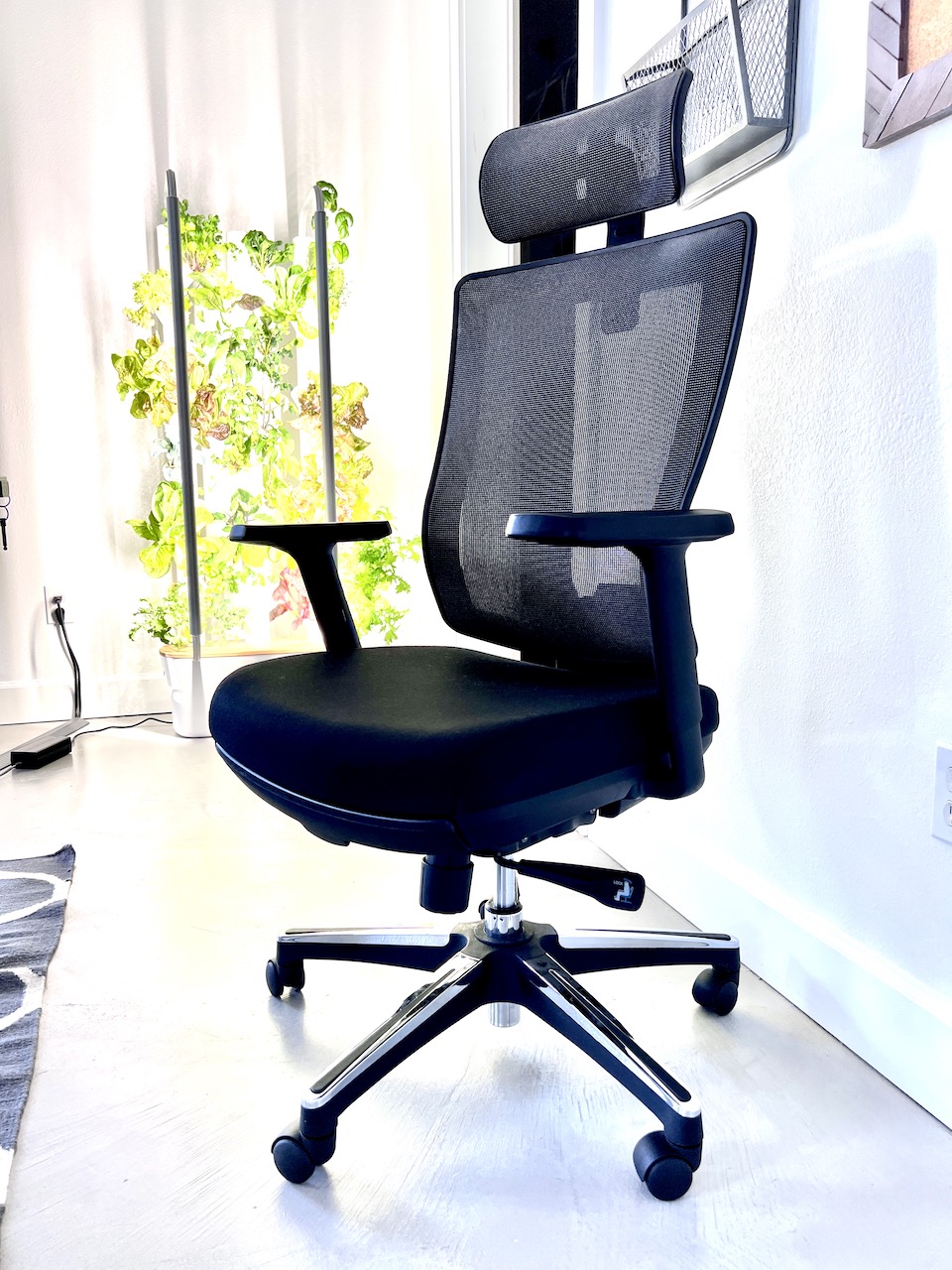 OdinLake Ergo PRO 633 Office Chair Tests
Everything we felt in one box
| Design | Adjustments | Assembly | Comfort | Materials |
| --- | --- | --- | --- | --- |
| The OdinLake Ergo PRO 633 office chair boasts elegant lines with a thin curved back and head rest. The mesh lets you see through, but removed the bulky usually found in office chair, and gives this OdinLake a very ergonomic look! The German design shows, in this tech-looking office chair. All levers and buttons are ingenuously out of sight, for a good-looking chair for your office or your home desk. | You have the ability to make many adjustments to tailor the comfort of your OdinLake Ergo PRO 633 chair. Lounging up to a 135-degree recline, you can adjust the tilt angle and the tension of the back, to give as much support to your back as necessary. Adjust the seat's height to give your knees a healthy 90-degree angle. The armrest moves up and down, fore and aft, and right or left, for optimum comfort. The mesh backrest is adjustable for depth and curvature, the headrest will move to fit the shape of your head and neck, and the footrest will come out from under the seat for those times when you need to lounge. | The OdinLake Ergonomic Chair 633 requires minor assembly at home. The entire process took just under 10 minutes. Simply follow instructions and most steps require no tool. A wrench is provided for a couple of screws that need tightening. Easy and efficient assembly. One person only. | When you spend 7+ hours sitting on your office chair each day, it is essential to have a comfortable office chair. The OdinLake Ergo PRO 633 office chair has a fully adjustable ergonomic design that allows you to give your body the exact and unique support it needs. The PU leather in the armrests provides cushioning pressure relief, while the adjusted components allow your body to sit in a rested and supported position. Lastly, the fabrics are skin-friendly, lightweight, and aerated, allowing for airflow and no sweating. | In the Ergo PRO 633 Office Chair, OdinLake uses high-end materials to relief pressure and support the entire body. The mesh fabric along the back and headrest is breathable. The base plate is made of steel and 3mm thick, for ultimate durability. The armrests are covered in PU leather, soft and cushioning to the touch, while the seat cushion is made of high-density foam which conforms to the shape of your body and relieves pressure during all-day seating. |
OdinLake Ergo PRO Chair 633 Prices & Discounts
15% OFF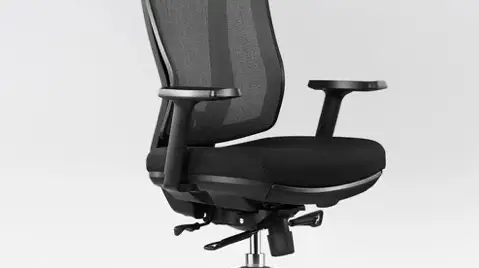 OdinLake currently sells four different office chair models. Office chair Ergo PLUS 743 is top of the line, priced at a premium. The Ergo ART 643 and PRO 633 are middle of the line, with 5 and 6 adjustments respectively, and priced the same. The Ergo CORE 625 in priced significantly lower, with a slightly more traditional design than the other chairs. 
Click on the SHOW CODE box above for the deepest OdinLake coupon code.
Price List updated: November 2022 – pre-discounted prices
Detailed OdinLake Ergo PRO 633 Chair Review Conclusion
OdinLake is a designer of ergonomic office chairs. Based on your design preference and budget, choose from four office chair models. One is priced cheaper, offering less customization and a bulkier design, while two are super sleek and elegant, making quite the statement in your office, and the fourth offers the most customization for comfort. 
All OdinLake office chairs are designed with comfort and your body in mind. You can be sure that, no matter the model you choose, your body with receive the attention it deserves – an aligned spine, support throughout, and pressure relief exactly where you need it. 
Let's look at the Ergo PRO 633 in more detail. We have found it incredibly easy to build and comfortable to sit on for prolonged periods of time. We love that it is the OdinLake office chair, designed to give your upper body the most support!
OdinLake started in the mind of an engineer, who got in touch with a college friend in the furniture field. Quickly, they hired a German designer and partnered in designing an office chair that would save achy backs, at the factory price point. 
Today, thanks to OdinLake, desk workers are able to sit for prolonged amounts of time, in a pain-free, healthy spine-aligning position. The brand is focused on putting ergonomic products in people's office and home offices and you will find a large line of ergonomic office chairs and office desk. 
Lastly, OdinLake is focused on environmental protection and sustainability and produces its products from renewable and ocean plastics. With each OdinLake product you purchase, you are reducing ocean littering by 25 lbs and carbon emissions by 5 lbs!
Find all of our OdinLake Reviews here.
How Does The OdinLake Ergo PRO 633 Office Chair Perform?
Design & Materials
The OdinLake Ergo PRO 633 Office Chair is one of the most comfortable office chairs on the market today. We love that it looks professional and feels durable, yet is available to everyone at factory prices. Small business owners and at-home employees get a chance to purchase an ergonomic office chair, built with premium materials, to last at least 10 years. 
The German design gives this office chair all of the ergonomic benefits, without the bulky design. It is designed with your body and its well-being in mind. Expect pressure relief and support, without sacrificing a thin and sleek back and headrest design. 
The premium materials used in the office chair, include a breathable and skin-friendly mesh behind the back and head, so you never feel hot. The high-density foam used in the seat cushion is similar to the foams commonly used in high-end mattresses, and conforms to your body's unique shape, giving it the pressure relief and support it needs around the buttocks and tailbone area. 
The German chassis is made of 3mm-thick steel plates, which qualify with the highest requirements in the office chair industry, and conforms to the US BIFMA X5.1-2017 standard. The strong base supports weights up to 300 lbs, and the high-density sponge used in the cushion, allows you to sit for prolonged hours without feeling uncomfortable or getting antsy. 
The PU leather used in the arm rest is comfortable, breathable, and cushioning, so you can rest your arms as you type or meet with others. 
Lastly, we were very impressed with the wheels, which leave no mark or damage to the most sensitive of floors. 
Over at Non-Biased Reviews, we appreciate companies with a mission to respect our planet. OdinLake is focused on environmental protection and sustainability and produces its products from renewable and ocean plastics. With each OdinLake product you purchase, you are reducing ocean littering by 25 lbs and carbon emissions by 5 lbs!
Adjustments
Six adjustments are possible on the OdinLake Ergo PRO 633 Ergonomic Office Chair: 
Adjust the height of the headrest to the height of your head and neck for the best support 
Adjust the width, depth, angle, and height of the armrests to the size and shape of your forearms and height of your elbows
Adjust the height of the seat to give your knees a gentle 90-degree angle (7 inches to 10.5 inches)
Adjust the height of the lower back to conform with the arch of your unique back
Recline up to 135 degrees and set the sensitivity of the reclining function based on your personal performance
Unfold the footrest when you need to lay down to decompress or rest at the office
Assembly
It took just under 10 minutes to build the OdinLake Ergo 633 Chair. 
While it comes completely disassembled, it is a very easy build, which requires just one person. 
The chair itself weight just 49 pounds and most of the build requires no tool. A small wrench is provided to the couple of screws that require it. 
Comfort
The OdinLake Ergo PRO 633 Chair is built with your comfort in mind, with a strong focus on your lower back. The number of adjustments you can make to customize the chair's design to your unique body's shape and preferences is incredible. 
This specific OdinLake office chair is designed to solve lower back pain. When properly adjusted, it will keep the S-shape on your spine to avoid unnecessary force and stiffness. The upper end of the tall backrest will support the weight of your upper back, so that less pressure is applied to your lower back, waist, and spine! Make sure to justly adjust the curvature behind the back mesh in order to fully benefit from the Ergo PRO 633 office chair!
15% OFF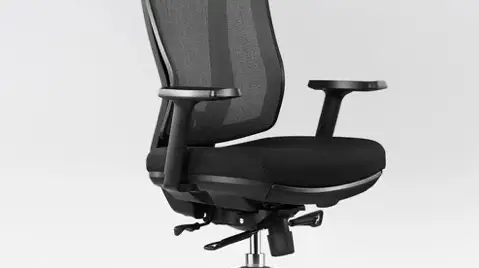 The PLUSES

The MINUSES

Fully adjustable and extremely comfortable
Great for people with back problems and those sitting for prolonged hours
Top quality at factory prices 
Ships quickly 
Built to last 10+ years! 
Focus on sustainability and marine protection 
Sits cool and prevents sweating
Rolls effortlessly
Wheels do not damage or mark floors

Comes in only one color at the moment
OdinLake sent us this Ergo PRO 633 Ergonomic Office Chair for testing purposes. This review is not sponsored and all opinions expressed in this review are my own.
No, the OdinLake Office Chairs are not available to test in store. Should you decide to return the chair within 30 days, you will be responsible for return fees and a 15% restocking fee, as well as be required to return unused, with tags, and in its original packaging. 
Yes, OdinLake offers 4 models of ergonomic office chairs and an electrical adjustable desk as well. They offer offer a variety of accessories, such as monitor and dual-monitor stands, and power docks. 
Share this deal with a friend!