IDEAL WEIGHT FOR A WEIGHTED BLANKET
You have heard of the benefits of weighted blankets. The cozy hug helping you fall asleep faster and deeper, and staying asleep longer.
The gentle pressure helps your body increase its serotonin and dopamine levels, which promote relaxation, happiness, and sleep, while reducing cortisol, the stress hormone found in your body.
Now that you are on the market for a new weighted blanket, you might wonder what is the ideal weight for a weighted blanket. We will look at what works best for your body, as well as give you a few pointers to figure out the best weight for a weighted blanket and which design might work best for you.
What Is A Weighted Blanket?
As the name suggests, a weighted blanket is a blanket that is heavier than usual than your typical comforter. It typically weighs between 10 and 35 pounds.
Nowadays, weighted blankets come in all sorts of styles and the weight can be generated in different ways. Understanding what is on the market can be very helpful in figuring out a weighted blanket you will love for years to come.
There are many choices on the market and the variety could seem overwhelming. We are here to debunk weighted blankets and help you find the one that will work for you:
Glass Pellet Weighted Blankets
The most commonly found weighted blanket is a quilted blanket filled with glass pellets. The quilting pattern is small, allowing for an even distribution of the weight inside the blanket. Glass pellets create the weight inside the blanket and it will typically come with a cover that keeps the blanket in place inside of it.
Cotton Weighted Blankets
Those are some of our favorite weighted blankets, especially the organic cotton weighted blankets. Those blankets are usually hand-knitted in large knits and the weight is simply made up of the cotton and fibers used in the blanket. They sleep cool and very soft and are a great option if you want to avoid glass pellets.
Other Materials
Some weighted blankets use a mixture of materials to create the weight. We have tested a weighted blanket with glass pellets and crystal fragments. Using clear quartz, rose quartz, and amethyst pieces, the crystals help the sleeper relax, feel more tranquil, and reduce stress and anxiety.
Cooling Weighted Blankets
Many people worry about weighted blankets sleeping warm, which is a valid concern. While a warm and cozy blanket can be a great addition to your bedroom for winter nights, you definitely don't want to be sweating on warmer nights. Some companies specialize in cooling weighted blankets. They use materials such as bamboo, or add a breathable and moisture-wicking blanket cover to ensure its sleepers stay nice and cool all night long. Of course, the natural cotton weighted blankets are probably your best bet when it comes to sleeping cool under a weighted blanket.
How Does A Weighted Blanket Work?
The easiest way to describe it, is a cozy hug. When laying under a weighted blanket, your entire body is applied firm pressure, triggering some hormonal changes in your body, the same way a hug would trigger those hormones.
Your levels of dopamine and serotonin increase – those are the happiness and relaxation hormones. You feel an immediate impact on your anxiety and mood. At the same time, your cortisol levels decrease – this is the stress hormone. This deep pressure therapy allows your body to feel more in synch and balanced. You can expect feelings of calm, happiness, and well-being.
Weighted blankets can be a natural aid to people with depression, insomnia, restless leg syndrome, ADHD, and sensory-processing disorders.
Who Can Benefit From A Weighted Blanket?
There is no exact date when the weighted blanket was invented, but presumably in the late 1990's. While the exact inventor is not clear, there are suggestions that either biologist Temple Grandin or entrepreneur Keith Zivalich may have come up with the first weighted blanket. Suffering from an autism spectrum disorder, initially Temple used the blanket on herself as a teenager, and noticed that 15 minutes of use helped decrease her stress for 30 to 45 minutes. Later on, weighted blankets were tested by social educators on children with special needs. The results were very encouraging!
While weighted blankets are not a cure for the following conditions, it is believed to help alleviate some of the symptoms and can be worth a try.
Insomnia
A small study was conducted in which participants with insomnia received weighted blankets. It turned out that when using the blanket, people began to fall asleep faster and experienced fewer nighttime awakenings, tosses, and turns.
Anxiety And Depression
In another small experiment, people with anxiety and depression covered themselves with a weighted blanket, and noted that not only the quality of their sleep improved, but also the anxiety level of their depressive disorder.
Attention Deficit Disorder (ADHD) And Sensory-Processing Disorders
An experiment was carried out with children diagnosed with ADHD, and it was found that their sleep improved remarkably. In another experiment, a vest was used instead of a blanket to help children calm down and concentrate during class, yielding to great success.
Stress
The study involved 32 adults who were given 13-pound blankets to sleep in. 78% of them noted that it helps them calm down and come to their senses faster.
Restless-Leg Syndrome
The weight and pressure felt from weighted blankets, can help take the mind away and/or override the feeling and discomfort brought by restless-leg syndrome.
Perfectly Healthy Individuals
You do not need to suffer from any ailment to benefit from sleeping under a weighted blanket. All of the above-mentioned benefits are valid for all individuals. Weighted blankets bring a feeling of safety and well-being, probably a remnant of early childhood hugs and swaddling.
Why Do Weighted Blankets Help You Sleep Better?
Weighted blankets act as deep-pressure therapy, during which the human body receives gentle, but firm pressure. That deep pressure helps switch the person from alert mode to resting mode.
For a physiological point of view, when a person sleeps under a weighted blanket, his/her body produces less cortisol, a hormone that is produced under stressful situations. At the same time, more dopamine is produced, increasing one's sense of calm and happiness.
If you look at the psychological side of things, people sleeping or resting under weighted blankets note that it creates the effect of a cocoon. You feel protected from all sides, creating a safer environment to sleep and rest in.
Who Should NOT Use Weighted Blankets?
Despite the fact that the effectiveness of weighted blankets has been proven for many years, there are limitations as to who will benefit from their calming properties.
Small Children
Before laying a weighted blanket on anyone, child or adult, you need to be sure that the individual is able to push the blanket away from their body on their own. If not, there is a risk of being stuck under the blanket, that could lead to problems such as panic attacks and suffocation. We do not recommend weighted blankets for children under the age of 5 or 6, and only after checking under safe conditions, that the child is old and strong enough to remove the blanket from their body as necessary. 
Health Conditions
Some health conditions create a counter-indication to weighted blankets, such as bronchial asthma, obstructive sleep apnea syndrome, and claustrophobia, amongst others. If you or your child has any other medical conditions that can be affected by a weighted blanket, it is best to consult with your healthcare professional before purchasing.
Ideal Weight For A Weighted Blanket
There is a rule-of-thumbs in the weighted blanket industry, which should be followed when purchasing your first weighted blanket. Of course, personal preferences and experiences will impact the ideal weight for your weighted blanket, however, use the following guide as a starting point. 
For optimal results, and in order to decrease risks associated with sleeping under a blanket too heavy for your body, your weighted blanket should weigh roughly 10% of your body weight. Weighted blankets generally come in the following weights: 15 lbs, 20 lbs, and 25 lbs. Certain brands offer children weighted blankets of 10 lbs, as well as couples weighted blankets of 35 lbs.
The table below will help you best chose the ideal weight for a weighted blanket:
| Your Body Weight | Ideal Weighted Blanket | Notes |
| --- | --- | --- |
| | | Typically designed for children, throw size |
| | | Throw size, for a single person |
| | | Throw size, for a single person |
| | | Throw size, for a single person |
| | | Designed for queen/king and couples |
This table should be used as a guide when you first pick your weighted blanket. I have personally enjoyed sleeping under 10 lbs, 15 lbs, and 20 lbs, as well as a 35-lb shared weighted blanket. I am 130 lbs, 5'7″ woman, and I can see benefits to all of those, however, the 15-lb blankets are probably best suited. When testing out a 20-lb weighted blanket, I feel that my movement is greatly reduced, which on some nights is exactly what I need, and other nights, the 10-lb blanket feels more freeing.
It could take some trial and error, however, following this guide will generally be pretty spot on!
Note that 35-lb blankets are very heavy and generally come in a queen / king size with the intention of being shared with a partner. Since you will be laying under half of the blanket, think of it as a 17.5-lb blanket for each sleeper, which will work well with most people between 130 and 200 lbs!
Most frequent questions and answers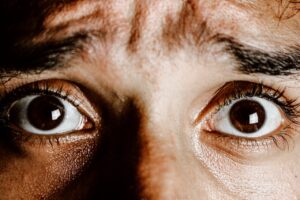 Kids Corner
SHOULD YOU WAKE SOMEONE UP FROM A NIGHTMARE Nightmares are unsettling and distressing dreams that can affect individuals of all ages. Whether you are the
Read More »
What is the ideal weight for a weighted blanket?
Generally pick a weighted blanket that is 10% of your body weight. If you weigh 150 lbs, a 15-lb weighted blanket will work great.
How do weighted blankets help you sleep better?
Weighted blankets apply deep pressure to your body, helping you release well-being and happiness hormones (serotonin and dopamine) and greatly reduce your cortisol levels (stress hormone)
Who can benefits from a weighted blanket?
While everyone will benefit from sleeping (or resting) under a weighted blanket, it can greatly improve the quality of life of people suffering from insomnia, anxiety and depression, ADHD, sensory-processing disorders, stress, and restless-leg syndrome.
Who should not use weighted blankets?
Small children should never be left unsupervised with a weighted blanket until they are able to safely remove it from over themselves on their own. Some health conditions such as bronchial asthma, obstructive sleep apnea, and claustropobia are not recommended with the use of weighted blankets.
Share this deal with a friend!