16 SUSTAINABLE MOTHERS DAY GIFTS
With Mothers Day right around the corner, we are sharing our top 16 sustainable Mothers Day gifts to make the eco-conscious Mom in your life feel loved and special.
This is for the Mom who is conscious about leaving less of a footprint, the Mom who loves and cares of her family, home, and planet. The one you want to cover with a gift she will feel good about. Mothers Day is a beautiful day, and one for all women to be recognized and cherished. 
I hope that you cover those special women in your life with love and affection this spring, and find this sustainable mothers day gift guide as exciting as I do!
What Makes A Mothers Day Gift Sustainable?
If the Mom in your life is eco-conscious, you will want to pick a gift that she can feel good about using. She may care about bringing safe materials inside her home, about using products with a smaller impact on the earth, or even about the welfare of the animals, farmers, and workers who make the products she uses. When it comes to selecting sustainable Mothers Day gifts, there are a few important factors to consider:
Environmentally-friendly materials: Look for gifts made from eco-friendly materials that have a low impact on the environment, such as recycled materials, natural fibers, or fibers from plants that are grown in a sustainable manner and put less toll on our planet. Avoid gifts made of plastic or materials that are not biodegradable. Focus on purchasing gifts with certifications such as GOLS, GOTS, and our all-time favorite, MADE SAFE. 

Ethical production: Choose gifts that have been produced in an ethical, humane, and sustainable way, such as those made by companies with fair labor practices or those that prioritize reducing their carbon footprint. We love looking for certifications such as Fair Trade, Forest Stewardship Council, Certified B Corporations.

Longevity: Opt for gifts that are made to last and not replaced after a few years. This could include items that are durable or have a design that won't go out of style soon.

Functionality: When choosing a sustainable gift, consider gifts that serve a purpose and can be used regularly and on the long term, rather than items that may end up collecting dust on a shelf after being used a handful of times.

Local and small-scale: Supporting local and small-scale businesses is also a sustainable option as it reduces the environmental impact of shipping and supports local economies. Farmers markets and local craftsmen and women can be found online and through word-of-mouth.
Ultimately, a sustainable Mother's Day gift is one that is thoughtful, useful, and minimizes its impact on the environment. Our sustainable Mothers Day gifts below, contains only gift ideas that are made organic, MADE SAFE, manufactured by companies who offset their carbon footprint, and/or made of sustainable materials. All are healthy products that will make the mom in your life feel understood and loved.
16 Sustainable Mothers Day Gifts - from least to most expensive
Brand | Hass Apparel
Price | $19
Moms deserve to ally comfort with beauty. This organic cotton tank top can be worn out in the sun, or be dressed with a cute jacket and necklace for dinner.
A MADE SAFE company, Hass has full control over its supply chain, guaranteeing the quality of its products from source to tank top.
This scoop neck tank top is made of 100% organic cotton and feels buttery soft! Word of warming – it might be hard to take Mom out of it! It is about as cozy as it gets and it gets softer with time.
A few points if Mom asks: the 100% GOTS organic cotton comes from India, is cut, dyed, and sewn in L.A., CA, can be machine washed on cold and dried on low tumble, and can biodegrade in as few as 5 months!
If your budget is a little larger, check out from of the sweaters, cardigans, PJ sets, and other timeless pieces. All colors are earthtone and all pieces are organic and incredibly soft.
Brand | Simply Organic Bamboo

Price | $24
Used as a hair scrunchy, or casually worn around the wrist, Mom deserves to look good and young.
Those scrunchies are made with bamboo fiber that is so soft, you'd think it is silk. Forget the hair pulling and hair frizz, those scrunchies are gentle on the hair, minimize tangles, and look good, no matter the way they are styled.
This pack of 3 scrunchies comes in a set of 3, in White Cloud, Sand Drift, and Silver Dream. They work well on any hair type.
A few points if Mom asks: the hair scrunchies are sourced from organic grown bamboo and certified free from harmful chemicals, and the reusable bag the scrunchies come in, is made from repurposed scrap pieces of bamboo fabric. Simply Organic Bamboo is family-owned and based out of Ohio.
Eco-Conscious Body Moisturizer
Brand | Reed & Gwen

Price | $48
If Mom enjoys smelling good and feeling soft, this Reed & Gween body melt is exactly what she needs. Bring some spa spirit right into the home with this last sustainable Mothers Day gift under $50.
The Supercharged Reishi Body Melt smells heavenly good, with a blend of essential oils of lavender, sage, cedar, and citrus. Inside, the main ingredients are reishi mushroom extract, which leaves the skin supple; hyaluronic acid, which helps the skin retain moisture; and shea butter, which soothes the skin.
Mom can warm a little Body Melt between her fingers and apply to damp skin for all-day moisture, thanks to a barrier that shields the skin from harsh irritants and damaging pollutants.
A few points if Mom asks: this body melt is made in the United States, using global and domestic ingredients that are vegan and cruelty-free, using 100% non-toxic substances, that are "PFAS-Free, meaning they do not include highly fluorinated chemicals that are shown to cause severe human health concerns and remain in the environment forever."
Brand | Sheets & Giggles

Price | $100
I know it is spring and soon summer, but there may be a few more chilly nights ahead, and those Sheets & Giggles Eucalyptus Flannel Sheets are so durable, Mom will be using them for years to come! Of course, those would make an excellent sustainable Christmas gift as well, and if you think that Mom would prefer a lighter option, the regular Eucalyptus Sheets are a beautiful gift as well.
Those Flannel Sheets are some of our favorite bed sheets on the market today. Softer than soft, they make it hard to get out of bed in the morning. On cool nights, Mom will slip into warm sheets, which will never feel hot or toasty! No sweating, and flannel sheets that do not pill – what more could you ask for?
Because they are made of 40% organic cotton and 60% eucalyptus, the Sheets & Giggles Flannel Sheets are sustainable and soft on the planet, ultra soft on the skin, and hypoallergenic.
A few points if Mom asks: eucalyptus is naturally bug repellent, which means that those sheets are made without the use of harmful pesticides or insecticides, that they shed no microplactics, and use 60% less water and energy that regular sheets. Organic cotton is made with no toxic chemicals or GMOs, and uses far less water and energy than regular cotton. Those sheets are designed in Denver, CO and can be washed on cold and dried on low heat.
Adjustable Organic Pillow
Brand | Naturepedic

Price | $119
Naturepedic is another MADE SAFE bedding company, and because Mom deserves only the best, this adjustable organic latex pillow is one of the gentlest pillows available on the market today.
Soft on her healthy and soft on the planet, Mom can remove or add as much, or as little, shredded latex to achieve the perfect comfort level for her sleeping preference.
The organic cotton encasement is machine washable, to ensure years or clean and healthy sleep, while the organic shredded latex provides the perfect combo of softness and neck support.
A few points if Mom asks: this Naturepedic pillow is made in the United States, using global and local materials, it is certified organic and contains no harmful chemicals, and Naturepedic has received all of the independent certifications to ensure "purity, fair labor practices and support for our planet's rubber tree forests."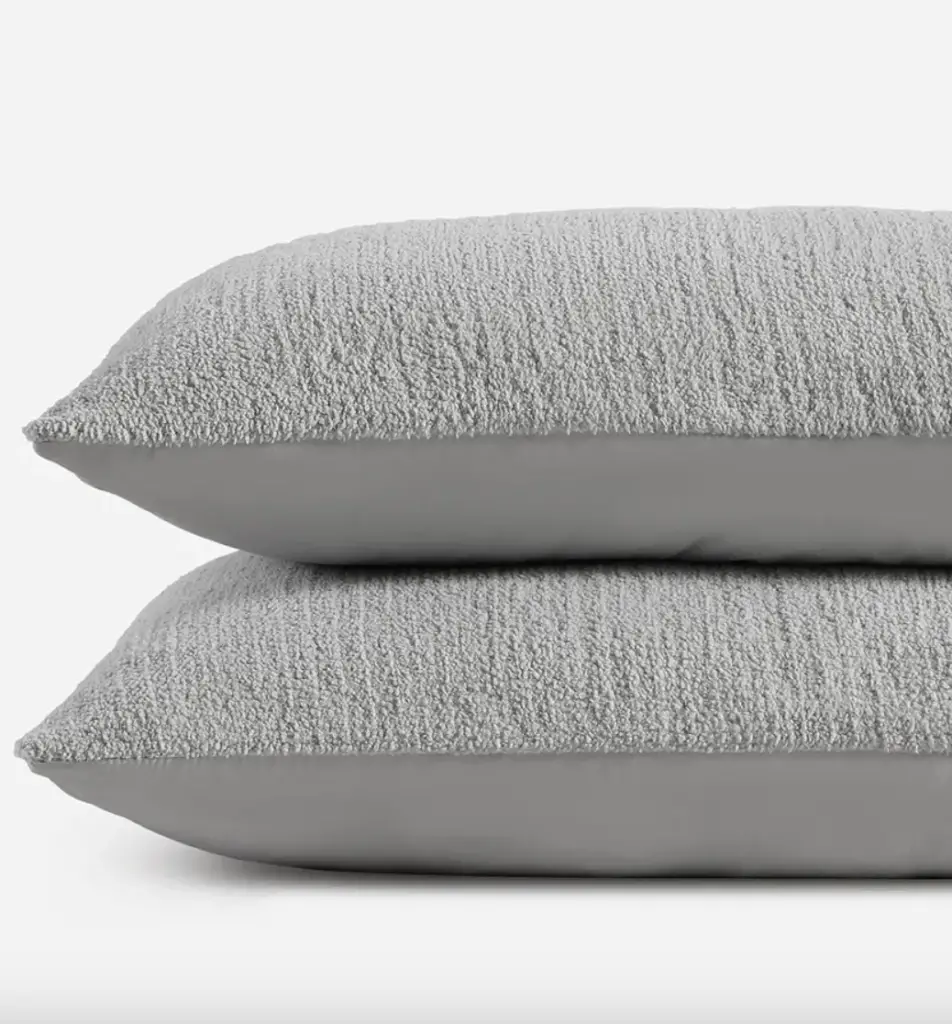 Brand | Sunday Citizen

Price | $120
Sunday Citizen is one of our favorite brands and we want to share it with all of the eco-conscious out there!
Makers of cozy and incredibly-soft bedding, meant to keep citizens of Sunday mornings happy in bed, we personally use Sunday Citizen bedding on our beds year round. It does not get any comfier than that, and Sunday Citizen has found a way to ally comfort with style!
Those Snug & Bamboo Shams come in a pack of 2, and are made of soft bamboo on one side, and of the coziest Snug fabric on the other – perfect for all seasons and moods. They come in a variety of earth-tone colors, making it the perfect sustainable Mother Day gift that can be coordinated with a wide range of comforters, throws, and weighted blankets!
A few points if Mom asks: yes, the shams are machine washable on cold and can be dried of low tumble. Thanks to the bamboo, they are hypoallergenic and can be used on their breathable bamboo side, or fluffier Snug side.
Brand | Nolah

Price | $129
Moms are providers of softness and this is your chance to return the favor.
Those Tencel sheets by Nolah are some of the softest you will ever lay on. Made of 100% Tencel from bamboo with a sateen weave, experience from of the lushest and most luxurious sleep. By gifting those sustainable Tencel sheets to your mom, you are bringing all the feels of luxurious hotels to her room!
While silky soft, they carry none of the cooling feel of silk. Instead, they are lightweight, breathable, and moisture-wicking, leaving mom with a naturally temperature-regulating sheet set that will sleep cozy no matter the temperature.
A few points if Mom asks: made of 100% Tencel lyocell, the fibers come from rubber tree wood collected from sustainable and responsibly-managed forests. Thanks to the closed-loop production, most of the water is recycled, minimizing the impact on the planet. And yes, the Nolah Tencel Sheets are machine washable, and they fit mattresses up to 17 inches thick (virtually all mattresses).
Brand | Eucalypso

Price | $149
Eucalyptus sheets make for beautiful sustainable Mothers Day gifts this year! And Eucalypso should be top of your list!
Available in earthy and calming colors, the Eucalypso Classic Sheet Set is made of 100% Tencel Lyocell fibers from the pulp of eucalyptus trees. Eucalypso's proprietary spunning technology turns the eucalyptus fiber into a world of silky softness and cool sleep.
We love that those eucalyptus sheets are antimicrobial and antibacterial, leaving your hair and skin looking healthier, and spreading the time between washing-machine washes.
A few points if Mom asks: Eucalypso is women and minority owned. With sustainability in mind, the sheets are made in small batches to meet the highest environmental standards. They are free of harmful chemicals and manufactured in a closed loop process that recycles and reuses 99.7% of all water and solvents, and ensure that the manufacturing process is free of toxic chemicals.
Brand | Avocado

Price | $159
Encourage your Mom to some self-care this Mothers Day, with an organic yoga mat.
Not all yoga mats are created equal, and this is one of the only organic mats on the market today. Made of 5 mm of GOTS certified organic cotton cushion (great for knees, hips, and joints overall), on a base of GOLS certified organic Dunlop latex for grip, it is one of the most comfortable yoga mats ever made.
Mom will enjoy soft, relaxing, non-toxic, healthy, and sustainable relaxation and/or work outs on this Avocado Organic Yoga Mat. And if hot yoga is her thing, this mat is ultra absorbent and wicks away sweat so Mom can be safe all the way. It comes in a range of earthy tones to fit any interior design.
A few points if Mom asks: this yoga mat is 100% vegan, the organic Dunlop latex from rubber trees is sustainably sourced from renewable rubber trees, and yes, the mat is machine washable in cold water. It is a 100% recyclable and biodegradable organic yoga mat. Being MADE SAFE certified, this is one of the most chemical-free yoga mats currently available.
Brand | Sleep Artisan

Price | $169
For the Mom who likes to lounge with a warm drink, a book, and a cozy blanket.
You will find this one on our couch and there is a good reason for it. This Sleep Artisan Matelassé Organic Cotton Blanket is the softest and comfiest lounge blanket we have ever owned.
Its three layers of certified organic cotton give it some extra plushness and cozy weight, without ever trapping the heat and making you feel hot. So if Mom enjoys lazy mornings and Sunday afternoons, this organic cotton blanket will be the perfect sustainable Mother Day gift this year.
A few points if Mom asks: this is a 100% organic cotton blanket, that can be machine washed on cold and dried on medium heat. Organic cotton uses 91% less water in its growing and processing than regular cotton, and results in a 98% reduction of water pollution since synthetic materials are not used. 
Brand | Silk & Snow

Price | $170
Here is another blanket – different style, different feel, but incredible soft as well. This one is for the Moms that enjoy a winter day by the fire and want to bring chalet vibes to their Holiday season.
We love this Alpaca Throw Blankets for its look, feel, and its story. Silk & Snow is a Canadian company who truly cares about the provenance of the materials they use in their mattresses and bedding. This Alpaca Throw uses 100% natural Alpaca fiber that is handwoven following centuries of heritage and expertise by generational Alpaca breeders in the Peruvian Andes.
This is a lightweight blanket that feel soft and warm, without leaving you sweating since the natural fibers wick away your body moisture and encourage your body to regulate its own temperature.
A few points if Mom asks: this Silk & Snow Alpaca Throw is made from 100% Peruvian Baby Alpaca Fiber (baby refers to the grade of softness, not the age of the alpaca) that is so soft, it won't itch. The throws are safely and ethically produced in Peru, earning the Fair Trade Peru Good Practices by SGS Peru for its environmental sustainability, community support, and commercial/working practices. Dry clean only!
Brand | Baloo

Price | $179
This is the first weighted blanket of 3 on our sustainable Mothers Day gifts list.
This Baloo Weighted Blanket is 100% chemical free and made with natural materials, which means that Mom can throw it in the wash when it needs a clean. Note that if you are looking for a weighted comforter (which overhands like a regular blanket), you should look into the slightly more expensive Baloo Weighted Comforter.
Available in 4 different weights, with a king-size blanket that will work well for couples, this weighted blankets gets its weight from glass microbeads that are natural and chemical-free. The outer cover is made of 100% cotton and free from polyester and synthetic liners, so it does not trap the heat and Mom can sleep cozy and comfy without breaking a sweat.
If Mom likes the look and feel of linen, the 12-lb weighted blanket (throw size) has loops to secure the Baloo linen cover to it!
Choose from several cover colors, and make it extra special by adding a monogram to the cover.
A few points if Mom asks: the entire Baloo Weighted Blanket can be machine-washed on cold and is dryer safe (check weight limits of your machines). The natural cotton cover is breathable and stitched in a small pattern to ensure no sweat and even weight distribution that does not shift overnight. This is a chemical-free, plastic-free, vegan, and carbon-neutral product!
Natural Cotton Weighted Blanket
Brand | Silk & Snow

Price | $230
Our second weighted blanket is made of 100% natural cotton, gaining its weight from hand-knitted cotton.
This is also the second Silk & Snow product on our list of sustainable Mothers Day gifts for a reason. We trust this smaller company, as they deeply care from where their raw materials come from and the communities they support, and they handcraft their products in Canada.
We personally prefer hand-knitted weighted blanket to the glass-pellet ones, but do understand that they are a slightly bigger investment. This Silk & Snow Hang Knitted Weighted Blanket may be the softest on the market, and one that will lull Mom to sleep thanks to its gentle and soft pressure.
Because there are no glass pellets and the weight comes from organic cotton, the weight is perfectly even throughout the night. Natural cotton is a very breathable and moisture-wicking material, and because it is hand knitted using a large knitting pattern, it lets plenty of air pass through. 
Mom can use it on its own on warm nights, and on top of her regular comforter on cooler nights.
Choose from a variety of earth-tone calming colors and weights to match Mom's preference.
A few points if Mom asks: made of 100% natural cotton, this is a breathable and sustainable choice that sleeps ultra soft. It is machine-washable on cold water and tumble dry on low or flat dry.
Brand | Bearaby

Price | $269
Our third and last weighted blanket is made of 48% Tencel / 47% organic cotton / 5% Spandex, available in different weights to match Mom's preference, and earth-tone colors to fit her relaxation needs.
Tencel lyocell is made from eucalyptus fibers which are natural, 100% degradable, and uses no irrigation or chemical fertilizers, making it one of the most sustainable materials on Earth.
Eucalyptus is incredibly soft and moisture-wicking, which means that Mom will not sweat or overheat. Instead, she will benefit from the weight of the Bearaby Tree Weighted Blanket and feel the cozy hug that will lull her to sleep, without any of the heat trapping.
Just like the Silk & Snow blanket, this one is hand knitted and can be used on hot and cool nights. The weight comes 100% from the eucalyptus Tencel lyocell, which means that it remains evenly distributed throughout the night.
A few points if Mom asks: the Bearaby Tree Napper is Fairtrade Interational certified on its Tencel, organic cotton, and Spandex. There are no artificial fillers and the Tencel weighted blanket is hand knitted. It is organic and vegan and can be machine-washed on cold and tumble dried on low.
Brand | Clax

Price | $269
This one is for the Mom hauling kids from school, produce from the farmers' market, gear to the ball games, snacks to the pool, books from the library, and everything in between!
An incredible invention designed and produced in Germany, the Clax Trolley folds to fit in the smallest of spaces (i.e., closet, car trunk, garage) and unfolds with the click of a button into a two-tier trolley that can haul up to 120 pounds of anything you heart desires.
There are too many applications to list all of them, but the Clax Trolley is an incredible tool and can enhance Mom's life in more ways than you can imagine. This is even for the Mom who doesn't like touching dirty grocery store carts!
A few points if Mom asks: Clax is a 4th-generation family-owned business, who focuses on quality and sustainability. Made near Stuttgart, Germany, Clax sources its materials from their local area. Additionally, Clax is Climate Neutral certified and offsets its own carbon footprint. They have also joined the Climate Partner Program, supporting a wind turbine field in South Africa that feeds the local grid.
Brand | Gardyn

Price | $695
A higher-budget Mother's Day gift, but the perfect option for the Mom who has everything, or for the Mom who is passionate about growing her own food and feeding her family healthy and organic produce.
The Gardyn Home is an AI-powered indoor garden that grows fruits, veggies, and flowers inside your home, using only 2 sq. ft. of floor space and allowing to grow up to 30 plants year round.
We have had a Gardyn for over a year in our home and it is a source of wonder, joy, a collective family project, and an incredible source of healthy food for our family.
Choose from 3 plant stater sets and let Mom pick more pods once she is done harvesting. Each pod typically grows food for about 3 to 4 months and allows several harvests.
By connecting the Gardyn Home to the app, Mom keeps an eye on her the health of her plants and uses the power of AI to know when to fill the tank, when to prune or harvest, and keep an eye on the health of her system. Guess what? The Gardyn even waters and provides UVs to the plants, so it is on auto-pilot and the perfect gift for Moms who love to garden but do not have the green thumbs!
Pick your produce seconds before eating them, at their peak of freshness, pesticide-free, no GMOs, and holding 100% of their nutritional value.
A few points if Mom asks: the Gardyn uses only LED lights to save on energy use. It recycles water in a closed loop to save on water and plant food, and measures water level, humidity and interior temperature to give you the best advice on how to care for your plants. The Gardyn's columns are UV-stabilized, recyclable, and BPA-free; while its yCubes are made of corn-based compostable plastic. Lastly, the seeds are non-GMO, locally grown and pesticide free.
Sustainable Mothers Day Gifts
Honoring the Mom and women in your life, is a time of joy. If that special person is eco-conscious and passionate about sustainability,  picking a sustainable mothers day gift will make her heart happy and make her feel heard and seen. Your compassion will create incredible memories and the smile on your Mom's face will say it all.
We hope that this Sustainable Mothers Day Gift guide gives you enough options to find the perfect gift for that special person. We have included gifts for every budget and you can use the "A few points if Mom asks" section at the bottom of each gift idea, to impress mom with some fun facts she will love about your gift!
By making a conscious effort to reduce waste and support sustainable practices, we can all make a positive impact on the planet and create a better future for generations to come. So, this Mother's Day, let's celebrate our Moms in a way that is both meaningful and sustainable. Happy Mothers Day to all!
Most frequent questions and answers
A sustainable Mothers Day gift uses environmentally-friendly materials, ethical production, and ally longevity and functionality. They will be great gifts for the eco-conscious Mom.
Make sure you get a thoughtful gift on Mother's Day. Learn what your Mom cares about and what makes her happy. Is there something she likes to do but doesn't take the time to treat herself to? Showing your Mom that you thought about her needs first, will make your gift very thoughtful.
Give your Mom a gift that will last this Mother's Day. Choose from sustainable brands, who create products that are soft of the Earth and designed to last. Eco-conscious gifts do not have to be very expensive and you know that they will last.
How does the OOLER work?
The OOLER comes with three parts - the Chili Cool Mesh Pad, which you will lay around your mattress, and under your bed sheet, the control unit, which is filled with water, and the app. The control unit cools or heats the water to the desired temperature you set on the app and conducts it through tubes woven inside the mattress pad.
What is the ChiliPAD sleep system?
The ChiliPAD was the first bed cooling system invented by Chili Technology. It is still sold today, though big sister OOLER is a clear improvement on the ChiliPAD, leaving the ChiliPAD a little cheaper, while still performing very nicely. The ChiliPAD is a cooling and heating mattress pad, that works by flowing cooled or heated water from the nearby control unit through woven tubes. The ChiliPAD operates between 55 and 115 degrees.
What is an OOLER?
The OOLER is one of the most advanced bed cooling and heating system. It comes in the form of a mattress pad and is directly connected to the OOLER control unit. You set your desired bed temperature on the app and the control unit heats or cools the water to your desired temperature, before sending it through the woven tubes inside the mattress pad, keeping you at your desired temperature throughout the night.
Does ChiliPAD really work?
The ChiliPAD is a wonderful addition to any bedroom and it truly performs up to your expectations. Cool your bed as low as 55 degrees, or heat it up as high as 115 degrees, thanks to the ChiliPAD, a mattress pad you fit on top of your current mattress. The ChiliPAD is remote controllable and helps you fall asleep faster and more comfortably.
Share this deal with a friend!