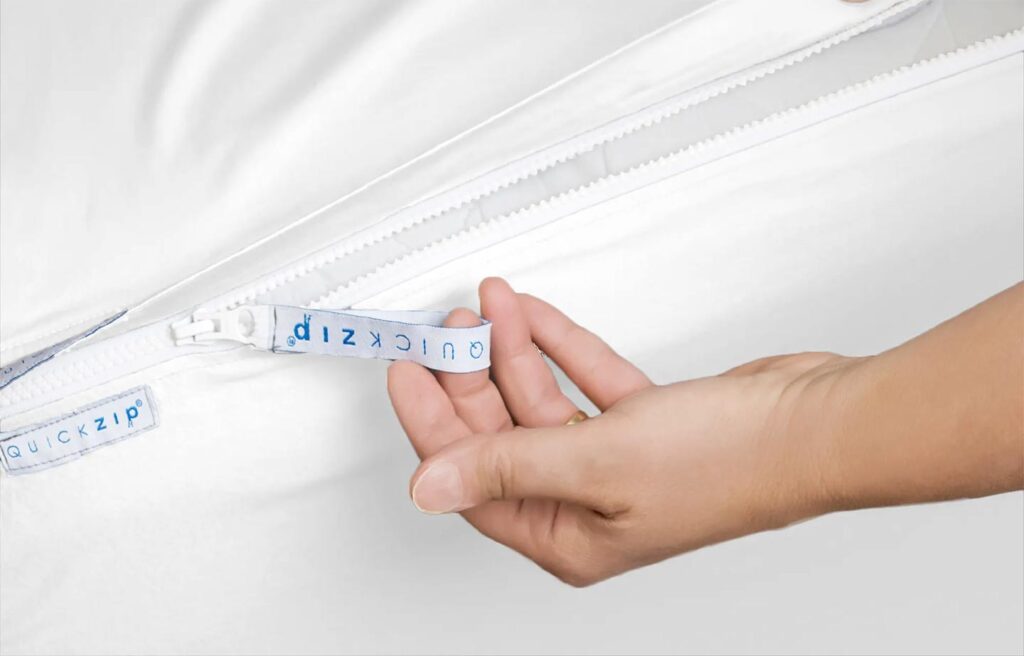 Making the bed is no longer a hassle with QuickZip! Finally, a genius invention that will save you time and that will take your frustrations away. I compare QuickZip to that super hero, in sheets form, that comes to save the day. 
Silly, but it's true! While they carry a wide variety of products, including their selection especially dedicted for babies, such as the Crib Zip Sheet Starter Pack, with the cutest prints also made with 100% cotton ( makes a great baby gift set by the way).
In this review I will be focusing on what i have received in my earth friendly bag from QuickZip: A QuickZip fitted sheet. One New-Way Duvet Cover and 2 Pillow cases.
QuickZip Company Policies
QuickZip offers free standard shipping and returns on all US orders. You have a whole month to try them, and if for any reason you are not satisfied, returns are free within 30 days of order receipt (or receipt of gift). 
What makes QuickZip so special?
QuickZip is not your typical everyday set of sheets! 
It is like the translation of life made easy when you try QuickZip. No more tugging or waking up in a tangled mess because they were able to solve this dilemma in a zip (pun intended). They simply make better, smarter and faster bedding . 
They focused on the comfort of the consumer and with numerous tests and adjustments, they were able to create hassle-free bedding. With beautiful finish and easy-view labeling, life just got even better and those challenges are gone just like that- in a zip- It's all in the details, big and small! 
It's basically like being surrounded with comfort. Honestly now, QuickZip will make you change the way you think and look at a set of sheets. It will make you want to actually make your bed, Funny, i know, but so true! That little secret weapon called zipper is ground breaking. It's like Zip on, Zip off. It's easier DONE than said. 
The fitted sheet is easy to fold, believe it or not. Zips off in a matter of seconds only which makes it super quick to change and won't pop off thanks to their SuperGrip elasticized corners that makes it flex to fit and helps stay in place. It is engineered to fit. Best part, you don't need to iron anything- of course as long as you follow instructions! It is the definition of life made easy, my favorite motto. 
There is a reason why they call it The New-Way Duvet Cover, it is like looking at changing your duvet cover in a new intelligent way! 
It opens wide along the bottom and one side for easy changing, simply lay the comforter inside and voilà. It is so easy a 5 year old can do it! 
The set comes with  QuickClips, you can tie them into the inside corners of the duvet cover preventing the comforter from bunching, keeping it in place. Also you do not need to remove them, they can stay attached when it's time to wash the cover. 
QuickZip Review Conclusion
I know i have mentioned it before, but i just can't help it, so i am going to say it again. Discovering QuickZip was life changing. 
It is genius by all means and simply a dream come true to all of us who have struggled when it comes to changing the duvet cover or simply worry about putting that fitted sheet on your mattress. 
QuickZip was able to feel our pain and came up with a solution once and for all to end these challenges. 
Life is easier, quick and efficient now with ALL of QuickZip products and i highly suggest you give them a try, you won't regret it. Especially their Baby line/ products. Something to be proud of when showing up to that Baby Shower party, trust me. 
[wp-review-facebook-reviews page_id="1014415615369419" limit="5"]
QuickZip sent us this for testing purposes.  All of the opinions expressed in this review are mine.QuickZip
Yes they will. 
QuickZip sheets are designed to stay snug and comfortable in every position on your adjustable bed.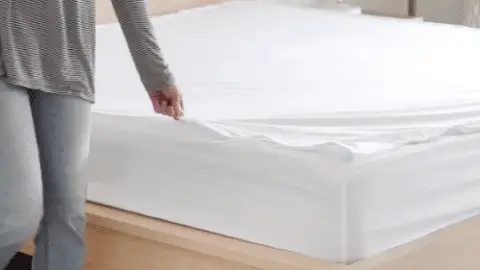 15% OFF
QuickZip
15% OFF with our featured coupon code. The fitted sheet that you zip and never fight to fit again! FREE shipping on U.S. orders