Purple Mattress vs. New Purple Mattress
Purple is one the top 5 best selling direct to consumer (Bed in a Box) Mattress Retailers
Recently they have made some dramatic changes to capitalize on their position in the market.  They are now publicly traded under the stock ticker PRPL, currently trading a bit under $11 per share.  They added 3 hybrid purple mattresses, the 2, 3 and 4.  Each number is connected to the size of the hyper elastic polymer layer's thickness.  Meaning that the New Purple 2, has a 2 inch polymer layer, while the 4 has a 4″ layer.
Before we get into the comparison I want to let you in on a secret.  I have NO affiliate relationship with Purple Innovations.  I subscribe to their email list, but other than that I have received no communication from the people at Purple.  I have personally purchased the Purple Mattress (original), the Purple Pillow and the Purple Seat cushion.
Menu:
Open up the accordion below to see what I think about the Purple products I have sleep tested.
Purple Pillow 
HATED IT & sent it back
Meh on it, sent it back
LOVE IT! Sleep on it often.
To the people at Purple I'm just a customer not a reviewer, and frankly I'm fine with that.  Now that we have covered that topic, let's dig into the differences between the Purple Mattress and the New Purple Hybrid Mattresses.
The Original Purple Mattress
It takes a bit of getting accustomed to this mattress.  You feel a bit like you are on a waterbed.  That said, I'm a side sleeper and I love the Purple Mattress!  I did a 2 week sleep test on it and then put it into storage.  I didn't think about it for months, and then I bought an adjustable bed.  I took all of the mattresses that I had in storage and cycled them onto my new base.  At first I was like, "nah I'll skip the purple".  Why?  Because it is SOOOO Heavy, moving it around is a real chore.  It was probably my last pick to come out of storage.  I remembered liking it, but I wasn't in love with it.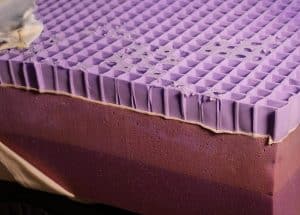 Fast forward a bit, I'm loving life on my adjustable bed, and some of the mattresses that I really liked didn't work well on an adjustable base.  Around the same time I was at a mattress store and I noticed that nearly every mattress on display was on an adjustable base.  My adjustable base completely changed the way that I sleep and cured my husband's sleeping.  Simply put, it was a life altering adjustment to convert to an adjustable frame.  This is going to be the future in the mattress industry, if a mattress doesn't work on an adjustable base the future sales of that mattress will be in jeopardy.
After testing about a dozen mattresses on the adjustable base it was time for the purple mattress.  No matter how strong you are, nobody can move a queen sized one on their own.  It is both heavy and it can "taco" on you if you aren't careful.  With all of the talk about mattress powder in the polymer section, the real issue you have to look out for pulling some muscles or finding yourself underneath the mattress while moving it.  It may come off in jest, but seriously have someone help you move this mattress.
Here is how it tested.
The video should start at about the 8:19 mark, if not skip forward.  Did you notice that the purple mattress was the best performing (and also preforming) mattress in this test?  Well I did!  I put that video together in November 2017, and have tested several mattresses since then.  Purple is still in a class by itself.  Did it sound like I was picking on the purple by saying it was heavy and hard to move?  Guess what?  That is a huge benefit on an adjustable base (assuming you don't exceed the lift capacity of the base).  The extra weight that is tucked into the mattress allows it to conform to the different positions of the base.  Did I also mention that the Purple mattress is weak on motion transfer tests, and that it feels like a waterbed?  Those are generally assumed to be bad things right?  Not so fast my friends.  When you turn on the massage feature on your adjustable base (hint the purple powerbase has a massage feature) this waterbed like quality transfers all of the massage power throughout the entire mattress.  With most mattresses that I test the massage is generally focused within about 8″ of the massage unit.  Put simply, it is a magical combination and I highly encourage you to consider a purple mattress if you have an adjustable base.  If you don't have an adjustable base, it is time to look into it.
If you go with the purple mattress plus powerbase combo you will get the one stop shopping experience.  However, my understanding is that the purple powerbase is manufactured by another company and Purple slaps their label on it, along with a markup of course.  So, you may want to consider less expensive adjustable base options.
New hybrid Purple 2, 3 and 4
They added 7.5″ coils and gave consumers the choice of how large of a hyper-elastic polymer section that they desire.  They say that the Purple .4 is ideal for side sleepers.  Look at the price table below, I'll wait for you!  OUCH! They want me to fork over $2,799 to upgrade to a queen sized Purple .4…
How much of this do you want to sleep on?
So already they have a huge strike here on the price point.  Just wild speculation here, but I am willing to bet that this was a wall street decision, not a marketing decision.  The new management that took over when Purple went public, probably said to the board something along these lines.  "Folks, we are losing way too much money each and every quarter, and these losses are accelerating as we grow.  Therefore, I think we should jack up prices and release a new product that is so different from what everyone else is doing that it will be noncompetitive.  Let's not stop there, let's go out on a mission to make the Purple .2-.4 like a status symbol.  Those millennials will eat them up.  We can create some kind of competition, only the coolest people have the .4.  It will be like what driving a Mercedes meant in the 80s.  Who's with me?"  It's actually crazy enough that it just may work.  Purple does an amazing job of advertising if any company could pull of this bold/ludicrous plan it's going to be Purple.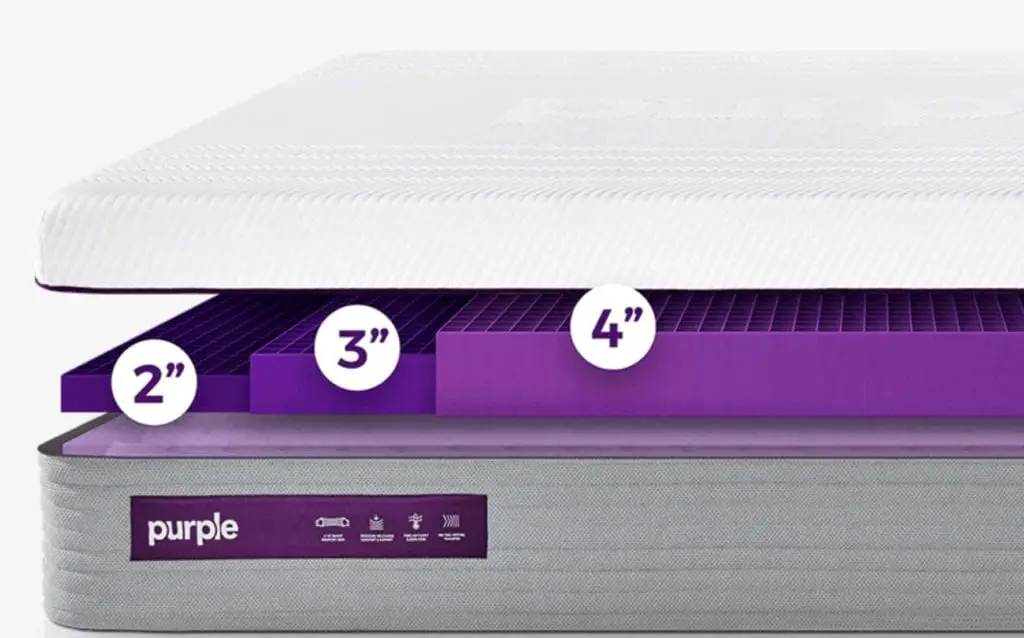 You don't have to go all the way up to the Purple .4 you could get the polymer section down to a 3″ or 2″ section.  Here is the CRAZY part the 4″ polymer section costs a full $1,200 more than the 2″ polymer section.
Besides the choice that you now have for the polymer section, the new purple mattress now has individually wrapped 7.5″ coils.  This will provide sleepers with the additional support that some fell that the original purple may not provide.  I feel like the "Raw Egg Test" video had a section about how coils weren't good, so I went and watched the video.  How much egg is on my face?  I was wrong there is no mention of coils being bad in that video.  Meaning, this expansion into the hybrid world may have been planned for the last couple of years.
The choice between which version of the new Purple you choose comes down to your choice of how much you are willing to spend.  The 2″ polymer layer with the transition foam and 7″ coils is $1,599, which is on the high side for a hybrid coil foam mattress.  However, this isn't really foam is it?  I mean you do get the egg catching capabilities of the Purple polymer layer.  The big question is; are you willing to almost double your cost to double up on their polymer layer?
Price Table
| Type | Twin XL | Queen | King | California King |
| --- | --- | --- | --- | --- |
| Purple | $699 | $999 | $1,299 | $1,299 |
| Purple .2 | $1,299 | $1,599 | $1,899 | $1,899 |
| Purple .3 | $1,899 | $2,199 | $2,699 | $2,699 |
| Purple .4 | $2,499 | $2,799 | $3,499 | $3,499 |
Which mattress would I pick?
The price difference between the original purple and the new hybrid models is so drastic that I would personally purchase an adjustable bed and a purple mattress way before I even considered purchasing a 2, 3, or 4.  They advise that the 4 is ideal for side sleepers like me, but no, sorry I'll stick with my adjustable base and my original purple.
Imagine that I were to purchase the Purple .4, the one they suggest for side sleepers like me.  At the queen size I would be forking over $2,799 on just the mattress, I still need to put it somewhere right?  I know that you can buy a great quality queen adjustable base for around $1,000, add the original Purple price of $999.  Now I'm sleeping on a killer bed for $2,000.  That doesn't even cover just the mattress at the Purple .4 level.  So, in my world, I have a way better combination for great sleep and I have an extra $799 in my pocket.
To me the choice is pretty clear, stick with the original Purple.  If you have extra money to spend I HIGHLY encourage you to add in an adjustable base.  However, were I in the big and tall category, I could possibly be swayed into a Purple .2 as it is marketed for back sleepers.  One of the cons that I hear about the original Purple is that it doesn't offer enough support for people in the big category.  The new Purple .2 may be able to solve that problem with the additional 7.5″ of responsive support coils.  I have an extremely large friend that I may be able to convince to test out the Purple .2.  So I know that there is NO way I'm buying a Purple .4, but I may buy the .2 for a big and tall test…
If you want me to write a check and test the Purple .2 so that we can see if it is a fit for the big and tall crowd, please leave a comment below.  With enough comments I may be swayed to pull the trigger on it.