Predictions: Casper Wave Vs. The Casper Mattress
I have completed my testing of the Casper Wave
I wrote the first prediction after 2 days of testing.
Prediction 1: I'm going to predict that it displaces the traditional Casper Mattress.  Why is that?  The Casper Wave is SOO much better than the traditional Casper, but it costs nearly double the price.  As Casper has moved on from the one size fits all category I think that they are going to run into some problems.  They have a nice standard model and now they have a great luxury model in the Wave.  The problem is that they don't currently have a mid level option.  So consumers are going to have to choose between two drastically different options.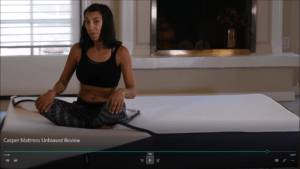 I enjoyed the traditional Casper mattress and spent a few weeks testing and sleeping on it.  Yesterday, I actually took about 5 minutes to lay on it.  Now there is nothing wrong with it, but you just can't even think about sleeping on it if there is a Casper Wave in the same room.  So it truly comes down to price, would you rather have 2 traditional Casper mattresses or 1 Casper Wave?
My husband and I played a theoretical game this morning.  It goes like this:
You have a scratcher lottery ticket and win $1,900, you don't need or want the money.  You then choose to give 2 prizes to people that you don't know.  You can choose one of the following options.
Option A: You give each of them a traditional queen sized Casper mattress (2 X $950 =$1,900)
Option B: You give one person a queen sized Casper Wave and the other a Casper Pillow ($1,850 + $50=$1,900)
I chose Option A, let's make 2 people happy.  My husband took Option B, let's make one person REALLY happy and the person who gets a pillow is still going to be happy.  We debated it for a while and neither of us would change sides.  What option would you pick?  Leave us a comment below!
Update after 11 nights on the Casper Wave.  Now that my husband hasn't had a great experience sleeping on the Casper Wave, he is really eating his words.  We now play a game where we say if the Casper Wave and the traditional Casper were the SAME price, which would you pick.  We both pick the traditional Casper without question.  We settled the debate the good old fashion way by having many restless nights on the Casper Wave.  You can read more about the polymer section/back pain issue in prediction #3.
Prediction #2
The Casper Wave price will come down quite a bit.  I think that Casper is going to struggle to sell the wave at the current price point.  Look for discounts even greater than the $100 that they are currently offering for the Labor Day Weekend.  In conjunction with this price drop, I think they may seriously consider cutting the traditional Casper from their lineup.
Casper has millions of customers throughout the world, if they decided to cut the traditional Casper, I'm willing to bet they would take it out with huge promotions.  Like, last chance to get the Casper you know and love, etc.
Prediction #3
This prediction completely counters my first prediction.  I made my first prediction after 2 nights and now that I am 10 nights into my review of the Casper Wave, I need to adjust my earlier thoughts.
Casper's switch from a one size fits all will be a BLUNDER.  The Casper Wave takes a lot of fine tuning to get perfect spinal alignment for everyone.  I have been waking up with back pain at least half of the time I have slept on the Casper wave.  Since, I'm small the middle section (the one with the polymer stripes) is pushing my hips and butt too much.  So rather than giving me the straight back I'm being "over corrected" and my spine feels like it's being bent the other way.  I haven't given up on the testing, as I'm hoping that this is just an adjustment phase that my body needs to go through.
Here I am fighting through some back pain to see if this new strategy works for Casper.  I don't think I have experienced this kind of lower back pain with any other mattress I have tested.  Now that my mattress honeymoon is over you are going to see my Casper Wave "in progress review score" go down from my initial impression.  How much lower will it go?  Stay tuned…
Disclaimer: I don't work for Casper, I'm not an affiliate of Casper, I just paid $1,850 (minus $100 labor day discount) for the Casper Wave, Casper probably doesn't know I exist, as I have never received a phone call or email from them (other than emails that all other customers get).
Update 9/7/17
Casper did contact me, and invited me to join their affiliate program, but then they rejected me…  What's really strange about that is that Casper's investor, (possibly parent) Target, accepted us into their affiliate program…
I sometimes provide coupon codes to their website, as could anyone else since they have a referral program.  This program gives people a MAXIMUM of $250 per year, so it will take close to 8 years of people clicking my codes for me to profit.  These opinions, which are 100% mine, are non-biased.
Update 10/2/17
Prediction #4: Serta is suing Casper for patent infringement on the Casper Wave.  Casper is going to be able to use the defense that the method doesn't work well for all customers/perhaps their construction of the mattress was different enough from Serta's.  You can read more of my thoughts on the controversial layer on my Casper Wave review below.
So my prediction is that Casper is going to pull the wave from their lineup.  It's going to be a combination of their poor use of the holes and polymer section and this lawsuit.  As an example check out how the Casper wave preformed on my Rize adjustable bed.
Casper Price Table
| Type of Mattress | Twin | Twin XL | Full | Queen | King | California King |
| --- | --- | --- | --- | --- | --- | --- |
| Casper | $595 | $645 | $895 | $995 | $1,195 | $1,195 |
| Casper Wave | $1,000 | $1,150 | $1,650 | $1,850 | $2,250 | $2,250 |
| Casper Essential | $350 | $400 | $500 | $600 | $725 | $725 |
You can read more about the:
Traditional Casper Mattress vs. The Casper Wave Mattress
It's hard not to give Casper a try, I enjoyed it and would recommend it to anyone who is not too large.
Read full review
Cons
A good amount of sinkage/very large people may have problems
A touch more expensive than it could be
My rating is a stay away from this mattress rating. I have encountered lower back pain from my back being "pushed up" too much from the middle polymer section. I offered a few suggestions on how they may be able to fix this issue.
Read full review
Cons
They probably need to offer different levels of the polymer section. Mine pushed up my midsection too much and left me with lower back pain
Felt a bit like I may fall off the edge of it.
Very expensive vs. other Mattress in a Box options
Couldn't sleep on it, too much back hip push back from the polymer section
Pros
Luxury Level of Comfort
Love the Targeted Firmness Concept
Thinking about buying the items we have reviewed? Help Non-Biased Reviews out if you do. Just click on any of the seller links above and the seller will contribute a portion of the sale to help support this site. It won't cost you anything extra and is a simple way to help us fund more items to review. Thank You!