Nest Fidoze vs. Casper Dog Mattress
It's time for a new dog bed
The youngest member of the family, Rider is now too big for his bed.
So today I purchased a medium "fidoze bed" from nest bedding.
To make things interesting I also purchased a medium "The Dog Mattress" from Casper.  Casper offers a 100 night trial, and Nest offers a 30 day trial.  The winner will get dog bragging rights, while  the loser in this dog mattress showdown will probably get theirs back.
Here is a video of the two products: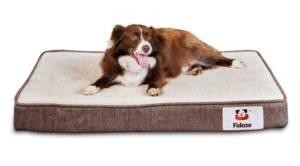 Ordering Process
Update 5/31/17
The communication from both companies has been solid.  Yesterday Nest Bedding said that they were "gathering twigs and bits of string to build your comfy nest".  Cute right?
Casper looks like it's taking an early lead as it has shipped on 5/31/17. "Good news, Rana! A shipment from Casper is headed your way."  So the race is on. Can Casper beat nest to my house in Arizona even though they are based on the east coast.  Oh I may have forgotten to point out that this is also an east coast vs. west coast battle, as Nest Bedding is out of Northern California.
The Casper was the first to arrive as it got here on the 2nd of June, which is much faster than I anticipated.
Were are these products made?
After inspecting the tags it becomes pretty difficult to call the Casper Dog bed a product of the East coast, rather it's more of a global effort to get the Casper dog bed to your furry friend.  The cover is made in China and the little mattress insides are assembled in Mexico.
I assembled mine here in America so perhaps you could call the global effort made in America, but otherwise it's difficult to say that the Casper Dog Bed is made in the USA.  On the other hand the Nest Bedding Fidoze is made in the USA.
Purchase Details
5/29/17. Both orders were placed, updates to follow when they get here.
Order Details:
We will now begin to build your nest.
Fidoze Dog Bed – Medium, 24×36 / Blue
Quantity: 1
Total: $149.00
Subtotal: $149.00
Shipping: $0.00
Total: $149.00
we've received your order and all systems are go. When your order ships, we'll send you another email with your tracking info.
The Dog Mattress
Gray Medium (for dogs up to 60 lbs.)
Qty: 1 $150.00
Ships by May 31
Subtotal $150.00
Shipping $0.00
Sales Tax $0.00
Total $150.00
Update 6/21/17
Where the HELL is my Fidoze NEST???  We are getting close to a month since I ordered it.
I wanted to do a fair comparison by opening them both at the same time and letting my dog choose which one he likes the best, but damn this is a poor customer experience from the Nest angle and a great one from Casper.  I'm not sure that my dog understands this complex situation though.
Update 6/24/17
We were told that it should ship to us early next week so we are crossing our fingers for an arrival date of 6/27/17.  The 27th came with no fidoze, but we did get a shipping label.
Update 6/30/17
It's here, the Fidoze took a month and a day to show up at our door.
Update 7/21/17
We are giving away the Fidoze on 7/28/17 go to our giveaway page to find out how to win!
8/4/17 Update
Congrats to Weslyn Fugate the winner of the Fidoze dog bed.
Thinking about buying the items we have reviewed? Help Non-Biased Reviews out if you do. Just click on any of the seller links above and the seller will contribute a portion of the sale to help support this site. It won't cost you anything extra and is a simple way to help us fund more items to review. Thank You!
4/8/18 Update
Purple now has a kickstarter going for their Purple pet bed.  They are way past their goal so its a pretty safe bet that we will see these on the market this summer.
Summary
Article Name
Nest Fidoze vs. Casper Dog Mattress
Description
Nest Fidoze vs. Casper Dog Mattress showdown.
Author
Publisher Name
Publisher Logo