Nest Bedding Introduces a Lifetime Comfort Guarantee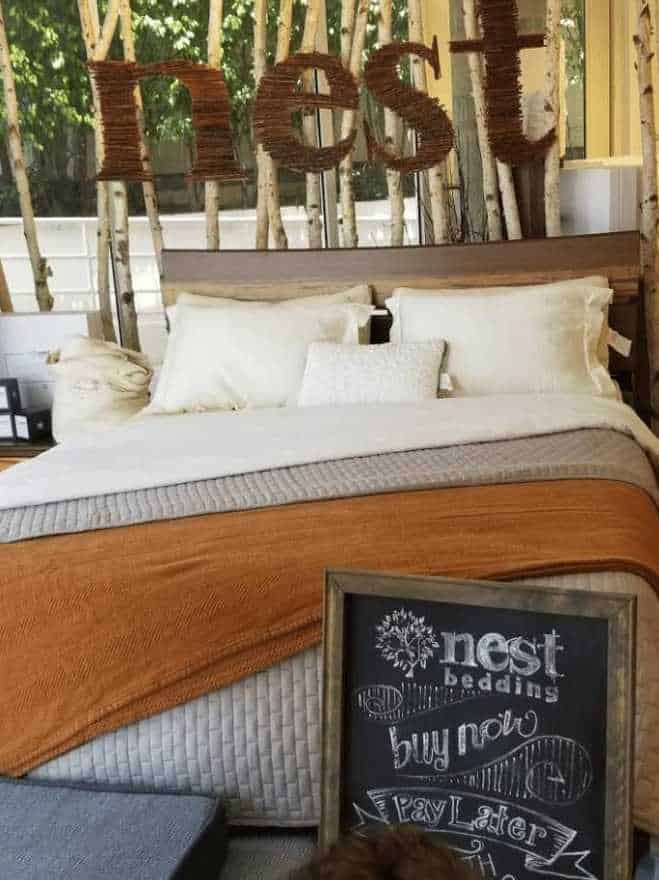 Lifetime Comfort Guarantee, what does it mean?
I'll summarize it here or you can read about it directly from the Nest Bedding site.  Before the lifetime comfort guarantee kicks in, each mattress is covered by their 100 night comfort guarantee.  After that 100 day period has expired, you can return/donate a mattress that doesn't work for you for 50% of the current retail price.  This new policy, effective for purchases after 8/31/17, helps to address a common complaint that Nest Bedding customers have, related to their 100 night trial.
The Nest Bedding 100 night trial period isn't the equal of their peers.  Let's be honest here, sometimes a mattress just isn't going to work for someone.  It doesn't make it the fault of the manufacturer, the retailer, or the buyer.  It's possible that the mattress just isn't a good fit.  If you read reviews, listen to customer feed back, or explore the customer service by yourself you will find that Nest Bedding's old 100 comfort guarantee was not as good as the the trial periods of other online mattress retailers.
Typically, the process of returning a mattress during the trial period at most of the online retailers goes like this:
Email or call customer service and explain why the mattress doesn't work for you
They pull up your information and then ask if there is a way to improve your sleep, many offer a mattress topper, while others move straight to the refund stage
They arrange for a local shelter to pick up your mattress
When it's picked up you send in the receipt from the shelter
Money shows up in your account
The return policy at a retail mattress location
Mattress stores have a higher cost structure so their return policies are generally poor.
Email or call customer service and explain why the mattress doesn't work for you
They pull up your information and then ask if there is a way to improve your sleep, many offer a mattress topper.
At this point they read the fine print to you and advise you of a "restocking fee"
A restocking fee huh?  How much is that?  Sometimes its a flat fee, sometimes it is a percentage of your mattress sale ranging from 10-50%.  Ouch, you could lose half of your money if a mattress just doesn't work for you?  Fortunately, for the retailer, the markup on the mattress was so high that they can break even/perhaps even turn a profit on an unsatisfied customer.
Sometimes the mattress goes directly to a shelter and sometimes they come out and pick it up (this helps justify the "restocking fee" right)?
Some of your money shows up in your account
Nest bedding has retail 10 locations/showrooms and a huge online presence, so it makes sense that their return policy would be a blend of the two.
Why is the Nest Bedding "old" 100 night trial period policy "more difficult" than their online peers?
Personally, I think this is something that has a couple of factors:
First, I want to believe that a company that uses a tree as their logo  
 cares about the environment.  So they want to make sure that if a mattress isn't a fit for your home it is going to end up in someone's hands rather than in a landfill.  After your mattress jumps through a bunch of hoops the customer service representative in charge of returns will offer to swap your mattress out for a different mattress type, or level of firmness, or perhaps a mattress topper.  If they fail to switch you to another mattress they will arrange to have a local shelter pick up the mattress.  Sometimes the process involves the very top of the Nest Bedding food chain, and Joe Alexander will get personally involved.  If you read the small amount of negative reviews out there, you will see that Joe sweeps in to clean up problems.
The other factor that I think makes their old return policy more stringent than their peers is that they have both an online presence and a retail presence in 10 cities now.  This means that their cost structure is different than a purely online only retailer.
With those two conditions in mind it's reasonable to see why the 100 night trial period is a bit worse than companies that have only an online presence.  When you go through the return process at Nest Bedding you really feel the blend between the online only policy and the retail policy.  They try really hard to switch you into something else that you may like and if there is a price difference they will refund that back to you.  If they fail to get you to swap then they start pulling out the fine print.  If you haven't had your mattress for 30 days yet, it's probably not worth contacting customer service.  They will ask you to make sure that you have given the mattress a full 30 days to make sure that it doesn't grow on you.
Past the 30 days and you don't like it?  Time to take out your camera and snap several required photos of your mattress.  Some of these are designed to make sure you still own it, while others are designed to make sure that you didn't damage it.  Other pictures can give them an out to void your return.  What's that?  Well in their policy they have rules regarding the foundation you use for your mattress.  For example, if your slatted base has gaps of more than 4″ and you send them that picture your odds of getting an exchange or a refund are going to drastically decline.  I get it, they have every right to want proof that you have taken care of their product.  The problem is that you don't need to jump through hoops like this at almost every other online retailer.
With all that said, they are clearly making an effort to improve customer satisfaction with their new policy of a lifetime comfort guarantee.
Seriously, how cool is it that you could get 50% off a new mattress for the lifetime of the mattress you own?  One minor detail here, how long is the lifetime of a mattress?  Well if you look at their lifetime warranty page it defines the lifetime of your mattress as:
Nest Bedding ("Nest Bedding", "we", "us") provides the buyers of our product ("you") with a limited warranty ("Limited Warranty") against certain product defects for as long as you own the mattress from the date of your purchase for the lifetime of the mattress.
Oops, that doesn't answer the question.  Some dogs live longer than others right?  The same is true for cats, and people…
Skipping over the missing fine print, I would have jumped at the opportunity to trade in the Sealy that I had with a mountain and two huge valleys in it (I disposed of that in January after owning it for less than 3 years).
Part 3 & 7 of the guarantee is going to force you to purchase a mattress protector, the good news is they can sell you one.
III. Mattress must be free of damage or stains in order to be approved for return. Mattress must be free of bed bugs, mold or any other condition less than new.
VII. Stains on the mattress will void the return privilege.
Here is the feature that I feel is the BEST part of the Nest Bedding lifetime comfort guarantee.
2. After the 100 night's trial, for the remaining lifetime of the mattress, if your needs change and you find you need a firmer or softer mattress, or you need to change to a small or larger size than your original purchase, you may do so at 50% of the current retail price.
* The BKB Kids bed is excluded but still carries a 100 night comfort guarantee.
It almost goes without saying that a BKB may be too small for your big kid when the teen years come knocking.
Imagine being single and a few years later finding a partner, moving into a new house, getting more space.  Do you want to move your 3 or 4 year old twin mattress with you, or would you rather get a 50% discount on a brand new Queen or King sized mattress?  The bonus that many of you probably haven't yet realized is you won't need to move your old mattress, your new mattress will come in a nice tidy box straight to your new home.
This size exchange perk is really going to set Nest Bedding apart from their competition.  It may actually be enough to put them ahead of their online peers given that their initial trial period is inferior to many of the other direct to consumer companies.
Want to see how the Nest Bedding Mattresses compare to other mattresses I have sleep tested?  Just drag and drop the mattresses you want to compare.
Photo
Company
Mattress
Type
Features
Height
Sleep Test Rating
Queen Price
Coupon Code
Current Discount
Purchase
Thinking about buying the items we have reviewed? Help Non-Biased Reviews out if you do. Just click on any of the seller links above and the seller will contribute a portion of the sale to help support this site. It won't cost you anything extra and is a simple way to help us fund more items to review. Thank You!
1
Nest Bedding Alexander Signature Hybrid
They just redesigned the Alexander Signature, I wonder if they are going to add handles to the Hybrid?
Read full review
Cons
The stitched cover makes it difficult to use on an adjustable frame.
Pros
Sturdy Hybrid
Added handles to the sides this year!
$150 off Alexander Signature Hybrid
Designed to compete with more popular mattresses like Tuft & Needle. It is one of the better mattresses at this price, but they don't really market it well, it's a hidden gem.
Read full review
Cons
New Company/Poor Communication
No Zipper
Pros
Nice Value
Sleeps Cool
Nice Cover Design