Nest Bedding Offers a Plethora of Sleeping Options
You can purchase these from their many retail locations or online.  They just introduced a lifetime comfort guarantee.  In my opinion, the best part about that lifetime guarantee, is that you can swap out your mattress for a 50% discount on a different size one.  Just think, if 3 years from now you and your new partner move into a house and want to upgrade to a king sized bed, you will be looking at paying 50% of the price!  Seriously, you can't beat that!
We have tested many of their products and visited one of their stores in Santa Monica, California.
It's a family owned business so I asked Joe Alexander if we could take a tour while passing through LA, and he had his daughter Brooke give us a tour while she was working there.
Although they sell everything online it was nice to test out some of the products that we hadn't ordered yet.  Odds are that you aren't going to be in a town that has a Nest Bedding location unless you are in:
The San Francisco Bay Area
Los Angeles Area
New York
Chicago
Phoenix
Denver
I also had the chance to visit their factory to see where the magic happens.  Right here in Phoenix, AZ. 
When the factory was built a couple of years ago they put their offices upstairs so you get these fantastic views of the factory.  I went on a tour during their lunch break so I didn't have the chance to see the part where mattresses get folded and compressed so that they fit into those cute boxes.  If I'm lucky I'll get another invite down the road and I'll shoot some video of that process and perhaps interview the owners of the factory.
In addition to their locations through out the country they also went a bit outside the box and partnered with Airbnb and point out the locations that feature their products for travelers.  If the stars don't align and put you in a room that features one of the Nest Bedding mattresses, I'll tell you about my experience with each of the mattresses
They currently offer 8 mattresses and just upgraded the Alexander Signature with a cool Grey look and HANDLES!  I love handles, as I spend a bit more time dragging mattresses around than most people do.  Here are Nest Bedding's mattresses, I'm starting with the ones that I have had an in home test followed by the ones I have only gotten to try at the retail location in Santa Monica, or their factory here in Phoenix.
Alexander Signature Hybrid Review.  I have a nice coupon code for this product Nonbiased200, which will take $200 off your purchase.  As a fair warning, I'll get a small commission if you use this code and purchase a Alexander Signature Hybrid.  As a side benefit, I'll likely use those proceeds to purchase and review some of the Nest Bedding products I haven't yet tested.
Love & Sleep Review.  Just to clarify any possible confusion, there is another company that sells a Live & Sleep mattress, which is clearly a different product.  The Love & Sleep is a bit less expensive and made in the USA rather than in China.
Big Kid's Bed Review.  My son Ray has been testing this for awhile and he helped out with a minecraft unboxing video.  This is a great option designed just for kids.  I'm going to host a giveaway of the BKB in the next couple of months so that other parents get the chance to have their kids experience this bed.  If Nest Bedding decides to sponsor it, then hooray, if not I'll use money that I receive when our readers click on these links to pay for it.
Alexander Signature Series.  This was in the Santa Monica Showroom so I tested it out, but they recently updated it to a grey color and added handles!  I have a $100 discount on this which you can get by clicking this Alexander Signature link.  You may have to enter the coded bestbed100 when ordering.
SmartHouse Collection.  This was the most expensive model that I saw in the Santa Monica location.  It was nice, but I didn't get the chance to really give it a test drive in the showroom. Plus who doesn't love Amy Smart one of the creative minds behind the design?  She and her husband Carter Oosterhouse (get the name now?) have a little one that isn't quite old enough for the BKB, so I'm wondering if they are thinking about designing a crib mattress.
Q3 Latex.  I don't recall seeing this in the Santa Monica showroom so I haven't tested it yet.
Hybrid Latex.  I don't recall seeing this in the Santa Monica showroom so I haven't tested it yet.  I later found it at the Nest Bedding Factory in Phoenix, Arizona.  
ActiveX Review.  I love this mattress, it comes in three colors lime green, teal (the one I have), and red.  It has a fun design and a super cool feel.  Unfortunately, Nest Bedding no longer sells the ActiveX.
In addition to these mattresses they also have a wide variety of bedding options ranging from pillows to sheets, and of course the Fidoze Dog Bed!
You can read about how my dog Rider compared the Fidoze to the Casper Dog Bed
A pit stop:
So one of the perks of being a reviewer is being able to meet with some of our favorite Mattress people during our travels  Here are some pictures of our trip down to the Santa Monica Showroom
Nest Bedding is a Family Owned Business established in 2011 all American loud and proud. Factory direct bedding and mattress company serving The San Francisco Bay area as well as L.A., New York and Chicago!
Interested in buying some Nest Bedding Products?
Thinking about buying the items we have reviewed? Help Non-Biased Reviews out if you do. Just click on any of the seller links above and the seller will contribute a portion of the sale to help support this site. It won't cost you anything extra and is a simple way to help us fund more items to review. Thank You!
Summary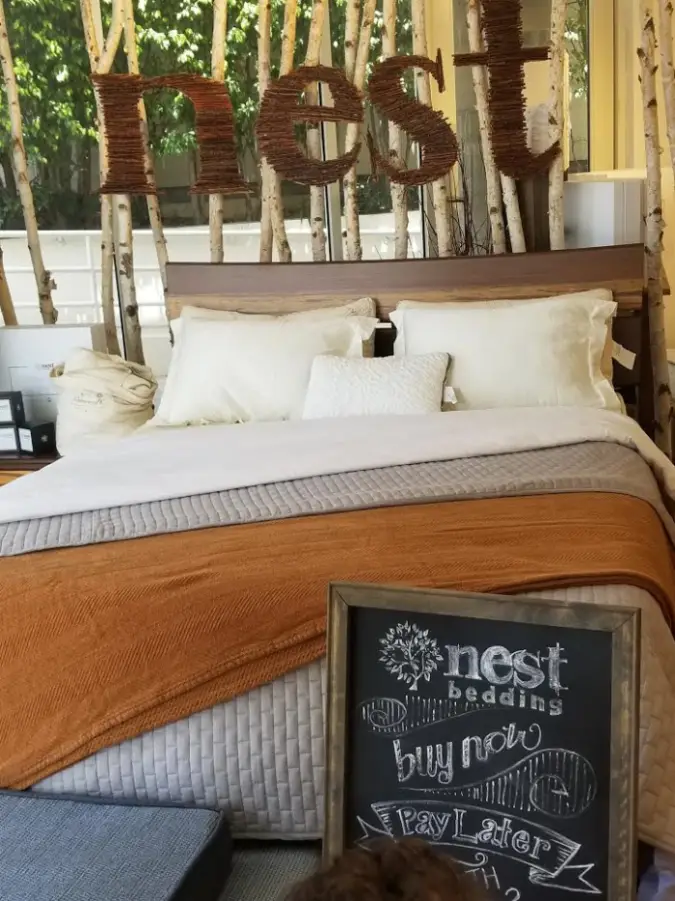 Article Name
Nest Bedding Product Page
Description
Here are the products that Nest Bedding offers in their retail locations or direct to you through their website.
Author
Publisher Name
Publisher Logo