NECTAR Mattress is my top budget pick.
In June of 2018 they increased prices by $50, yet they are still my pick as the value that they bring is still unbeatable.  The increase came as a bit of a shock, but I figure it was done for a couple of reasons.
This year I estimate that they are selling around 25,000 mattresses a month, so they may have decided to increase the price a bit so that their factory could keep up with their sales.
Having a bit of a higher price-point gives them the opportunity to hold larger "discounts" when holidays come around.  Now that may seem strange but I have noticed that other companies have done this and they seem to get huge sales boosts during holiday seasons.
Speaking of budget picks, their adjustable bed pricing is unbeatable.  I haven't been able to find an adjustable bed that offers dual massagers and a full range of head and foot changing positions anywhere near the price that Nectar sells theirs.
Wait is that a King or a Queen Nectar in my videos?
You should be able to tell that the Nectar shown in my original review video is a king size.  For those of you who follow me, you know that I now sleep on a queen size adjustable frame.  This meant that I needed to do something with my king size Nectar.  I told the people at Nectar about my decision to downsize and they arranged to have that mattress picked up and donated it to a local shelter.  Here is the really cool part, they gave me back my money for the purchase.  So, in a round about way Nectar provided me with the mattress that I originally purchased from them in February of 2017.
Fast forward to February of 2018.  I purchased a Queen size Nectar for my mother in-law on the 24th of February, and it arrived at her house on 2/28/18.  For all of the talk about long shipping delays that Nectar had experienced in 2017, I can put those worries to bed.  Angela Meek received hers in a bit over a week and my MIL got hers in just 4 days.  Their short delivery time is even more impressive when you take into account that Nectar sold more than 25,000 mattresses in the month of February.
So why did I purchase a Nectar for my MIL?
Without spoiling the surprise it's the location of the bed that we are replacing that made Nectar my choice.  She needed a good quality mattress for this "location" and was replacing a 10 year old mattress that gave her back pain.  Once I put together the video this will all make sense, so you are going to have to wait a few weeks as she lives in California and I live in Arizona.
Ok, now it's time to reveal the surprise.  I bought this mattress to put it on a sailboat, yes a boat or a yacht.
Most people think that there is only one option for a sailboat mattress, and it isn't a good one.  Generally, you will find 5″-7″ mattresses that you can fold up to squeeze in and out of tight spaces.  Now that they compress mattresses, your sailboat options have expanded a bit.  Nectar has the advantage of compressing and then rolling their mattress.  At first I thought this was a disadvantage when compared to ones that ship in boxes.  However, when I thought about the space that I needed to squeeze a mattress into only a Nectar and maybe a Purple mattress would fit through the door.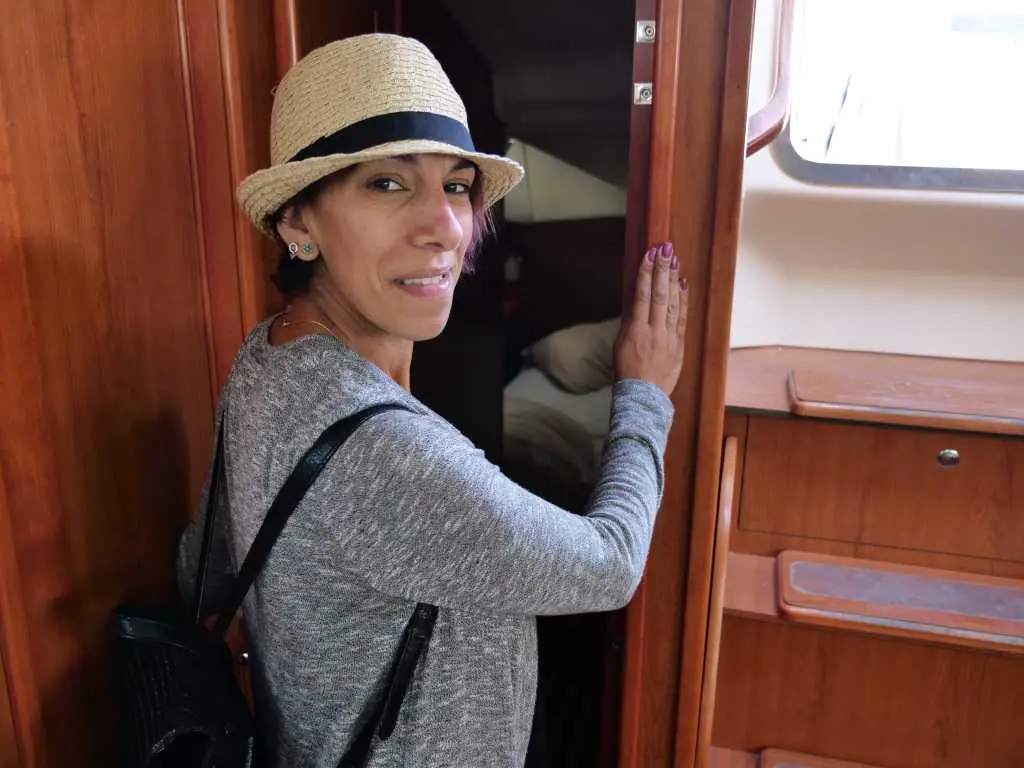 Will the Nectar mattress fit in this small space?  So why did I say that only a mattress that is compressed and rolled would fit in this space?  Well if you skip about half-way through the video you will see that there isn't much overhead clearance.  So a mattress that is folded, like you typically get with a bed in a box, would get stuck.  The reason I didn't go with a purple?  The Purple is really heavy, so I scratched that off the list, boats don't do well with extra weight.  Want to see if I was successful?  Perhaps it got stuck while going down those stairs, or through this door.

Menu:
What Type of Bed Frame Works for this Mattress?
Not sure what size bed you need?  Go to our bed size page.
Solid Platform
Solid Foundation
Slatted Base
Adjustable frame
Price Table for a Nectar
The $125 coupon below comes with 2 free pillows.  Financing is available through Affirm.
So What's in the BOX?
To our complete surprise, it's not a mattress, just the pillows that they sent.  I guess we could review their pillows instead…
When Nectar first launched they didn't have their own pillows yet.  They have added their branded pillows and a foundation to their product line up.
You can see their branded pillows which now come compressed with the mattress.
One of the things you may have picked up from my video is that the Nectar Pillow is adjustable.  All you need to do is unzip the top cover, and then unzip the insert and start plucking out as much of the inside as you want.  Be careful to not overdo it though.  When you first open up your mattress and pillow they probably won't take their full shape for about 24 hours.  So I don't suggest removing any of the filling for at least a day.  Even then, make sure that you set aside the filling for a few days to make sure that you still have enough in your pillow.  I have slept on it for a few days since I unboxed it without making any adjustments.  Last night I decided I wanted to try it with a bit more give so, I just plucked out 2 handfuls and I'm going to test it out that way tonight.
They still have a few things to do to become a true one stop shopping experience.  I am willing to bet that they will add more products as they continue their growth.  I think the market is ripe for a Nectar Adjustable frame, with a nice massage feature and all the latest tech gadgets.  Now I may be dreaming, or I may be on to something, I guess we will just have to wait and see.
Initial Impressions:
It's hard to pretend not to notice the slow delivery time of the Nectar we tested in 2017, but once it was opened and aired out we were very pleased.  Especially that the scent was barely noticeable, it was mild and before you know it, it was gone. Here's the best part, you can try it for a whole year YES 365 night trial. It's one of the best trial offers you can ever get.
Now that we have tried the Nectar Mattress for over 2 weeks, let's talk about what makes this 11″ all-foam mattress.
Construction from bottom to top
Besides providing basic and deep compression support to the sleeper, the bottom layer with its 7″ of high density foam plays a fundamental role as main base for the whole mattress resulting support and foundation.
The middle layer and its 3″ adaptive hi core memory foam  not only adds up even more support, it shapes up the mattress by contouring it. It's also known as the transition layer, providing both support and bounce at the same time.
Which leaves us the top layer, an inch of mainly gel memory foam providing air circulation while distributing weight evenly and contouring to your body delivering great pressure relief.
We do not want to forget about a very important ingredient, the top cover.
Thanks to its Tencel fiber material. We will talk about the top cover more in a second, just wanted to tell you real quick what Tencel is. Tencel is a sustainable fabric, regenerated from the eucalyptus tree (I know this because I use Eucalyptus essential oil in my diffuser), making it the most echo friendly regenerated fabric. Now back to our top cover.
This cover will deliver you air circulation, which will result to softer, cooler and more breathable feel. It's also bedbug resistant!! Hi Five all around.
 Nectar Mattress Review
The code above also comes with 2 of the new Nectar pillows for free!  Plus I'll personally send you a $25 gift card if you purchase a Nectar and use my coupon code.
Thinking about buying the items we have reviewed? Help Non-Biased Reviews out if you do. Just click on any of the seller links above and the seller will contribute a portion of the sale to help support this site. It won't cost you anything extra and is a simple way to help us fund more items to review. Thank You!
Ordering Details
We purchased the Nectar Sleep mattress on 2/27/17.  We clicked on our referral link, below, to make sure that it got us to the right place and gave us the same $100 discount that our viewers would get.  Fortunately, both worked so now we just need to wait for it to arrive at our door.  I received an email saying that it was scheduled to be shipped on 3/17/17, little did we know it would arrive much later than that.
We sincerely apologize for the delays and appreciate your patience.
Your NECTAR has finished production, and is now on the way to our distribution center for final quality review and shipping. Your NECTAR mattress will ship to you on March 29th.
So in our case it looks like we need to wait over a month to test this…
Thank you for your order (#10541) from NECTAR.
The Nectar Mattress (King)
$900
Two NECTAR Memory Foam Pillows – FREE
$0
Shipping (United States – Flat Rate)
$0
Taxes
$0
Coupon
-$100
Total:
$800
Total paid: $800
You can see that I originally paid $800 for a king size Nectar at the launch of their company.  With their price increase in June of 2018 and their $125 coupon, this King size Nectar would have increased to $799.  As far as inflation and competition go, that's not much of an increase and it is still a huge value at that price.
So it has been a month and 4 days and it finally arrived!  All packed into a cute little 15″X18″X10″ box.  Surely a king size mattress can be compressed that small, I mean they had over a month to do it so I'm sure that's what we will find in the little box.
Let me tell you, it was worth the wait!

Unboxing
Unboxing Video
The bag is a bit hard to maneuver when compared to a box.  At first we thought we may be able to re-purpose the bag later, but we needed to rip it open to get to the mattress.  Then there is a zipper cover around the mattress that also needed to be cut.  Oh well so we didn't get any extra bag, but there was a nice and handy opener.
We were able to salvage the white bag from the second nectar that we bought in February of 2018.  It now serves as a laundry bag on the boat.
If you missed the video of me unboxing a Nectar on a boat, go back and watch it.  Seriously, it's not too late, I'll wait.
Unboxing Pictures
Update:
 In transit
 TACOMA, WA
It is expected to arrive this Friday!
So it's here!  One month and 8 days after we ordered it (2017 mattress).  Normally, I would be a bit upset (and I'm willing to bet it comes off that way), but I'm actually quite excited to unwrap it and catch some zzzs.  I enjoyed the pillows that came 4 days before the mattress, so I'm really expecting good things.
It's really a shame that they have had so many shipping issues in 2017, as it really is a nice mattress.  Many companies go through growing pains, but the folks at Nectar just didn't realize how good of a product that they had when they launched it.  It is still competitively priced and it ships much faster than it did when I bought mine in February of 2017.  I have since downsized to a queen size, so I had to send my king size Nectar off to a local shelter.
Other Fun Nectar Information:
You can read more about my experience of putting a Nectar on a boat
I just bought a Nectar mattress protector for an upcoming test
Nectar just released an adjustable frame.