Personalized Helix Mattress
We purchased a Helix Mattress: here is the receipt:
Order Placed:
March 23, 2017
The Helix Dual Comfort Mattress arrived at our door on 3/28/17.  So it only took 5 days to ship across the country, not bad!
Rana and I took the quiz and selected a dual zone style mattress.  Our hope is that my side is going to balance our our size difference, as I'm about a foot taller than she.
How you select a dual comfort setting on the Helix website.

Here is an intro to the Helix Mattress in the box

Here is a video of the unboxing.
The Helix Mattress falls into the hybrid category.
It has 2″ of Helix Dynamic Foam, which isn't a memory foam or latex.  It is supposed to have some of the qualities of each.  Although technically a hybrid, I really look at it as a foam mattress with some small coils added to provide additional stability.
The pocketed microcoils give it support and bounce.  This should take up about 2″ of space.
It should have a 2″ comfort layer and a 4″ Base Layer of High Grade Polyfoam.
Let's see how ours looks.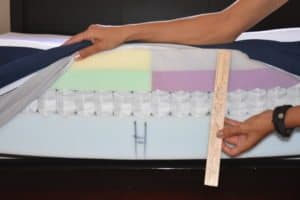 The Base Layer is about 4″ as advertised.
The pocketed microcoils are a little over two inches and positioned in the middle.
Then we have 2″ of both comfort layer and the Helix Dynamic Foam.  The yellow and green sections on the left hand side of the bed are for the Medium to Medium firm on the Helix customized scale.  The grey and purple are for the soft to medium soft feel.  When you squish the different sections with your fingers you can really feel the difference.
What does the Label Say?
68% Certi Pur Polyurethane Foam: 32% Certi Pur Pu Visco Foam W Gel.  And here's the best part of the label MADE IN THE USA!
Now that we know what's inside the mattress case, how does it feel?
The Medium to Medium Firm Side:
It has some give, but tons of support.  It is perfect for side sleeping.  Rana is a side sleeper and she's pretty light so she loves it.  Ross is a back sleeper so he finds it too firm and is forced to sleep on his side to get comfortable.
The Soft to Medium Soft Side:
This is amazing for back sleepers, you don't sink in too much.  I haven't been on many mattresses that are this soft yet sturdy enough that you don't feel like you need help getting up.  Rana is light enough that when she sleeps on this side she doesn't sink in too much while sleeping on her side.  If one of us is in bed before the other, you can guarantee that they are going to be on this side as it fits both the back sleeper and the side sleeper.

So all things considered, we love this mattress, but we know that we are going to have to switch it out for the blended version as we just can't get over the middle of the bed.  It is just too much of a contrast to overcome with the left side being so much more firm than the right side.  We will order the blended version and do a separate review as we are fairly confident that we are going to really love it, so please check back for our updates.
Our expectation is that once we try the blended version the scores for comfort and sleep quality will go up, but as of now we are scoring it on the basis of the dual comfort choices we made.
Here is the link we used to purchase the mattress.
$150 Off Helix Mattress
Thinking about buying the items we have reviewed? Help Non-Biased Reviews out if you doJust click on any of the seller links above and the seller will contribute a portion ofthe sale to help support this site.It won't cost you anything extra and is a simple way to help us fund more items to review. Thank You!
Update 3/6/18
I just tested the Helix blended version. Here is the unboxing video:

Cons
Dual Comfort is a problem if the sides are drastically different
Wonderful Hybrid
I wish I would have ordered the blended version rather than the dual comfort one.