I got to see the Magni Smartech system at the CES in Las Vegas this week
If you are at the CES this week in Las Vegas, head up to the second level of the Sands convention center and go through your first door on the left, the Magni Smartech booth is in the front so you can't miss them.  I was a bit early so they weren't set up yet, so I didn't get to try out the whole experience.
I have been searching for this sleeping solution for about 6 months.  I needed to try a few different sleep trackers, sleep tracking systems and adjustable beds before I really knew what I was looking for.  All of the things that I say to myself about different sleep tech are all integrated into one solution.  This is a must try for me, so if the folks at Magni Smartech are reading this, let's make sure that I get your product on my sleep testing calendar.
First, let me start with an adjustable bed frame, it completely changes the way you sleep and turns your bed into not just a sleeping area, but a lounging one as well.  My husband is, no was, a snorer.  I have tried so many things to fix the snoring issue, but the one true fix is the anti snore position on my Rize adjustable bed.  It's not a position that you always want to be in, so I sometimes get up and grab my remote and adjust the bed when I can hear the snoring kick in.  One of the things that I'm searching for is for a bed that detects the snoring and automatically adjusts to the anti-snoring position.  The Magni Smartech system says that they provide that solution.  I was too early to test it, so I'll take their word for it, and hopefully I'll get to test it out soon.
What really excites me about their Smartech system is that all of the tech is integrated within the mattress.  That's right, there isn't a cover that needs to fit over the mattress, and you don't have to wear anything.  Once you set up your app all you need to do is start sleeping.
An all in one sleep solution is almost here.  If they had a way to regulate temperature, rather than just monitor it, this would be an absolute must have.  Perhaps they have people dreaming up ways to also integrate that into the system.  However, for now this is offering the most comprehensive sleep solution on the market.  In addition, they even have considered the little things, like handles on the sides of the mattress.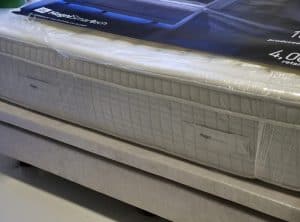 I look forward to updating this article after I have the chance to sleep test their sleep system.  So please check back!