Luxor Linens. Bath, Bedding and more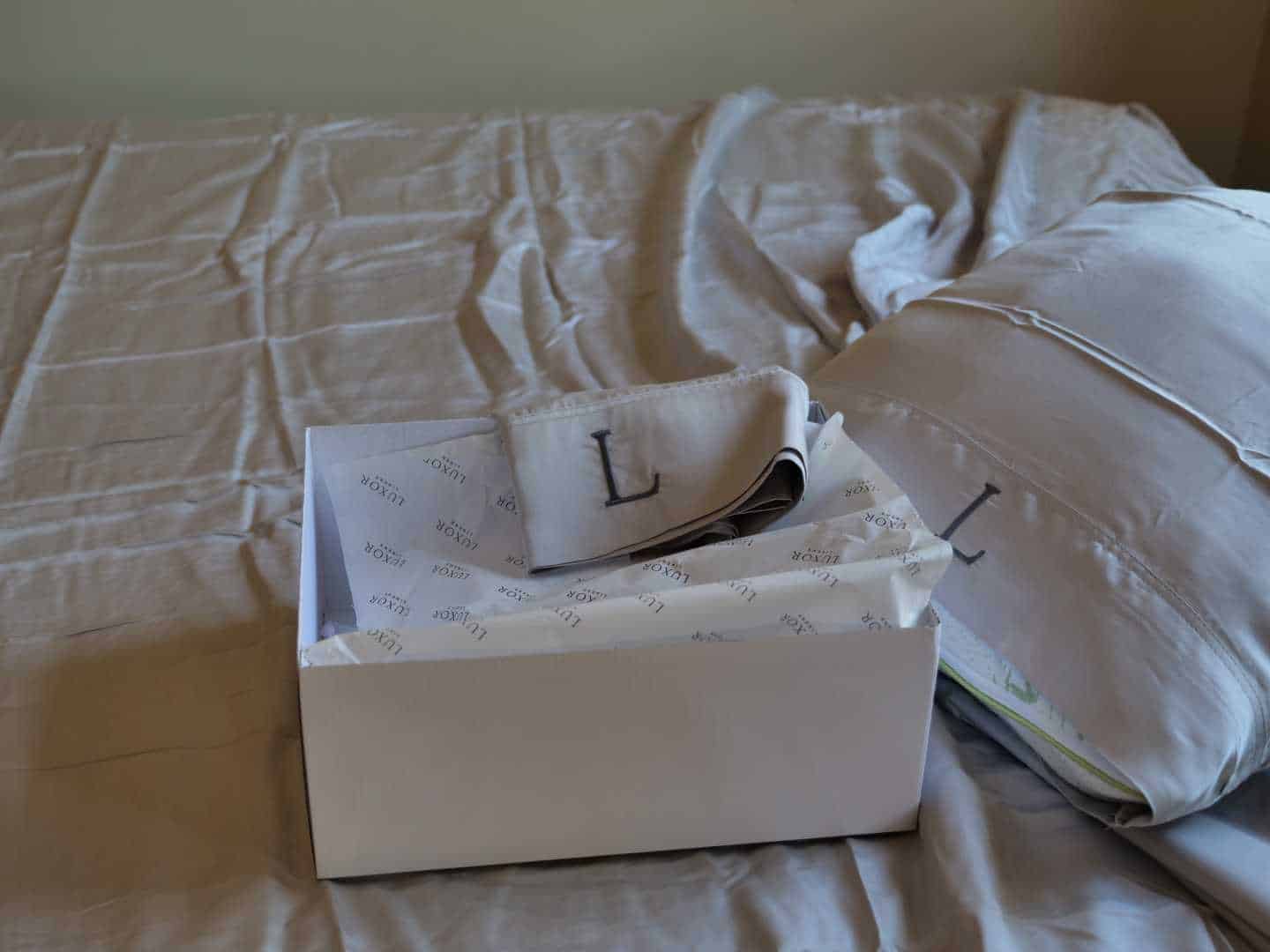 Bali Bamboo Luxury Sheet Set. 
Is on what's on our reviewing menu today!
I have to say I am always picky when it comes to testing bed sheets. Not all of them make it to our website, only high end ones . Ones that really impress us. Luxor Linens was obviously one of them, and this post is dedicated to their Bali Bamboo Luxury Sheet Set. 
The way it comes delivered to your door, in a pretty elegant box, wrapped neatly. Those things may be manor to some, but to me this seals the deal. Presentation is key!  The moment I opened the box and felt those sheets I knew I was sold. Inside the box you will find 1 Flat Sheet, 1 Fitted Sheet, and 2 Pillow Cases. Mine were Queen size, below is the exact measurement.
Queen Size (width x length)
Flat Sheet
88″ x 100″
Fitted Sheet
60″ x 80″
Pillow Cases
20″ x 30″
And that's when I also knew the perfect night's sleep awaits.
With Luxor Linens bamboo sheets you experience pure Zen.
They are ultra soft and breathable, these sheets are made to keep you cool and comfy all night long. On top of it all they make the perfect present. Not only Luxor Linens look and feel great, they can also be customized. With their signature gift monograming and packaging, you can make it also personal. So neat and perfect for many occasions like a house warming party, Christmas, Birthdays or just because you want to spoil yourself. So neat!
Bali Bamboo Luxury Sheet Set is a great addition to your bedroom, any bedroom. 
They are lightweight, wrinkle free and come in a variety of sizes and colors. Not only they are luxurious, they are practical too.
The superior quality and standards of the Luxor Linens Collection are evident in:
CRAFTSMANSHIP – Where very piece from their collection, whether Egyptian cotton, Organic cotton, Silk, or Bamboo is manufactured with ultra-modern machinery that specializes in intricate designs.
QUALITY OF MATERIALS – Their Bed and Bath linens are produced from the finest materials available today with no compromise. For example:
Egyptian Cotton – is composed of the finest ELS ( Extra Long Staple ) only found in Giza near the lush Nile river.
Organic Cotton – grown without the use of chemicals or pesticides thus making this cotton the perfect Eco-friendly textile for a pure and healthy experience.
Here's a quick overview on the Bali Bamboo Luxury Sheet Set:
Bamboo
300TC
Wrinkle Free Fabric
Eco-Friendly
Extra Soft Feeling
Machine Washable and Dryable
Hypo-Allergenic
Cool Comfort
Infused with Aloe Vera
At the end remember that there is a lot that goes into your every day. In order to maintain a healthy balance Luxor Linens was able to deliver straight to your door a good night's sleep and proper relaxation through their high quality products.
They also offer FREE SHIPPING and 30 Day in-home free trial. 
Bali Bamboo Memory Foam Pillow to complete your sheet set
This one comes free with the purchase of the set. You can easily unzip the pillow cover which is also washable, to feel that shredded cool memory foam that is the main ingredient of that pillow.
It will come super compressed, so give it some time to fluff up. Once it does prepare yourself for the ultimate night sleep.
The Aloe Vera Memory Foam Bamboo Pillow rejuvenates your senses while you sleep and is ideal for all sleeping positions.
Current Specials
Get 20% off your entire order with code mom20off.  Ends 5/13/18
Thinking about buying the items we have reviewed? Help Non-Biased Reviews out if you do. Just click on any of the seller links above and the seller will contribute a portion of the sale to help support this site. It won't cost you anything extra and is a simple way to help us fund more items to review. Thank You!
Unboxing
Unboxing Video
Unboxing Pictures