KAYA
Great edge support
Sleeps cool
Comfortable and supportive
High grade materials used for durability
Works with all kind of foundation
A New Luxury Hybrid Mattress Just Hit The Market
Update 3/7/18
The people at KAYA have removed me from their affiliate program.  I'm ok with that, it is a nice mattress made from high quality materials.  I will no longer be part of their sales process, but I'll keep this review up.  The additional $25 off offer will not apply to KAYA sales.
In addition, they raised prices, but you can check out their new prices on their website.
Original Review of KAYA
Our KAYA Sleep shipped out of Mississippi, and was delivered on time. Which is very important when you're looking forward to receive your mattress in a timely manner because you are so eager to try it! Right?
You can check the tag in the unboxing section, or just take my word for it that the KAYA comes out of the same Leggett & Platt factory in Tupelo Mississippi.  I'm going to need to schedule a tour of their plant soon as I keep getting more and more samples of their work!
Menu:
What is Inside the Mattress?
The KAYA cover is infused with Thermogel, giving it that cool feeling.  It feels like I have felt this fabric before and is common in other Hybrid mattresses I have tried, except KAYA's is better quality and when you pinch it you can feel the Thermogel.  It's subtle, but you can tell that it is there, giving it just a bit more of a cool feeling than the others. So that's a great start.
Underneath the cover, the KAYA is constructed of 3 foam layers sitting on around 1,000 pocketed coils.  Total thickness of the KAYA is 11″.
The first layer (2 above) is an inch of 5 lbs. high density support foam.  Then comes 2″ of 4 lbs. density memory foam.  Followed by 1″ of 2 lbs. transition foam.  At the bottom we encounter over 1,000 individually wrapped 7″ coils.  Since they are wrapped individually, we expect that the mattress will pass our adjustable bed frame test.  Spoiler, it did well on the adjustable bed test.  Want to see inside the mattress?  You may want to skip ahead in the video to 2:15:

So where does the name come from?
I am always intrigued by some mattresses names and their origin and why did they pick this name specifically. Does it have a meaning or a story behind it? Did the team gather around and decide it's a good fit, catchy and easy to spell? Maybe that's just how I am, because I pick my horses and nail polish colors according to a fun name!
By the way I have noticed some people (on YouTube) saying the name of it, KAYA wrong. It's pronounced KAH-YAH. Of course I was curious and inquired  about the name, after all it is fun to say- if you say it correctly- and catchy. Here's what I know about KAYA.
The name KAYA comes from the meaning "home" in the Zulu language, or "restful place" in other languages. So what's better than a fitting mattress name that makes you feel comfortable and relaxed!  It's also simple, short and easy to remember .
The most important features of KAYA: 
KAYA is a Premium Hybrid mattress 11″ thick.
The top 2 layers are made with 5 PCF responsive foam, 4 PCF memory foam, designed for world class durability.
Besides the fact that hybrid mattresses are cooler by default, KAYA's high quality cover is infused with cooling ThermoGel for even better cooling.
Over a thousand pocketed coils are located in base layer – We are talking Queen size mattress here since that's what I am testing.
First class edge support
KAYA is also CertiPur-US Certified
What does all this mean? It means that KAYA is durable: With its top high-density layer of 5-PCF and its second layer of 4-PCF memory foam making it one of the highest density mattresses on the market so far. And we do not want to forget to mention the MOST IMPORTANT part, the core if you want consisting of over a THOUSAND pocketed coils, all this makes the KAYA more durable.
KAYA is affordable. For under $1000 for a Queen size mattress, you can spoil yourself with luxurious sleep.
KAYA is made in USA
You get to try it for 120 days, risk free
Warranty for 20 years
Sleep Test Results
Pros
Sleeps cool.
High performance responsive memory foam.
Great edge support and support in general.
Under $1,000 with the current discount.
Cons
Slight off gassing. Give it a few hours to go away.
No side handles on the mattress (something to consider maybe?). We have found out that handles make the job a lot easier at moving mattresses around.
Comes in one standard firmness level
New company with low sales volume
Who Should Buy the Mattress?
If you are a side sleeper or a back sleeper I would definitely recommended for KAYA. I is amazing how I sleep better on my back than I do on other mattresses, KAYA is one of them without a doubt. When it came to stomach sleeping, I was comfortable for a few minutes than would switch back to my sider or back.
If KAYA had more than just the standard firmness level and came in a slightly softer, I would have had a better experience sleeping on my stomach.
KAYA is new on the market so why should I trust buying it? Because all the above, and more.
What Type of Bed Frame Works for this Mattress?
Solid Platform
Solid Foundation
Slatted Base
Adjustable Frame (see unboxing video for footage)
Price Table
| Full | Queen | King |
| --- | --- | --- |
| $1090 | $1,185 | $1,395 |
| 120 Day Trial | 120 Day Trial | 120 Day Trial |
These prices have been increased, check their website (3/7/18)
Current Specials
Check their website
Unboxing
Unboxing Video
I unboxed it on 11/27/17, give me a couple of weeks of sleep testing so that I can tell you more about it.  Here is my unboxing and 1st impressions video:

Unboxing Pictures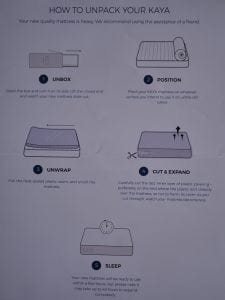 Mattress Comparison Tool
Photo
Company
Mattress
Type
Features
Height
Sleep Test Rating
Queen Price
Coupon Code
Current Discount
Purchase
Pros
Great edge support
Sleeps cool
Virtually Zero motion transfer
Provides Support and comfort at the same time
Recommended for side and back sleepers
conforms well on an djustable bed
Cons
Slight off gassing.
No handles on the side of the mattress.
Final Thoughts
Introducing a new mattress on the market is not that easy. I personally was very impressed with the KAYA, you will be too. You just need to give a try
Go to their website for details