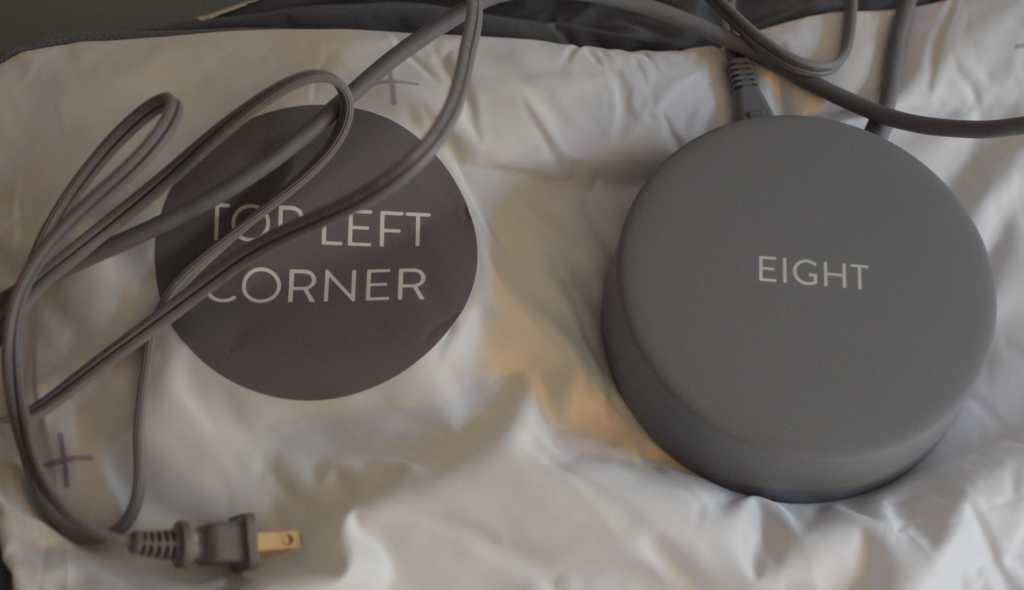 Eight Sleep integrates sleep tracking into their mattresses
For those of you who have followed us for awhile know that we tried to integrate the sleep trackers from our phones, fitbit, and other wearable tech into our mattress reviews.  We never could figure out a way to make it work so we are really excited to try out Eight Sleep.
We are currently testing their sleep tracker.  It has the added bonus of warming up your side of the bed by using your phone or Alexa.  I'm really enjoying this feature as it is starting to cool down at night.
Want to know more about their sleep tracking system?  Check out this video:

Eight Sleep just rebranded their mattress line into a celestial package.
Saturn: the entry level product available in Queen size at $599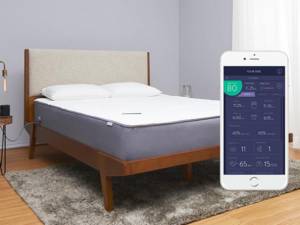 Jupiter: The middle option is available in Queen size for $899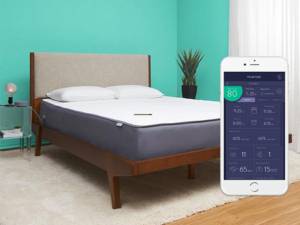 Mars: Their top product is available in Queen size for $1,199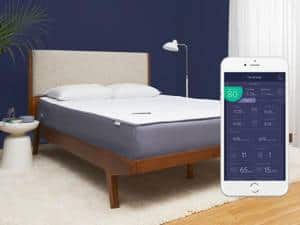 Each of these comes in a Plus package that has the tracking integrated.  The plus package is an additional $200.  This smart package offers sleep reports, bed warming, alarms and home integration.
Wait, that's not all! No seriously I stumbled upon this just last night, check this out now you can ask Alexa how you slept last night on your Eight mattress! what??
Thanks to a new integration with Amazon's Alexa, the smart mattresses from sleep tech company Eight sleep can now be controlled with your voice.
Today all Eight's sleep-tech products are compatible with the Amazon Echo,the Amazon Echo Dot, and other Alexa-enabled devices. Both the Smart Mattress Cover and the Smart Mattress collection from the New York-based company will respond to your voice commands.
Is this cool or what? Eight is certainly stepping into an era of optimized and personalized sleep as they integrate with Alexa.
No need to bother yourself or your partner anymore, Alexa is here to the rescue if your bed is too cold, or need to warm up just one side all you have to do is ask… Alexa.
Eight uses 2.5 Million nights of sleep to build an AI-sleep coach
!
06/20/2018 UPDATE from Eight. 
Actually, it's a MAJOR update people.
AI-Powered Sleep Coach: 
Eight Sleep the first company to use artificial intelligence to coach people to better sleep. This is possible thanks to the millions of hours of sleep data they have tracked to date.
The Eight Sleep Coach will provide users with data insights into how they are sleeping, how they compare to others and what they can do to improve their sleep. It is a unique service that has the power to help their users achieve a better nights sleep and ultimately, a healthier lifestyle. Examples of the insights that will be available are:
"Great job! You got 7 hours and 43 minutes of sleep last night. That is 30 minutes more than your average this month."
"Last night, you slept 40 minutes less than your average this month."
"This week, your REM sleep is lower than average. Try going to bed 30 minutes earlier tonight."
"You're currently sleeping on average 53 minutes less than the average woman your age."
It just keeps getting smarter and smarter~ 
In a few words, the Sleep Coach simply identifies what is wrong with your sleep and presents it in easy to follow insights and recommendations.
Eight, the technology company focused on improving the way we sleep — today announced the launch of its AI-powered personal Sleep Coach feature, available in the Eight iOS and Android apps. The app is a companion to the company's best-selling Smart Mattress product. In addition to the newly added sleep coaching capability, the Eight Smart Mattress continues to offer sleep tracking, bed warming, smart alarm, and integration to smart home devices including Amazon Alexa and Nest.
With the introduction of sleep coaching, the company is putting to use over 2.5 million nights of sleep data that have been tracked to date. Eight's neural network uses this data to build real-time benchmarks of individuals' sleep based on their personal patterns and other key indicators such as their gender, age, and location, with the goal of providing direction to improving their sleep.
"Sleep deprivation is costing the US economy 400 billion dollars each year. The AI-powered Sleep Coach is our answer to this," said Matteo Franceschetti, CEO and Co-Founder, Eight. "Thanks to the accuracy and volume of data that we gather, we are able to offer users unique insights into their sleep unlike any other consumer product in the market. This is just the start of seeing our vision realized, of a future in which technology and data make healthcare more scientific and consistent."
After sleeping on the Eight Smart Mattress, and without having to do or wear anything, users will automatically have access to the personalized insights and recommendations provided by the Sleep Coach. These insights are displayed in the Eight app and change every day based on each user's sleep patterns. Examples of the insights that will be available are:
"Great job! You got 7 hours and 43 minutes of sleep last night. That is 30 minutes more than your average this month."
"You sleep like a rock! This week you've tossed and turned on average 10 times per night. This is much lower than the average for people your age, which is 25 toss and turns per night."
"On average it takes you 12 minutes to fall asleep. This is significantly less than the 20 minute average for women your age."
"You are a quick riser! On average this week you got out of bed within 7 minutes of waking up. This is 15% faster than the average for people in New York City."
"You get higher sleep scores on Mondays. What's your secret?"
"Your percentage of REM sleep was 15% last night. This is lower than the healthy range of 20-25%. Lack of REM is caused by lack of sleep and can lead to fatigue and in the long term memory loss. Try sleeping 30 minutes more tonight."
As one of the first companies to merge hardware and software to improve the way we sleep, Eight's mission is to help people understand how their health is affected by how they sleep, and how improvements in their sleep can ultimately improve the way they live. It does this by leveraging machine learning to extract information from sleep data. Its signature product, the Eight Smart Mattress, tracks over 15 factors of sleep including heart rate, breathing rate, deep and light sleep, time slept, and tosses and turns. Its analysis of over 200 billion data points collected to date has uncovered findings that are built into the recommendation engine of the sleep coaching feature.
With a recent Series B round of funding led by Khosla Ventures, Eight continues on its path to become the largest sleep database in the world. It has tracked over 2.5 million nights of sleep in just two years, and is expecting to collect an additional 12 million nights of sleep before the end of 2018. Last year, Eight collected and processed 500 terabytes of data from over 20,000 people, executed over 200,000 sleep-related smart home actions, and warmed up beds for over 1 million hours. The Eight Sleep Coach is leveraging the power of this database to offer personalized sleep coaching unlike any other product currently in the market.
The Eight app is free to download, and must be used with an Eight Smart Mattress which starts at $699. The AI-powered Sleep Coach, is free to Eight users. To learn more and purchase Eight products visit our Eight page here.
Eight Sleep is offering $50 off mattresses
Thinking about buying the items we have reviewed? Help Non-Biased Reviews out if you do. Just click on any of the seller links above and the seller will contribute a portion of the sale to help support this site. It won't cost you anything extra and is a simple way to help us fund more items to review. Thank You!