Best Mattresses Under $1,000
Want to get the Best Mattresses Under $1,000?
We are going to focus on the Queen Size Price for this list, but most of the mattresses on this list still manage to squeeze their king sized option under $1,000 as well.
I have purchased some of the mattresses on this list for full price, others have been discounted and others have been provided to me for free.  Each mattress is sleep tested the same way, if I didn't like sleeping on it you will be able to find out why.  Some are in storage, others have been sent off to charity and of course, I have to sleep on something (currently a Tomorrow Sleep and a Brooklyn Bedding)!  Here is our new video for the top 10 mattresses for the first half of 2017:
Mattress Firmness Comparison
I have slept on all of these beds, I wouldn't release review scores if I hadn't fully tested each one!  Here is a mattress firmness chart, from my perspective.  We all have different opinions, so remember that your idea of how firm a mattress is may be a bit different.  Also keep in mind that these mattress companies will sometimes change up the secret sauce, so the 2017 versions may be different from earlier ones.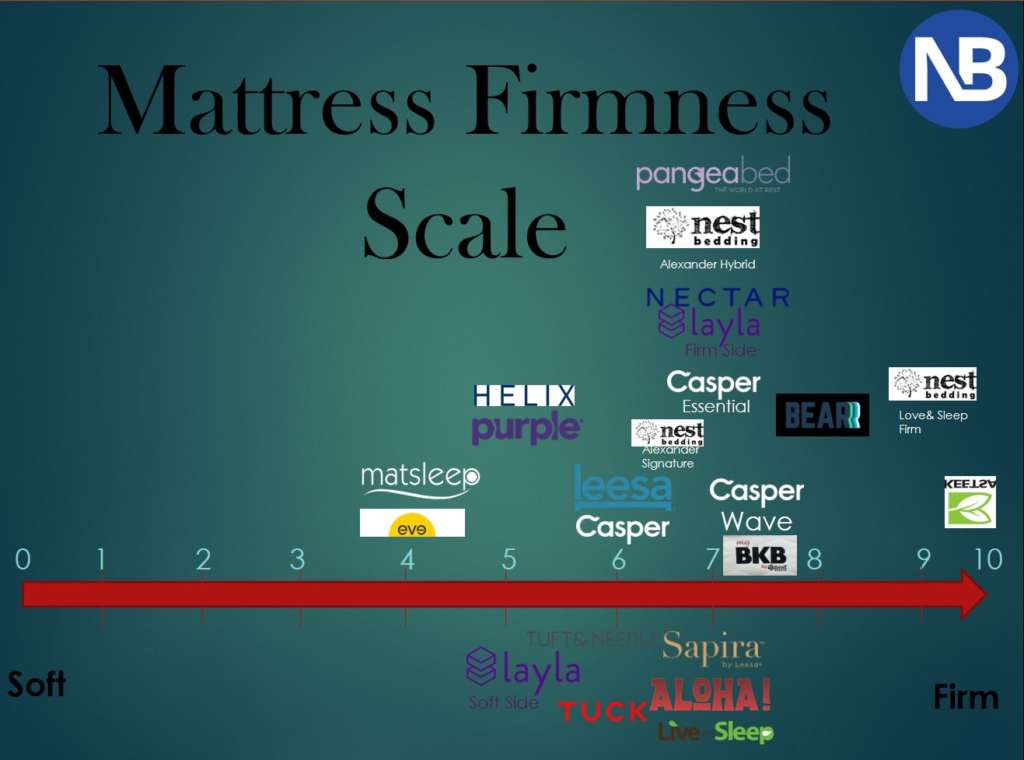 Things tend to get a little complicated as the competition that these companies face lead to different promotions and discounts.  Take Nectar as an example, they have an offer with two free pillows and a $100-125 coupon this year.  When I purchased mine I got $100 off and two awesome memory foam pillows.  I have heard that they later increased the discount to $125 and substituted lower quality free pillows.  So ultimately, do you view the Nectar as a mattress that sneaks into the under $650 range once discounts and freebies are thrown in?
We are looking at their typical price and we provide the latest discounts and coupons on the side bar.  As I compiled this list I realized what a good value the Eve mattress was at the $650 price-point.  I felt that it was necessary to increase the value score on my original review, as it's priced in a category that is possibly impossible to match.  I couldn't imagine walking into a store finding a similar quality mattress at that price.  When we compare more mattresses some of these may make their way higher or lower as we get a better feel for all of the options available.
So let me know if you think that I should review a mattress that wasn't on this list.  Perhaps you know what the best mattress under 1,000 is and I just haven't discovered it yet!
Thinking about buying the items we have reviewed? Help Non-Biased Reviews out if you do. Just click on any of the seller links above and the seller will contribute a portion of the sale to help support this site. It won't cost you anything extra and is a simple way to help us fund more items to review. Thank You!
Best Mattress Under $1,000
1
Purple Mattress Review (2018-I have had it for 10 months)
The Purple mattress won the adjustable bed test by a landslide. This is my go to mattress when I'm not in the process of sleep testing other mattresses. Perfect for side sleepers who aren't that heavy. Heavier people who like the idea of Purple's polymer layer (egg catching layer) may want to look into the Purple Hybrid (2-4)
Read full review
Cons
The mattress is heavy
Pros
Amazing on an adjustable frame
Perfect for side sleepers
waterbed like quality
Free Sheets with Mattress Purchase
2
Tomorrow Sleep Hybrid Mattress
I'm still shocked that I couldn't find the coil part of the hybrid construction. I'm sleeping better than I have on just about every mattress I have tested this year.
Read full review
Cons
The corners didn't fill out the cover for 2 days
Pros
Can't feel the wrapped coil system
backed by serta, warranty and trial period are solid
Conforms nicely with an adjustable frame
Top 2 layers of gel memory foam keep you cool, hug you, and most importantly hide the wrapped coils from you.
Take $125 off a purchase of $500 or more
It's hard not to root for Leesa. As a B-Corp their mission is to serve the community, and they go above and beyond their duty. In addition, the cover on this mattress is so great that I use their blanket everywhere I go. As a side sleeper I feel like the Leesa gives me the perfect hug. Living in Phoenix is hot, but the Leesa's avena foam keeps me cool.
Read full review
Cons
When standing on it you feel a bit of sinkage
Pros
Amazing Cover, so amazing they used the same materials for a blanket and pillow
Avena foam layer keeps it cool
1 in 10 program is unique to the industry
If they can improve their shipping and customer service they would be a highly recommended company, as they make a great mattress. Update March 2018. Both their shipping and customer service have improved as Nectar has grown. I purchased one for my MIL in Feb of 2018 and she received it in 4 days.
Read full review
Cons
Long shipping delays (solved, they increased production)
Poor customer service (improved, as any good company they learned from their mistakes)
Pros
Sturdy Mattress
Exceptional Value
Amazing Value (Best budget mattress available)
5
Brooklyn Bedding Bowery Foam Mattress
Cons
Not too firm. Soemwhere between Soft to medium soft
Not for stomach sleepers
Pros
Affordable
High quality foams
Sleeps cool
The cover holds it perfectly together. And feels super smooth
No stuck in traditional foam mattress feel
6
The Tomorrow Sleep All Foam Mattress
It has the same great feel as their hybrid. Of course, without coils they are able to sell it at a more affordable price.
Read full review
Cons
Slight new foam smell
Not for stomach sleepers if you are on the heavy side
Pros
Affordable
High quality materials
Soft cover
Sleeps cool
365 Night Trial
7
Love & Sleep (Nest Bedding)
Cons
Slight off gassing
No zipper
Pros
Made in America
Affordable
Certified Green Guard Gold
Won't give you the stuck in bed feel like other foam mattresses
Lifetime Comfort Guarantee
The company, shipping and ability to test this mattress are unparalleled. Unfortunately, there are better budget options available in the market place.
Read full review
Cons
Needs more Support
There are better budget options available
Pros
1-2 Day Shipping
Industry Leader Launches Direct to Your Door Product
9
Helix Blended Mattress Review
Cons
Minimal edge support
The cover needs to be a bit thicker
Pros
Comfortable yet bouncy
Doen't give you that stuck in mattress feel
Minimal motion transfer
It's difficult to find a mattress of this quality at this price, well done Eve!
Read full review
Cons
Heavy people may sink too much
Pros
What a fun box!
Great Value
Summary
Article Name
Top Mattresses under $1,000
Description
Top Mattresses under $1,000
Author
Rana
Publisher Name
Non Biased Reviews
Publisher Logo