Here are our Best Hybrid Mattress picks for 2018
I'm currently sleep testing the new DreamCloud hybrid mattress, and it is amazing!
---
What I love about hybrid mattresses is that they combine the soft comfort of a memory foam mattress with the stability of pocketed coils.  The best ones that I have sleep tested manage to hide the feel of coils from you, and manage to conform to my adjustable base.
Want to compare the hybrid mattresses that I have sleep tested?  Just drag and drop the ones you want to view below:
---
Photo
Company
Mattress
Type
Features
Height
Sleep Test Rating
Queen Price
Coupon Code
Current Discount
Purchase
Why is DreamCloud the Best Hybrid Mattress?
The DreamCloud has taken over our top spot in the hybrid category.  You simply can't find a better quality 15″ mattress at the same price as the DreamCloud.  This is an 8 layer hand tufted mattress with a cashmere cover.  I flipped it over on to the underside of the mattress and was surprised to find that the back cover is as nice as the majority of mattresses that we test.  Of course, you won't flip it and sleep on the wrong side, I'm just pointing out that they paid attention to the little details when constructing the DreamCloud.
At a tie for second place goes to the Tomorrow Sleep hybrid and the Sapira, as they provide an exceptional value.
Third place goes to the brand new Brooklyn Bedding Aurora Hybrid.  I have been sleeping on this for the last two weeks and absolutely love it!  The only thing that is holding it back is that it is more expensive than the Sapira and Tomorrow Sleep.
Update for 2018, Brooklyn Bedding added pocketed coils to their signature/#bestmattressever.  This caused me to pull my Aurora out of storage and test it for a bit as well.  I found that I liked the new version of the BME more, so I flip flopped them in the rankings.  What this means is the best hybrids under $1,000 are close between the BME and the Tomorrow sleep.  If that's your budget and you are trying to decide between the two, the largest distinction is that the BME is a bit more firm than the Tomorrow Sleep.
These three are really so close that I know I would give you different picks given different questions.  There is no great way to separate these three hybrids so I decided to draw questions from a hat!
The Alexander Hybrid Mattress comes in number four
This mattress combines the most innovative copper infused foam on the planet and the support of high quality individual coils with extra edge support, The Alexander Hybrid Signature Series is by far the most comfortable mattress we have tested, usually when we are done testing we start the process of sending our mattresses to storage, not this one yet! we will be holding on to this baby for a while.  Update, Nest Bedding has added handles to the Alexander Signature Hybrid, so they got a little ratings boost today.
More about the Alexander Hybrid Mattress, it features Thermic Phase Change Cooling Fabric, well not just this one but on all Alexander Hybrid Mattresses! Now that's COOL, literally.
Take a look on what's inside this mattress.
Next on our list is the Helix Hybrid mattress
We ordered the Dual Comfort Mattress and loved playing around with this one, taking a quiz, answering a little questionnaire on our sleeping preferences and voilà, we created our very own customized bed! how fun is that? but it's not over yet. Is it accurate? DRUM ROLL… Yes it is.
They took each of our results and individually personalize each of our sides, splitting the mattress down the middle, exactly the way my husband always imagined our bed, I think at one point he wanted to build a wall splitting our sides, " Make my mattress great again! ", lol- Jokes aside, The Helix Dual Comfort Mattress was able to deliver a beautiful flawless job
Best Mattresses with Springs
DreamCloud just reduced prices by $200 from now through Memorial Day.  This means that a queen size can be acquired for only $1,199.
All of these mattresses are eligible for an additional $25 off from me!
Thinking about buying the items we have reviewed? Help Non-Biased Reviews out if you do. Just click on any of the seller links above and the seller will contribute a portion of the sale to help support this site. It won't cost you anything extra and is a simple way to help us fund more items to review. Thank You
Mattress Firmness Comparison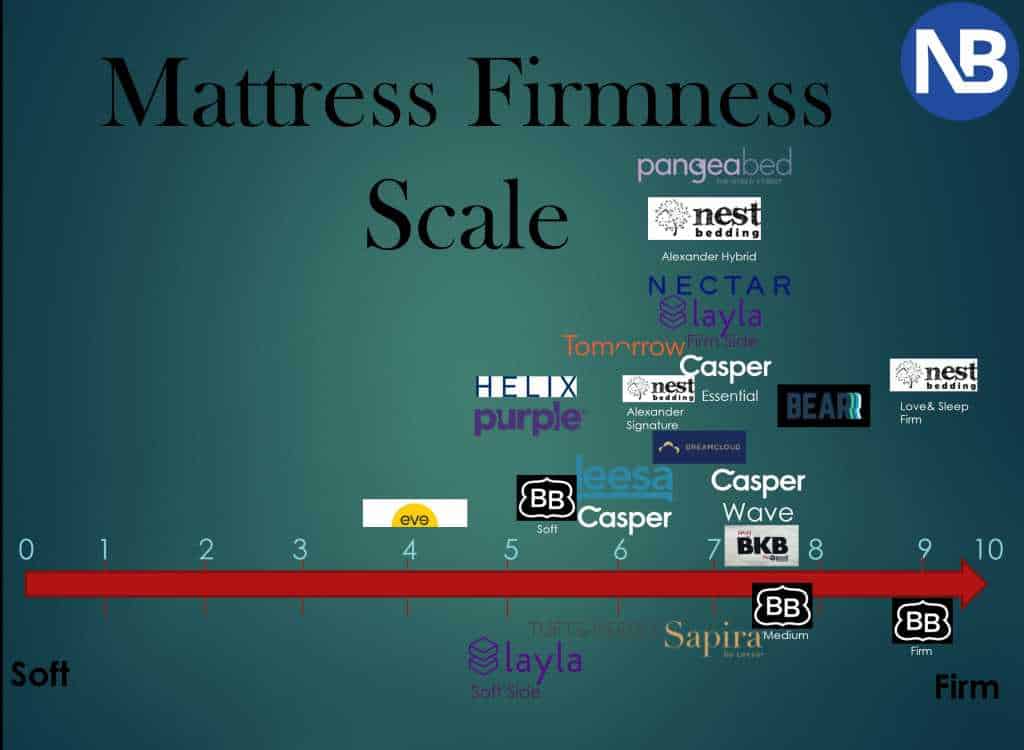 Top Hybrid Mattresses
1
DreamCloud Luxury Hybrid Mattress
You won't find another 15" luxury hybrid mattress of this quality for a lower price! DreamCloud offers a lease to own financing program. This coupled with their 365 night guarantee, just begs you to give the DreamCloud a try!
Read full review
Cons
The 15" thickness is not ideal for some adjustable frames. It works well with the dreamcloud adjustable frame
Pros
15" mattress
Unbeatable Price
The shipping bags can be reused
Edge support foam makes it so you can not feel the pocket springs
Great choice for big and tall people
A sturdy luxury hybrid mattress. It pulls from many of the things that Leesa does well to form a high end mattress. This mattress is designed to cater to people who feel that the Leesa may have too much sink for them. So if you are an athlete, or on the heavier side, this is a must try!
Read full review
Cons
You can feel the pocket springs when you sit on the edge
Pros
Cover has the same feel as the Leesa
Avena foam layer keeps it cool
Independent pocket springs work well with adjustable frames
Designed for heavier people & athletes, yet soft enough for a petite side sleeper like me
The first bed in a box I have tested without an odor upon opening
3
Tomorrow Sleep Hybrid Mattress
I'm still shocked that I couldn't find the coil part of the hybrid construction. I'm sleeping better than I have on just about every mattress I have tested this year.
Read full review
Cons
The corners didn't fill out the cover for 2 days
Pros
Can't feel the wrapped coil system
backed by serta, warranty and trial period are solid
Conforms nicely with an adjustable frame
Top 2 layers of gel memory foam keep you cool, hug you, and most importantly hide the wrapped coils from you.
Take $125 off a purchase of $500 or more
4
Brooklyn Bedding #bestmattressever
In early 2018 they upgraded their signature product by adding individually wrapped coils to the mattress. It was a huge upgrade! It is made in the USA and shipped directly to the consumer. Since they don't have a middleman, this allows Brooklyn Bedding to ship out a great mattress at an amazing price.
Read full review
Cons
The cover is glued to the top layers so it doesn't work on an adjustable frame
Add some handles to the boxes to make it easier on the UPS/Fedex people
Pros
You can feel the value right away. I haven't found a better value at this price.
Handles on the sides of the mattress, none on the box though.
Built to support heavier people, no chance of bottoming out unless you are really large
5
Brooklyn Bedding Aurora Mattress Review
After more than 2 weeks of sleep testing this, I love it! It's screams luxury, is perfect for an adjustable base, and will provide you with a great sleeping experience.
Read full review
Cons
The standard brown box that it comes in doesn't scream luxury
When you place it on the side (for moving it) the cover bulges up, making it difficult to move
Pros
13.5" of Luxury Feel
Cool, stretch cover
Great on an adjustable frame
6
Nest Bedding Alexander Signature Hybrid
They just redesigned the Alexander Signature, I wonder if they are going to add handles to the Hybrid?
Read full review
Cons
The stitched cover makes it difficult to use on an adjustable frame.
Pros
Sturdy Hybrid
Added handles to the sides this year!
$150 off Alexander Signature Hybrid
I wish I would have ordered the blended version rather than the dual comfort one.
Read full review
Cons
Dual Comfort is a problem if the sides are drastically different