Rize Verge
All the features you need to get a better night's sleep.  The Rize Verge is the latest development from the bedding company Mantua Manufacturing Company.  They have been around since 1952, so it's a safe bet that the Rize's 20 year warranty will be a sure thing.  If you haven't yet had the chance to test a Rize adjustable bed, visit their site and they will show you to the showroom closest to you.  We tested the Verge with an all foam mattress the Casper Wave, and a hybrid mattress the Sapira by Leesa.  At the 4:30 mark of the video below you can see how the coils of the hybrid Sapira react to the motion of the Verge.
See the Rize Verge in action in my 8 minute video review:
What kind of mattresses work best on a Verge?
If you have a mattress with interlocking coils, time to get a new one or skip the thought of an adjustable frame.  Is your mattress cover stitched to the top layer of foam on your bed?  Well time to upgrade your mattress or again skip the frame.
Do you have individually wrapped coils?  Is your mattress on the heavy side, yet flexible?  Yes to either of these and it is time to start thinking about upgrading your sleep to an adjustable frame.  It is a life changer, forget all of the sleep that you have done during your life.  Once you get the chance to sleep on one you won't go back to a silly "normal bed".
Here is a video that I shot over the last few months showing how different mattresses did on my Rize Verge.  I tried to use the same angle and distance to the mattress so that you can do an apples to apples comparison.  Unfortunately, I destroyed the Casper Wave, and there is NO WAY I'll buy another one so I don't have good footage of it on the Verge.  Also, I shot the tomorrow sleep too close up for the apples to apples comparison.  I still have it so maybe I'll grab it and reshoot it later.
Key Features of the Rize Verge
The Rize Verge offers several pre-programmed sleeping positions, a built in massager, dual USB outlets an under bed LED light and a 20 year warranty.
Sleep-related problems? not anymore! With the Rize Verge you can simply use the preset buttons to chase them all away. You can reduce snoring with the anti-snore setting, take pressure off the lower back with their exclusive lounge position, and improve blood flow by resting in zero gravity. The Rize Verge has a wide range of options to find your perfect position for refreshing sleep – all at an affordable price.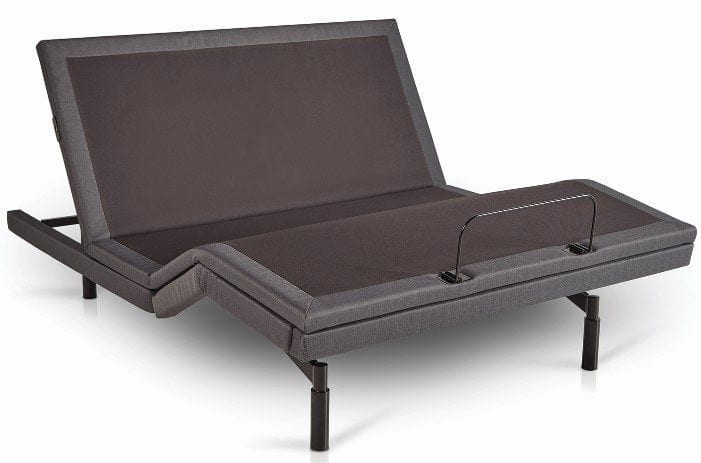 Verge features
Therapeutic massage:
If you are ready to rumble into total relaxation, you have come to the right place. Thanks to its massage function, the Verge will even allow you to choose how you want it by setting the location and density.  Our Verge comes with three massage settings, which you cycle through by clicking the button four times.  The first setting is a very gentle massage, it is noticeable and not very loud.  The third intensity setting gives you a pretty serious massage, frankly I'm thinking about cutting this review short to go get another one.
Dual USB outlets:
A built-in outlet on each side of the base to keep your devices charged and ready to use.
Deck-on-Deck design:
The design is so sleek and stylish it will bring sophistication to any bedroom
Under bed light:
Now you don't have to worry about trying to figure out where to go when it's dark, the gentle LED under-bed illumination is there to guide you.
Auto flat:
With the push of one button you can return your bed to flat neutral position.  Most mattress companies will suggest allowing your mattress to return to flat positions when not in use.  So this button makes it a simple process.
Steel post legs:
More sturdy and durable, legs post made out of steel can support even the thickest mattress.  When you take it out of the box the installation process is mainly to screw in these heavy duty posts.
Adjustable headboard brackets:
The headboard brackets make it easy to attach your favorite headboard to your adjustable bed.  Our Verge didn't come with these brackets and the instruction manual says that it doesn't ship with them, so you will want to add that to your basket when ordering.  It cost me $31 including shipping.
KEY FEATURES
lounge feature
Lower the legs and take pressure off the lower back with our exclusive lounge position. While most adjustable beds functions' consist of just raising the foot, and not lower it. With the Rize here you have the option to move the foot section all the way under the level position. The lounge position is great for taking pressure off your lower back as you lower the foot and raise the head, it's like lounging in your favorite recliner, except it's a whole bed!
anti-snore position
This position comes standard with many models. Basically, it means just raising the head a little, but you can do it with the touch of a button instead of customizing the angle every time. If you or your partner are a frequent snorer, this feature will slightly raise the head of bed to improve airflow. It's just enough to keep you comfortable without causing any neck pain in the morning
Sleep better – use the anti-snore position to reduce snoring (for you or the person next to you). YES, FINALLY! I'm referring to the person sleeping next to me.
The anti-snore position is also great to soothe acid reflux .
zero gravity position
This pre-programed option will help you take pressure off your lower back and evenly distribute your weight, which improves blood flow. The improved blood flow will relax sore muscles and joints, decrease lower back pain, reduce swelling, and can improve heart health.  The head and leg portions of the adjustable bed will give you a sensation that is almost weightless as they are lifting your body, that's Zero Gravity almost like floating.
Here is an example of a Sapira hybrid mattress on the Verge
Notice how high up the top of the mattress is.  The Sapira is a hybrid with individually wrapped coils. Since these coils aren't connected to each other the mattress is flexible enough to work well with the Verge.  Our understanding is that a mattress with interlocking coils would have issues if the mattress was raised up to this angle.  I don't currently have one to test, but I may pick up a cheap on in the future just for display purposes.
This test answers the question can the Rize Verge handle a hybrid mattress?  Yes!
Interested in a Rize Verge?  You can get one on overstock or Amazon for just a bit over $1,000.
Thinking about buying the items we have reviewed? Help Non-Biased Reviews out if you do. Just click on any of the seller links above and the seller will contribute a portion of the sale to help support this site. It won't cost you anything extra and is a simple way to help us fund more items to review. Thank You!
Here is a list of all of the mattresses that we have used to test the Rize Verge.  Leave us a comment below if you have questions about the performance of any of these mattresses.
Purple
Leesa
Casper Essential
Casper Wave
Sapira
Spindle
Pangeabed
Tomorrow Sleep Hybrid
Tomorrow Sleep Foam
Helix
Layla
Brooklyn Bedding Aurora
Brooklyn Bedding Signature (#bestmattressever)
Brooklyn Bedding Bowery
Nest Bedding love and Sleep
Nest Bedding Alexander Signature
DreamCloud
Thinking about buying the items we have reviewed? Help Non-Biased Reviews out if you do. Just click on any of the seller links above and the seller will contribute a portion of the sale to help support this site. It won't cost you anything extra and is a simple way to help us fund more items to review. Thank You!