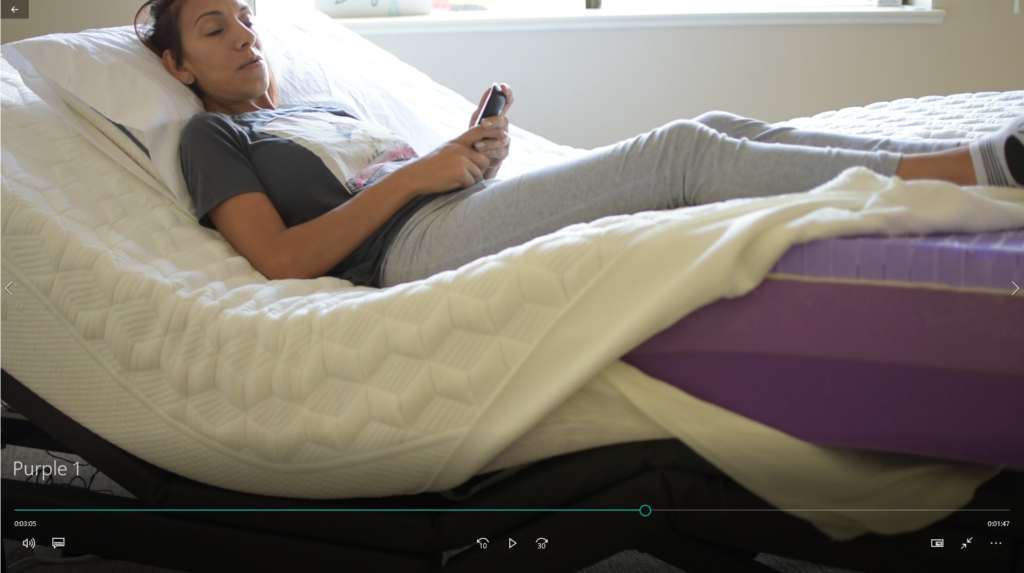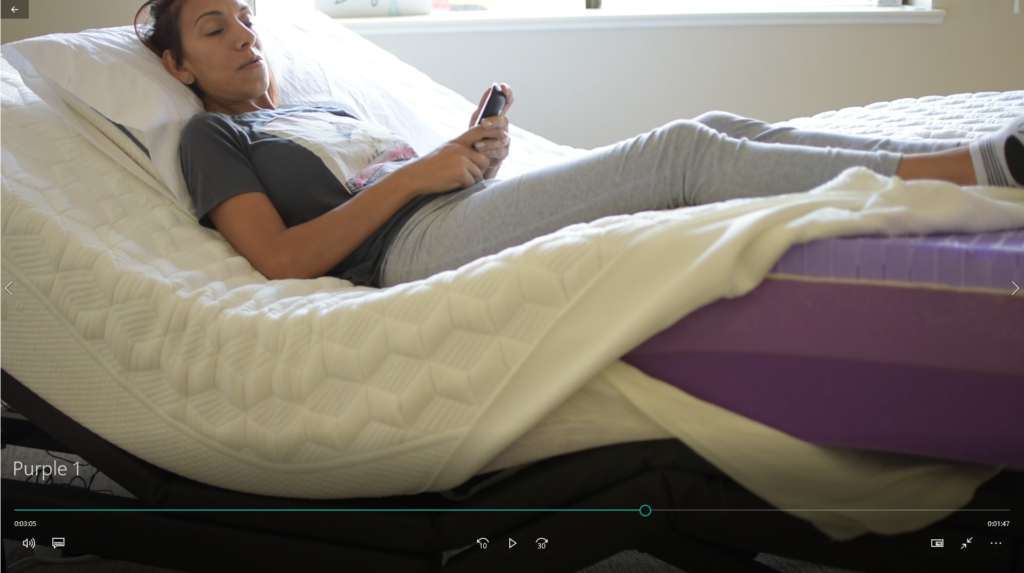 If you haven't seen the Purple Powerbase commercial
it is worth a few minutes of your time, I'll wait. I actually love Purple's YouTube commercials so much that I made a video about them.
You can try the powerbase at a local mattress firm if they carry Purple's products.  According to their second quarter 2018 results they have purple products in 181 Mattress Firms in the US.  That number seems to be growing at about 40 stores per quarter so if it isn't in your local market now, it should be there soon.  Here is an example of the in-store Purple experience at Mattress Firm
One of the features that it has that is a bit different from other adjustable beds is that their dual massager is really powerful.  Now, why did they make the effort to get such power our of their massage feature?  It has to be due to the fact that their mattresses are so thick and heavy right?  Anyway, it is a real cool feature, but there is a bit of a downside to the Purple Powerbase, the price.
A queen sized Purple Powerbase is currently selling for $1,499 for the Queen Size.  If you are looking for a split king, you will need to pay the royal price of $2,798.
Why the huge jump in price?  Well, most adjustable bases are split for king sized frames.  Which means that you have to have 2 twin sized beds on the frame so that each side can move independently.  This is actually one of the reasons why I chose to downsize from a King sized bed to Queen size.  I just don't like the "no man's land" that is created between two mattresses.  If you want to spend some time with your partner you have to pick a side, no more rolling around in the middle.  Of course, the other side benefits are that I now have more room in my bedroom, and most importantly queen sized mattresses and frames are just so much less expensive.
I don't currently own a purple powerbase, but I tried my purple mattress on my adjustable frame.  The purple mattress did not disappoint.  In fact, it outperformed every mattress I have tried on my adjustable base.  Yes, read that again, it was the best.
The Purple Mattress on Zero G. Setting:
I am in the process of editing a video that shows how various mattresses conform with my adjustable frame, and I'm giving you a sneak peak above as to how the purple tested.  You will notice that there isn't a big gap between the bottom of the purple and the frame.  This is in direct contrast to many other mattresses that went through the same test.
Tonight I'm sleeping on my purple!  It has been in storage for a long time, and I kept thinking, I bet it will do great on an adjustable.  There is something different about the Purple mattress, and if you haven't tried it yet it is a bit difficult to explain.  Essentially, it's heavy, but it feels like a waterbed (which is a great thing if you are a side sleeper like me).
Since the Purple mattress is so heavy I knew it would sink down enough to be in contact with my frame throughout the changes in positions.  Before I finish my video editing, I guess you will just have to take my word for it.  The purple mattress won the adjustable bed testing contest that I have held during the last few months.  I'm assuming it is going to be great on their Purple Powerbase, but I wouldn't know for sure until I get the chance to test it and other mattresses on it.
Here is the video, and I know that I have already spoiled the surprise.  The purple mattress passed with flying colors.  I wonder how much better it does on the frame that they built with their mattress in mind.  Leave me a comment below if you have both the purple mattress and the purple powerbase.
The price is on the high end, but it has all of the toys you would expect for a high end adjustable frame.  Unfortunately, there is no trial period so you can't really try it before you buy it.
See my Purple Mattress review for 2019
I offer a $25 gift card for the purchase of Purple mattresses.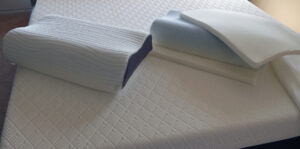 Review Menu DreamCloud Pillows Video Review DreamCloud Company Policies What's...